How Generative AI-Powered Robots Are Shaking Things Up
Updated

: Jun 5, 2023, 15:07 UTC
•
2
min read
Generative AI is taking the world by storm, and companies across sectors are exploring ways to capitalize on it.
Since the rise of ChatGPT, regenerative AI has been thrust into the spotlight. Robots are making their way into nearly every sector of the economy, threatening jobs and even the survival of the human race, some say. The market was valued at close to $11 billion last year and is projected to reach over $118 billion by 2032.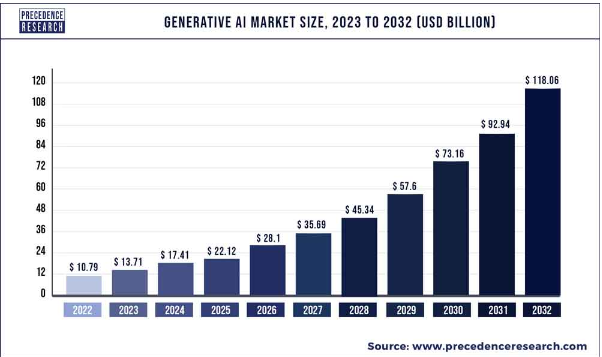 Image by Precedence Research
Generative AI has the ability to bolster productivity in the workforce through automated tasks like content creation and data analysis. As a result, many professional jobs could be threatened. On the flip side, this shift could propel the workforce into jobs that can't be replaced by a robot.
ChatGPT has become synonymous with generative AI but there are many new robotic products in the works.
Generative AI Market
There's no shortage of ways to play the generative AI market, from the chipmaker side to Big Tech to cybersecurity and beyond. Silicon Valley is extremely focused on developing the next wave of generative AI products, including companies like Alphabet, Microsoft, IBM and more.
Tech leader Apple already uses AI in its software offerings but is reportedly exploring ways to use generative AI, too. Meanwhile, demand for AI-related microprocessors is through the roof, which is serving as a tailwind for companies like Nvidia, both in the balance sheet and stock price, for the foreseeable future.
Generative AI & Risks
Generative AI has sparked what cybersecurity executive George Kurtz described as an "arms race," one in which nefarious actors are set on using the tech to do harm. Kurtz's company, CrowdStrike, works with the U.S. Defense department and has received a high level of security clearance so that it can defend against security breaches.
Elon Musk, an early investor in OpenAI, the company behind ChatGPT, has been warning about the dangers of generative AI since about 2014. He described it as a threat to humanity and is he's still sounding the alarm, saying that it can be more deadly than nuclear weapons.
But the billionaire also has regrets about not taking a greater stake in OpenAI, which currently boasts a valuation of approximately $40 billion. Reports suggest that Musk is busy creating his own generative AI startup that would go head-to-head with OpenAI.

Image by Twitter
While generative AI has already taken the world by storm, it's still early days for this emerging technology. Companies are scrambling to explore ways in which they can integrate this revolutionary tech into their own systems, which means more hiring and collaboration with the developer talent in this space.
Don't miss a thing!
Sign up for a daily update delivered to your inbox
Sponsored Financial Content