NASDAQ 100, Dow Jones, S&P 500 News: Beijing's Move, Huawei's Resurgence Challenge Apple's Dominance
Published

: Sep 8, 2023, 22:59 UTC
•
2
min read
Beijing's policy shakes Apple, causing a $190 billion drop in market cap and unsettling the Nasdaq 100; Huawei's new phones pose a direct challenge.
Highlights
Apple navigates stormy waters.
Beijing instructs government staff to drop iPhones.
Huawei unveils competitive Mate X5 and Mate 60 Pro+.
Apple suppliers' shares fluctuate amid tensions, pressuring NASDAQ.
Apple Faces Challenges Amid China's Rising Restrictions
In a bold move by Beijing, government employees have been instructed to stop using iPhones at work, sending shockwaves through the tech world. This decision, coupled with growing competition from Huawei, has contributed to a significant sell-off in global tech stocks. Notably, Apple's shares plunged 6.4%, erasing $190 billion from its market cap. Though some Wall Street analysts argue this reaction is exaggerated, the message is clear: Sino-U.S. tensions are beginning to have a tangible impact on tech giants.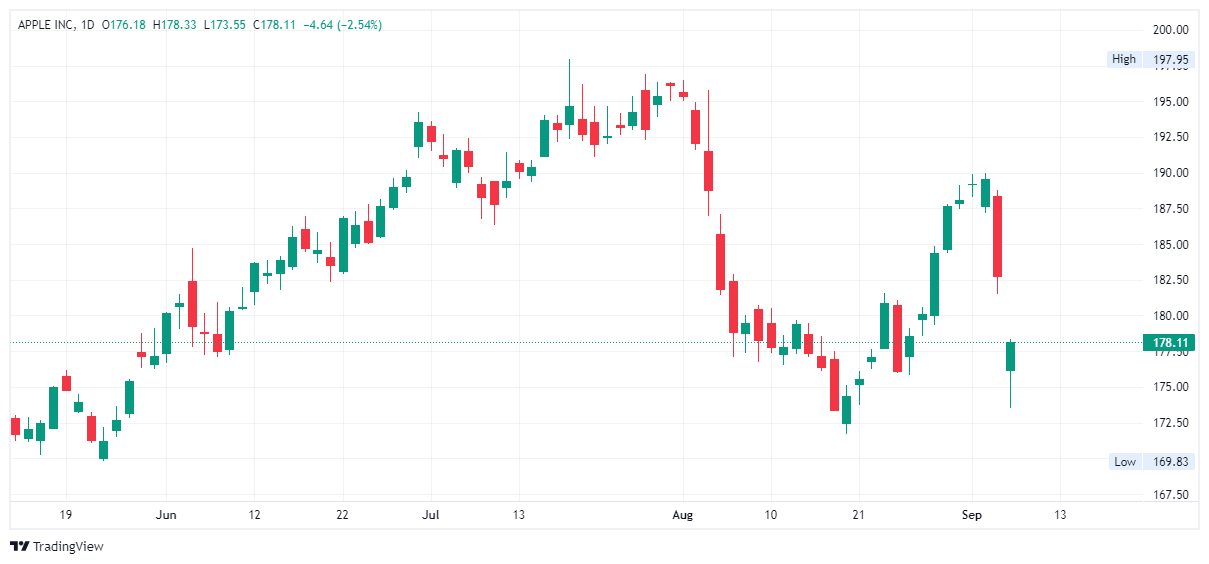 Daily Apple Inc
The Huawei Factor
As Apple grapples with these governmental restrictions, it's also contending with Huawei's resurgence. Recently, the Chinese tech titan unveiled two groundbreaking smartphones: the foldable Mate X5 and Mate 60 Pro+. These releases signify Huawei's determination to reclaim its position as a top-tier competitor, especially after U.S. sanctions hampered its growth four years ago. Moreover, these developments come just as Apple prepares to launch its new iPhone, emphasizing the escalating rivalry.
The Apple-China Synergy
China, being Apple's third-largest market after the Americas and Europe, plays a pivotal role in the tech company's growth trajectory. While the U.S. has consistently focused on reducing dependencies on Chinese tech firms, Beijing has taken a parallel approach, cutting back on American tech, a move epitomized by the recent iPhone restrictions. Furthermore, deals by Apple's third-party retailers offering discounts on the iPhone 14 Pro have driven sales. However, these discounts may adversely affect the sales of Apple's upcoming products.
Supplier Shares Shuffle
In light of recent events, Apple's supply chain is feeling the strain. Apple supplier Largan Precision in Taipei, responsible for camera lenses, saw its shares decline by over 4%. Meanwhile, contract chipmaker TSMC's shares dipped 0.6%. On the contrary, shares of U.S. Apple suppliers remained stable, with Qualcomm increasing by 0.1% and Broadcom decreasing by 0.4%. Significantly, Huawei suppliers, like SMIC, believed to be behind the advanced chip in Huawei's latest release, saw their shares rise by 0.7%.
The Short-Term Forecast: Bearish for Apple
While Apple remains a force in the tech industry, recent events in China indicate turbulent times ahead. The restrictions on iPhone use by government employees and Huawei's aggressive market re-entry underscore the challenges Apple faces in one of its most vital markets. Yet, Apple's robust ecosystem in China – where the average iPhone user possesses 2.5 Apple devices – hints at a resilient future. The unfolding scenario stresses the imperative for tech giants to navigate geopolitical tensions while maintaining growth.
Don't miss a thing!
Sign up for a daily update delivered to your inbox
Sponsored Financial Content