Price of Gold Fundamental Daily Forecast – Boosted by Growing U.S. Political Issues
Updated

: May 17, 2017, 09:29 UTC
•
2
min read
Gold futures extended its gains for a fourth day on Tuesday, driven higher by a weaker U.S. Dollar. Political turmoil in the U.S. helped drive up demand for lower-risk assets like Treasuries, pushing down yields, dragging the dollar lower. On Tuesday, June Comex Gold settled at $1236.40, up $6.40 or
Gold futures extended its gains for a fourth day on Tuesday, driven higher by a weaker U.S. Dollar. Political turmoil in the U.S. helped drive up demand for lower-risk assets like Treasuries, pushing down yields, dragging the dollar lower.
On Tuesday, June Comex Gold settled at $1236.40, up $6.40 or +0.52%. Early Wednesday, the futures contract is trading $1243.20, up $6.80 or +0.55%.
The Greenback fell against a basket of currencies yesterday to its lowest level in six months after two U.S. officials said President Trump revealed highly classified information to Russia's foreign minister about a planned Islamic State operation.
Investors feel that Trump's inability to run the government because of a growing number of distractions may prevent him from achieving his economic agenda which includes tax reform, deregulation and increased infrastructure spending.
The dollar also slipped against the Euro which was supported by solid economic data.
Gold also continued to receive support from the political uncertainty caused by Trump's abrupt firing of FBI Director James Comey, last Friday's global cyber-attack and last week-end's successful test of a ballistic missile by North Korea.
Weak U.S. economic data is also weighing on the U.S. Dollar which is making gold a more attractive investment. Last week, it was retail sales that weakened the dollar. This week, its manufacturing data from New York and today's weaker-than-expected housing data. The weaker data is starting to raise doubts about the Fed's ability to raise interest rates in June.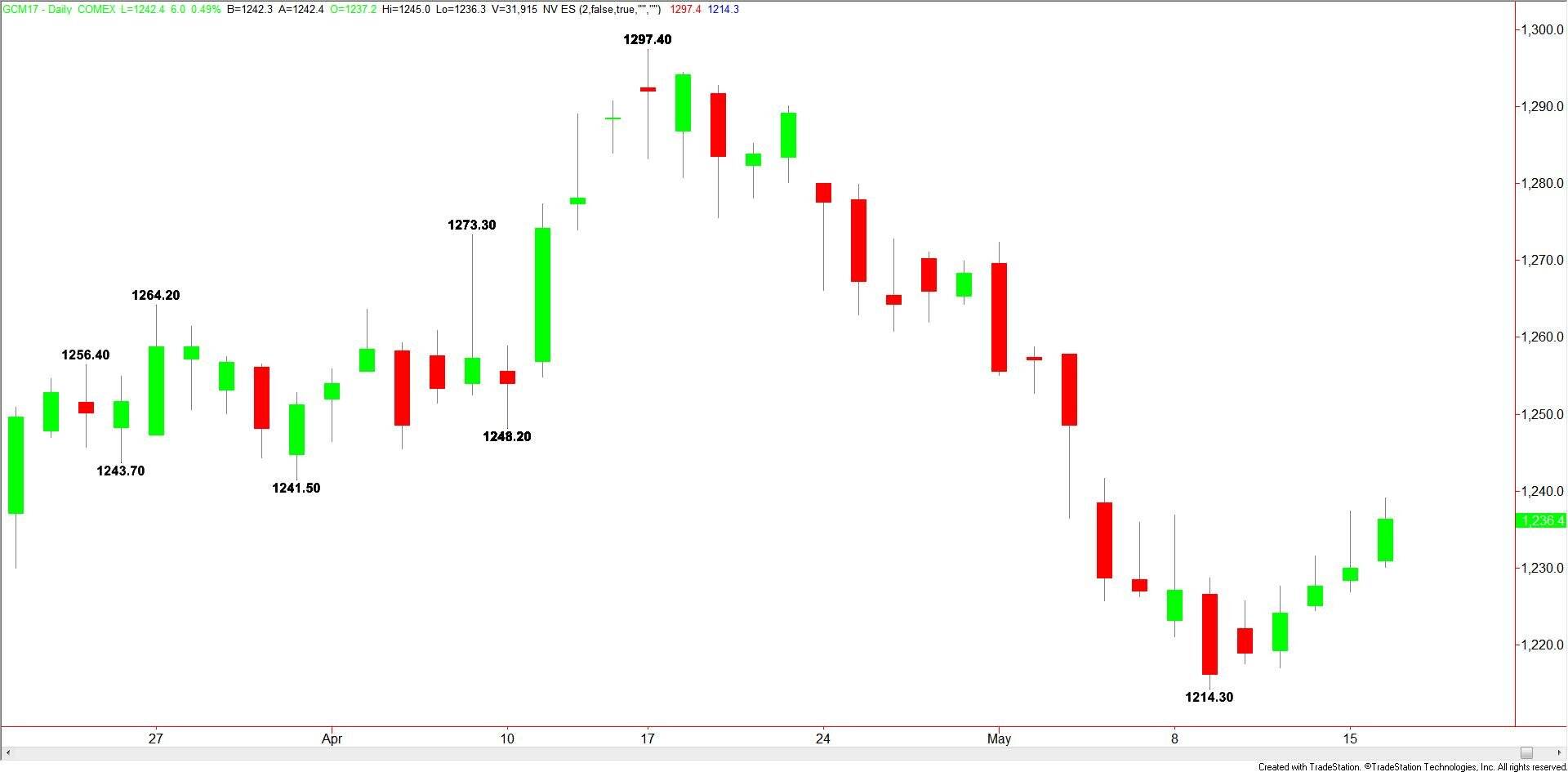 Daily June Comex Gold
Forecast
There are no major U.S. economic reports on Wednesday which means gold investors are likely to continue to focus on the situation in Washington regarding Trump's ability to run the government. Although Trump's revealing of secrets to the Russians was at the forefront earlier this week, the news that Trump asked former FBI Director James Comey to end a probe into ties between former national security adviser Michael Flynn and Russia is now an emerging issue.
These issues are likely to continue to pressure the dollar and support gold because they are helping to erode Trump's Republican Party support. And this likely means further delays in Trump's economic agenda. The lack of progress on these issues could theoretically contribute to the Fed holding a more dovish opinion about the economy. This could hurt the dollar and drive equity prices lower.
Although the chances of a Fed rate hike in June are still about 74 percent, traders now feel that the economy won't have the fire power to warrant a rate hike anymore rate hikes in 2017.
The current chart pattern suggests the market has room to run higher with $1255.90 to $1265.70 the next likely target.
Don't miss a thing!
Sign up for a daily update delivered to your inbox
Sponsored Financial Content