Silver Prices Forecast: XAG/USD Gains Amid Yuan's Rise and Economic Optimism
Updated

: Sep 15, 2023, 07:09 UTC
•
2
min read
Silver's recent ascent reflects China's upbeat economic news, but looming rate hikes in the U.S. could cap XAG/USD's gains.
Highlights
Silver prices soar as the dollar dips against the yuan, fueled by China's optimistic economic data.
China's economic figures bolster market sentiment, leading to a 0.3% offshore yuan appreciation.
U.S. data reveals increased producer prices, hinting at more Federal Reserve rate hikes ahead.
Silver's Ascension Amid Economic Indicators
Silver prices witnessed a noticeable uptick as the dollar weakened against the yuan, primarily spurred by positive economic data from China. This surge has revived optimism surrounding economic recovery. However, anticipated U.S. interest rate hikes cast a shadow of caution among investors.
China's Economic Performance and Yuan Dynamics
China's economic metrics pleasantly surprised the market on various fronts, bolstering overall sentiment. As a result, the offshore yuan saw a 0.3% appreciation against the dollar. This appreciation contrasts starkly with the yuan's dip following China's central bank's announcement of a reserve ratio cut. Even as the bank rolls out measures to bolster the economy and ensure liquidity, the yuan's future looks uncertain with consumer confidence wavering. The recent data on China's factory output and retail sales, however, has painted a rosier picture, leading to a two-week yuan high against the dollar.
U.S. Economic Data and Impending Rate Decisions
The U.S. has unveiled data showing a considerable rise in producer prices and retail sales, both pushed higher by rising gasoline costs. Given the previous month's uptick in consumer prices, further Federal Reserve rate hikes seem plausible. The robust U.S. economic backdrop doesn't indicate a need for rate cuts, potentially pushing such decisions to next year.
European Central Bank Takes Action
The European Central Bank (ECB) took the financial world by surprise by hiking its principal interest rate to a staggering 4%. Current signals hint at this being their concluding rate increment. Historically, such hikes, introduced to mitigate inflation, have negatively impacted the demand for assets like silver which don't yield interest.
A Glimpse Into Silver's Immediate Future
Taking into account the prevailing U.S. economic conditions and the banking sector's rate decisions, silver prices might be heading south. The prevalent market sentiment leans bearish in the near term, primarily due to potential forthcoming rate hikes from the Federal Reserve. Yet, the day's trading hints at the XAG/USD becoming a sought-after asset due to perceived oversold conditions.
Technical Analysis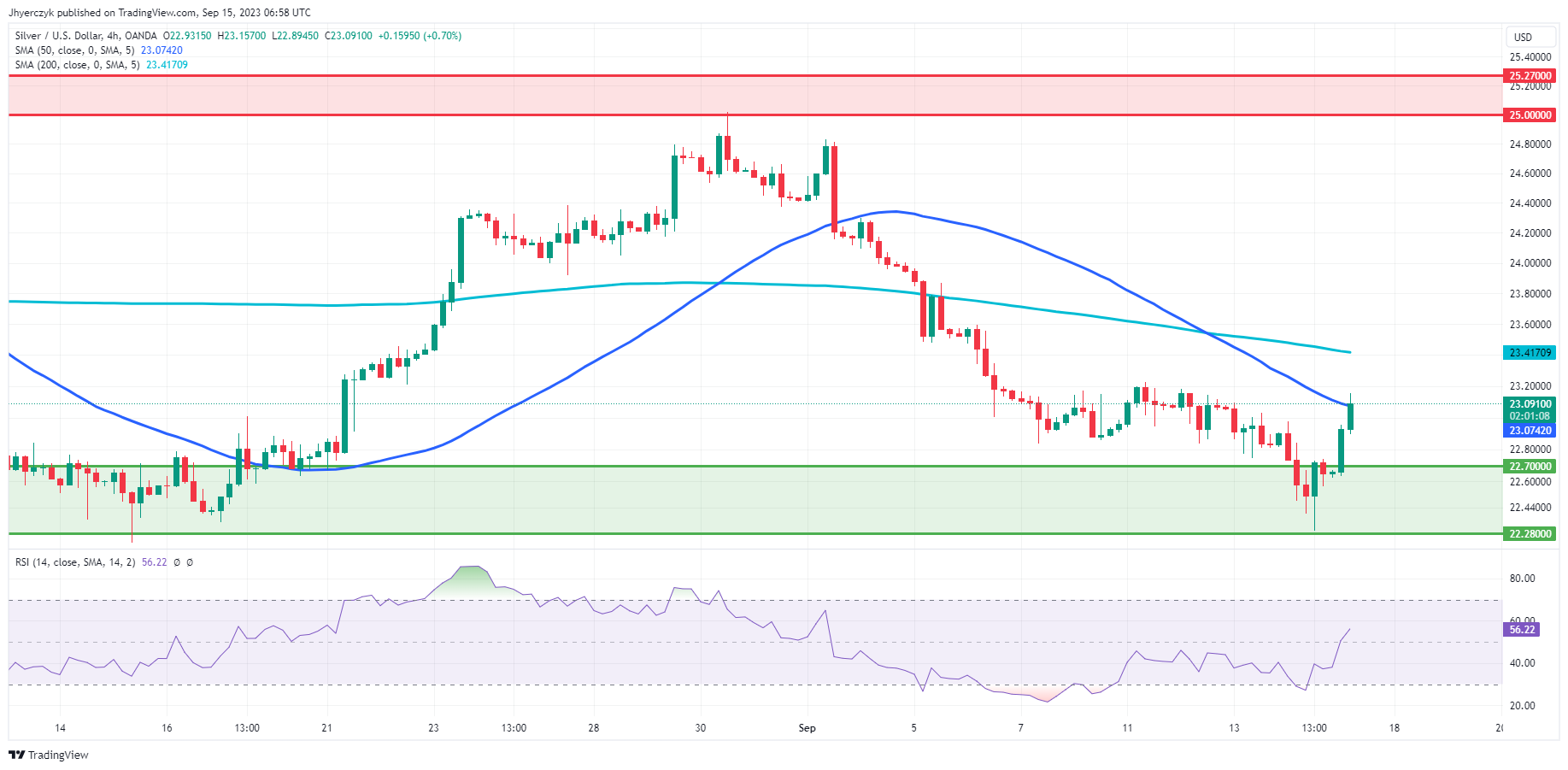 4-Hour Silver (XAG/USD)
The XAG/USD, with its current 4-hour price of 23.06, hovers near its 50-4H moving average of 23.07, hinting at a possible short-term upward shift. Its positioning below the 200-4H average of 23.42, alongside an RSI reading of 55.14, implies emerging bullish momentum.
Notably, the incremental rise from its previous 4-hour price of 22.93 underlines this potential. While the commodity might not be gearing up to challenge the main resistance zone between 25.00 to 25.27 soon, traders seem to be showing notable respect for the established support zone ranging from 22.70 to 22.28. This reinforces a cautiously optimistic market sentiment.
Don't miss a thing!
Sign up for a daily update delivered to your inbox
Sponsored Financial Content