Silver Prices Forecast: XAG/USD's Fate Tied to Anticipated U.S. Inflation Data
Updated

: Sep 12, 2023, 06:45 UTC
•
2
min read
Silver (XAG/USD) prices declined Tuesday, awaiting U.S. inflation's effect; August CPI might indicate slower growth despite rising gas costs.
Highlights
Silver traders react to impending U.S. inflation data.
August's CPI predicted at 3.6%, core CPI at 4.3%.
Fed's 2% inflation goal remains elusive.
Silver's Anticipation of U.S. Inflation Figures
Silver (XAG/USD) prices dipped on Tuesday, as financial markets eagerly anticipate U.S. inflation data that could impact future interest rate decisions. The Federal Reserve's recent signaling of potential policy tightening further underlines the significance of the forthcoming data.
Economic Indicators and Their Implications
Silver's Monday boost came from the dollar's pullback, benefiting traders transacting in different currencies. However, the dollar's 0.5% decline was offset by an uptick in the 10-year Treasury note yields, constraining silver's growth. The Wednesday release of the U.S. Consumer Price Index (CPI) has traders on high alert. August 2023's CPI report is expected to showcase a slowdown in consumer price growth compared to last year, despite recent hikes in gasoline prices. The anticipated 3.6% inflation increase for August, if realized, would be a rise from July's 3.2%, while core CPI, which omits volatile items like food and energy, is predicted to show a yearly growth of 4.3%, down from July's 4.7%.
The Federal Reserve's Strategy
The Federal Reserve's long-term goal is to achieve a 2% inflation rate. Despite recent decreases in both headline and core inflation rates, meeting this target in the immediate future appears challenging. With an economy that's outperformed expectations, it might be some time before inflation aligns with the Fed's desired levels. Currently, the Fed is closely observing data, and its decisions on interest rates will heavily rely on core inflation trends.
Market Predictions and Silver's Path Forward
The CME FedWatch tool showcases a 93% probability that the Federal Reserve will maintain interest rates during its September meeting. However, there's a 41% chance of an interest rate hike come November. For silver prices to breach the $26.00 threshold, a combination of factors is necessary: the Federal Reserve needs to be less aggressive, and both the dollar index and Treasury yields should diminish. While the market waits for the CPI data, it's expected to remain somewhat stagnant. An on-target or above-expectation CPI figure might dampen silver's prospects shortly.
Short-Term Forecast: Bearish Possibilities
Silver's short-term trajectory seems uncertain, especially given the dollar's recovery preceding the CPI release. Despite its resilience amid a strengthening dollar and increasing U.S. yields, sustained silver growth might necessitate a Federal Reserve shift towards rate reductions.
Technical Analysis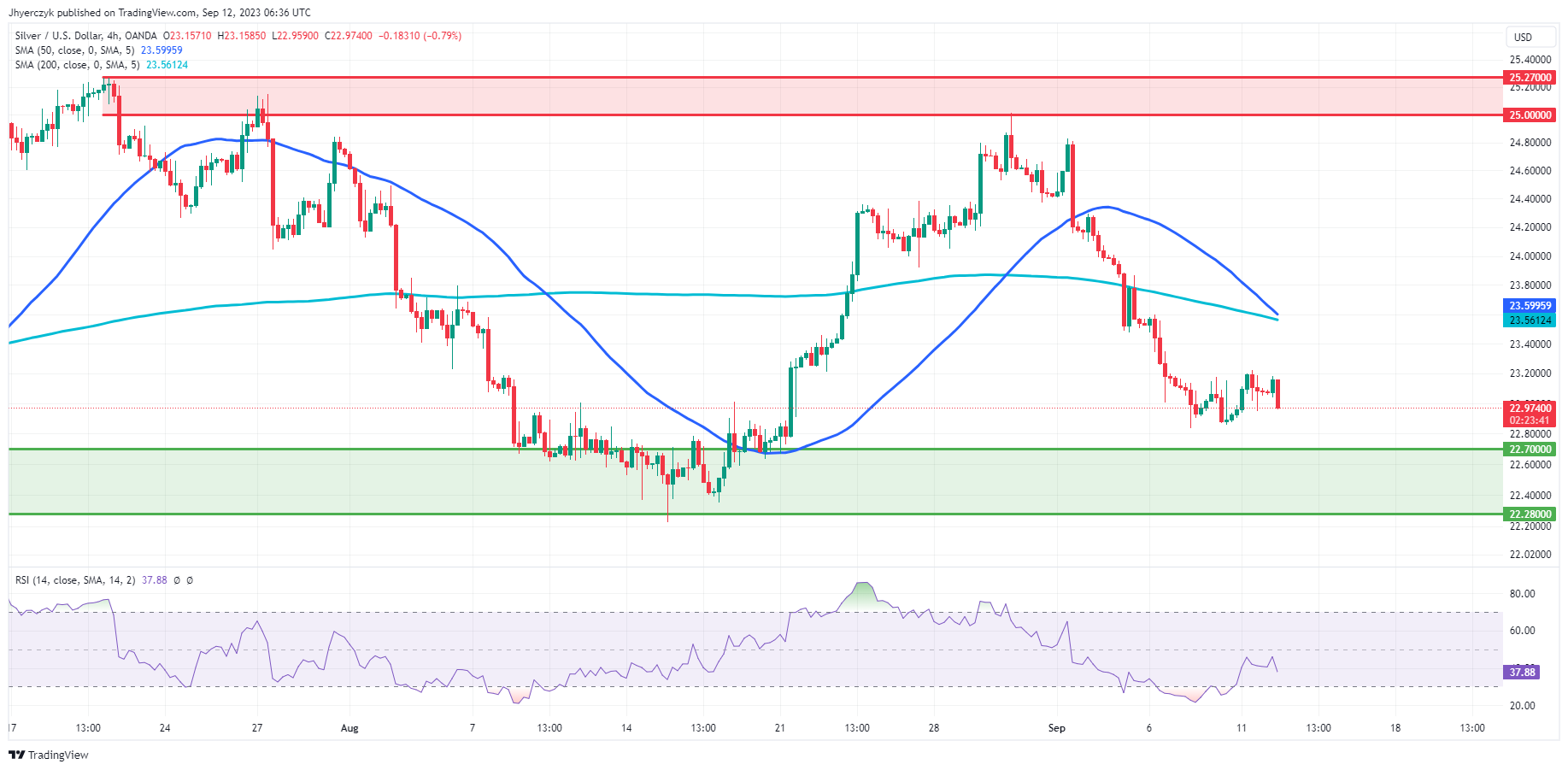 After verifying the provided moving average data, the current 4-hour price for Spot Silver (XAG/USD) is $23.00, below both the 200-4H ($23.56) and the 50-4H ($23.60) moving averages. This suggests a bearish trend. The 14-4H RSI at 38.40 confirms this by being under 50, indicating weakened momentum.
The price also resides above the main support area of $22.70 to $22.28 but well below the main resistance range of $25.00 to $25.27. Given these technical indicators—below both key moving averages, a low RSI, and proximity to main support levels—the current market sentiment for Spot Silver appears bearish.
Don't miss a thing!
Sign up for a daily update delivered to your inbox
Sponsored Financial Content