Chainalysis: $400M Worth of Ransomware Crypto Affiliated to Russia
Updated

: Feb 15, 2022, 13:03 UTC
•
2
min read
Russian cybercriminals have been conducting some of the biggest ransomware operations a part of which is solely handled by EvilCorp.
The latest report from Chainalysis highlighted the ongoing money laundering and ransomware operations in Russia. The report also highlighted the significant presence of these criminals in the country's financial capital Moscow City.
Russia's Ransomware Rodeos
2021 witnessed an increase in money laundering compared to 2020, but at the same time, Russia in particular was responsible for a good chunk of it.
In the last 3 years, about $700 million worth of cryptocurrencies were sent to crypto businesses from illicit addresses. Out of all the sources, 88.7% of this was made up by Scams and Darknet market transactions which translates to about $609 million.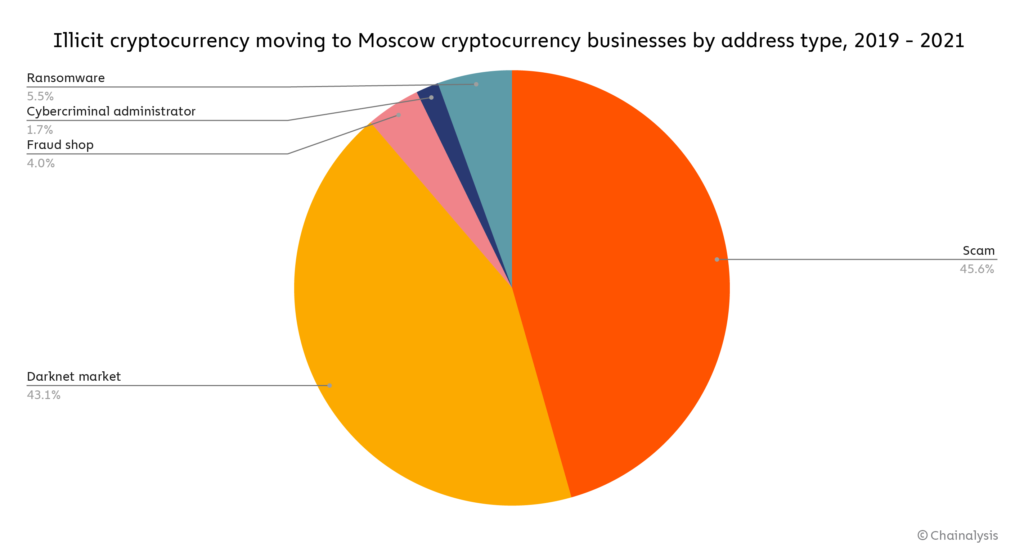 Scams and Darknet transactions account for 88% of all illicit crypto | Source: Chainalysis
But beyond Moscow City, ransomware attacks manage to rake up a significant amount of illicit cryptocurrencies.
In 2021, about 74% of all ransomware revenue across the globe had affiliations to Russia in some ways. Of that 74%, 9.9% was the responsibility of EvilCorp alone.
Chainalysis described EvilCorp as a:
"Russia-based cybercriminal organization that has been prolific in ransomware, and whose leadership is believed to have ties to the Russian government."
Interestingly most of the cryptocurrency businesses that have been facilitating extensive money laundering as well as accepting funds from cryptocurrency crimes affiliated addresses are housed in the Federation Tower, which is also one of the most prestigious buildings in entire Russia.
Close to $150 million in illicit funds have been observed to transact to and from these businesses. The majority of these illicit funds were sourced from the Darknet market transactions in the first half of 2021.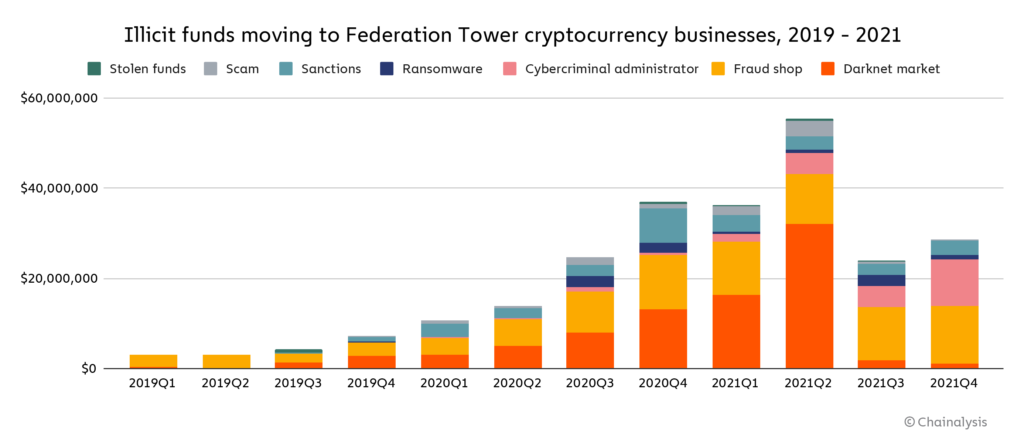 Illicit funds distribution in the Federation Tower | Source: Chainalysis
This domination was reduced significantly and was taken over by Fraud shop transactions in the latter half of the year.
The Future of Crypto in Russia
Russia within its government has witnessed a major difference of opinion with some institutions asking for a ban on cryptocurrencies, while some others such as the President himself speaking in favor of crypto mining.
In the latest from the country, The Ministry of Finance announced their intentions of taxing cryptocurrency mining after it is converted into Rubles.
However, surprisingly, crypto in the country continues to remain unaffected by the political environment of the country. The ongoing Russian – Ukrain crisis bore absolutely no negative reaction on the investors.
Whitebit, one of the biggest cryptocurrency exchanges in Russia, continues to conduct over $487 million worth of trade volumes on a daily basis, in fact rising by almost 14% in 24 hours.
Don't miss a thing!
Sign up for a daily update delivered to your inbox
Sponsored Financial Content