Corn and Soybean Resumes Uptrends Amid Wet Weather
Corn is rallying on the end of the week and it is reaching fresh near 1-year highs. Soybean is also positive, but it remains in range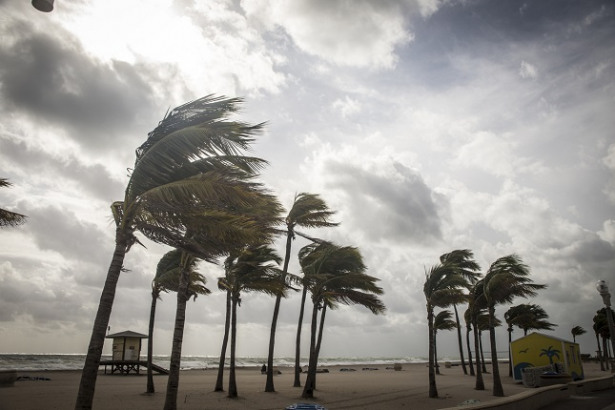 Soybeans and Corn prices are trading higher on Friday as investors are watching severe weather conditions, and they are digesting the Trump's farm aid plan.
Corn resumed its upside after a brief setback from 3.900 to 3.720. It is now testing 3.910, near to 1-year high. Soybean prices remain trading sideways between 8.100 and 8.300. The grain is closing its second week with gains. Technical conditions suggest more advances in the long term.
Wheat stopped its decline at 4.600 with the grain recovering the ground lost in the last three days.
Wet weather continues to delay planting
Weather conditions, especially continuing rains, are keeping farmers out of fields. The situation is complicated as the Department of Agriculture reported earlier this week that about 49% of the corn crop was planted, down from 80% by this week of the year in the last seasons.
Also, 19% of corn had emerged, well below the average of 49% for this time of the year. Soybeans planting was just 19% complete, well below the average of 47% for the third week of May.
Soybeans remain in range but post a weekly gain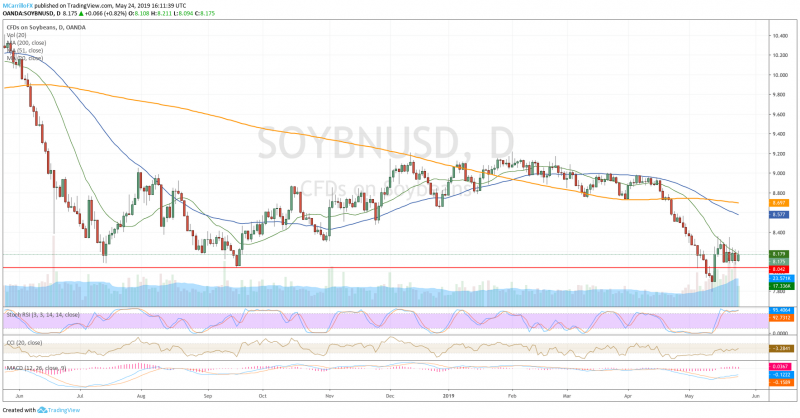 Prices of soybean are trading positive on Friday as investors are watching weather conditions closely. However, the bushel remains in the same range it has been in the last five days.
Soybean is currently trading at 8.172, 0.80% positive on the day. While soy seems stuck in the 8.100 and 8.200 range, the unit is posting its second week with gains, this time closing around 1% positive in the week.
Technical conditions for Soybeans are suggesting more room for the upside. However, the 20-day moving average is a level that the pair needs to break if bulls want to take the lead in the commodity. Above that, 8.350 is the next resistance, before the 8.500 area.
To the downside, if the pair fails to break above the 20-day moving average at 8.180, it will get back to the bottom of the channel at 8.100. Below there, the next support is identified at 8.040, and then, the frontier is set at 7.800.
Corn jumps to reach fresh 1-year high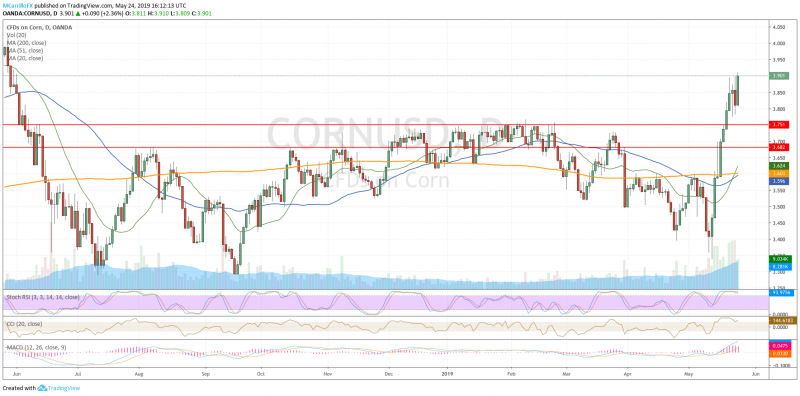 After an initial rejection of the 3.900 area on Thursday, Corn prices found support around 3.780 before rallying on Friday to reach fresh highs since May 2018 above 3.920.
Prices of corn are currently around 3.910, 2.55% positive on the day. Technical indicators suggest more room for gains but the unit looks overbought.
In the weekly, corn is closing its second week with substantial gains as it is finishing the week with a 4.65% rally. Since May 13, corn has gained 17% in value.
The unit is now facing the 3.950 resistance, but its destiny seems to be the 4.000 area and then the May 24, 2018 high of 4.043.