Ethereum Trumps Bitcoin As Crypto Gains Cross $162B: Chainalysis
Published

: Apr 21, 2022, 11:32 UTC
•
3
min read
The total crypto market grew by 186.39% and added $1.389 Trillion in 2021 while almost crossing the $3 Trillion mark at its highest.
Key Insights:
Investors in 2021 noted $162 billion worth of gains.
Most gains stemmed from Ethereum instead of Bitcoin, as one would expect.
Both the coins are currently on the path to recovery.
According to Chainalysis' 2021 Cryptocurrency Gains report, the crypto market experienced one of the most successful years, with Bitcoin and other altcoins building on the bullish momentum generated towards the end of 2020.
Crypto Gains 2021
Last year most of the cryptocurrencies achieved their all-time highs around May before the Elon Musk/Tesla induced market crash hurt investors. But the recovery of half the market towards October and November helped the market end the year on a profitable note.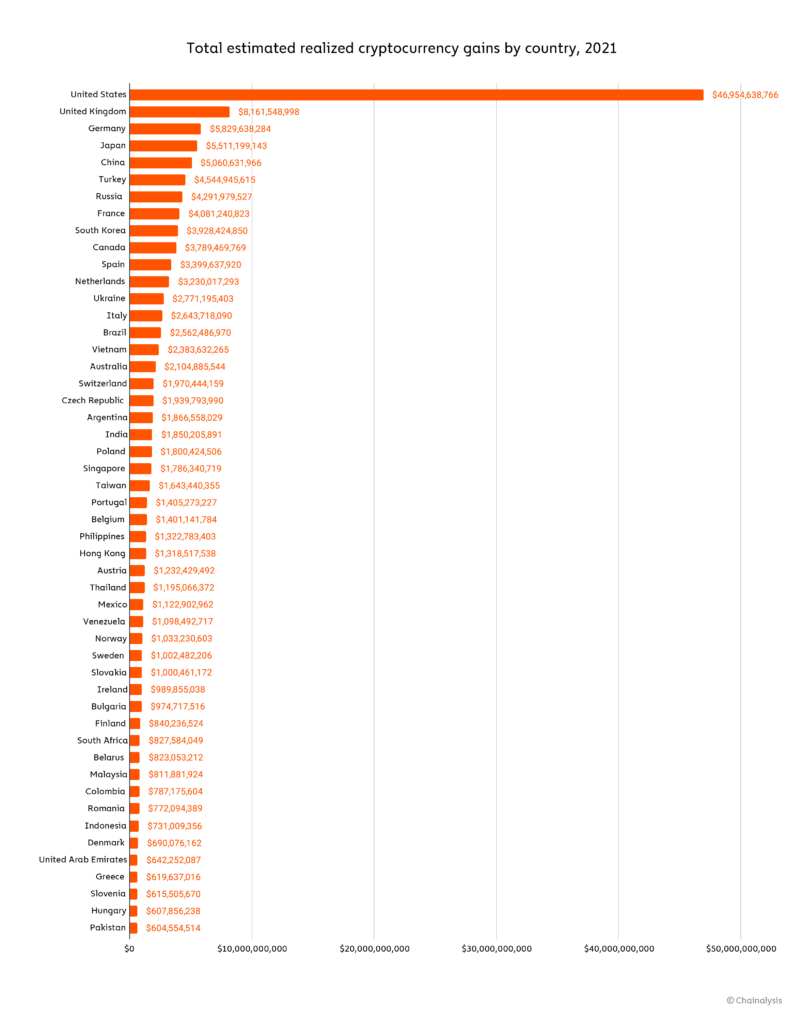 The United States realized the highest profits | Source: Chainalysis
The United States realized the highest profits, which alone managed to rake in $47 billion, followed by the UK, Germany, Japan, and China, with profits ranging between $8.1 billion to $5 billion.
However, crypto gains do not represent the true economic status of the country as the likes of Ukraine, which ranks 40th in GDP at $576 billion, managed to climb to the 13th place in realized cryptocurrency gains at $2.8 billion.
When we look at the individual currency's profits beyond geographical prosperity, surprisingly, Ethereum surpassed the king coin Bitcoin is realized gains in 2021. Bitcoin was followed by XRP, Dogecoin, and AAVE, while the likes of Cardano, Solana, and LUNA didn't even make it to the list.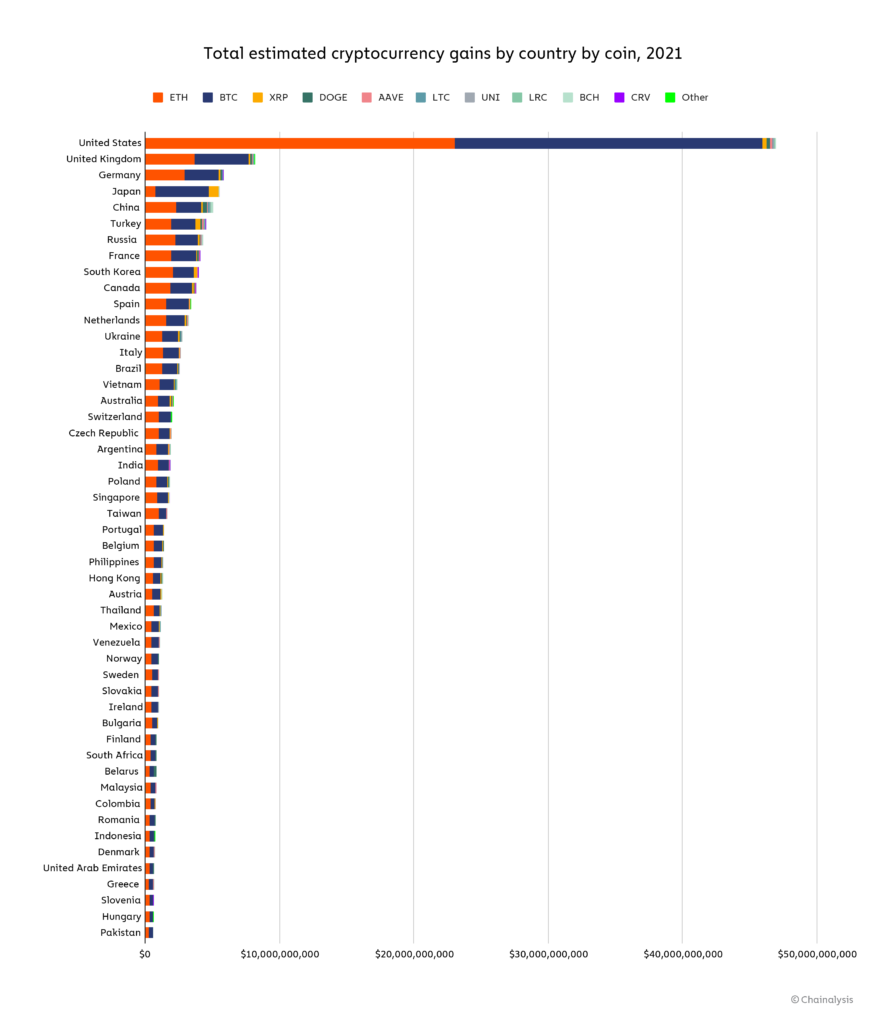 Ethereum profits were higher than Bitcoin's | Source: Chainalysis
They could certainly make it to this year's list, provided they can manage to mark a new ATH significantly higher than the previous one by the end of this year.
Ethereum and Bitcoin on the Charts
As Ethereum proved to be a more preferred and profitable investment than Bitcoin in 2021, investors will once again try to capitalize on that success by investing in the two coins this year.
And most of it could take place now as the broader market is beginning to recover.
Bitcoin has risen by 6.81% in the last 72 hours, with the price crossing the $42k mark. The rise significantly helped BTC retest the 100-day Moving Average (blue) as support and is looking to do the same with the 50-day Moving Average (red).

Bitcoin is above $42k at the moment
Ethereum, on the other hand, was also saved from falling below $3k over the week and is currently trading at $3,131.
However, it still stands 34.85% away from the all-time high of $4,811 but above the 50-day MA and 100-day MA, inching towards soon testing the 200-day MA (yellow) as resistance at $3.5k.

Ethereum is still over 34% away from its all-time high
Don't miss a thing!
Sign up for a daily update delivered to your inbox
Sponsored Financial Content