Five Things to Know in Crypto: XRP Surges on Gensler News
Updated

: Apr 2, 2023, 09:12 UTC
•
5
min read
It has been another impressive morning for XRP and the broader crypto market that continues to show resilience in the face of intensifying scrutiny.
Key Insights:
XRP reacts to news of Congress calling on SEC Chair Gary Gensler to answer crypto policy questions.
CFTC lawsuit against Binance and ether classification as a commodity demonstrates the fractured state of the US crypto regulatory environment.
The SBF story gets no better.
XRP Makes another Move as Congress Prepares to Grill Gensler
Today, Patrick McHenry announced on Punchbowl News that Gary Gensler would appear before a digital assets subcommittee on April 18 to discuss his rule-making and approach to cryptos and the broader digital asset space.
House Financial Services Chair McHenry plans a regulatory sphere for digital assets. The subcommittee hearing will be the first of many regulatory hearings throughout the summer.
A rendezvous between US lawmakers and the SEC Chair has been due for a long time. US lawmakers sent Gary Gensler a letter in March 2022 questioning the SEC's targeted approach towards crypto firms.
The crypto markets took the news buoyantly as bets of a Ripple victory in the SEC v Ripple case gained momentum.
This morning, XRP was up 10.96% to $0.57035, visiting a new 2023 high of $0.58479 before easing back. XRP last stood at $0.58 in May 2022.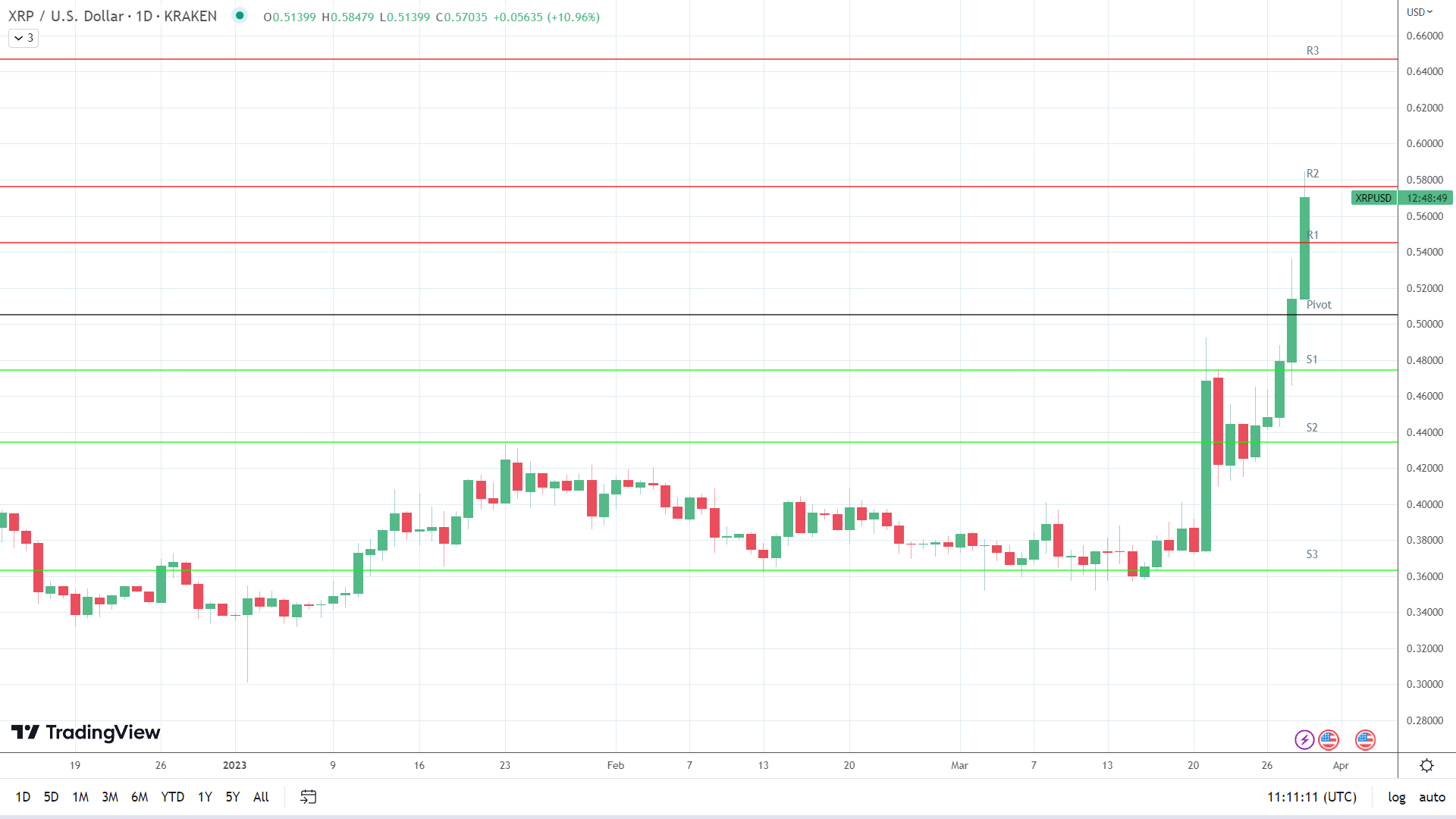 XRPUSD – 290323 – Daily Chart
CFTC Filing against Binance Reflects Fractured US Regulatory Landscape
The Commodity Futures Trading Commission (CFTC) and the Securities & Exchange Commission (SEC) have competed to oversee the digital asset space for some time.
Following the Ethereum Merge, the SEC Chair quickly labeled ether (ETH) a security, attributing the classification to the change in protocol from a Proof-of-Work to a Proof-of-Stake (PoS) protocol.
The CFTC Chair has not and still doesn't agree. CFTC Chairman Rostin Behnam labeled ETH a commodity earlier this month and did so again this week.
Language in the CFTC Court filing against Binance included,
"involving digital assets that are commodities including bitcoin (BTC), ether (ETH), and litecoin (LTC) for persons in the United States."
The contrasting views exist despite the Howey Test. The fact that the SEC and the CFTC cannot agree on the classification of ETH demonstrates the flaws in the categorization of crypto assets.
While this may be bad news for US lawmakers battling a banking crisis, this could be good news for the Ripple defense team.
Last week, Ripple filed a letter to Judge Torres, the presiding Judge in the SEC v Ripple case. The letter highlighted rulings from the Voyager Digital bankruptcy case, with two references from presiding Judge Wiles resonating.
"Judge Wiles found that cryptocurrency market participants operate in a regulatory environment that at best can be described as highly uncertain, in which regulators themselves cannot seem to agree as to whether cryptocurrencies are commodities that may be subject to regulation by the CFTC or whether they are securities that are subject to securities laws, or neither, or even on what criteria should be applied in making the decision."
Judge Wiles added,
"An uncertainty has persisted despite the fact that cryptocurrency exchanges have been around for a number of years."
Significantly, Ripple filed the letter before the CFTC filed its case against Binance, CZ, and Binance executives.
The SEC's response to the Ripple letter was telling,
"Defendants shamelessly mischaracterize the Voyager bankruptcy court's statements and pluck choice phrases out of context in a misguided attempt to boost their unavailing fair notice defense."
Whether Judge Torres will share a similar opinion to Judge Wiles remains to be seen. Either way, the fragmentation is evident and should give Ripple a better footing in its fair notice defense.
Ripple counsel Stuart Alderoty had this to say about Gensler's sweeping statement that all cryptos except BTC are securities,
"Chair Gensler has again proclaimed that every cryptocurrency, except BTC, is an unregistered security. He now must recuse himself from voting on any enforcement case that raises that issue since he has prejudged the outcome. Antoniu v. SEC (8th Cir. 1989)."
US Prosecutors Charge SBF for Bribing Chinese Officials
The SBF story hasn't got any better. US prosecutors have charged SBP with bribing Chinese officials to grant access to frozen Alameda Research accounts.
According to the superseding indictment,
"The defendant authorized and directed a bribe of at least $40 million to one or more Chinese government officials. The purpose of the bribe was to influence and induce one or more Chinese government officials to unfreeze certain Alameda trading accounts containing over $1 billion in cryptocurrency, which had been frozen by Chinese authorities."
Disney Pulls the Plug on Web3 and the Metaverse
This week, news hit the wires of Disney (DIS) pulling the plug on the metaverse plan as part of a broader company layoff plan.
In Q1 2023, Disney reported an operating loss of almost $1.1 billion, reportedly attributable to increased spending on Disney+ and Hulu. The next-generation storytelling and consumer experience division, responsible for exploring expansion into the metaverse, was the first to go.
Disney plans to lay off 7,000 employees, approximately 3% of the global workforce.
The sandbox (SAND) and decentraland (MANA) appeared unphased by the news.
Following a 3.01% gain on Tuesday, SAND was up 3.65% this morning, with LAND gaining 3.78% off the back of a 2.35% rise on Tuesday.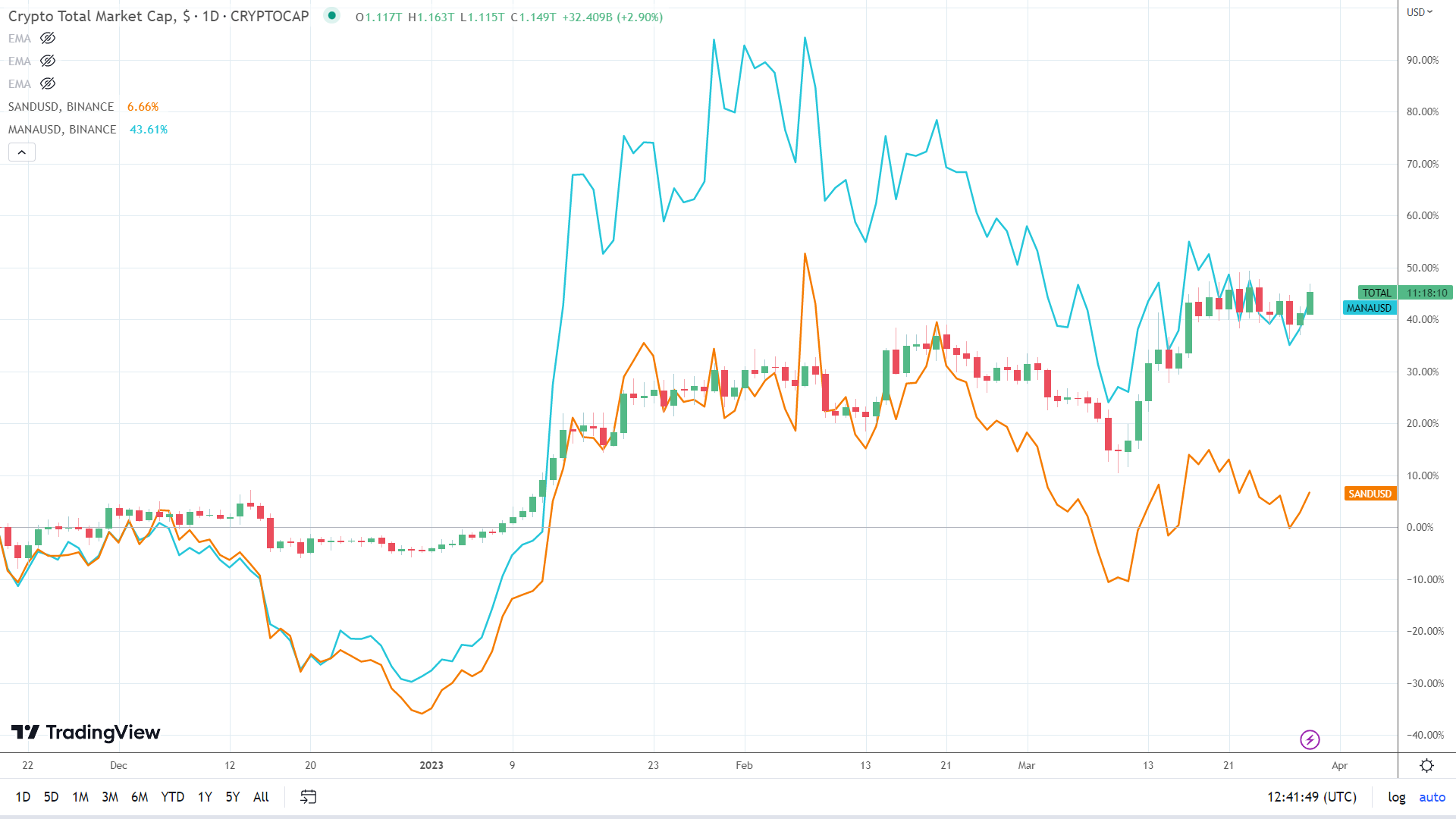 MANA – SAND – Crypto Market – Daily Chart 290323
Crypto Exchanges Renter the Sports Arena Despite Lawmaker Scrutiny
While news of Disney pulling out of the metaverse disappoints, reports of Kraken partnering with F1 Williams Racing grabbed the headlines.
On Tuesday, Kraken Exchange announced the partnership on Twitter.
The partnership comes after a crypto-free Superbowl LVII. In February, franchises chose to steer clear of the digital asset space after the FTX bankruptcy.
In February, news of Kraken agreeing to cease offering or selling securities via its crypto asset staking programs shook the crypto market.
The crypto return to the sports arena will likely raise eyebrows on Capitol Hill. FTX was a leading sponsor of professional sports teams in the US. Franchises included the NBA's Miami Heat and the Dallas Mavericks.
Don't miss a thing!
Sign up for a daily update delivered to your inbox
Sponsored Financial Content