Gold And Silver Trade Higher Amid Recession Fears
Gold and silver opened the week with gains amid risk aversion. Fear of US recession and deteriorating US Treasury yields are hurting market sentiment.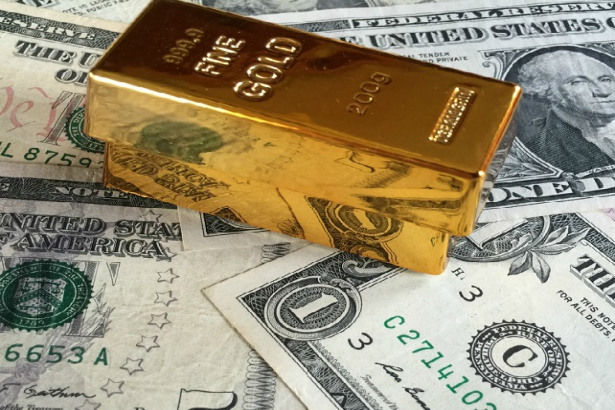 Gold and silver are trading higher on Monday as concerns about a global economic slowdown and a recession in the United States are hurting market sentiment.
US dollar index is trading down on recession fears, gold and silver are testing resistances, while palladium is falling for the second day as supply worries recede.
Is the US heading to a recession?
The big question now among global economic experts is about the health of the United States economy. Fears provoke risk aversion, then gold is up.
Disappointing economic data in the United States last week, a more than expected dovish Federal Reserve and deteriorating US Treasury yields are fueling worries.
FX Empire analyst James Hyerczyk highlighted in a recent report that the "steep drop in Treasury yields caused the yield curve to invert when the 10-year Treasury yield slipped below the 3-month Treasury yield for the first time since mid-2007."
Investors are concerned about this because historical studies suggest that this kind of inversion could lead to a recession.
Friday data was especially disappointing as it showed US manufacturing activity declined unexpectedly. Also, eurozone PMI reported contraction in its PMI data. Today, Germany reported a better than expected IFO report, but it wasn't enough to relief markets.
"If data continues to be as weak as forecast, then there is a very good chance we could see significant higher gold prices," Michael McCarthy, chief market strategist at CMC Markets, said on CNBC.
He agreed that the inversion of yield is a sign of concern.
Gold up to test 1,320 resistance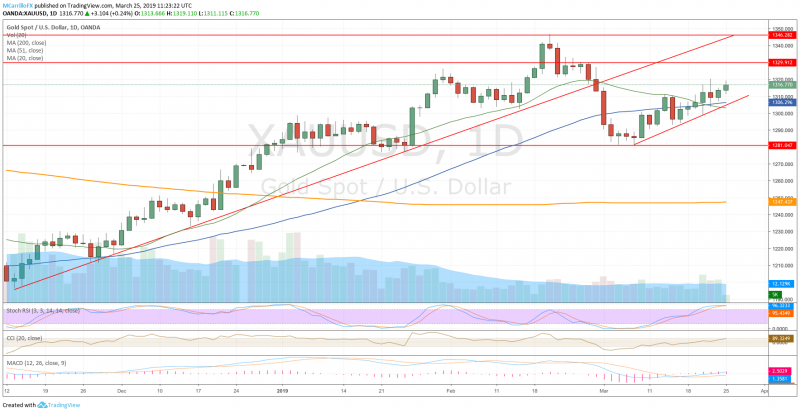 Gold is trading positive on the first day of the week as risk aversion is dominating the market. Fears of a recession in the United States and a global economic slowdown are hurting sentiment.
XAU/USD is currently trading at 1,316, 0.25% positive on the day. The pair is now testing March 21 highs at 1,320; above, the metal would have open doors until 1,330.
To the downside, if the pair fails to break above 1,320, it would fall to 1,310 and then the 1,300-1,305, where a confluence of 20 and 50 days moving averages is.
"The size and duration of the rally will likely be determined by how much money bullish investors are willing to bet on the chances of a recession," Hyerczyk said.
He also recalled data from the US CFTC, "investors raised their bullish wagers in COMEX gold in the week to March 19, after reducing positions for nearly a month."
Silver advances, but 15-60 seems too solid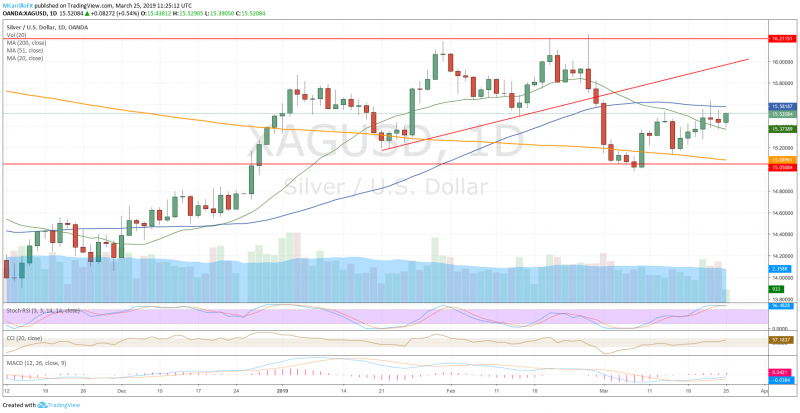 Silver is trading higher on Monday amid risk aversion environment and a positive correlation with XAU/USD.
XAG/USD is currently trading 0.55% positive on the day at 15.15. The pair is now managing to consolidate current levels, but the real frontier is at 15.60, where the 50-day moving average is.
This level has been containing Silver prices against the Dollar in the last four trading sessions.
XAG/USD is showing mixed signs as the pair looks overbought, but CCI and MACD are slightly bullish.