"The impact of the pandemic on the market is ongoing" – Mr. Philippe Ghanem, Chairman of SquaredFinancial, shares his thoughts on the current situation and the future of online trading
Published

: Dec 15, 2021, 16:43 UTC
•
6
min read
2022 is going to be an interesting year in the markets, especially the forex one.
It is no secret that the online trading industry has taken quite a blow in 2021 so far. The abundance of new players in the field, along with the cryptocurrency market's extreme unpredictability, have changed the rules of the game, leaving many younger, less experienced trading brands out of the game.
With that in mind, we took the opportunity to sit down and chat with Mr. Philippe Ghanem, chairman of one of the most veteran and trusted online trading brokers today, SquaredFinancial. Do not miss his two cents on where the industry is heading.
Q1: Tell us about yourself.
A: I have been an entrepreneur my entire life. I started companies that offer platforms allowing clients to virtually trade all markets, online and offline. I focused on increasing the accessibility of customers to trading by creating asset management tools, until reaching the one-stop shop we are now offering at SquaredFinancial.
In 2000, I started my first company, EFXFX, in Geneva. Then I established Amwal Brokerage in 2005 in Abu Dhabi and then SquaredFinancial in Dublin. In 2010 I was appointed Managing Director at ADSS, and in 2015, I was appointed CEO and Vice Chairman.
I've always been involved in the online business, with the aim to create a bridge between markets and the online community. Over the years, my businesses compiled more than a million clients, and I have been lucky to be surrounded and assisted by some of the best talents in the industry. New technologies captivate me, from blockchain to AI. I believe that they will lead to the introduction of many new products in the markets, creating more opportunities for our clients.
Q2: SquaredFinancial. That's an interesting name. Is there a story behind it?
A: Well, a square has defined edges, four right angles – the 90 degrees – and four equal sides. Just like that, people from the four corners of the earth have access to our trading services. They have equal chances of investment, and they get to benefit from well-defined trading, the trading that is right for them, good trading, no matter where on the globe they may be. A square reflects balance, and that's what we thrive at offering.
Q3: I see that you are a multi-regulated broker, yet you still manage to offer access to so many global assets, on a very diverse scale. How do you do it?
A: That's true. SquaredFinancial is regulated by CySec and FSA. These regulators have two different jurisdictions, and this is what allows us to reach markets at a larger scale. We are 100% compliant with regulations, and we take them very seriously, which adds to our transparency and integrity. But being under two regulators allows us to broaden our offering. This year, we expanded our financial products, offering our clients all over the world more than 10,000 instruments depending on the country they come from, and we're still growing thanks to high demand from our clients. I'll tell you why. Because we want our clients to have the opportunity to choose the asset class they want to invest in, and we want to be able to offer it to them. So, clients coming from Europe who are under CySec jurisdiction benefit from products that are different from clients who are under FSA jurisdiction.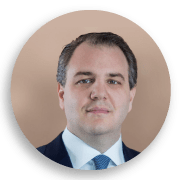 Mr Philippe Ghanem, chairman of SquaredFinancial
Source: https://www.squaredfinancial.com/about/our-team
Q4: What makes SquaredFinancial different from other trading brands? Why should a new trader opt you over the others?
A: I will not go for the "we are different, we are the best" cliché. At SquaredFinancial, we like to be considered as our clients' partners. We are their partners throughout their trading journey. We don't aim at having clients for one year or two. We want a long-term relationship, one that is built on trust and transparency. Their gain is our gain; their loss is our loss. As a trader, you can find all your investment needs at SquaredFinancial. We are your one-stop shop. We accompany you from day one, providing you with the knowledge you need, if you have no trading background, so that you start trading on solid grounds. If you don't have the time to trade for yourself, we help you trade through strategies managed by our highly experienced professionals. Plus, we offer one of the lowest commissions in the industry.
Q5: What is your take on online trading in 2022?
A: Online trading has grown exponentially in the past years, especially during the pandemic when people had more free time and had to think about finding new ways to earn their living, to make some extra money. Despite the volatility that the markets are witnessing, the uncertainty caused by continuous lockdowns, and the political unpredictability in some major countries, people are getting more into digital trading and the whole landscape is becoming heavily populated. The impact of the pandemic on the markets is ongoing. I believe that, in 2022, more opportunities will be available to those who are eager to trade and invest, especially with artificial intelligence and next-generation digitization and virtual reality, and with the rise of retail traders and the introduction and change in players in the markets. The risks are still there, but if you trade wisely, if you choose your partner wisely, then you're on the right track.
Q6: Congratulations for all the awards you reaped in 2021. Which one was the most meaningful to you?
A: Thank you! It's quite satisfying to be recognized for all our hard work. We are a committed and devoted team of professionals. Each and every member of SquaredFinancial family gives it all to keep the work growing and going. Please allow me to mention two awards that mean to me, and not one. I'm proud to say that we won the 'Most Transparent Forex Broker Cyprus 2021' award, and it means a lot because it's an acknowledgement of our integrity. With all the chaos happening recently in the brokerage industry, some brokers being shut down by regulators for scamming people, this award is another proof that SquaredFinancial is fully regulated, is true to its clients and maintains a transparent relationship with them. The second award is the 'Best Customer Service Experience 2021', because at the end of the day, all brokerage firms offer almost the same markets and products, but it's the quality of service and the experience that make us stand out.
Q7: What are your plans for the future? How are you planning to maintain the edge you currently hold over competition?
A: We've got too many plans to name them all here. We're growing in number and volume, and we have so much more to offer to our clients. We're their one-stop shop for trading and investment, and we aim at becoming their first investment partner, their first choice. For the past couple of years, we have been counting on data and AI, and these will be a bigger part of our next projects. We're launching an app that will allow our clients to trade wherever they are, whenever they want. We will offer more state-of-the-art platforms that will make the trading journey even easier and the experience more satisfying. We're constantly optimizing our service and our client experience. Our team is growing fast, and more dedicated and professional people are joining our team.
Don't miss a thing!
Sign up for a daily update delivered to your inbox
Sponsored Financial Content