Understanding Crypto Rules on Social Media And How To Win Business Organically
Updated

: Apr 12, 2022, 07:03 UTC
•
6
min read
Digital marketing and cryptocurrencies should go together like apple pie and ice cream.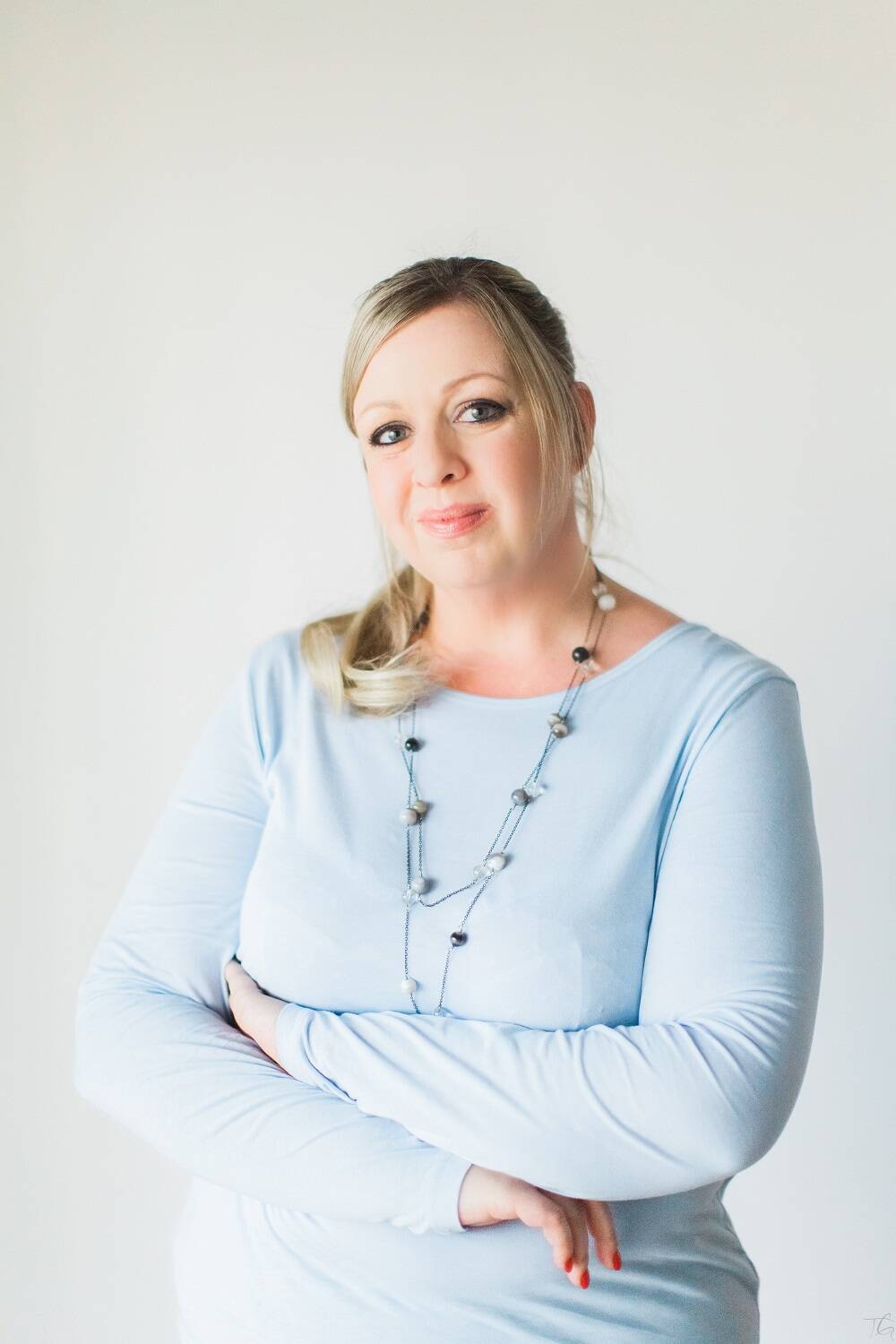 Crypto and blockchain brands want to promote in various digital spaces, including social media. And with the progression of token friendly spaces like the Metaverse it should be an ideal fit. But, to advertise on these platforms, you need to understand the cryptocurrency ad policies. As a leading financial services marketing agency, this is a space we follow closely. Here's the lowdown on crypto social media rules and how you can win business organically.
The Crypto Landscape
The global cryptocurrency market is valued at more than $2 trillion. Additionally, the World Economic Forum estimates show that 10% of global GDP will be stored on blockchain technology by 2027. These statistics present an excellent opportunity for brokers and crypto exchanges. So, what's the problem? Let's look at the crypto advertising policies of the main social media networks.
Facebook Cryptocurrency Advertising Policy
As the cryptocurrency landscape continues to gain traction, we now have more explicit rules to adhere to. Many marketers in the finance space will be familiar with a popup like this one:

Facebook announced on December 1, 2021, that it is relaxing its cryptocurrency advertising policies. Facebook or Meta (as it is now called) updated its eligibility for running cryptocurrency ads on its platform. More specifically, Facebook expanded the number of regulatory licenses it accepts to 27, up from 3.
To run cryptocurrency ads on Facebook, you will need to show that you have one of these licenses.
The Licenses, According To Facebook Guidelines Are As Follows:
Australia: AUSTRAC & ASIC
Austria: FMA
Canada: FINTRAC
Estonia: Fin-FSA
France: AMF
Germany: BaFin
Gibraltar: GFSC
Hong Kong: (SFC
Indonesia: BAPPEBTI
Japan: FSA
Luxembourg: CSSF
Malaysia: Recognised market operators (RMOs)The Securities Commission Malaysia (SC)
Malta: CAP 590 & (MFSA
Netherlands: DCB
Norway: Finanstilsynet
Philippines: Certificate of Authority (COA) to operate as a Virtual Asset Service Provider (VASP), issuer: Bangko Sentral ng Pilipinas (BSP)
Singapore: Monetary Authority of Singapore (MAS) licence under the Payment Services Act for digital payment token (DPT) service, issuer: Monetary Authority of Singapore (MAS)
South Korea: Virtual Asset Service Provider (VASP) report (which can only be obtained upon obtention of ISMS certification), issuer: Korea Financial Intelligence Unit (KoFIU)/Financial Services Commission (FSC)
Sweden: FSA
Thailand: The Thai Securities and Exchange Commission (SEC)
United Arab Emirates: Licence to engage in arranging, advising, dealing, managing or other relevant financial services and/or operating an exchange and/or provide money services – each in relation to crypto assets, issuer: Abu Dhabi Global Market, Financial Services Regulatory Authority Licence to operate a stored value facility (that includes virtual assets), issuer: United Arab Emirates onshore, Central Bank of the United Arab Emirates Licence to engage in investment business/operating an exchange – specific to investment tokens, issuer: Dubai International Financial Centre, Dubai Financial Services Authority
United Kingdom: FCA
USA: FinCEN MSB registration, issuer: Financial Crimes Enforcement Network (FinCEN) BitLicense, issuer: Department of Financial Services, New York state (NYSDFS)
Crypto Advertising On Instagram
With more than 2 billion active users, the Facebook-owned social media network can be a lucrative advertisement platform. Instagram's ad revenue is expected to reach US$ 40 billion by 2023. Being a sister platform to Facebook, Instagram adopts a similar policy regarding cryptocurrency advertising. As such, Meta's new cryptocurrency advertising guidelines in December 2021 still apply on Instagram.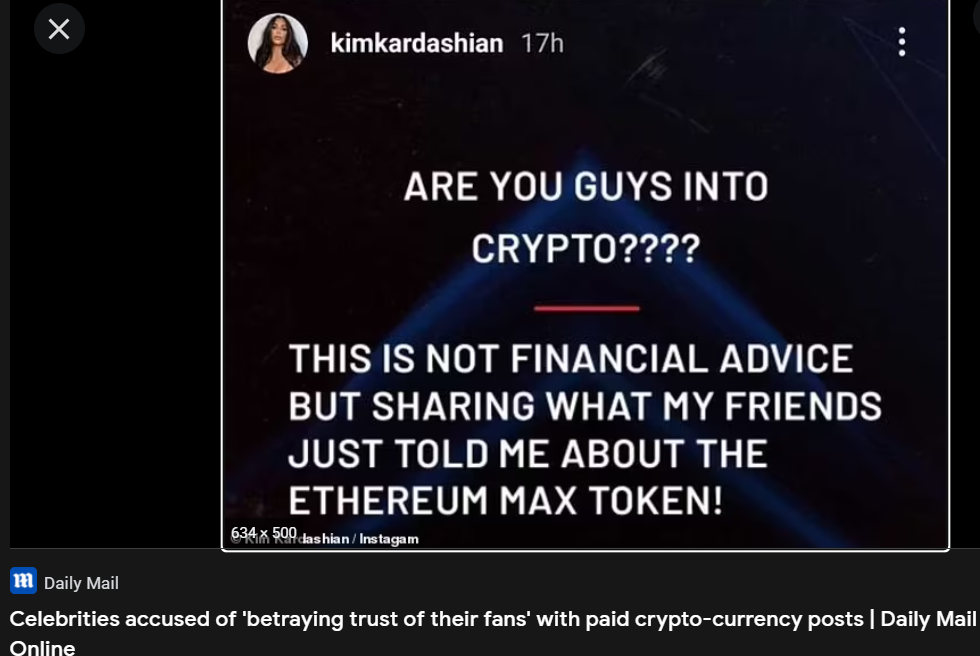 In June 2021, Kim Kardashian got into trouble after promoting crypto on Instagram. The celebrity influencer shared the Ethereum Max project with her more than 250 million Instagram followers. Under new ASIC rules, FX brands must hold their influencers accountable for the information they post. Watch out for that if you choose to work with an influencer.
Advertising Cryptocurrency On Twitter
Twitter is another popular social media network with more than 300 million monthly active users. Twitter prohibits any form of financial speculation to promote or attract interest in stocks and shares. But, you can promote cryptocurrency products or services with prior authorisation from Twitter.
We love Twitter for following crypto and financial influencers. They can help keep you informed on the latest news and potentially consider collaborations. Our top 20 USA finance influencers list has just been published here.
What Are The Organic Content Marketing Solutions?
When it comes to crypto marketing, PR is expensive. It can cost brands up to 20K for a single crypto piece. Paid social media and Google AdWords are also fraught with licensing issues and red tape. So how do we get so much traction for our finance and crypto clients organically?
Focus On SEO Content
When it comes to organic marketing, having a solid SEO strategy is an absolute must. Optimised content is the key to getting noticed online. Of course, you need to show Google your relevance by incorporating common keywords strategically into URLs, titles, content headers and throughout the body of your articles. But it's helpful to research niche, long-tail keywords that address specific user questions.
According to Google, the word Dogecoin was number four on Google's 2021 search results, behind only Afghanistan, AMC Stock and covid vaccine. Competitive keywords are expensive on a PPC level. And on an organic level they're also throw around a lot. This is where a long-tail keyword strategy comes into play. These might get a smaller number of searches per month, but they tend to convert better as they answer detailed search queries.
Aim For Featured Snippets
Another great way to market your crypto brand organically is to aim for a spot in the Featured Snippets section of a Google Search results page. Known as Position 0, such snippets appear above all the other organic search results and get approximately 8% of all clicks. 40.7% of all voice search answers also come from a featured snippet, so this is a SERPs spot your brand should try to fill.
Get Inspired By Reddit
The Reddit community is a place where questions are asked, mysteries are solved and communities forge together to impact real change. Video game retailer GameStop's stock increased dramatically due to the actions of users on the WallStreetBets subreddit. And there are plenty of communities obsessing over cryptocurrencies too.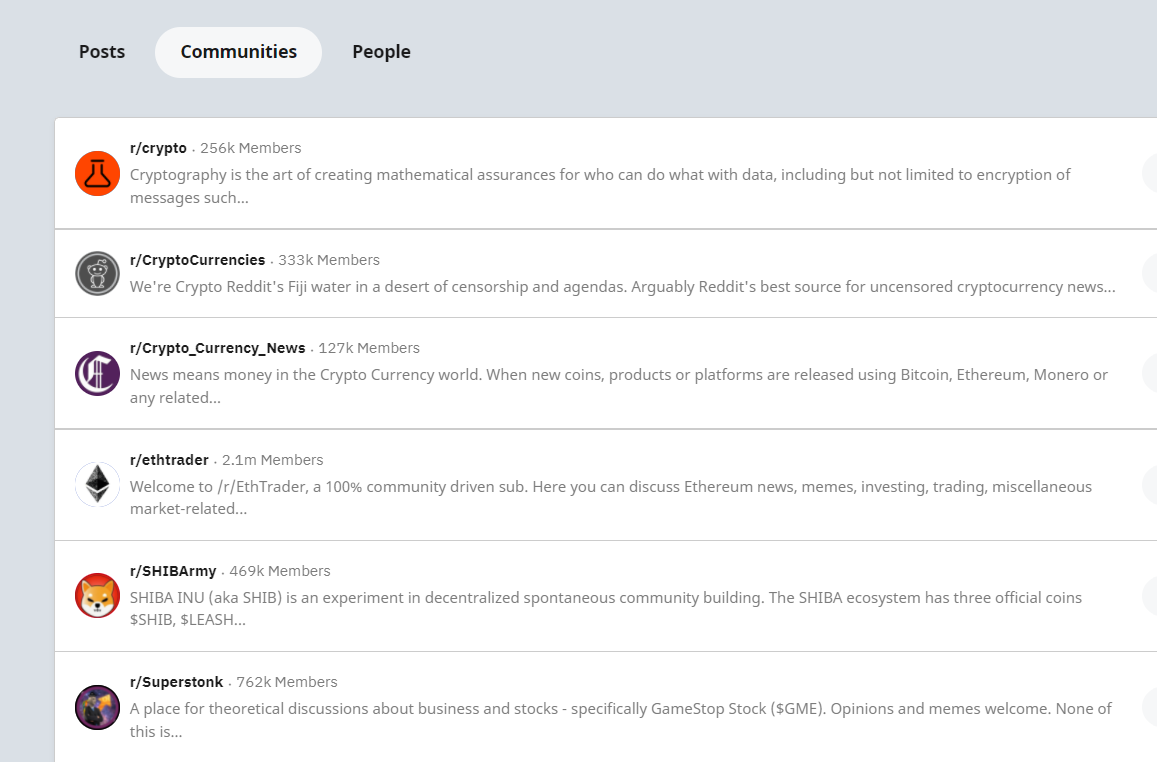 Don't be too promotional. Redditors don't think a lot of marketers who promote too heavily.
Make a note of discussions and frequently asked crypto questions. They will make awesome social media posts or blogs.
Follow the latest news and stories and get involved in discussions. If there is a documentary on Netflix (Hunt for the Crypto King) then there will be subreddits talking about it.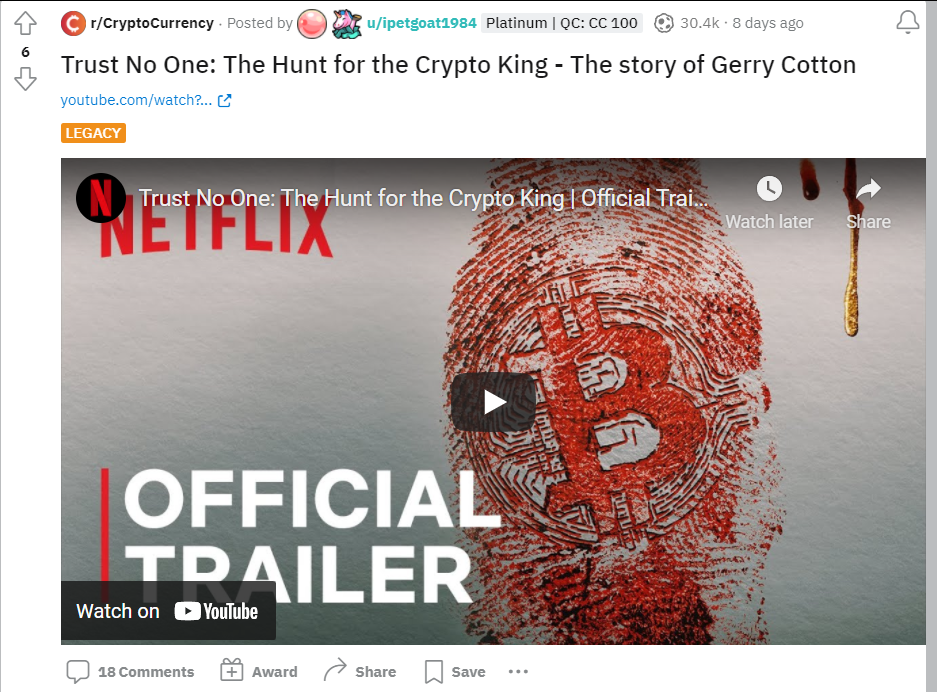 Read Reddit Marketing Hacks For The Finance Space
Build An Education Centre
A recent survey across the US, Mexico and Brazil revealed that 98% of survey participants still don't understand crypto, including basic concepts related to Bitcoin, stablecoins and NFTs. That said, 2021 was a huge year for crypto adoption and with NFTs rising in popularity and being sold on the blockchain, more and more people are likely to garner interest in digital currencies. So, industry education offers a whole range of marketing opportunities.
Craft A Strong Social Media Presence
Social media plays a key role in brand awareness and engagement. Many crypto brands give insights into the crypto world on social media providing daily insights, weekly overviews, graphs, charts and more. Consistently posting, responding to fans, following trends, using the right hashtags, joining in conversations and starting interesting debates on forums are essentials.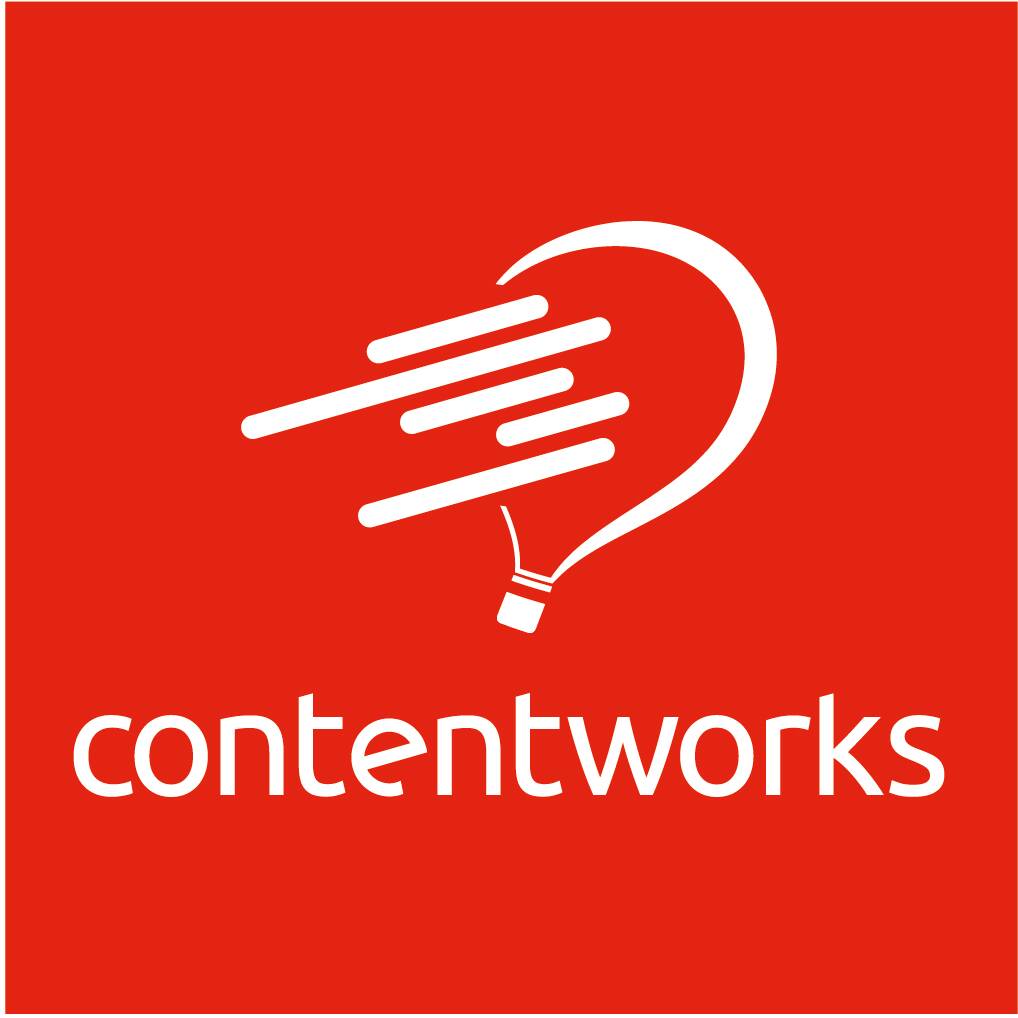 Engaging organic content marketing is what Contentworks Agency is renowned for. We provide analysis, blogging, social media management and video marketing to leading financial services brands. Contact Contentworks Agency today to learn how we can help boost your brand.
Don't miss a thing!
Sign up for a daily update delivered to your inbox
Sponsored Financial Content