Please note: We performed our tests with a live standard account using the Trading Station platform, opened with the Forex Capital Markets Limited entity of FXCM.com/UK. Some features and services may vary depending on where you reside.
CFDs are complex instruments and come with a high risk of losing money rapidly due to leverage. 71% of retail investor accounts lose money when trading CFDs with this provider. You should consider whether you understand how CFDs work and whether you can afford to take the high risk of losing your money.
The Big Picture
One of the best-known names in the forex industry, FXCM offers an impressive range of technology, tools, and research. The London-based broker was founded in 1999, making it one of the first retail forex brokers and a pioneer in bringing online currency trading into the mainstream. In its early days, the company introduced innovations such as automated trading and flexible position sizing. Over the past decade, FXCM faced various challenges, notably when the Swiss National Bank (SNB) unexpectedly raised the peg on EUR/CHF in 2015, resulting in a significant loss for the company. FXCM has bounced back and is currently owned by Jefferies Financial Group, a financial services giant with over $51 billion in assets.
We evaluated FXCM across nine categories (Trust/Stability, Fees, Tradable Instruments, Account Types, Deposit/Withdrawal, Research, Customer Support, Education, and Platform/Tools).
FXCM Key Takeaways in 2022
FXCM has a high level of financial strength and stability.
Spreads for Standard Accounts range from average to above average for the industry.
We found room for improvement in support wait times.
FXCM can cater to sophisticated traders with a broad range of advanced platforms and tools.
Research and educational materials are excellent, making FXCM a strong choice for beginners.
What Sets FXCM Apart from Other Brokers?
FXCM shines with its broad range of trading platforms and tools for advanced traders and strategy developers. As an innovator in retail forex trading with over 20 years of experience, this broker also has an industry-leading range of research and educational resources.
What types of traders are a good fit for FXCM?
With outstanding educational and research resources, FXCM could be a suitable broker for beginner traders. On the other end of the spectrum, FXCM can cater well to advanced and professional traders who want the tools to backtest and automate their trading strategies. Spreads in the Standard Account range from average to better than average, and more competitive spreads are available via the Active Trader account type.
Note: Availability of Active Trader account depends on the jurisdiction.
FXCM Pros and Cons
Pros

Cons

High trust and stability rating.

Excellent research and educational materials.

Strong algorithmic trading resources.

Wide range of available platforms and tools.

Unique instruments for trading, e.g. trading baskets.

Good range of methods for deposits and withdrawals.

High inactivity fee ($50).

High withdrawal fee via bank wire (up to $40)

Lengthy wait times for support.
About the Author
Starting his career in finance on the floor of the Chicago Mercantile Exchange, Dan later gained insight into the forex industry during his time as a Series 3 licenced futures and forex broker. Dan also traded at a couple of different prop trading firms in Chicago.
How Do We Rate?
When trading forex and CFDs, it is crucial to know a broker's strengths and weaknesses. That is why FX Empire developed its proprietary rating system. We put the knowledge and expertise of our reviewers to work to bring you the most suitable brokers. A total of 200 variables have been analyzed to help you choose your broker wisely. This chart describes all the categories we evaluated and rated.
Visit our methodology page to learn more about our review and rating process.
FXCM Main Features
| | |
| --- | --- |
| | FCA UK (United Kingdom), ASIC (Australia), CySEC (Cyprus), FSCA South Africa (South Africa) |
| | English, Spanish, German, French, Arabic, Chinese, Greek, Vietnamese, Malaysian, Italian, Indonesian, Polish, Bulgarian, Hebrew, Tagalog |
| | Currencies, Commodities, Indices, Stocks, Crypto |
| | $50 |
| | 1:30 (FCA UK), 1:30 (ASIC), 1:30 (CySEC ), 1:30 (FSCA South Africa) |
| | Dealing Desk, Market Maker |
Check if...
FXCM accepts clients from your country:
Losses can exceed deposits, 70% of retail CFD accounts lose money
How Do We Test A Broker's Trust?
When choosing a broker, trustworthiness is one of the most important things to keep in mind. Always check the broker's regulations, know how financially secure the firm is, and find out whether the broker is transparent and reliable. These factors, calculated into our score, will help you understand if your money is safe.
---
FXCM entities are regulated by various top-tier agencies across the world. One of the oldest forex and CFD brokers, FXCM dates back to 1999 and is owned by Jefferies Group, a publicly traded company.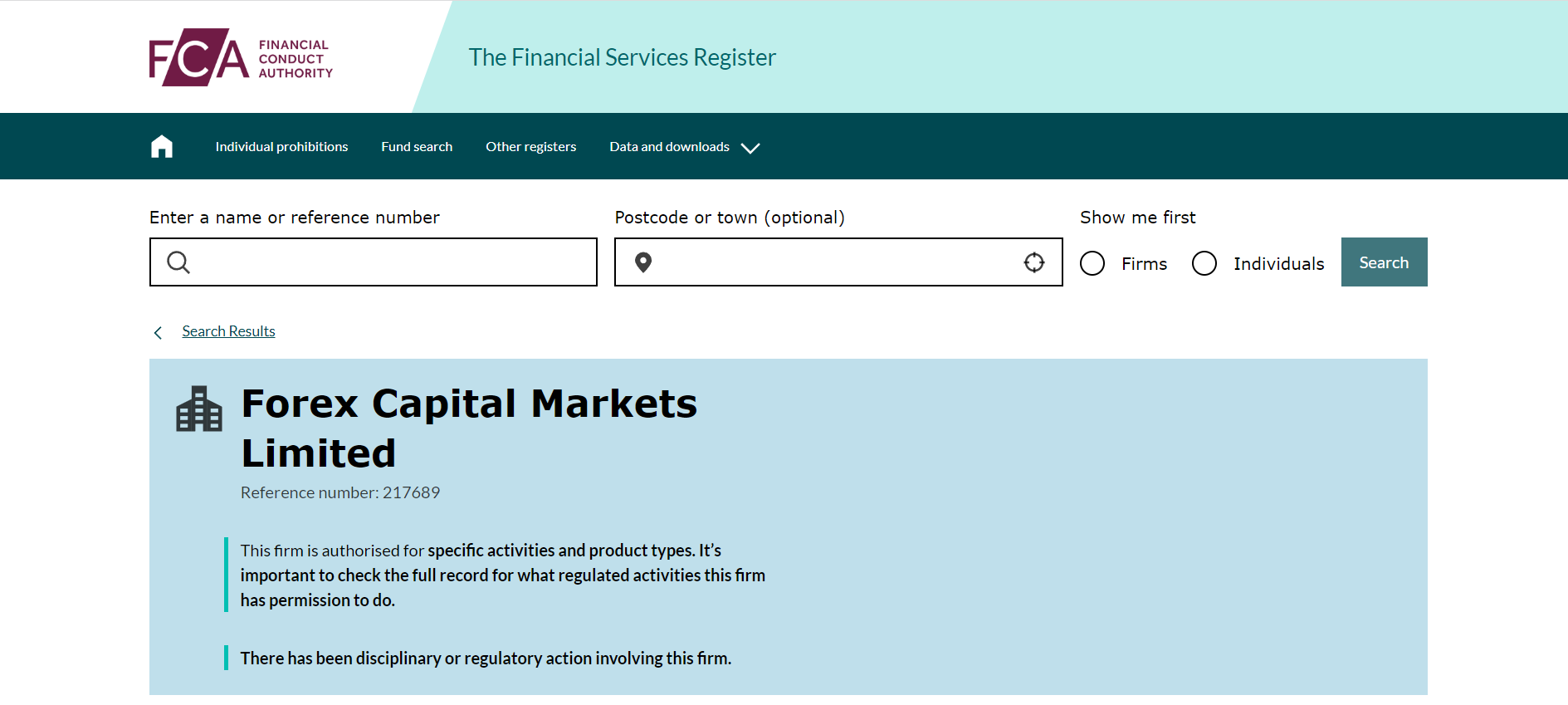 FXCM FCA
In our trust category, we place the most importance on how a broker is regulated. In this section, we'll look at how the different entities of FXCM across the globe are regulated and how this impacts you as a trader. We rate regulators on a scale of 1 to 3, with 1 reflecting the highest level of trust.
Why is it important to know where your broker subsidiary (entity) is regulated?
The level of protection varies at each regulator. For example, FXCM clients in the United Kingdom benefit from the oversight of the FCA. The FCA requires that clients have negative balance protection, which means they cannot lose more than their deposit.
When trading with a broker authorized by the FCA, client funds are also protected by the Financial Services Compensation Scheme (FSCS). The FSCS protects investments of up to £85,000 if a firm becomes insolvent. A trader working with a broker entity regulated offshore would not necessarily have these benefits.
The table below lists the protections and benefits by entity, regulator, and region.
| | | | | | |
| --- | --- | --- | --- | --- | --- |
| Entity | Forex Capital Markets Limited | FXCM EU Limited | FXCM Australia Pty. Limited | FXCM South Africa Pty. Limited* | FXCM Markets LLC |
| Country/Region | United Kingdom | Europe | Australia | South Africa | St Vincent and the Grenadines/Global |
| Regulation | FCA | CySEC | ASIC | FSCA | FSA |
| Segregated Funds | Yes | Yes | Yes | Yes | Yes |
| Negative Balance Protection | Yes | Yes | Yes | Yes | No |
| Compensation Scheme | FSCS Up to £85,000 | ICF Up to €20,000 | No | Yes | No |
| Standard Leverage | 1:30 | 1:30 | 1:30 | 1:30 | 1:400 |
*FXCM South Africa Pty. LTD acts solely as an intermediary in terms of the FAIS Act between the client and Forex Capital Markets Limited.
Regulatory requirements are subject to change. We gathered the data listed above in April 2023.
Stability and Transparency
In our tests for the Trust category, we also cover factors relating to stability and transparency. Here, we focus on how long the broker has been in business, the company's size, and their transparency.
Founded in 1999, FXCM is a pioneer in retail forex trading. However, the broker faced several challenges over the past decade, notably when the Swiss National Bank (SNB) lifted the peg on EUR/CHF in 2015, causing a loss of $225 million.
FXCM has bounced back, and its parent company, Jefferies Financial Group Inc., is publicly traded (NYSE: JEF) with a market cap of $7.1 billion at the time of this writing (April 2023). FXCM does not have a bank parent.
In our research, FXCM was transparent in its regulatory status, fees, and background information. All corresponding materials are available on the website. The regulatory status of different entities is covered in detail on their Regulation page. A rate card on their Charges and Fees page clearly outlines all costs. A Terms of Service document is available online via the General Business Terms page.
To conclude, we rated FXCM as having an above-average level of trust and stability due to the following factors:
Regulated by multiple top-tier agencies.
Enduring operating history.
Ownership by a multi-billion dollar, publicly traded company.
Good level of transparency.
Fees
How Do We Test A Broker's Fees?
Broker fees can be difficult to understand. We test the broker's platforms and examine commissions, spreads, and overnight fees to ensure that you can determine if trading with this broker is worth your time and money.
---
FXCM's Standard Account trading-related fees vary average to above average in our tests. However, more competitive pricing is available via the Active Trader account. Some account-related fees are relatively high.
FXCM offers two account types: Standard and Active Trader. We tested the standard account in this review. In the Standard Account, fees are mainly reflected in the spread. The spread is the difference between the bid (sell) price and the ask (buy) price. Narrower spreads allow you to enter and exit the market at a lower cost, which is especially important for active traders.
*Availability of Active Trader account depends on the jurisdiction.
Trading Fees
We tested the spreads at FXCM across different asset classes using the Trading Station platform at 8 a.m. GMT and 4 p.m. GMT on 3 April 2023. We made our tests at various times to allow greater perspective. 8 a.m. GMT is the London open when there is high liquidity in the forex market and tighter spreads in currency pairs. 4 p.m. GMT is during the New York trading session.
| | | |
| --- | --- | --- |
| Instrument | Spread AM | Spread PM |
| EUR/USD | 0.8 Pip | 1 Pip |
| GBP/JPY | 3.4 Pips | 3.7 Pips |
| Gold | 31 Pips | 31 Pips |
| Light Crude Oil | 40 Pips | 40 Pips |
| Apple | n/a | 13 cents |
| Tesla | n/a | 31 cents |
| Dow 30 | 3.7 Pips | 2.1 Pips |
| Dax 30 | 1.3 Pips | 1.3 Pips |
Note: there is also a small commission charged when trading CFDs on stocks of $0.003 per share.
Swap Fees
Swap fees (the cost of holding a position overnight) were average at FXCM.
In the table below, you can see the Swap Long (the cost/credit of holding a buy position overnight) and the Swap Short (the cost/credit of maintaining a sell position overnight) for one full-sized contract. A full-sized contract is 100,000 units of the base currency (the first currency quoted in the pair). We recorded the data on 4 April 2023.
| | | |
| --- | --- | --- |
| Instrument | Swap Long | Swap Short |
| EUR/USD | Charge $7.34 | Credit $3.47 |
| GBP/JPY | Credit $4.83 | Charge $11.62 |
Non-Trading Fees
FXCM inactivity fee is higher than the industry average, amounting to up to 50 units of the account currency for accounts inactive for 12 consecutive months. However, unlike many brokers, FXCM doesn't charge for deposits and withdrawals with only exception in case of bank wires.
Are Fees at FXCM Competitive?
We judged the trading related fees (spreads, commissions and swaps) for the Standard Account at FXCM to be average and in some cases better than average for the industry. Some account-related fees such as the inactive fee are more costly than average.
Platforms and Tools
How Do We Test A Broker's Platforms and Tools?
Platforms are where you trade, so they must be secure, fast, and accessible while offering you the tools you need to succeed. Each broker's desktop, web, and mobile platforms are evaluated according to the order types, speed of execution, ease of use, and other 'need to know' features.
---
FXCM shines in the area of its platform offerings. The flagship Trading Station platform is available via desktop and web, and clients can also use MetaTrader 4, TradingView, and Capitalize.ai.
The trading platform is the interface that allows users to enter orders, read charts and analyze the markets. Needless to say, this is a crucial part of a trader's toolkit. FXCM offers an exceptional range of trading platforms, which include:
Trading Station: FXCM's flagship platform, available for web, desktop, and mobile.
TradingView: TradingView live trading integration with FXCM allows you to trade directly from your TradingView charts.
MetaTrader 4: a popular platform for trading and analyzing forex and CFDs, which can automate analytical and trading processes.
Capitalize.ai: this platform allows you to do code-free strategy automation by simply typing your ideas.
Trading Station Web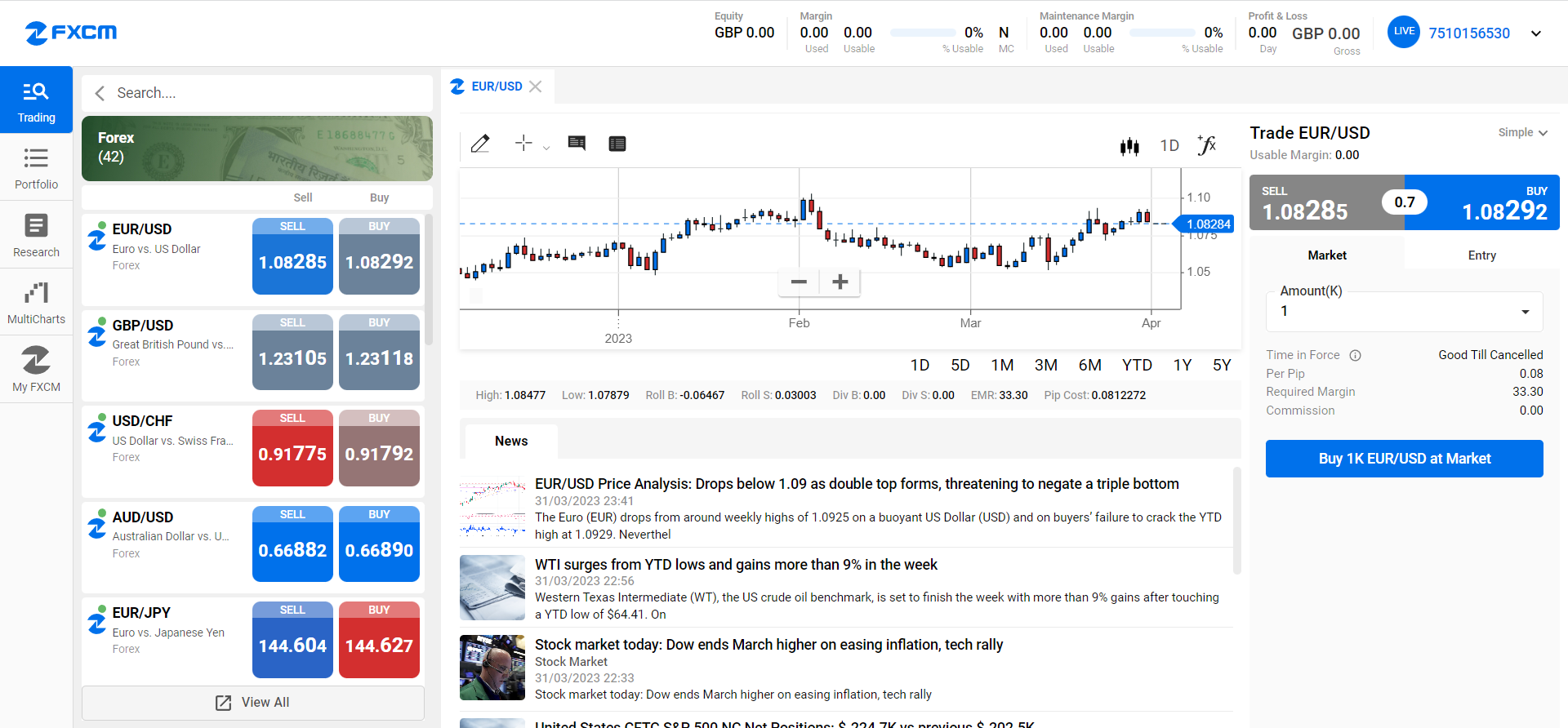 Trading Station Web Platform
Trading Station web is well-designed, customizable, and relatively easy to navigate. Popular features such as watchlists, alerts, 1-click trading, and trading from the chart are all available.
FXCM's news feed and economic calendar are built into the platform. A customized trading analytics feature helps you better understand and improve your performance. Trading Station Web has a better-than-average range of available order types, which include:
Market Orders.
Limit Orders.
Stop Loss Orders.
Trailing Stop Orders.
OCO (One cancels the other) Orders.
Time conditions can also be applied to orders, including:
Good-til-date (GTD).
Good-til-canceled (GTC).
Immediate or cancel (IOC).
Fill or kill (FOK).
Charting on the platform is robust, with over 100 available technical indicators, 20 chart types, and ten available time frames to choose from.
The platform is also available in multiple languages to cater to FXCMs global client base.
Trading Station Web Platform Languages
English | Japanese | Greek | French | Chinese | German | Spanish | Italian
Trading Station Desktop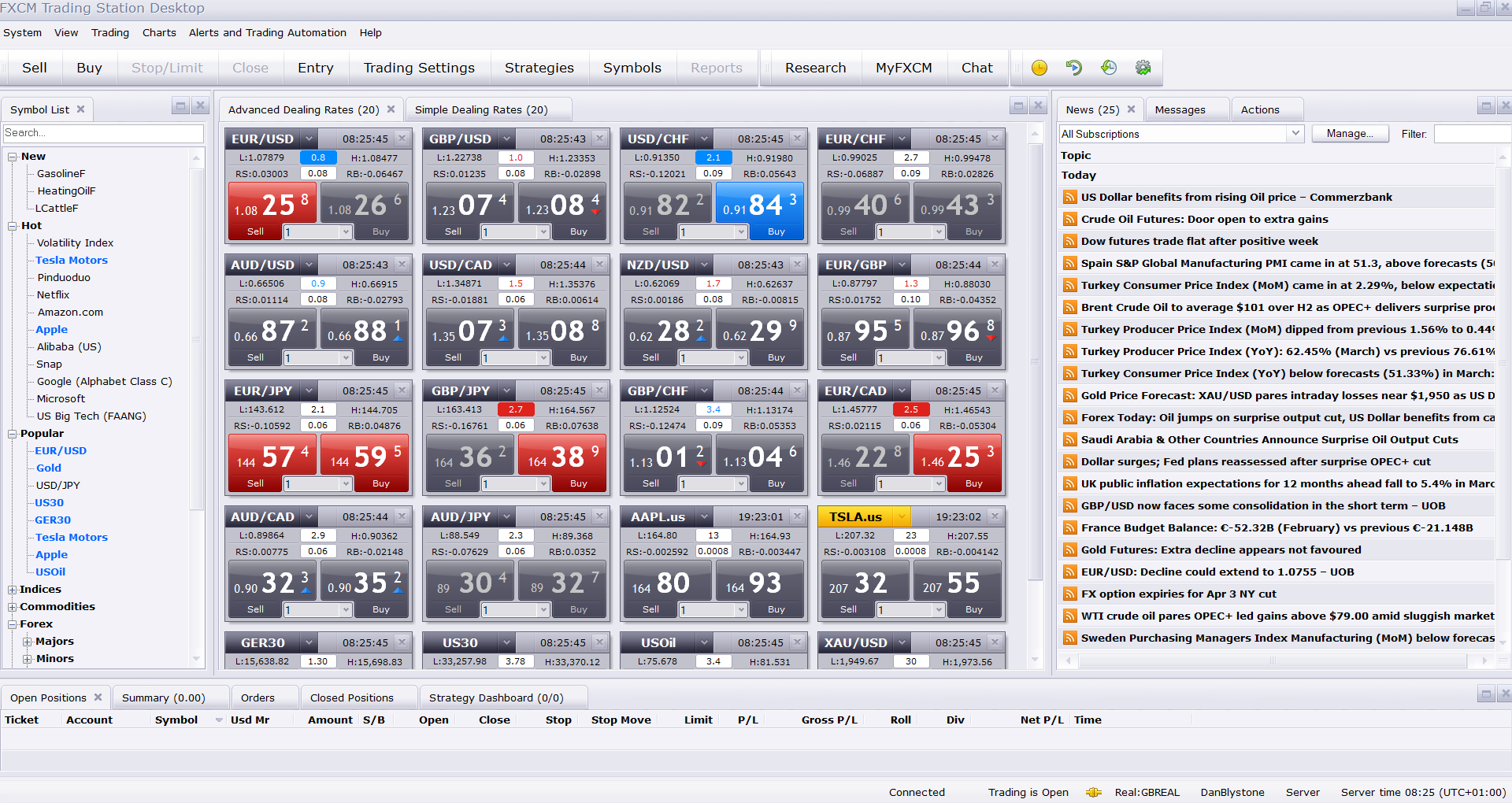 Trading Station Desktop
Trading Station Desktop has all the features of the web platform and goes beyond it with a range of advanced functionality. It exceeds the scope of most proprietary broker platforms in that it offers trade automation and strategy development tools with backtesting and optimization capabilities.
Advanced indicators are also integrated into the desktop platform, which include:
Real Volume: FXCM's Real Volume indicator is pre-loaded on Trading Station and provides market sentiment insight using FXCM's large client base. Market sentiment reflects the overall attitude of traders to a financial instrument.
Trader Sentiment: The Speculative Sentiment Index (SSI) shows whether traders are net long or short and to what degree. It is typically used as a contrarian indicator.
FXCM Mobile App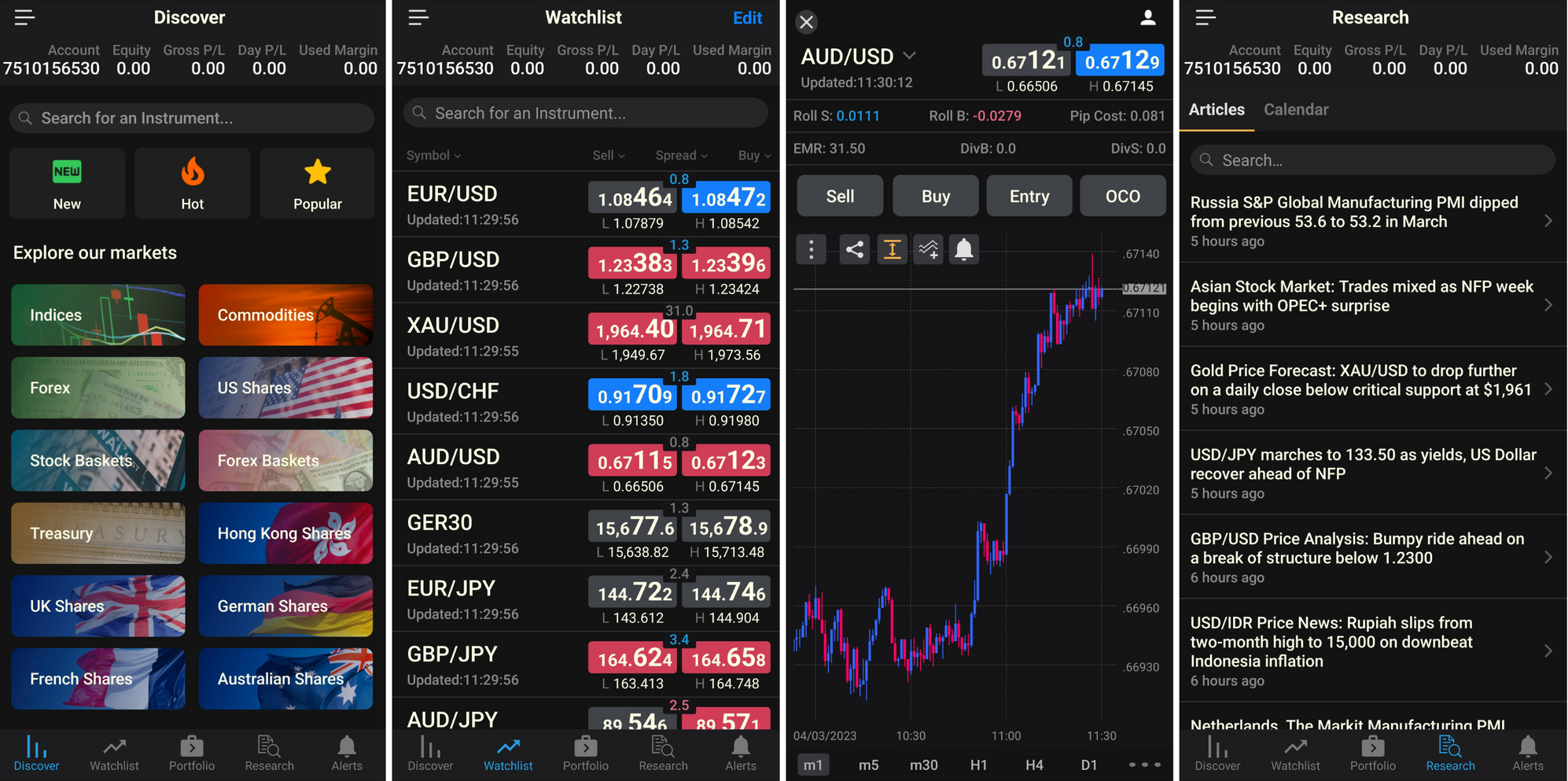 FXCM Mobile App
The FXCM mobile app (Trading Station Mobile) is well-designed and easy to navigate. It provides an above-average range of order types, including market orders, limit orders, stop loss orders, and trailing stop orders. Time-in-force conditions such as GTC (Good 'Til Canceled), IOC (Immediate-Or-Cancel), and FOK (Fill Or Kill) are also available.
Charts are well-designed and offer robust functionality, with 59 technical indicators and a broad range of drawing tools, chart types, and time frames.
Price alerts are available via the Trading Station app, allowing users to stay abreast of market moves easily. Security features could be better, as Trading Station Mobile does not offer 2-step authentication or biometric login.
TradingView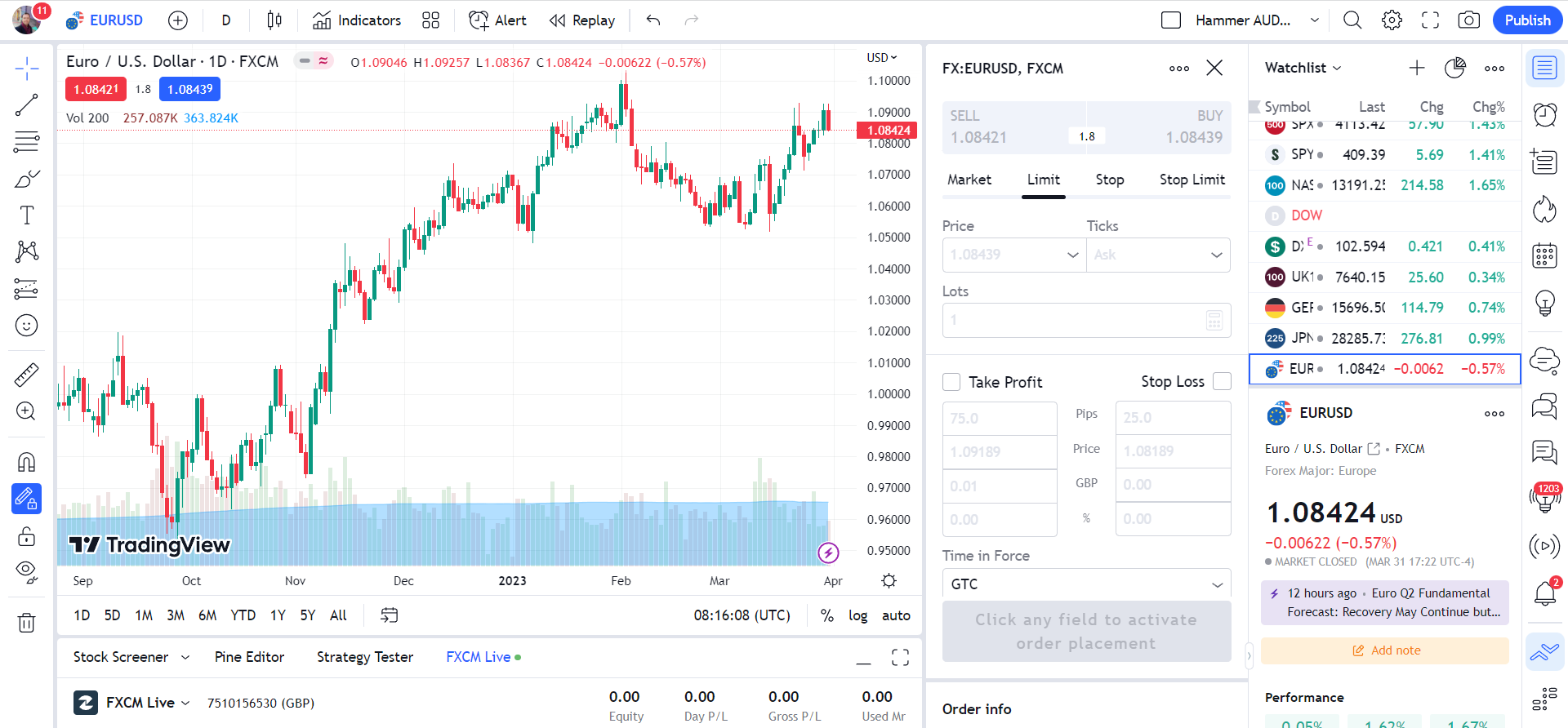 TradingView Platform
The TradingView platform offers one-click trading, trading from the chart, watchlists, market news, and trading ideas. Traders can easily place trades and manage open positions and pending orders from the platform.
The market-leading TradingView charts feature 11 time frames, 11 chart types, and over 100 technical indicators. Various drawing tools, from trend lines to Fibonacci retracements, are also available.
The range of available order types is above average. Market orders, limit orders, stop-loss orders, and trailing stop-loss orders are available. Traders also have the option to apply time in-force conditions such as Good-Til-Canceled (GTC).
Users can draw inspiration from the massive community active on TradingView with features such as the ideas stream. The TradingView platform has the rare combination of being powerful in its functionality and intuitive with a well-designed interface.
MetaTrader 4 Desktop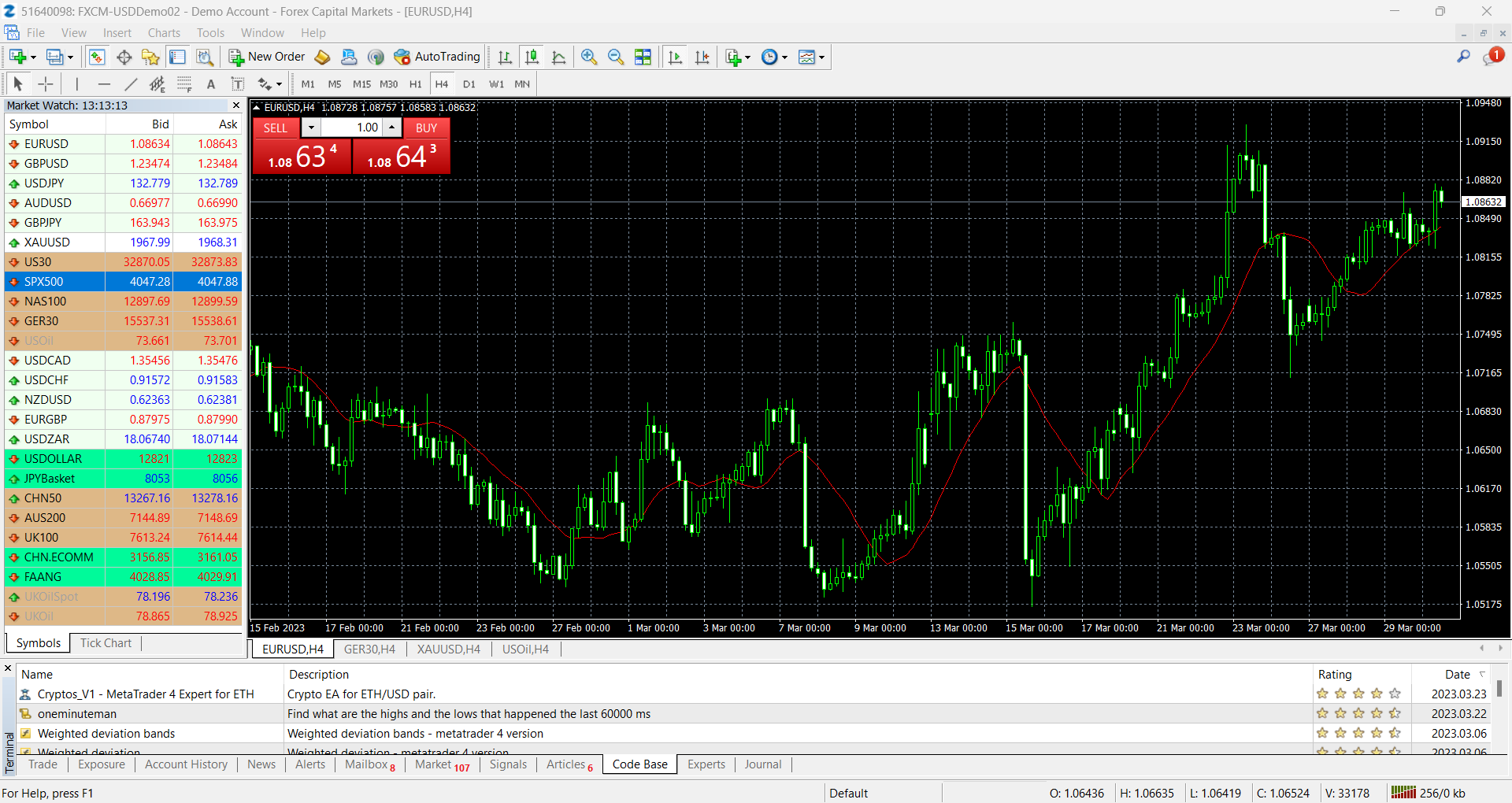 MetaTrader 4 Desktop Platform
FXCM offers MetaTrader 4 for desktop, which includes advanced functions such as copy trading and automated trading.
MetaTrader 4 is available in 39 languages, from Arabic to Vietnamese. The platform provides popular features such as:
Alerts. This feature allows traders to be updated when an instrument reaches a specific price level. The platform can deliver alerts via audio, email, or push notification to a mobile device.
Watchlists. Traders can create a list of their favorite instruments and follow live quotes in a market watch panel.
One-Click Trading. This feature allows traders to execute orders with a single click and no secondary confirmation. This feature enables traders to operate faster and is especially useful for short-term traders.
Trading from the Chart. MT4 also allows users the convenience of trading directly from the chart.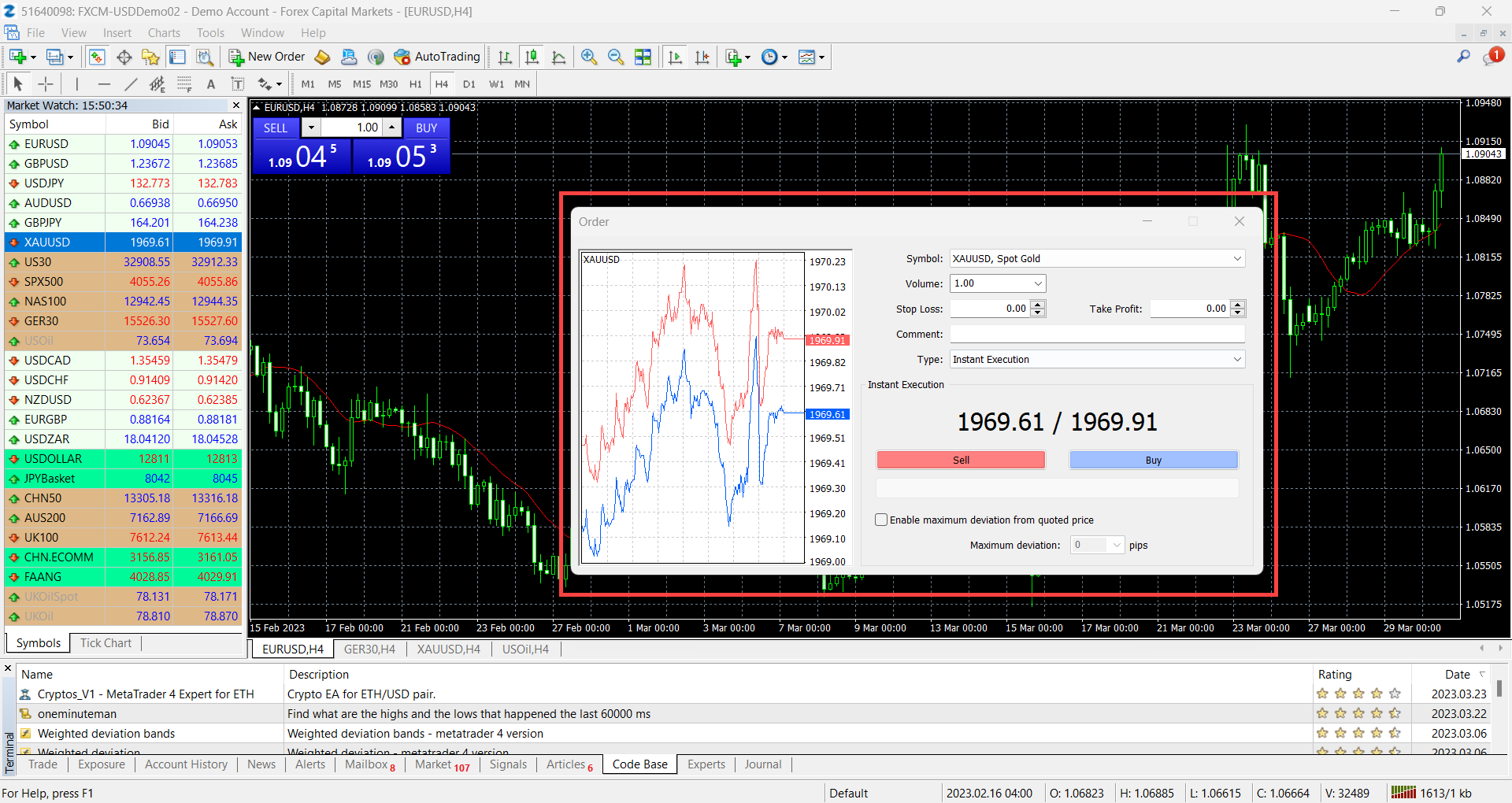 Order Entry on the MetaTrader 4 Platform
MetaTrader also delivers when it comes to the range of available order types. The platform offers the following order types:
Market Order. Traders use market orders to buy or sell an instrument at the best current price.
Limit Order. Traders use limit orders to buy or sell an instrument at a specified price or better.
Stop Loss Order. Traders use stop-loss orders to buy or sell an instrument when its price reaches a specified level.
Trailing Stop Order. Traders use trailing stop-loss orders as a stop-loss order at a defined percentage or dollar amount away from an instrument's current market price. Trailing stop orders allows traders to secure profits when they are in a winning trade while not having to exit the position.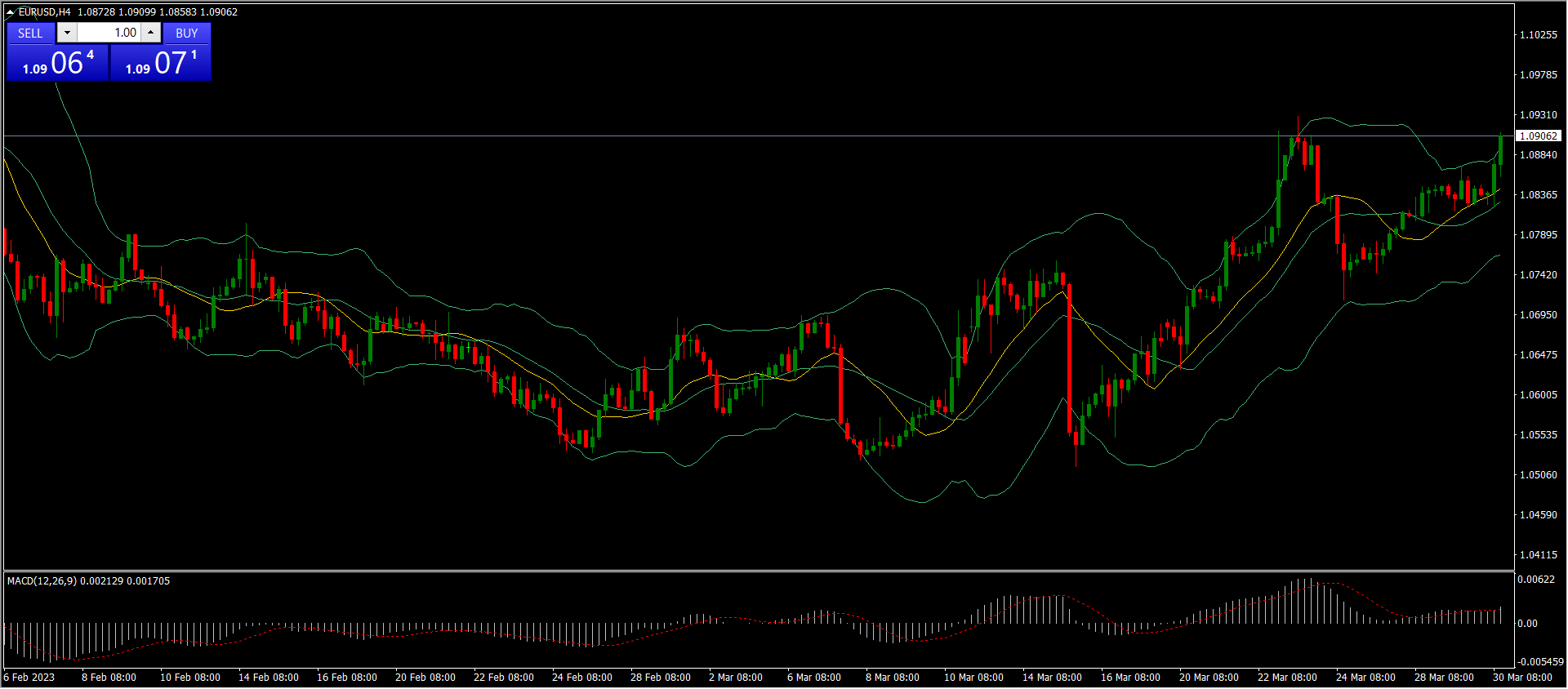 Charting on the MetaTrader 4 Platform
Charting features are robust. MetaTrader 4 offers:
30 Technical Indicators. These include classic trend indicators, volume indicators, and oscillators.
23 Analytical Objects. These include lines, channels, Gann, and Fibonacci tools.
9 Time Frames. Traders can choose from nine time frames, from one minute to one month.
3 Chart Types. Traders can use Bar Charts, Japanese Candlestick Charts, and Line Charts.
MetaTrader is also popular due to its copy trading and automated trading features.
Trading Signals. Signals in MetaTrader 4 allow users to copy other traders' activity in real time.
Automated Trading. MetaTrader 4 allows users to develop, test, and apply Expert Advisors (EAs). EAs are programs that monitor and trade markets using algorithms.
The MetaTrader 4 desktop platform is one of the most feature-rich and popular trading platforms. It does not have the most beautiful interface and requires some time and effort to learn, but that is typical of advanced platforms.
MetaTrader 4 Web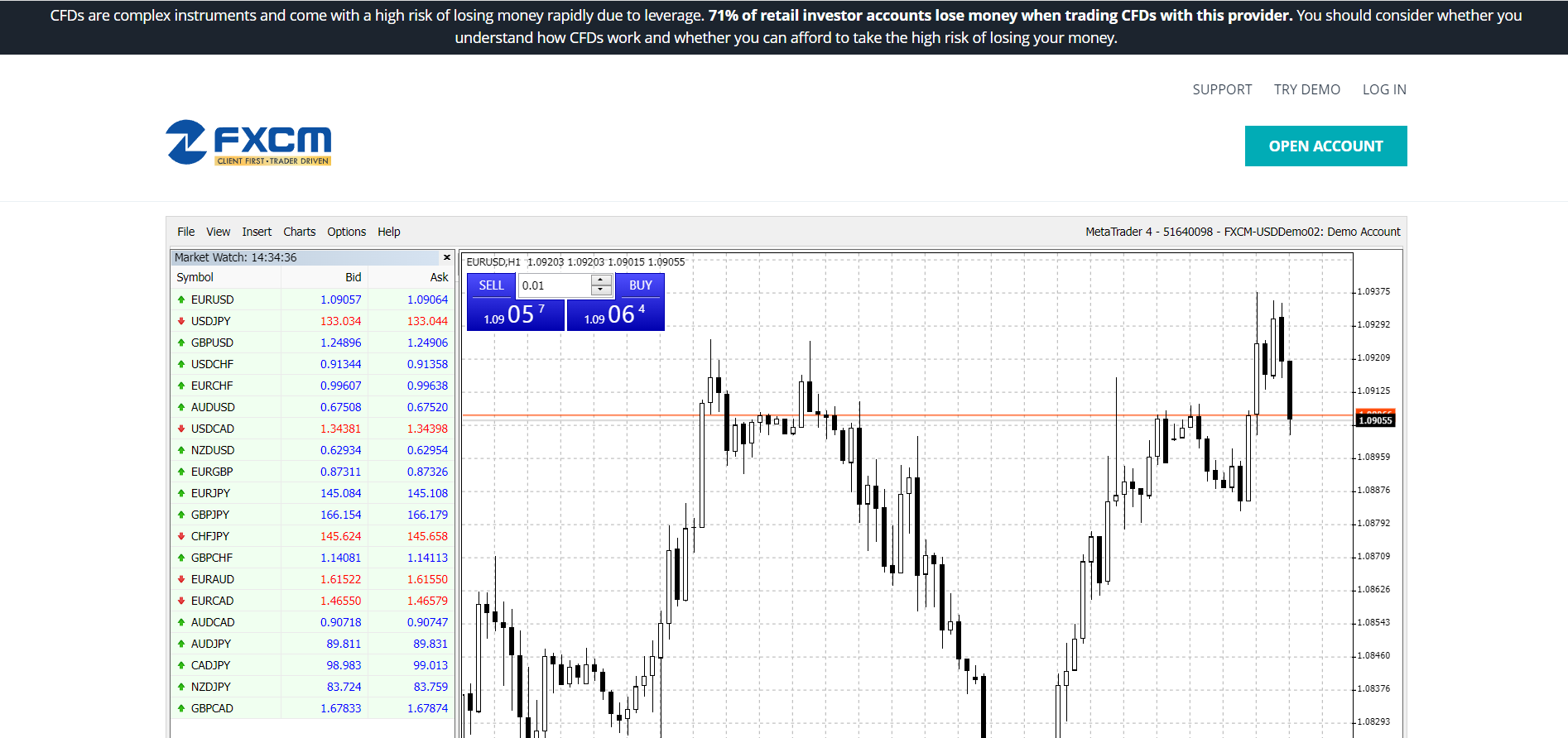 MetaTrader 4 Web Platform
The MetaTrader Web Platform (Web Trader) is a slightly stripped-down version of the desktop platform. It allows you to trade without any additional software, only an internet connection is required. The Web Platform allows users to trade directly from any browser and operating system.
Popular features include:
One-click trading.
Trading from the chart.
Watchlists with real-time quotes.
Trade History.
Advanced charting with 30 indicators for technical analysis.
Copy trading and automated trading are also only available on the MT4 desktop platform.
MetaTrader 4 Mobile App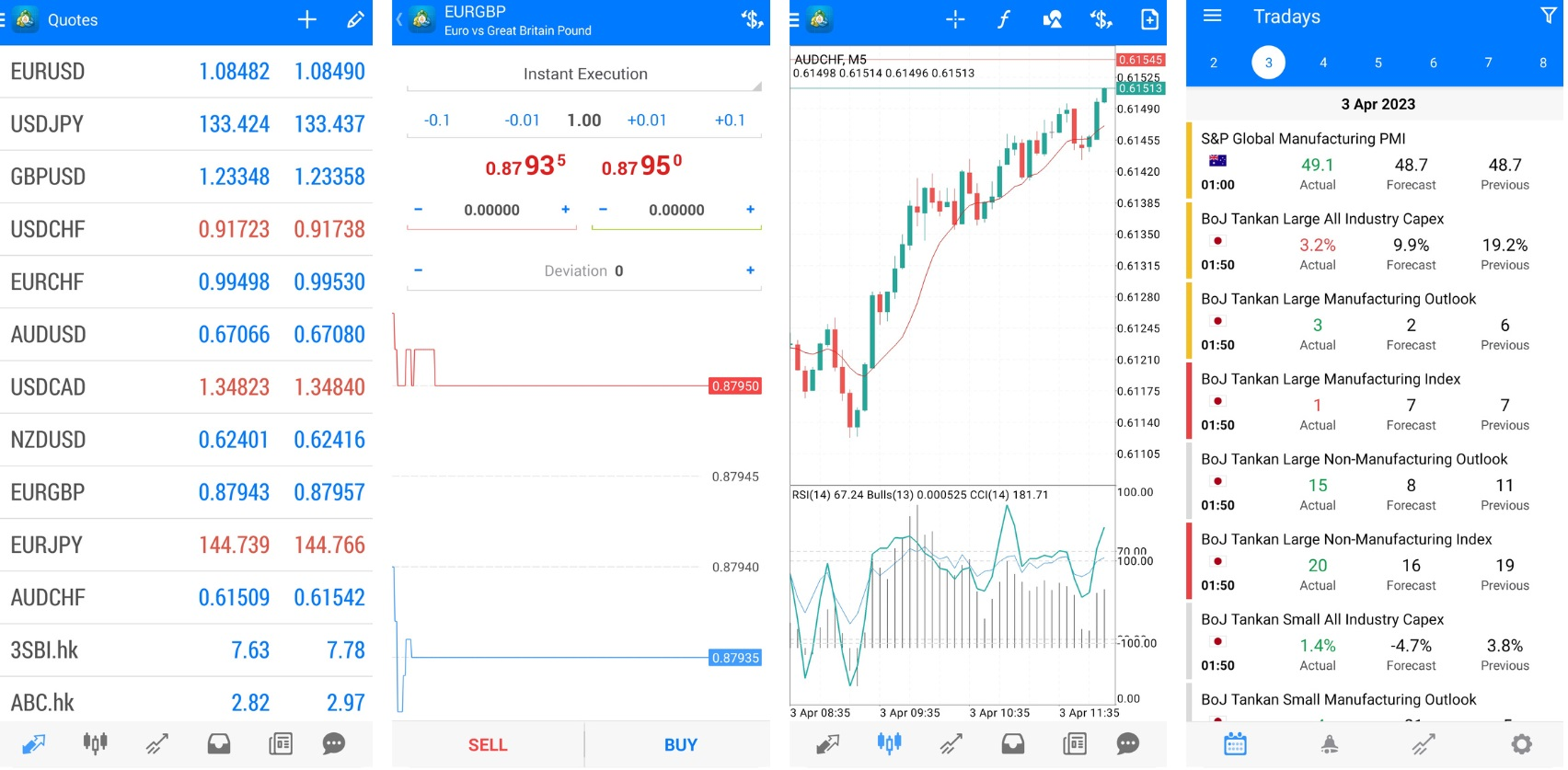 MetaTrader 4 Mobile App
FXCM offers the MetaTrader 4 mobile app, which is available for Android and iOS. The app offers popular features such as alerts, 1-click trading, and trading from the chart.
The MetaTrader 4 mobile app also provides a broad range of order types including pending and stop orders. However, trailing stop-loss orders are only available from the desktop. In order to change the language of the MT4 app, you must change the language for your entire phone. As with desktop and web, the interface is not the most intuitive but the MT4 app offers an above-average range of features.
Order Execution
FXCM is always the counterparty to client trades. FXCM either executes trades internally or offsets them externally to a liquidity provider. Liquidity providers are often banks and large financial institutions. Prices come directly from a number of different liquidity providers and the FXCM matching algorithm displays the best bid and offer prices available at any given time.
Tradable Instruments
How Do We Test A Broker's Tradable Instruments?
In this section, we check the broker's market offering and how varied the instruments and asset classes are. It will allow you to check if they offer what you're looking for and what you can trade.
---
FXCM offers a broad range of trading instruments, including forex and CFDs on stocks, stock indices, commodities, and cryptocurrencies.
CFDs (Contracts for Differences) are financial derivative products that allow traders to speculate in various markets without owning the underlying assets. Tradable instruments at FXCM include the following assets:
42 Currency Pairs. A currency pair combines two different currencies, with the value of one currency quoted against the other. For example, EUR/USD, which reflects the value of the euro measured in dollars.
12 Commodities. Commodities are raw products, such as gold and oil.
3,000+ Global Stock CFDs. FXCM offers trading in stock CFDs from exchanges ranging from the NASDAQ to the Hong Kong stock exchange. A stock is a security that represents partial ownership of a corporation. *Keep in mind that when trading stock CFDs you are speculating on the price of a stock without actually taking ownership of the underlying asset.
14 Indices. Available instruments at FXCM range from Japanese to UK stock indices. An index is a basket of trading instruments that is used to gauge a market sector, stocks within an exchange or the economy of a country.
In the tables below, you can see a selection highlighting the variety of instruments available at FXCM:
| | |
| --- | --- |
| Major Forex | Minor Forex |
| USD/JPY | GBP/USD | USD/CHF | GBP/JPY | EUR/CHF | AUD/JPY |
| | |
| --- | --- |
| Exotic Forex | Commodity CFDs |
| EUR/HUF | TRY/JPY | USD/CNH | Natural Gas | WTI Crude Oil | Copper |
| | |
| --- | --- |
| Stock CFDs | Trading Baskets |
| GameStop | Tesla | Pfizer | US Dollar Index | Yen Index | FAANG |
FXCM also offers Trading Baskets that are available for both forex and stocks.
Forex Baskets allow traders to speculate on volatile instruments while lowering the risk of exposure to a single currency. Baskets include:
The US Dollar Index
The Yen Index
Emerging Markets Index
Stock Baskets allow traders to speculate on the performance of a certain sector without having to buy each stock individually. Here are some examples of available Stock Baskets:
Note: Cryptocurrency CFD trading is not available for retail UK clients, because the Financial Conduct Authority (FCA) banned crypto-derivatives trading in early 2021.
Overall, we judged that FXCM has an impressive range of tradable instruments, above average for the industry.
Customer Support
How Do We Test A Broker's Customer Support?
Traders tend to underestimate customer support, but it might be a crucial feature in moments of crisis. In our rating, we check the contact methods available, how accessible a live agent is and how helpful the responses are. This information will allow you to know if a broker can provide full support when you need it.
---
FXCM provides support to clients via phone, chat, and email 24/5. We experienced some delays in reaching support, but overall the quality of the response was good.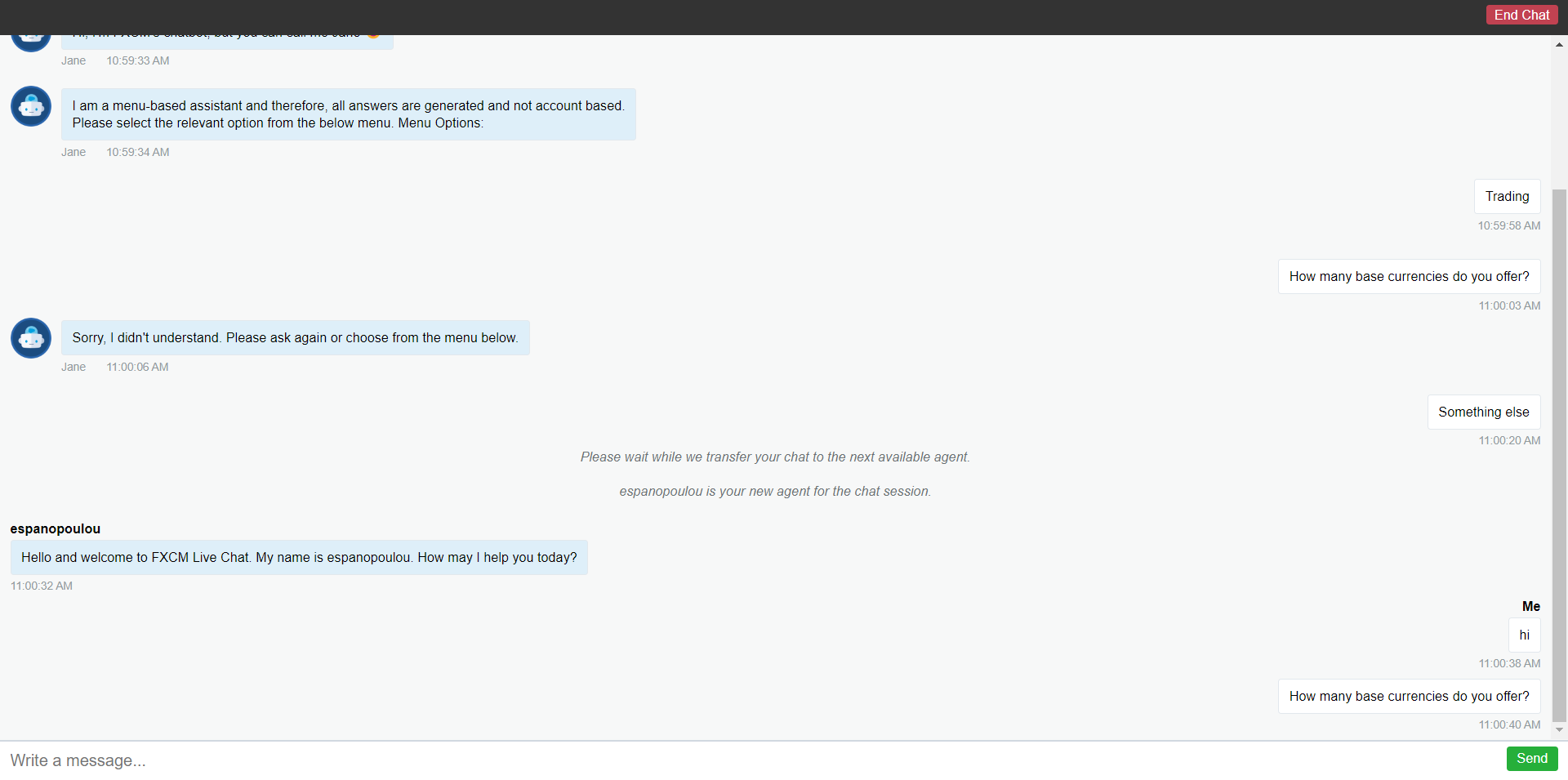 FXCM Chat Support
FXCM provided mixed customer support in our latest tests, with some wait time to get responses to phone, chat, and email inquiries. We made multiple inquiries via each medium. Our questions ranged from easy to difficult. We asked questions like 'Does FXCM offer crypto to UK clients?' and 'How can I see the rollover fee for my overnight position?'
Over the phone, there was a substantial wait time, but the agents were knowledgeable and helpful. In the case of the chat, one drawback is that you must fill out a form before reaching an agent. The live chat was also offline in some instances during the week.
Deposits & Withdrawals
How Do We Test A Broker's Deposit and Withdrawal?
The deposit or withdrawal process can be a tricky one. You may discover that there are hidden fees, or that withdrawal times are longer than you anticipated. We check these factors and others so you know what to expect when trading with this broker.
---
FXCM offers a broad range of methods for both deposits and withdrawals. Withdrawals via credit/debit cards are free, but bank transfers can be costly.
FXCM supports a wide range of payment providers making it easy to deposit and withdraw from your brokerage account. The broker does not charge a deposit fee. As for the credit and debit card deposits, they are often available immediately.
In the tables below we break down the fees and processing times for each deposit and withdrawal method.
Deposits
| | | |
| --- | --- | --- |
| Deposit Method | Fees | Processing Time |
| Debit/Credit Card | 0% | Less than 2 minutes |
| EFT/Bank Wire | 0% | Within 1 Business Day |
| PayPal | 0% | Less than 2 minutes |
| Google Pay | 0% | Less than 2 minutes |
| Apple Pay | 0% | Less than 2 minutes |
| Open Banking | 0% | Less than 2 minutes |
| Skrill | 0% | Less than 2 minutes |
| Neteller | 0% | Less than 2 minutes |
| Klarna | 0% | Less than 2 minutes |
| Rapid Transfer | 0% | Less than 2 minutes |
Withdrawals
| | | |
| --- | --- | --- |
| Withdrawal Method | Fees | Processing Time |
| Debit/Credit Card | 0% | 3-5 business days |
| EFT/Bank Wire | Up to $40 | 3-5 business days |
| PayPal | 0% | 3-5 business days |
| Google Pay | 0% | 3-5 business days |
| Apple Pay | 0% | 3-5 business days |
| Open Banking | 0% | 3-5 business days |
| Skrill | 0% | 3-5 business days |
| Neteller | 0% | 3-5 business days |
| Klarna | 0% | 3-5 business days |
| Rapid Transfer | 0% | 3-5 business days |
FXCM does not charge fees for credit card withdrawals, but bank wires can cost as much as $40. However, if you are in the UK and you open a GBP account you can use the BACS withdrawal method free of charge. Often, withdrawals are processed by FXCM in 1-3 business days, but it can also take as long as 3-5 business days.
Account Types and Terms
How Do We Test A Broker's Account Types and Terms?
In order to achieve your trading goals, you need to choose the right account. We evaluate each broker's account types, how easy it is to open an account with them, and the steps involved, so you can decide if it is worth your time to open an account.
---
The onboarding process at FXCM is smooth, and traders can open accounts online within minutes. FXCM offers two major account types: Standard Accounts and Active Trader Accounts.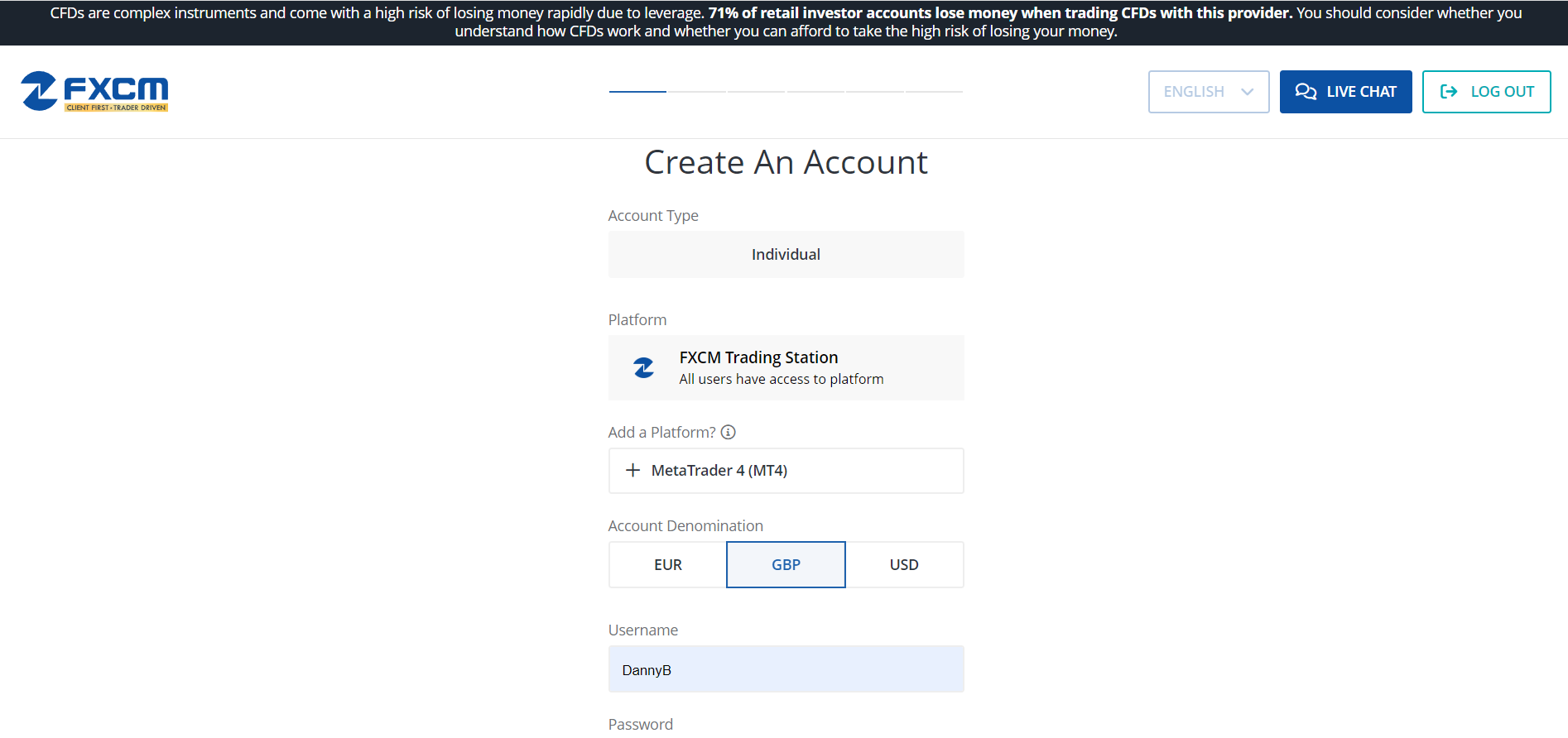 FXCM Account Application
Account Application
To open an individual account at the Forex Capital Markets Limited (UK) entity, prospective clients must provide the following information:
Personal information: name, gender, address, phone, email, country of residence, citizenship, place of birth, date of birth, UK National Insurance number.
Account related info: desired platform, account denomination (EUR, GBP or USD), username and password.
Employment information: employment status, job, position.
Financial background: total annual income, net worth, source of wealth, source of funds for trading.
Trading background: trading experience level, account purpose.
Demo Accounts
FXCM offers demo accounts for the Trading Station and MetaTrader 4 platforms. Demo accounts are especially important for beginners as they allow them to practice their strategies and get comfortable with the trading platform without risking real money.
The demo account features live quotes and simulates live market conditions in assets such as forex and CFDs on commodities, indices, and stocks. Once users are up to speed on a demo account, they can easily switch over to a live version.
Professional Accounts
For clients in the UK, FXCM offers a Professional Account, which allows greater leverage. Professional Account holders are not subject to ESMA's restrictions which came into force in September 2019 to protect retail investors. To apply for a Professional Account, the trader must meet at least two of the following three criteria:
You must have carried out significantly large transactions in the relevant market, on average 10 per quarter over the previous four quarters.
The size of your financial instrument portfolio, including cash deposits and financial assets, must exceed 500,000 EUR.
You currently work or have worked in the financial sector for at least one year in a professional position.
Islamic Accounts
FXCM offers a swap-free Islamic account that adheres to the principles of Sharia law.
Leverage
One of the reasons that traders are attracted to the forex and CFD markets is the high degree of available leverage. Leverage is using borrowed funds to increase the size of your trading positions beyond what would be possible using only the cash in your account.
The maximum leverage for retail clients in the UK is 1:30. This means that with an account of $1,000, you can control up to $30,000 worth of positions in the market. Leverage is often described as a 'double-edged sword' as it can hurt you as much as it helps you. Traders must remember that it can amplify both their profits and their losses.
Supported Countries
FXCM accepts clients from the majority of countries globally. However, the following countries are restricted: Burundi, Central African Republic, Ivory Coast, Liberia, Libya, Sudan, Zaire, Zimbabwe, North Korea, Singapore, South Korea, Belarus, Russian Federation, Ukraine, Cuba, Vanuatu, Iran, Syria, Turkey, Afghanistan, the United States, American Samoa, Belgium, Bonaire, Congo (Brazzaville), Cook Islands, the Democratic Republic of the Congo, Guam, India, Japan, Kenya, New Zealand, Northern Mariana Islands, Puerto Rico, Somalia, South Sudan, Vatican City, Virgin Islands (US).
How Do We Test A Broker's Research?
Research options provided by brokers may not be seen as the most important feature for some traders, but they can give you an edge over the competition. Staying on top of important market news announcements and being aware of big themes can be very helpful. The rating system provides a clear picture of how well your broker fulfills this service.
---
FXCM provides excellent research, with materials from both in-house analysts and third party sources.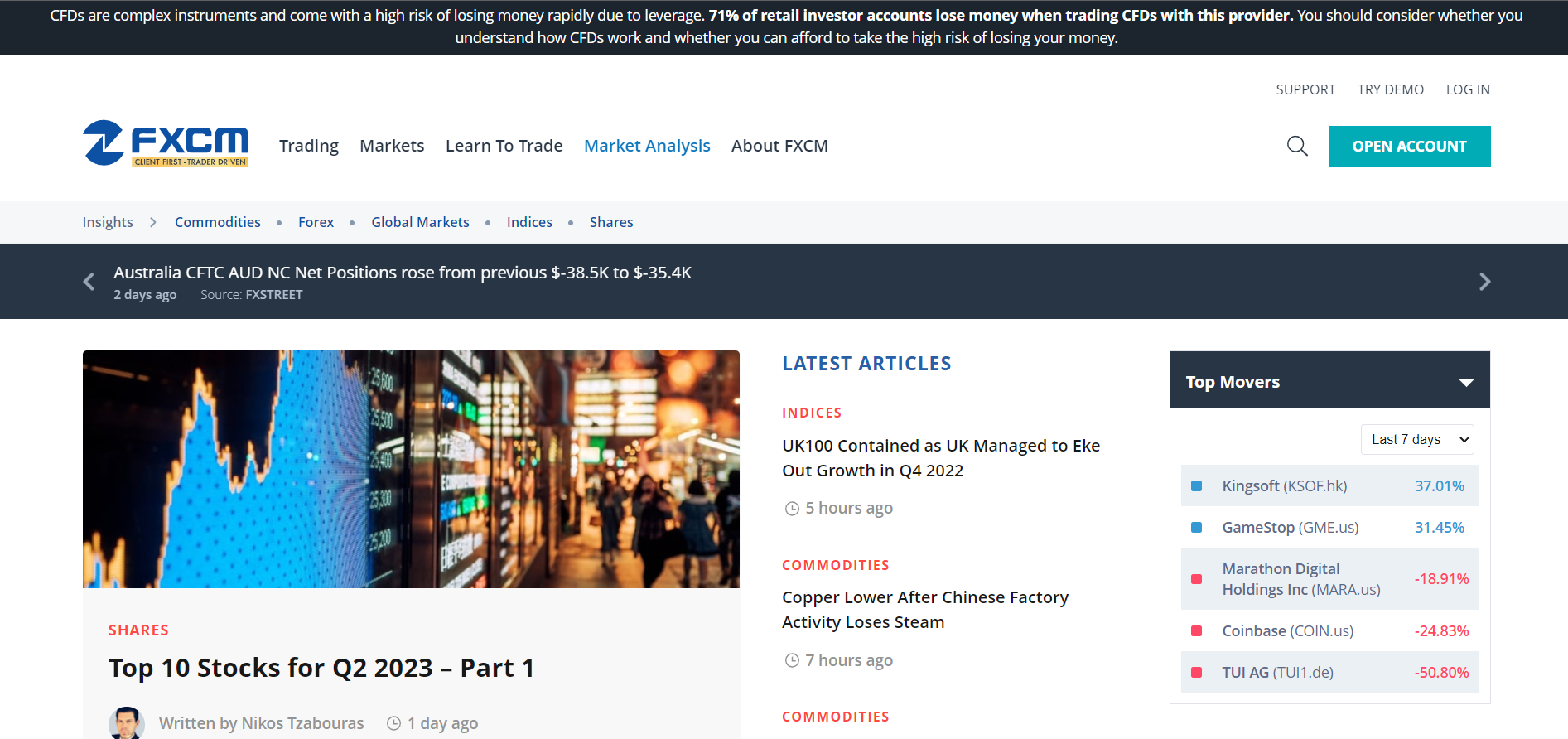 FXCM Research
FXCM checks all the boxes when it comes to research. Resources range from standard items like the economic calendar to a slew of valuable tools for generating trading ideas. Content is updated multiple times daily. Offerings include:
Economic Calendar. Allows clients to track economic releases and events easily.
Market News. The news feed combines FXCMs proprietary analysis with stories from outside sources such as FXStreet and Investing.com.
Market Scanner. Enables users to screen forex and CFDs using technical indicators such as MACD, RSI, and the 200 periods EMA.
FXCM PLUS. Free for live accounts, this provides trading signals and tools such as the Technical Analyzer, which shows important technical levels on charts.
FXCM Market Talk. A weekly podcast that explores the key drivers affecting the financial markets.
We judged the quality and volume of research materials to be above average for the industry.
Education
How Do We Test A Broker's Education?
Educating yourself on how to trade the financial markets can make the difference between success and failure. We check the educational content provided by the broker, its quality and suitability for beginners and advanced traders.
---
FXCM is an industry leader in the area of education. Most CFD brokers have materials catering to beginners, but FXCM provides value to both novice and advanced traders.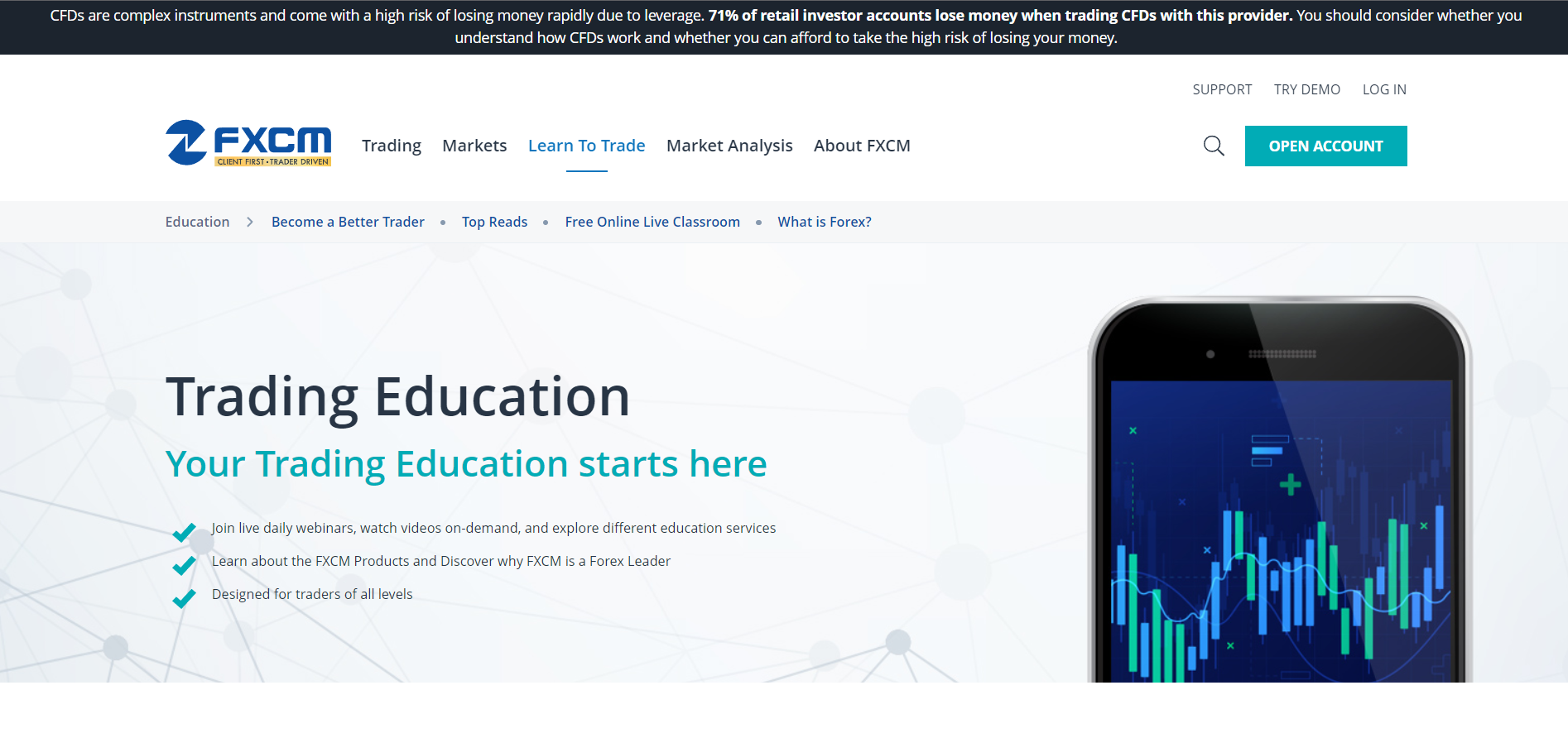 FXCM Education
FXCM offers a wide variety of educational resources, which include:
A downloadable guide to forex for new traders.
In-depth guides covering topics such as how to develop a strategy.
SMS Trade Alerts to help identify potential trading opportunities.
Daily webinars during the week covering market sentiment and highlights for various markets.
A rich library of educational articles.
Webinars are archived and cover topics related to trading platforms and advanced materials, such as Best Practices for Creating an Algo Trading System. In a section labeled 'insights,' FXCM provides a range of in-depth articles covering themes related to the global economy, trading strategies, technical indicators, and a glossary.
The Bottom Line
FXCM has improved in several areas since our last review. The latest version of the Trading Station web platform has a better look and feel. We noted tighter spreads in some forex pairs, for example, EUR/USD, with spreads as low as 0.8 pips in a Standard Account. Several new payment methods, such as PayPal and Google Pay, are now available for deposits and withdrawals.
FXCM presents an exciting offering for advanced and algorithmic traders with its impressive range of platforms and tools. Since our last review, TradingView and Capitalize.ai have been added to the lineup.
In terms of financial strength and stability, FXCM is among the world's top forex and CFD brokers. There is room for improvement in some areas such as inactivity and wire transfer fees, which remain relatively high. Outstanding research and education resources round out an above-average offering from this veteran forex and CFD broker.
FAQ
FXCM UK is based at 20 Gresham Street, 4th Floor, London EC2V 7JE, United Kingdom.
---
We rate FXCM as a safe broker as it is regulated by multiple top-tier financial authorities and is part of publicly traded financial services giant Jefferies Group.
---
How does FXCM make money?
FXCM makes money mainly through spreads, commissions, and swaps on certain asset classes.
---
How do I deposit funds in an FXCM account?
Traders can deposit funds via debit/ credit card, EFT/Bank Wire, PayPal, Google Pay, Apple Pay, Open Banking, Skrill, Neteller, Klarna, and Rapid Transfer.
---
What is the minimum deposit for FXCM?
The minimum deposit is 50 GBP.
---
How do I withdraw money from FXCM?
Traders can withdraw funds via debit/ credit card, EFT/Bank Wire, PayPal, Google Pay, Apple Pay, Open Banking, Skrill, Neteller, Klarna, and Rapid Transfer.
---
How long does it take to withdraw money from an account at FXCM?
It usually takes FXCM 1-3 days to process withdrawals. For bank wires, there may be additional time for the funds to be visible in your account due to the processing time of the bank.
---
What is the maximum leverage at FXCM?
In the UK the leverage is limited to up to 30:1 as per regulations for standard accounts and up to 400:1 for professional accounts.
---
How can I open an account with FXCM?
An account can be opened online via the FXCM website in under 10 minutes.
---
What platforms does FXCM offer?
FXCM offers four platforms: Trading Station, MetaTrader 4 (MT4), TradingView, and Capitalize.ai.
---
What are the withdrawal fees at FXCM?
Withdrawals via credit/debit cards are free, but bank transfers can cost as much as $40.
---
Is FXCM good for beginners?
With above-average educational offerings and solid customer service, we judged that FXCM is a good choice for beginners.
---
Does FXCM offer a demo account?
Yes, FXCM offers a free demo account with £50,000 of virtual money.
---
How to open an FXCM demo account?
You can easily open a demo account via the FXCM website.
---
FXCM is owned by Jefferies Financial Group Inc., an American financial services company based in New York City.
---
Does FXCM work with TradingView?
Yes, you can log in to your FXCM account via TradingView.com and place live trades.
---
No, FXCM is a market maker/dealing desk broker.
---
Does FXCM offer MetaTrader?
Yes, the MetaTrader 4 platform is available to clients.
---
Is FXCM suitable for scalping?
FXCM offers competitive spreads, 1-click trading and fast order execution, making it a good broker for scalping.
---
Is FXCM suitable for auto-trading?
Yes, FXCM offers a range of platforms that can accommodate algorithmic (automated) trading.
---
Is FXCM suitable for hedging?
Yes, FXCM can certainly be used for hedging.
---
Is FXCM suitable for spread betting?
Yes, you can Spread Bet forex, indices, commodities and cryptocurrencies on FXCM's platforms.
---
Yes, FXCM does offer a Virtual Private Server (VPS).
---
What are FXCM's trading hours?
FXCM's trading hours vary by product. For forex, trading opens on Sundays between 5:00 p.m. ET and 5:15 p.m. ET and closes on Fridays around 4:55 p.m. ET.
---
Yes. FXCM is always the counterparty to client trades.
---
Does FXCM operate a bank?
No, it does not. FXCM is a leading provider of online foreign exchange (FX) trading, CFD trading and related services.
---
See FXCM Full Information
Broker General Information
Trading Features
Other Details
| | |
| --- | --- |
| | United Kingdom |
| | 1999 |
| | FCA UK (United Kingdom), ASIC (Australia), CySEC (Cyprus), FSCA South Africa (South Africa) |
| | Yes |
| | 588 |
| | Dealing Desk, Market Maker |
| | MT4, Trading Station, capitalise.ai, tradingview |
| | United States, Russian Federation, Belgium, Turkey, Japan, Cuba, Kenya, North Korea, South Korea, Liberia, India, New Zealand, Iran, Afghanistan, Guam, Vatican City, Cook Islands, Northern Mariana Islands, Somalia, Puerto Rico, Syria, Ukraine, Central African Republic, Vanuatu, Singapore, Libya, South Sudan, Sudan, Samoa, Zimbabwe, Belarus, Burundi, Congo, Cote d'Ivoire |
| | English, Spanish, German, French, Arabic, Chinese, Greek, Vietnamese, Malaysian, Italian, Indonesian, Polish, Bulgarian, Hebrew, Tagalog |
| | $50 |
| | 1:30 (FCA UK), 1:30 (ASIC), 1:30 (CySEC ), 1:30 (FSCA South Africa) |
| | Wire Transfer, Credit Card, PayPal, Skrill, Neteller, openbanking, applepay, Klarna, googlepay, Debit Card, Rapid Transfer |
| | Wire Transfer, Credit Card, PayPal, Skrill, Neteller, openbanking, applepay, Klarna, googlepay, Debit Card, Rapid Transfer |
| | 3 |
| | 8 |
| | Bitcoin, Litecoin, Ethereum |
| | Currencies, Commodities, Indices, Stocks, Crypto |
| | Yes |
| | Yes |
| | Yes |
| | No |
Trade With A Regulated Broker