Bitbank is a new cryptocurrency exchange service offering their clients highly accurate and reliable market insights for the trading of Bitcoin and Litecoin. Bitbank achieves these market insights through the analyzation of market news and research, as well as from their sophisticated prediction algorithms and advanced artificial intelligence software. Also, Bitbank is so much more than an exchange and market insights platform. Bitbank features a 'wallet service' for storing Bitcoin and Litecoin, a 'Bitbank Register' service for local payments at various merchants, and a 'Bitbank Pay' service for online businesses. With all these services, Bitbank's goal and motto are 'Bitcoin for Everyone".
Contents
The Bitbank exchange and services were launched in 2014 with their company being based out of Japan. Being based out of Japan, the company falls under the regulation of the Japanese Financial Services Agency (JFSA). This level of the regulation provides Bitbank with a great deal of credibility as most other services of this kind are not yet regulated. Bitbank primarily services customers from Japan but also accepts clients from all over the world. The website and services they provide are available in English, Chinese, and Japanese.
There are many cryptocurrency exchanges and services available these days and it can be difficult to know which ones can be trusted and if they're right for you. Therefore, in the following review, we delve deep into the aspects that make up this cryptocurrency exchange and see what sets Bitbank apart from the competition and whether or not they can be trusted.
Exchange Platform
The Bitbank exchange platform is a proprietary web-based trading platform which is fully compatible with all desktop and mobile devices. The exchange platform is quite advanced and utilizes charting from TradingView which has over 50 technical indicators and numerous analysis tools built into it. Traders have the ability to conduct real-time price analysis on their own as well as to use the prediction data generated from the algorithms and artificial intelligence software. Users can place their orders based on the market data and indicators provided to them or simply on their own analysis. The platform is truly unique and advanced with their market insights and analysis features.
Exchange Markets
Bitbank is a rather specialized exchange platform by only offering exchange services for Bitcoin (BTC) and Litecoin (LTC). As well, the only fiat currency supported for exchanging with these cryptocurrencies is the Japanese Yen (JPY). This is somewhat disappointing for traders outside of Japan as many other cryptocurrency exchanges usually accept both Euros and US Dollars. However, traders can purchase Bitcoin and Litecoin from other exchanges and then transfer them to Bitbank to use their exchange services. Though traders who have a Japanese bank account are more suited for the Bitbank cryptocurrency exchange.

Fees
The Bitbank exchange is very different from other cryptocurrency exchanges with their fee structure. In fact, Bitbank's fee structure is much better for traders as the only fee they pay is for withdrawals. Other exchanges usually charge both deposit and trading fees, while Bitbank charges neither of these things. The only fee users incur is on their withdrawals which is 0.0001 BTC or 0.001 LTC per withdrawal. This is extremely low compared with the competition and attracts many traders to the exchange.

Security and Fairness
The Bitbank exchange is a highly secure and safe cryptocurrency exchange as they are regulated by the JFSA. Since their establishment in 2014, Bitbank has never had any reported hackings or loss of funds. The exchange implements the latest security features such as SSL encrypted servers, two-factor-authentication for logins and transactions, and both cold and hot wallet storage. As well, each user is treated equally with the same services available to them. Every user has the ability to download all of the company's datasets to see the historical performance of the predictive algorithms. This provides users with a high level of transparency.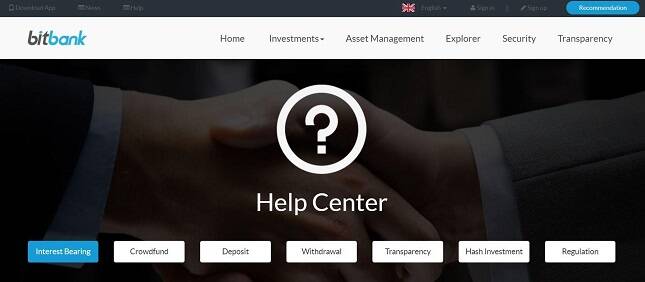 Support
Bitbank offers their customers support via an email ticket system. This system is available 24/7 and allows users to confidently identify their problem so that they can better receive assistant via support. As well, customers can view the help center page where they will find answers to the most commonly asked questions. This help center is rather limiting with information, but the support representatives are quick to respond to any questions you have. All in all, Bitbank's level of customer support is mediocre but sufficient.
Pros and Cons
Pros
Extremely easy to use and navigate
Cryptos are held in cold storage
Very low fees
Market insights and prediction algorithms
Cons
Limited customer service options
Only supported fiat currency is the Japanese Yen
FAQ
Here are some of the most common questions that are asked about Bitbank crypto trading service.
Yes. Bitbank is regulated by the Japanese Financial Services Agency (JFSA).
Bitbank is based out of Japan.
How does Bitbank make money?
Bitbank only charges fees for withdrawals. 0.0001 BTC for Bitcoin withdrawals and 0.001 LTC for Litecoin withdrawals.
How do I deposit in Bitbank account?
Bitbank accepts cryptocurrency deposits and deposits of Japanese Yen through Bank Wire transfers.
How do I withdraw money from Bitbank?
You can withdraw from Bitbank through sending your cryptocurrency to your personal wallet address or Japanese Yen via Bank Wire transfer.
Can I trade on Bitbank with my mobile device?
Yes, you can use your mobile device to trade on Bitbank through their downloadable mobile application.
Bitbank has proven to be a reliable and trusted exchange that has yet to be hacked.
No. Bitbank is a very legit exchange and is not a scam.
Conclusion
The Bitbank cryptocurrency exchange and services are of very high quality by providing unique market insights into the trading of Bitcoin and Litecoin. The exchange platform is well designed and has more than enough tools and features for trading and investing successfully. Thus far, Bitbank has proven themselves to be a reliable and trustworthy cryptocurrency exchange that offers desirable services for very competitive fees. It's a shame the exchange only supports the Japanese Yen as the only viable fiat currency, but if you're just trading cryptocurrencies this shouldn't matter.
bitbank
Features
Coins Available
Bitcoin

Ripple

Litecoin

Ethereum

Monero

Bitcoin Cash
Payment Method
Deposit Options
Cryptocurrency
Withdrawal Options
Cryptocurrency
Company Information
| Exchange Details | Info |
| --- | --- |
| Headquarters Country | Japan |
| Foundation Year | 2015 |
| Type | exchange |
| Trading Allowed | Yes |
Trade With A Regulated Broker