Coins Available

Accepted Countries

Payment Methods
Independent Reserve
Review
Established in 2013, Independent Reserve is one of the first cryptocurrency exchanges in Australia. The exchange is a member of the Australian Digital Commerce Association (ADCA) and is supervised by an advisory board chaired by Michael Go. As an Australian based company, Independent Reserve operates within the confines of the laws and regulations applicable to the Australian financial industry.
Contents
The exchange is also one of the first digital currency exchanges dedicated to offering cryptocurrency trading services to the Australian and New Zealand markets. However, Independent Reserve is also popular among cryptocurrency traders around the world as the exchange offers low fees and support for fiat currencies. Apart from support for the Australian and New Zealand dollar, Independent Reserve also has support for the U.S dollar.
With the Independent Reserve platform, cryptocurrency traders can trade in Bitcoin, Ethereum, Bitcoin Cash and Litecoin. Independent Reserve also supports trading with the Australian dollar, New Zealand dollar and U.S dollar. The platform has a multicurrency order book that will convert the orders into the currency of choice. In short, this allows you to take advantage of the full pool of orders hence enabling you to obtain the best possible price when trading cryptocurrencies as you are able to view all the market orders regardless of the fiat currency that they are placed with. In addition, the Independent Reserve's platform also supports multiple order types such as:
Limit Buy
Limit Sell
Market Buy
Market Sell
Stop Limit Buy
Stop Limit Sell

Deposit and Withdrawal Options
Although Independent Reserve's services are available to clients worldwide, its primary focus is to clients who are based in Australia and New Zealand. As such, the deposit and withdrawal methods are geared toward the Australian and New Zealand markets. For Australians, the following methods of depositing funds and withdrawals are available to them:
EFT (For Australians)
EFT or electronic fund transfer is available to traders with Australian bank accounts. This method allows you to deposit in AUD.
For international traders, Independent Reserve also accepts SWIFT transfer. Deposits can be in the form of NZD or USD.
Apart from fiat currencies transfer, you can also fund your account with cryptocurrencies such as XBT, BTC BCH, ETH and Litecoin.
Fees and Charges
The trading fees at Independent Reserve are based on a tiered level. The more you trade, the cheaper it becomes. At the top of the scale, the fee is 0.50% and it goes down as the trading volume increases to a minimum of 0.10%.
For the deposits and withdrawals fees, they are as follows:
Deposit
| | |
| --- | --- |
| Methods | Fee |
| EFT | <AUD$100 ($0.99), >AUD$100 (Free) |
| SWIFT | <$5000 ($15.00), >$5000 (Free) |
| Cryptocurrencies | Free |
Withdrawals
| | |
| --- | --- |
| Methods | Fee |
| AUD Withdrawals | Free |
| Non-AUD Withdrawals | $20.00 |
| Bitcoin | XBT 0.0001 |
| Ether | ETH 0.001 |
| Bitcoin Cash | BCH 0.0001 |
| Litecoin | BCH 0.001 |
| Airbridge™ API | Free |
Privacy and Security
Independent Reserve is legally required to verify the identity of its account holders. Specific information will be requested by the exchange depending on the nationality of the account holder. The provided information will then be checked with the databases of the account holder's country as well as with various AML and CTF databases. Once verified, only then will the account be activated to permit trading.
As for the security at Independent Reserve, the servers are located at two secured data centers in Australia. By doing so, Independent Reserve is able to ensure zero data loss as data is simultaneously replicated across both locations in real time. At the same time, there is a fully configured production platform on standby to take over the primary platform should the need arise, In addition, all data is encrypted multiple times and signed with dispersed keys from different data centers. Lastly, the bulk of the Bitcoins are held in cold storage. On the client's side, Independent reserve offers 2-factor authentication as an added layer of security.
Customer Support
In terms of the customer support service at Independent Reserve, the exchange has provided a fairly comprehensive help section which will answer most of the questions that the majority of people might have. For further assistance, the support team can be contacted through email or through the support screen. However, to access the support screen, you need to log on first to your account.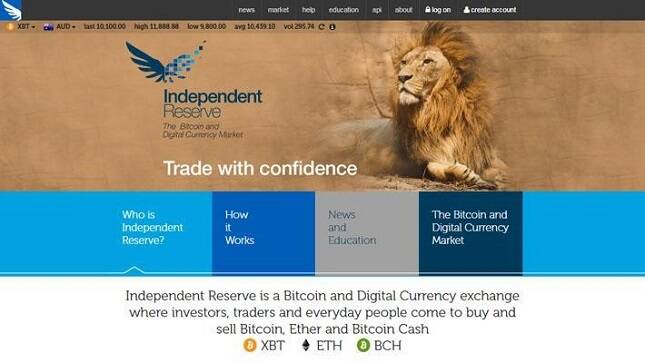 Pros and Cons
Pros
Multiple payment methods
Reasonable fees
Secured Exchange
Support fiat currencies
Cons
High trading volume requirement to avoid the 0.5% trading fees
FAQ
Does Independent Reserve provide a cryptocurrency wallet?
Yes, Independent Reserve automatically hosts a wallet for you for all the cryptocurrencies they support. You are also free to withdraw your crypto to a personal wallet if you wish.
Is Independent Reserve a scam?
No. Independent Reserve is a legitimate Australian based cryptocurrency exchange. The office address is located at Level 26, 44 Market St, Sydney 2000, Australia. They are also a member of the Australian Digital Commerce Association.
What are your conversions rates like?
The exchange rates are competitive and are below market rates.
How long does it take for my withdrawal to go through?
Withdrawing to an AU bank account usually takes 1-2 business days. Withdrawing to a non-AU bank account via SWIFT usually takes 2-3 business days.
Conclusion
Overall, the quality of Independent Reserve is good when we compare it to what other cryptocurrency exchanges have been able to offer. But one thing which makes this exchange stand out from the rest is their support service. The support team is reachable through various channels and the response time is fairly quick within 24 hours. Of course, the fact that the exchange also lets you fund your account with fiat currencies is an added plus.
Independent Reserve
User Reviews
Independent Reserve
Features
Coins Available
Bitcoin

Ethereum

Bitcoin Cash
Accepted Countries
Australia

Cameroon

Chad

Dominica

Canada

Denmark

France

Greece

Haiti

Iceland

Libya

Mexico

Nepal

Belize

Romania

Cape Verde

Senegal

Sri Lanka

United Kingdom

Eritrea

Gambia

Indonesia

Lebanon

Angola

Malta

Bahamas

Benin

Chile

Ghana

Gibraltar

Grenada

Serbia

Guinea-Bissau

Tonga

Kenya

Finland

Namibia

Palau

Oman

Jamaica

Solomon Islands

Kyrgyzstan

Tunisia

Montenegro

Peru

Sweden

Trinidad and Tobago

Yemen

Bahrain

Belarus

Bulgaria

Colombia

Cuba

Cyprus

Algeria

Burkina Faso

Cambodia

Kuwait

Russian Federation

Saint Lucia

Turkey

South Sudan

Tanzania

Virgin Islands, British

South Korea

Japan

Malawi

Maldives

Netherlands

Botswana

Qatar

Saint Kitts and Nevis

Saint Vincent and the Grenadines

Slovenia

Sudan

Taiwan

Tuvalu

Vatican City

Uruguay

Malaysia

Moldova

Nauru

Papua New Guinea

Andorra

Zambia

Bolivia

Afghanistan

Congo

Cote d'Ivoire

Laos

Dominican Republic

Mauritania

Egypt

Gabon

Morocco

Uganda

Nigeria

Swaziland

Vietnam

Austria

Barbados

Bosnia and Herzegovina

Djibouti

Equatorial Guinea

Comoros

Estonia

Fiji

Ethiopia

Mali

Hong Kong

Ireland

Italy

Philippines

Macedonia

Poland

Madagascar

Sierra Leone

Vanuatu

Panama

Portugal

Samoa

Saudi Arabia

Timor-Leste

Albania

Burundi

Guinea

Iran

Armenia

Bangladesh

Belgium

Kiribati

Lithuania

Bhutan

Myanmar

Niger

Cayman Islands

Mongolia

Rwanda

Sao Tome and Principe

Slovakia

Czech Republic

Thailand

United Arab Emirates

Ecuador

Germany

India

Liberia

Liechtenstein

Luxembourg

Marshall Islands

Monaco

Mozambique

New Zealand

Pakistan

Togo

Uzbekistan

Venezuela

Zimbabwe

Antigua and Barbuda

Croatia

Argentina

Guyana

Kazakhstan

Lesotho

Central African Republic

Norway

Paraguay

San Marino

Spain

Suriname

Switzerland

Tajikistan

Guatemala

Honduras

Iraq

Mauritius

Nicaragua

Singapore

Somalia

Azerbaijan

Brazil

Brunei

China

Costa Rica

El Salvador

Georgia

Hungary

Israel

Jordan

Latvia

Micronesia

Seychelles

South Africa

Turkmenistan

Ukraine

Isle of Man

Kosovo
Payment Method
Deposit Options
Wire Transfer
Withdrawal Options
Wire Transfer
Company Information
| Exchange Details | Info |
| --- | --- |
| Headquarters Country | Australia |
| Foundation Year | 2013 |
| Type | exchange |
| Trading Allowed | Yes |
Trade With A Regulated Broker