Coins Available

Accepted Countries

Payment Methods
Vaultoro is an online exchange which allows traders to exchange Bitcoin for physical gold. In other words, traders on Vaultoro can trade physical gold with Bitcoin at the best possible prices. This concept puts the power of gold trading in the hands of everyday people, as this activity was the exclusive preserve of investment bankers on the world's premium gold exchanges located in London and other parts of the world.
Contents
Vaultoro was founded in 2016 by Joshua and Philip Scigala. Vaultoro's physical gold deposits are kept in a vault in Switzerland. Using the Vaultoro platform, it is possible for traders to buy or sell gold bullion using their Bitcoin holdings, with an opportunity to cash out the physical gold deposits as well.
Regulation
Vaultoro does not maintain a regulated exchange. However, this does not pose much of a problem, as traders do not trade against Vaultoro but against other traders. Consequently, only Bitcoin that is used in trading is kept in the hot wallets provided by Vaultoro. Any profits made can be withdrawn to a cold wallet, where it is inaccessible to hackers.
Reliability
Vaultoro has put in place measures to secure trader data as well as gold holdings and holdings of BTC in the wallets of its traders. Cold wallets are protected using multiple signature protocols and are distributed around the world. All gold is stored in the name of the trader and is kept in secure vaults in Switzerland. All gold holdings are audited by auditing firm BDO, which ensures that Vaultoro maintains 100% gold reserves level. Even if Vaultoro goes under, the gold deposits are protected and traders are able to get access to all their gold holdings.
Traders are usually required to enable 2-factor authentication (2FA) to enable them to initiate deposit and withdrawal transactions.
Trading Platforms
Vaultoro features a web-based platform which can be accessed via its website.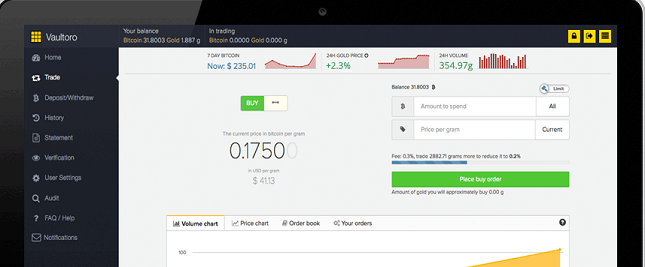 Vaultoro Mobile Trading
A mobile app is currently in the preliminary stages of development and may hit the market in late 2018.
Trade Types/Instruments
Vaultoro offers two instruments for trading:
There are only two trade types. Traders can either Buy or Sell on this platform. However, each trade type has two subdivisions: the market order and the pending order (usually a limit order).
Account Types
There is no account segregation on Vaultoro, as all users are provided with the same accounts, bearing the same features.
Commissions and Spreads
Fees and charges associated with BTC/Gold trading on Vaultoro are three-pronged. Fees are charged for trading, storage, and physical gold withdrawals.
There is the fee for trading, which is charged based on the volume of trades in the 30 days prior to the calculation. The fees are as follows:
0 – 500 grams: 0.5% per trade from 0 to 500 grams
001 – 1500 grams: 0.4% per trade
001 – 5000: 0.3% per trade
Above 5,000 grams: 0.2% per trade
There are storage and insurance fees, which are fees paid to cover the cost of securing the gold deposits in Switzerland and also provide insurance cover. The storage fee is 0.034% of total gold volume, paid once every year. This is deducted in gold, except for traders who have converted all their gold to Bitcoin. Bitcoin storage is free.
Deposits and Withdrawals Options
To protect users and keep transaction fast and affordable, the Vaultoro team has made the deposits and withdrawals currency of choice to be Bitcoin. This requires that the trader procures Bitcoin before this can be transferred to the Vaultoro customer wallet. Bitcoin can be purchased with fiat currency from exchanges such as Coinbase, and the Bitcoin is transferred to the customer's BTC wallet. The customer can then transfer the BTC to the customer wallet provided by Vaultoro using the public keys that are provided. Traders on Vaultoro must take adequate precautions throughout the entire process.
It takes about one hour to confirm all Bitcoin transactions.
Bonus and Promotions
Vaultoro does not offer users any promotions or bonuses.
Customer Support
Here are the customer support channels on Vaultoro.
Twitter: www.twitter.com/vaultoro
Facebook: www.facebook.com/vaultoro
Reddit: www.reddit.com/r/reddit
Email: press@vaultoro.com (for media inquiries)
Phone: +44 203 697 0220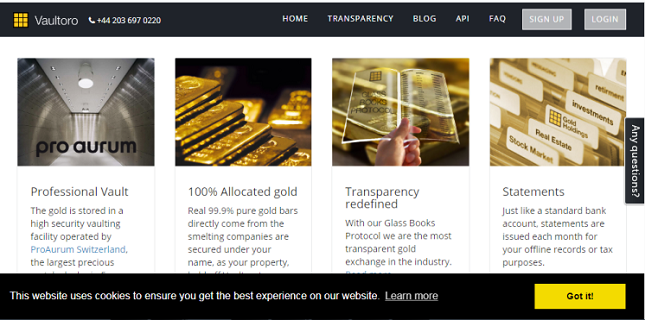 Pros and Cons
Pros
Traders are not given any restrictions as to the quantity of gold they can buy.
You can start trading gold within an hour of account verification.
All transactions are verifiable on the blockchain, which removes the opaqueness seen in traditional gold markets.
BTC/USD and gold prices move in opposite directions, providing a sound basis for trading.
Gold can be cashed out in physical form after purchase.
Trading is faster, cheaper and more secure.
No bank accounts or fiat currency needed.
Cons
Traders must pay fees at every step of the process, from deposits to trading, and from gold storage to withdrawals.
Only Bitcoin can be traded against gold. A knowledge of technical analysis is required.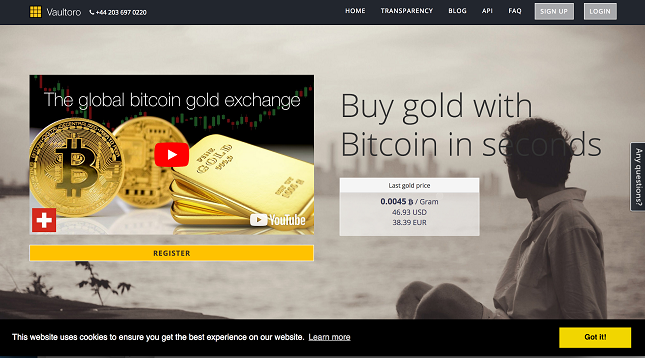 FAQ
No. Vaultoro is not a regulated cryptocurrency exchange. However, the company is registered as a corporate entity.
Vaultoro is based in Cardiff, Wales.
How does Vaultoro make money?
Vaultoro makes its money by charging their clients trading, storage, and gold withdrawal fees.
How do I deposit in Vaultoro account?
Vaultoro accepts deposits in Bitcoin only. You can source Bitcoin from Coinbase using fiat currency, then head over to the Vaultoro website to generate the public key for the BTC wallet where you can transfer the BTC to so that you can start trading.
How do I withdraw money from Vaultoro?
Withdrawals of funds from Vaultoro can be done using a transfer of BTC from the public wallet on Vaultoro (where your BTC trading capital is stored) to your cold BTC wallet.
Yes, Vaultoro is one of the most reliable and trusted exchanges, and also has very secure storage for gold payouts for traders.
No. Vaultoro is not a scam.
Vaultoro is very safe as it uses the very latest encryption technology and other security features which make the site hacker-proof.
Conclusion
Vaultoro's concept of enabling everyday users to acquire gold using Bitcoin is one of the novel ideas in the cryptocurrency space. Not only can users purchase physical gold, but it is also possible to trade BTC/Gold on the trading platform. Thus a trader with sound trading knowledge and who can make a profit from using technical and fundamental analysis on BTC/Gold can actually make a lot of money in Bitcoin terms from these trades. If such a trader wants to cash out, a request for physical gold withdrawal using the prevalent BTC/Gold rate can be made. This is what makes this platform so unique. Vaultoro is thus one of the best ways to profit from cryptocurrency volatility and an asset which can be used as a store of value.
Accepted Countries
United Kingdom

Germany

Switzerland

Austria

Belgium

Croatia

Cyprus

Czech Republic

Denmark

Estonia

France

Ireland

Italy

Monaco

Netherlands

Portugal

Slovakia

Slovenia

Switzerland

Spain

Sweden

Latvia

Lithuania

Poland

Canada

Hong Kong

Japan

Malaysia

Mexico

Singapore

United Arab Emirates

Australia

New Zealand
Payment Method
Deposit Options
Cryptocurrency
Withdrawal Options
bitcoin
Company Information
| Exchange Details | Info |
| --- | --- |
| Headquarters Country | United Kingdom |
| Foundation Year | 2014 |
| Type | change |
| Trading Allowed | Yes |
Trade With A Regulated Broker