How to get Started with cTrader: cTrader Overview
Updated

: Mar 13, 2019, 16:03 UTC
•
7
min read
Many of you who would like to start trading will decide to choose the preferred broker as your first step. While this is indeed important, choosing your trading tools or, in other words, trading platform, may be as crucial for your success.
When forex trading became widely accessible, there wasn't a big choice of trading platforms, if any at all. But today, you, as a modern trader, have a much bigger variety and can choose to trade with the platform that best suits your needs.
One of such trading platforms is cTrader. It is a powerful platform with a vast number of advanced features and tools, especially the charting and technical analysis capabilities, that you may not find elsewhere. It comes on desktop, web and mobile applications for both, Android and iOS devices. It is also probably the only platform that offers Manual, Copy and Algorithmic trading, as well as provides you with your trading performance analytics all in one platform.
In recent years, it has become quite a popular choice among traders, not only because of its great features but also because it is very transparent and is built that way that it protects traders from brokers' manipulations. It also has a large community of traders, so you can easily connect and share with others in its forum.
Getting Started
cTrader offers Public Beta versions for desktop, web, and mobile. What it means is that you can easily download the platform on any device and try its latest features commitment- and risk-free, as it's purely a demo, not linked to any broker. Each broker has their own branded cTrader platforms, on which you can open a Demo or Live account. The features may differ depending on the version the broker is using. From Public Beta, you can also open a Live account with any of the featured cTrader brokers.
To login to cTrader, use your Facebook or email address. These credentials will be treated as your cTrader ID. cTrader ID allows you to login to any future accounts of any broker on any device (unlike login in with account number). The other benefit of cTrader ID is that you can login with it to cTrader ID Site where you can manage all your accounts, sessions and more, as well as to cTrader Community website. This is achieved thanks to a cloud infrastructure which distinguishes cTrader from other trading platforms.
Once you are in, you will see the side menu with Watchlists, Apps, and Settings on your left side, charts, Tradewatch in the center and Active Symbol Panel (ASP) on the right side. The menu can be easily collapsed horizontally and vertically and resized to show longer symbols. There are different chart modes, including a full-screen mode and the possibility to detach charts on separate screens if you are working with several monitors. Tradewatch and ASP panels can be shown or hidden by choosing the preferred option in Layouts. The interface offers personalization choices including the selection of 22 languages and either a black or a white theme. There are also links to useful resources such as Marketwatch for example, as well as Help section.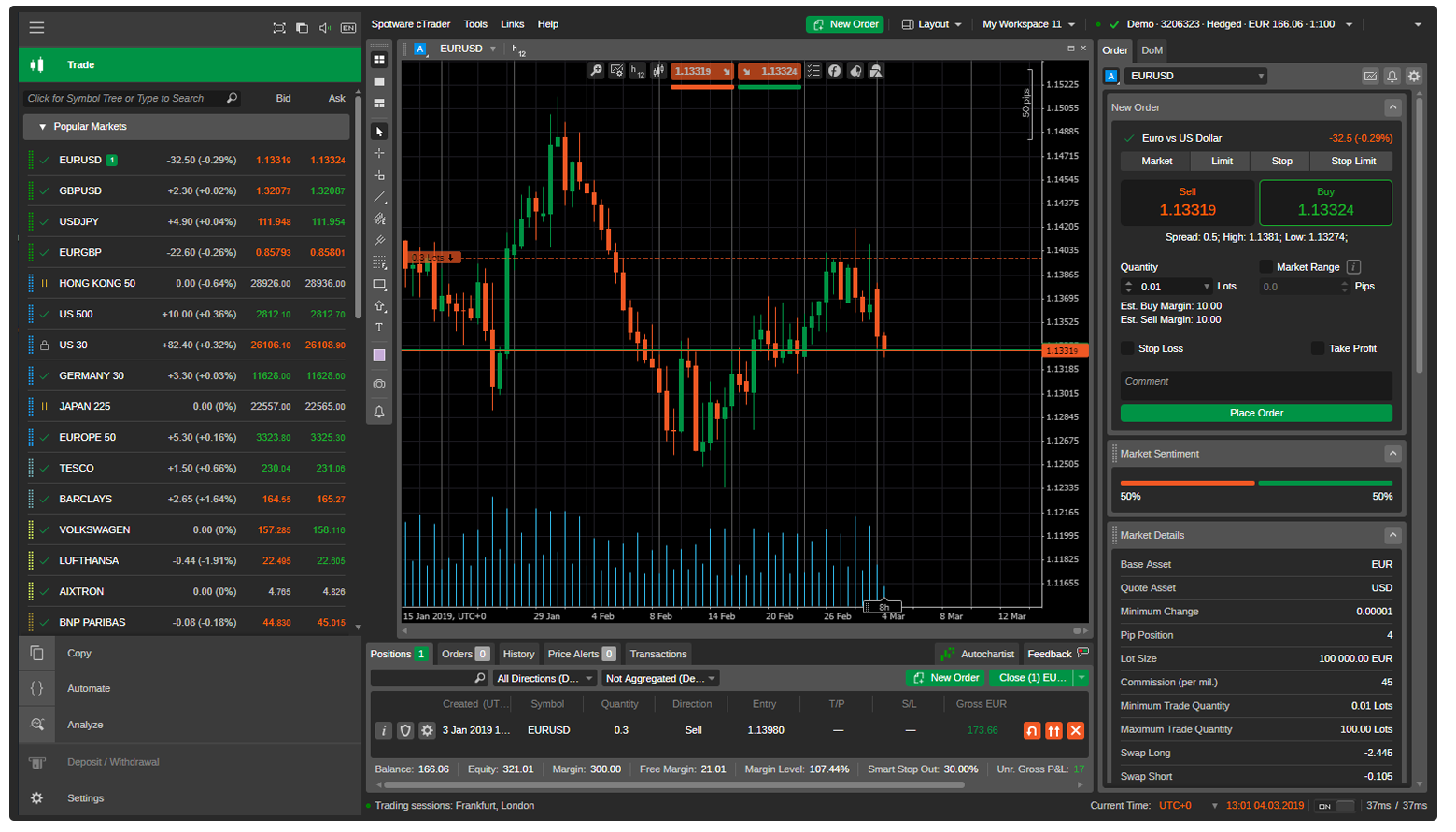 cTrader Web 3.1 Main Screen
All your preferred options, such as chart configurations, settings, layouts and alike can be saved as Workspaces, another cloud-enabled feature of cTrader. You can load your saved Workspaces from the multiple accounts across different brokers. The cloud infrastructure also allows you to switch between all your accounts in one click and manage sessions on devices you are using.
Symbol Information
The ASP panel provides you with a full market overview on a particular symbol at a glance to help you make informed trading decisions. It contains Market Sentiment, Market Details, Trade Statistics, Market Hours, related Links, Inverted Rate, Leverage, as well as Depth of Market (Standard DoM, Price DoM, and VWAP DoM). You can open new charts, create new orders and change symbols from the ASP panel. It can also be linked to switch symbol from it in Watchlists, Tradewatch, and Charts.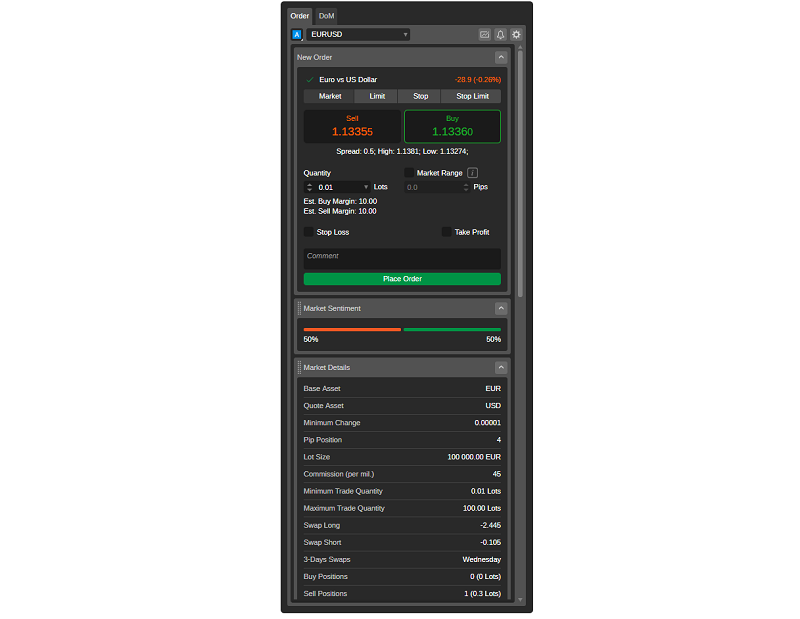 Active Symbol Panel
The Watchlist provides you info on the bid and ask price, the change in price and how many opened positions you have per symbol. You can group, save, add or remove your favorite symbols as desired into multiple Watchlists. There is also a section with Popular Markets and a convenient Symbol Finder. All of these are integrated inside the menu under the Trade application.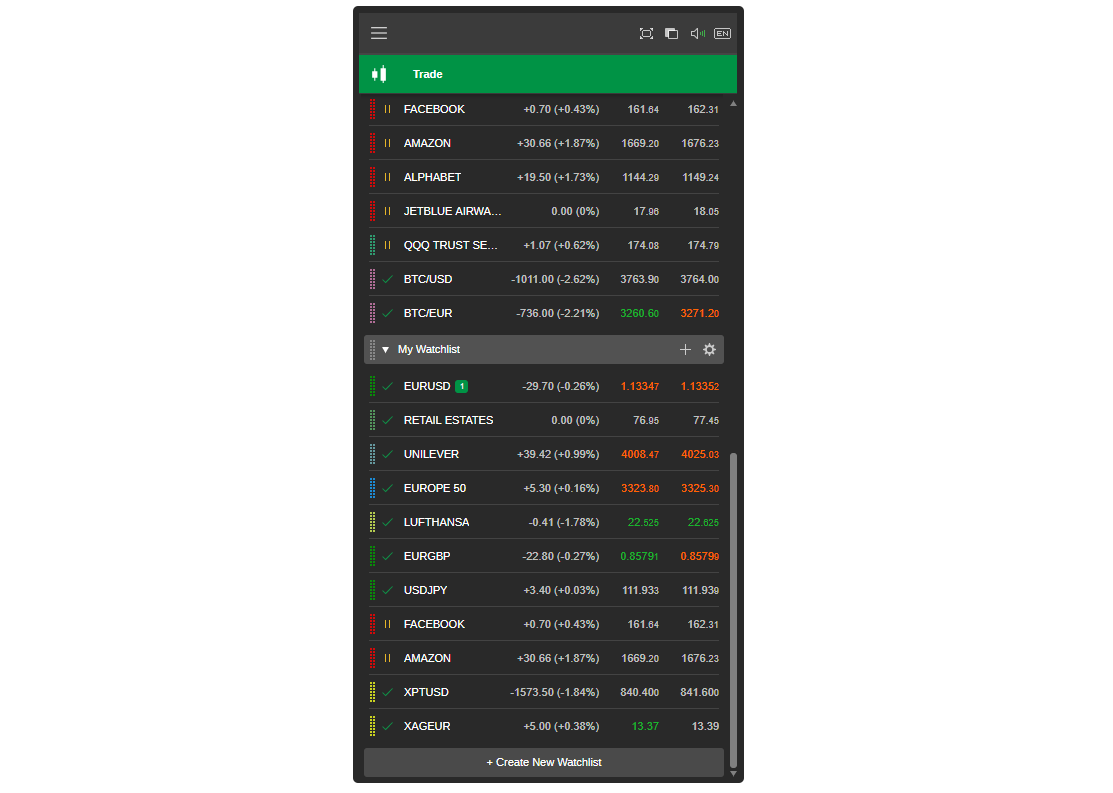 Watchlist
Charting & Technical Analysis
cTrader is popular for its charting capabilities and technical analysis tools. To start with, you can choose from 3 chart modes, 6 chart types, 28 timeframes, and more than 60 technical indicators. You can customize the color of charts and chart elements, and draw different lines and shapes on charts.
The chart displays a vast amount of information, such as your Positions, Orders, Stop Loss and Take Profit levels to name some. You can create a new order directly from the chart, open it in full screen or detach on another monitor.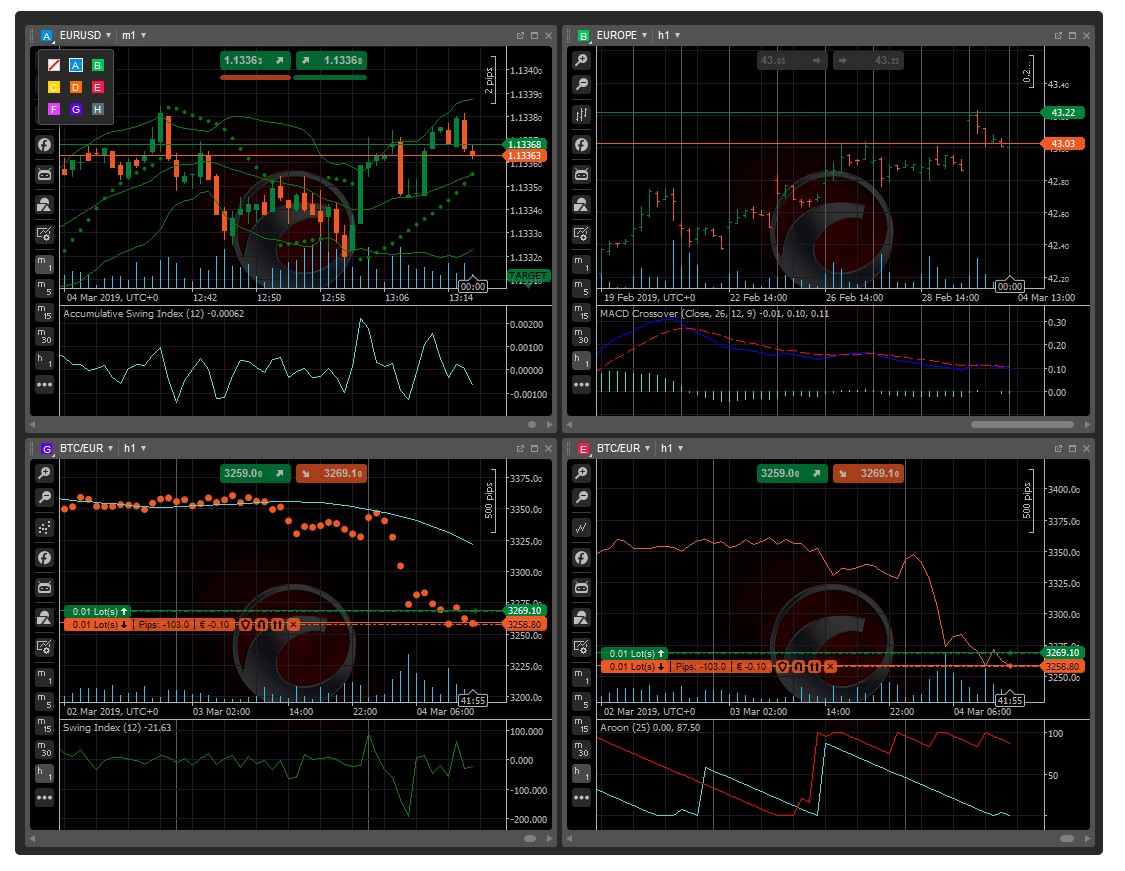 Charts
Another cool feature is Linked Charts. It allows you to link a symbol to several charts so you can switch between symbols while retaining specific chart settings like timeframe, chart type, indicators, drawings, and others. So, you don't have to configure it all over again for every newly selected symbol. You can create multiple groups of charts as well.
Trading Tools
Unlike many other trading platforms, in cTrader there are several options for order placing. Firstly, you can open, close and modify orders with QuickTrade mode just in a single click from every section of the platform. It's very useful when trading in fast-moving markets. Apart from that, there are advanced order types such as Market Order, Limit Order, Stop Order, and Stop Limit Order which you can also protect with Take Profit / Stop Loss settings and use Market Range feature (with your Market Order) to avoid slippage.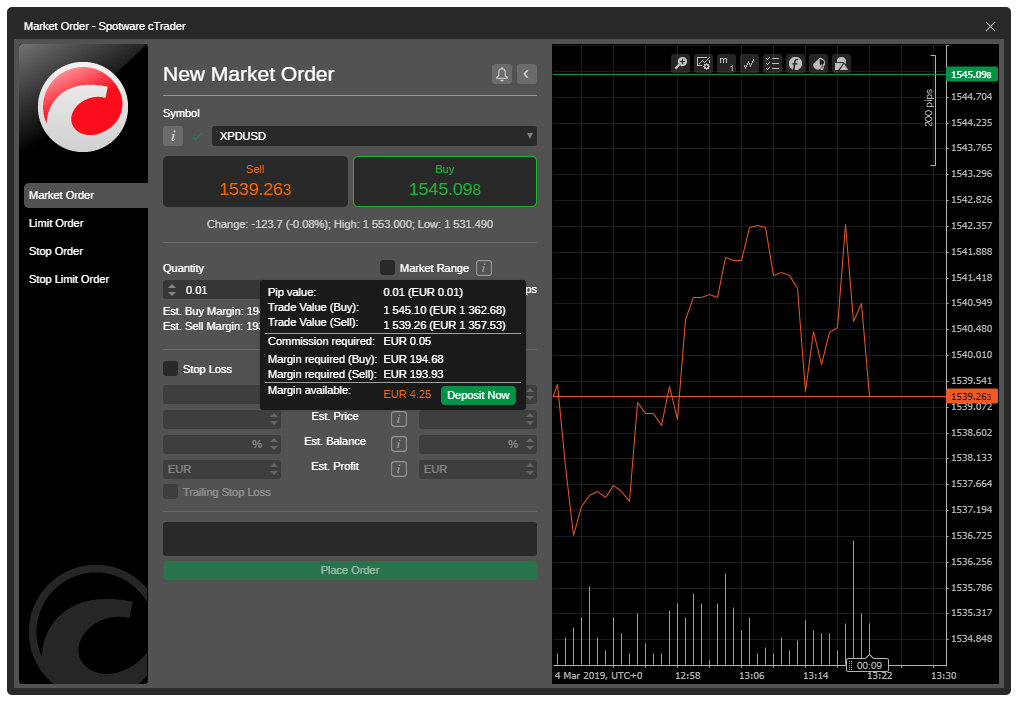 New Order
When selecting the volume of the order, cTrader keeps you informed on pip value, trade value, commission cost, and margin required. For every deal, you will be able to see detailed information on such parameters as execution time, market snapshot and matching time. Your orders will be filed against the full order book using Volume Weighted Average Price (VWAP), and you can also see the full range of executable prices coming directly from the liquidity providers in the depth of market section of ASP panel.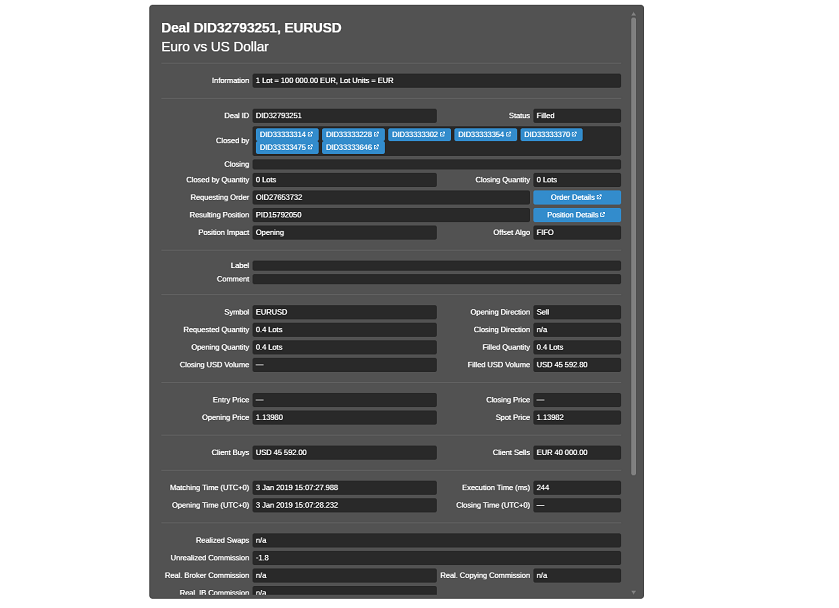 VWAP DoM in Active Symbol Panel
In the Tradewatch panel below the charts, you can view all your positions, orders, history, transactions as well as set price alerts (which you can also configure to be shown on charts).
In general, you can set up different push and email notifications using cTrader ID website. This can be an alert for Margin Call, Stop Loss / Take Profit, Stop Out and others. Being a cloud-enabled feature, you will be able to receive push notifications in-platform across all devices you are using.

Tradewatch
To sum up, cTrader is a very transparent trading platform that provides you with important information throughout every step of your trading experience. It equips you with a wide selection of important tools that help you achieve your goals and enables you to stay in control of your trading.
If you want to try cTrader, download its Public Beta version on any device following this link or open Demo or Live account with one of the cTrader featured Brokers at https://spotware.com/featured-ctrader-brokers/.
About Spotware

Spotware is an award-winning financial technology provider specializing in complete business solutions and complex custom development projects that add value to their clients. It is best known for its flagship product, cTrader, a premium FX and CFDs trading platform offered by leading brokers and trusted by millions of traders worldwide. It has also developed cXchange, an out-of-the-box digital asset exchange solution that allows any business to launch a cryptocurrency exchange. Spotware has been raising the standards of the online trading industry since 2010 providing constant innovation ever since. Founded on the values of transparency and Traders First™ approach, the company develops products that are responsive to the changing demands of business and regulatory landscape, and serve the long-term interests of all market participants.
Don't miss a thing!
Sign up for a daily update delivered to your inbox
Sponsored Financial Content