ADA Rocked After eToro Announces Surprise Delisting in US
Updated

: Nov 25, 2021, 18:56 UTC
•
3
min read
eToro surprised the crypto community and hurt ADA after a surprise announcement on Tuesday that it would delist ADA in 2022.
The crypto community was left shocked on Tuesday following a surprise move by popular retail trading platform eToro to delist Cardano's cryptocurrency ADA in the US by the end of 2021.
eToro, an Israeli social trading and multi-asset brokerage company that offers copy trading services covering forex and crypto, said regulatory concerns motivated the decision. The company also announced that it would be delisting Tron's TRX.
"The regulatory landscape for crypto is evolving rapidly… As a result, we will be limiting the ability for US users to open new positions in, or earn staking rewards for, ADA and TRX" a spokesperson from eToro told Business Insider.
The surprise delisting triggered selling in ADA. The cryptocurrency now trades more than 5% down on the week, with its market cap having tumbled from above $61B at the start of the week to under $58B as of Thursday.
As of the 26th of December 2021, eToro US users will no longer be able to buy the cryptocurrency. Then, after the 31st of December 2021, users holding ADA will no longer be able to earn staking rewards.
In a video response to the decision, Charles Hoskinson, Cardano's founder, blamed the decision on a lack of regulatory clarity and played down the impact the delisting would have on ADA's price in the long term.
He explained that European-based exchanges like eToro tend to limit their US exposure, given that US exposure comes with high regulatory costs. US-based exchanges like Coinbase, which are already paying for US regulatory compliance, have an easier in the US, he added.
About Cardano and its Cryptocurrency ADA
Cardano is an open-source, decentralised blockchain platform that achieves consensus using proof-of-stake and can facilitate internal transactions using its cryptocurrency ADA.
It was founded in 2015 by Charles Hoskinson, one of Ethereum's co-founders, and was initially funded through an initial coin offering (ICO). In 2017, Cardano launched its crypto-currency ADA.
ADA is the largest cryptocurrency (by market capitalisation) to use a proof-of-stake blockchain. Proponents of proof-of-stake blockchains argue that it is significantly more environmentally friendly than proof-of-work alternatives such as Bitcoin and Ethereum.
Back in February, Hoskinson estimated that the Cardano network used just 0.01% of the energy used by the Bitcoin network.
ADA Back Sharply from September's Record Highs
ADA surpassed $3.0 in September, taking its gains on the year at the time to more than 1700%. Since the all-time highs printed two months ago, however, the cryptocurrency has seen a sharp correction.
As of Thursday, with ADA trading in the mid-$1.700s, the cryptocurrency is down more than 40% from its prior record highs. But the cryptocurrency still trades with on-the-year gains of more than 800%.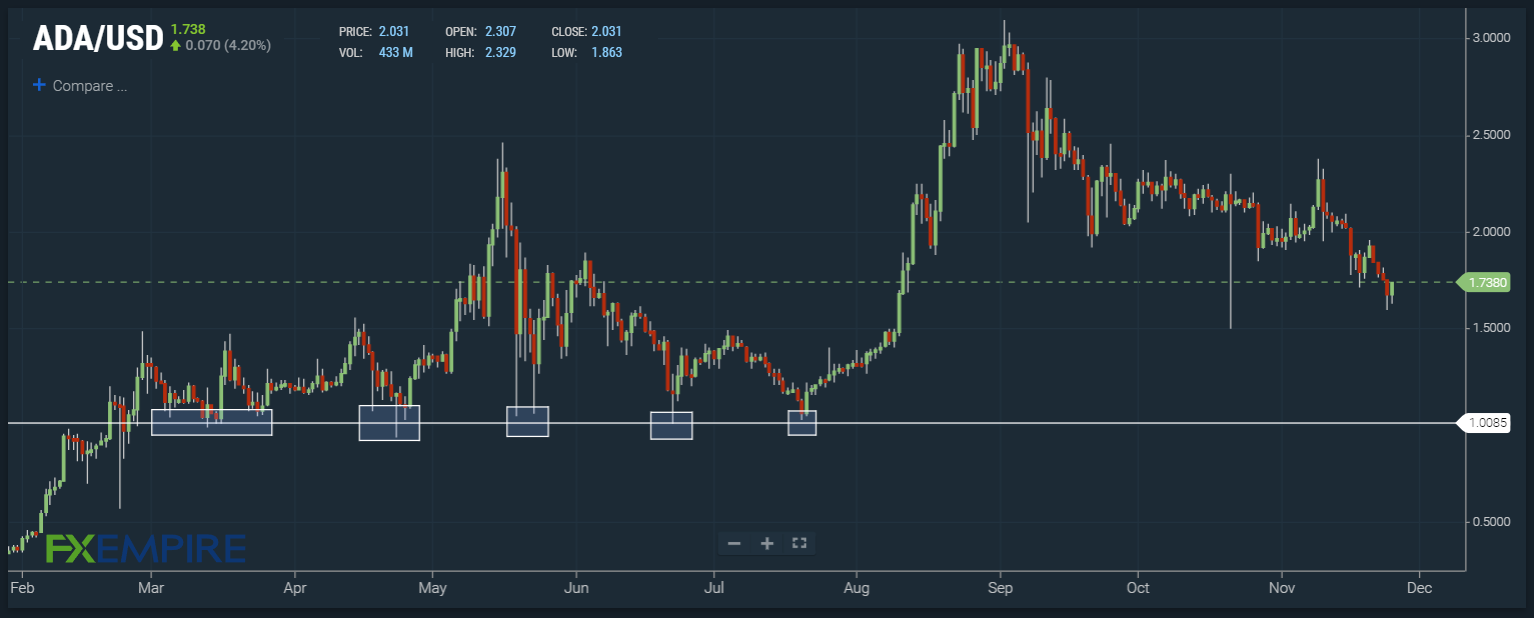 As regulatory concerns build and the broader crypto market continues to struggle, further profit-taking may see ADA drop back towards the next key area of support in the $1.0 area, which would amount to a further 40% correction.
But between April and July this year, the $1.0 area proved to be a profitable area for short-term buyers on four different occasions. There is every chance this buy-the-dip mentality could return.
Don't miss a thing!
Sign up for a daily update delivered to your inbox
Sponsored Financial Content