Bitcoin's Adoption Is Growing. Now It's Amazon's Time To Accept It
Published

: Jul 26, 2021, 05:51 UTC
•
2
min read
Online ecommerce giant Amazon is set to start accepting Bitcoin payments this year and could develop its native token by 2022.
The cryptocurrency market has been gaining adoption from corporate entities in recent years, and it now seems it is time for Amazon to join the list.
Amazon To Start Accepting Bitcoin Soon
Online retail giant Amazon is reportedly ready to start accepting Bitcoin payments before the end of the year. This is according to a report by London's City A.M outlet, citing an insider. According to the report, Amazon will start accepting Bitcoin as a means of payment soon.
The retail giant recently posted saying that it wants to hire a cryptocurrency and blockchain lead. Amazon is looking to explore areas such as blockchain technology, cryptocurrency, central bank digital currencies (CBDCs) and distributed ledger.
The source told City A.M that the job post is a sign of bigger things from Amazon. She stated that the company is getting ready to set up cryptocurrency payment solutions at some point in the future. It is something the company is committed to achieving, she added.
The insider revealed that it starts with Bitcoin as it is the key first stage of the cryptocurrency project. The directive is apparently coming from Jeff Bezos himself. After establishing a strong Bitcoin payment option, Amazon will look to integrate other cryptocurrencies. "Ethereum (ETH), Cardano (ADA) and Bitcoin Cash (BCH) will be next in line before they bring about eight of the most popular cryptocurrencies online," the insider added. Amazon has been working on the functionality since 2019, and it could soon come to fruition, she added.
Amazon To Develop Its Native Token
The second stage of the project is for Amazon to develop its own native token. The source stated that the company is planning to start developing its native token next year after establishing its cryptocurrency payment gateway.
She added that after a year of experiencing cryptocurrency payments, it is looking increasingly possible that the company is heading towards tokenization. The token will allow people to buy goods on Amazon and pay for other services. It will also come with a loyalty scheme to boost adoption.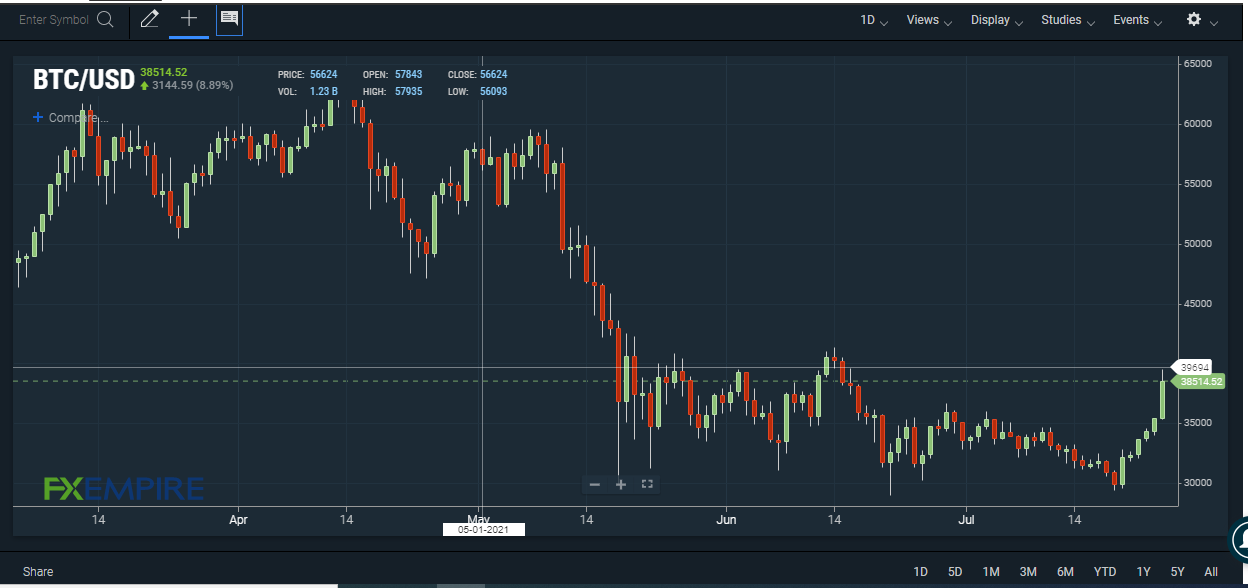 BTC/USD chart. Source: FXEMPIRE
Bitcoin has been performing excellently over the past few days. BTC is currently up by 12% over the past 24 hours and is now trading above the $38k mark for the first time in weeks. The rally has extended to other cryptocurrencies, with Ether also closing in on the $2,500 resistance point.
Don't miss a thing!
Sign up for a daily update delivered to your inbox
Sponsored Financial Content