Can Ethereum (ETH) Price Reclaim $1,800 Following Futures ETF Approval?
Published

: Oct 3, 2023, 17:47 UTC
•
3
min read
Ethereum (ETH) rallied toward the $1,750 territory after the SEC approved ETH Futures ETH. But following brief retracement on Tuesday, a vital on-chain metric now raises bullish signals. 
Key Insights
Ethereum (ETH) price hit $1,740 on Monday as markets reacted positively after the US Securities and Exchange Commision (SEC) approved ETH Futures ETFs.

After a brief retracement on Tuesday, a vital on-chain indicator shows that US-based institutional investors have started pilling on bullish pressure.

The $1,750 could poses a significant resistance, but the prevailing sentiment remains bullish.
Ethereum (ETH) price raced toward $1,750 on Monday as investors reacted positively to the much-anticipated Futures ETF approval. After a brief retracement on Tuesday, October 3, a vital on-chain metric now raises bullish signals.
Ethereum (ETH) Futures ETF product offerings went live across various trading platforms on Monday. After some investor booked early profits on Tuesday, the latest on-chain data readings show that some US-based crypto whales are pilling on buying pressure.
Wall Street Whales on Coinbase are Stacking up on ETH
With Ethereum Futures ETF now live across various platforms, a vital on-chain indicator shows US institutional investors have started piling up buying pressure.
CryptoQuant's Coinbase Premium Index, shows the percentage difference between Ethereum prices on Binance spot markets Coinbase Pro.
Binance dominates the retail trading market globally. However, Coinbase Pro is largely dominated by US-based institutional entities and high-networth traders looking to trade in a more regulated environment.
Hence, positive values of the Coinbase Premium Index values indicates that US investors' are increasing buying pressure.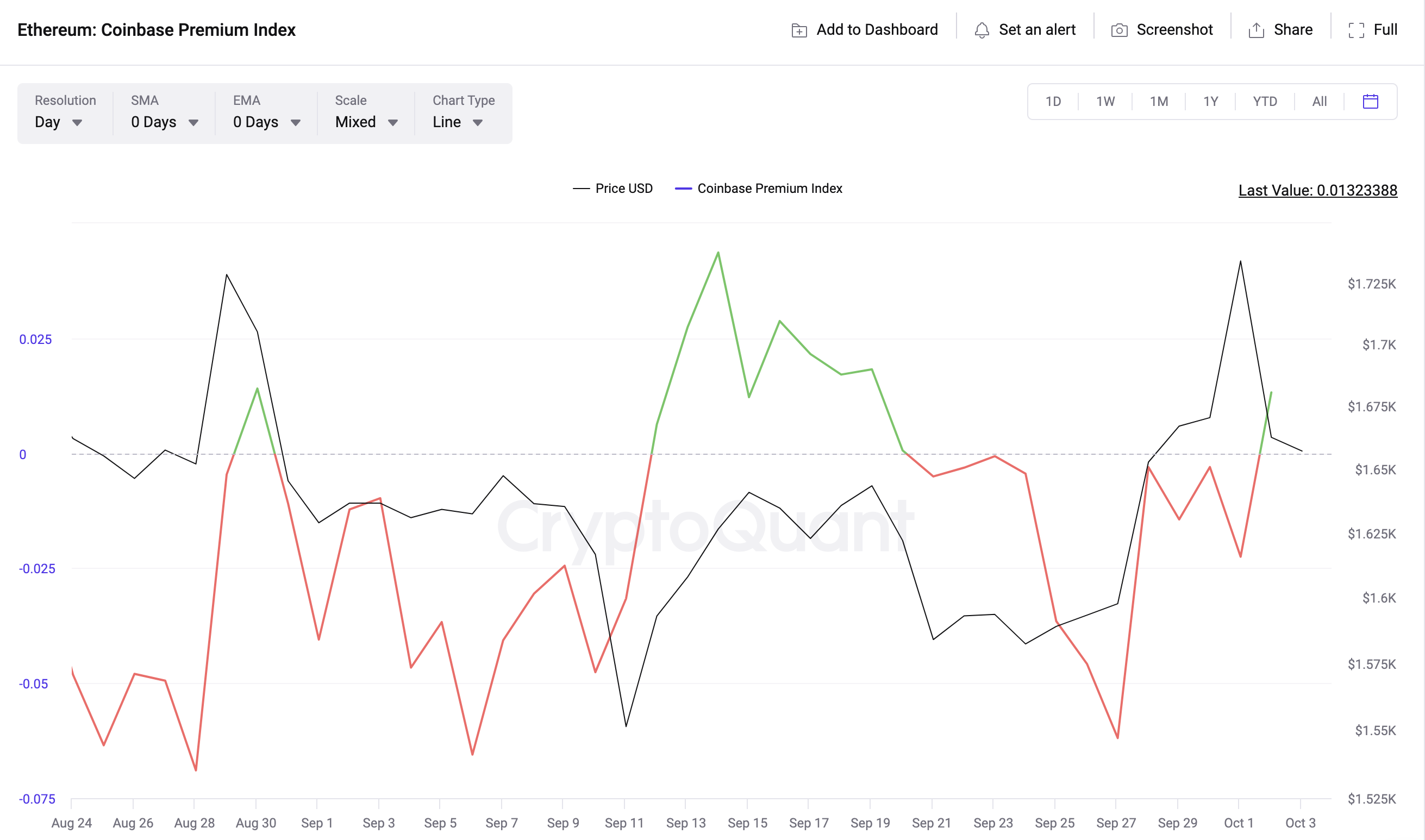 Ethereum (ETH) Price vs. Coinbase Premium Index. Source: CryptoQuant
As shown above, on October 2, the ETH Coinbase Premium Index broke into positive values. And historically, ETH price has often rallied within days after this happens. This can be observed on Aug 29 and September 12 respectively.
In both cases, ETH price made noticeable price gains after within 48 hours after the US whales began to move the needing on Coinbase.
However, it remains to be seen if the Coinbase Premium Index will rise further in the coming days. If that happens it could shore up retail investors' confidence across the global markets as well.
ETH Price Prediction: $1,800 is a Viable Target
Based on the key on-chain datapoint analyzed above, Ethereum price will likely rally toward $1,800 if the whales keep buying.

The Global In/Out of Money Around Price (GIOM) data, which depicts the entry price distribution of current ETH holders, also confirms this optimistic thesis.
It illustrates that if Ethereum bulls can beat the initial resistance at $1,760, the bulls could push the ongoing price rally above $2,000
As depicted below, the 4.13 million wallet addresses purchased 4.09 million ETH at the average price of $1,762. If they take profits early, the could form a daunting sell-wall for the bulls.
But if the Coinbase whales keep buying ETH, the price rally could eventually surpass the $1,800 territory.

Ethereum (ETH) Price Prediction GIOM data Source: IntoTheBlock
Conversely, the bears could negate this positive narrative if the Ethereum price reverses below $1,500.
However, in that case, 7.27 million addresses had bought 14.82 million ETH coins at the average price of $1,600. If they make frantic efforts to cover their positions ETH price could avoid a major reversal.
But if the ETH bulls cannot hold that vital support level, the price could promptly swing below $1,500.
Don't miss a thing!
Sign up for a daily update delivered to your inbox
Sponsored Financial Content