DAX Index, FTSE 100, STOXX 600: Euro Zone, UK PMI Weakness Dampens Early Optimism
Updated

: Oct 2, 2023, 11:32 UTC
•
3
min read
Despite Congress averting a U.S. shutdown, Dax Index, FTSE 100 stocks waver on weak manufacturing data, suggesting caution for traders.
Highlights
European stocks eke out small gains as Q4 begins, with the avoidance of a U.S. government shutdown providing initial fuel.
STOXX 600 and DAX indexes saw a brief lift, notably in the real estate and mining sectors, before giving in to gloom.
Euro Zone's manufacturing woes persist as final HCOB PMI dips to 43.4, signaling continued contraction in demand.
FTSE 100 reverses early gains, shedding light on the UK's struggling manufacturing sector despite a minor PMI uptick.
Overview
European equities kicked off Q4 with slight gains, buoyed by the U.S. Congress averting a federal shutdown. The STOXX 600 index and the DAX Index saw moderate gains shortly after the opening, led by real estate and mining sectors. However, the optimism faded quickly due to disappointing Euro Zone PMI data, extinguishing traders' hopes for sustained gains.
U.S. Shutdown Averted, but Euro Zone Struggles
Market sentiment received a boost as Wall Street futures rallied following the U.S. Congress's passage of a stopgap funding bill, preventing the fourth government shutdown in a decade. However, manufacturing in the Euro Zone continued its downward trend. HCOB's final euro zone manufacturing PMI dropped slightly to 43.4, reflecting continued contraction in demand.
Sluggish UK Market
On the UK front, the FTSE 100 slipped below the 7600 mark, reversing early gains. Despite a slight uptick in the S&P Global/CIPS manufacturing PMI, the ongoing downturn in the UK's manufacturing sector remained a concern. Individual stocks showed mixed performances, with BAE Systems and United Utilities gaining while Casino saw a significant drop.
Stock-Specific Developments
Defense giant BAE Systems rose 1.5% on securing a £4bn submarine contract. United Utilities and Pennon reported trading in line with expectations, pushing their shares up by 2% and 3%, respectively. Melrose Industries initiated a GBP 500 million share buyback program, resulting in a 1% stock gain.
Short-Term Forecast: Cautiously Bullish
Despite concerns over the Euro Zone's contracting manufacturing sector and sluggish UK market, the overall sentiment remains cautiously bullish. The relief from the U.S. and individual stock performances offer some optimism, but traders should remain vigilant given the underlying economic vulnerabilities.
DAX Index Technical Analysis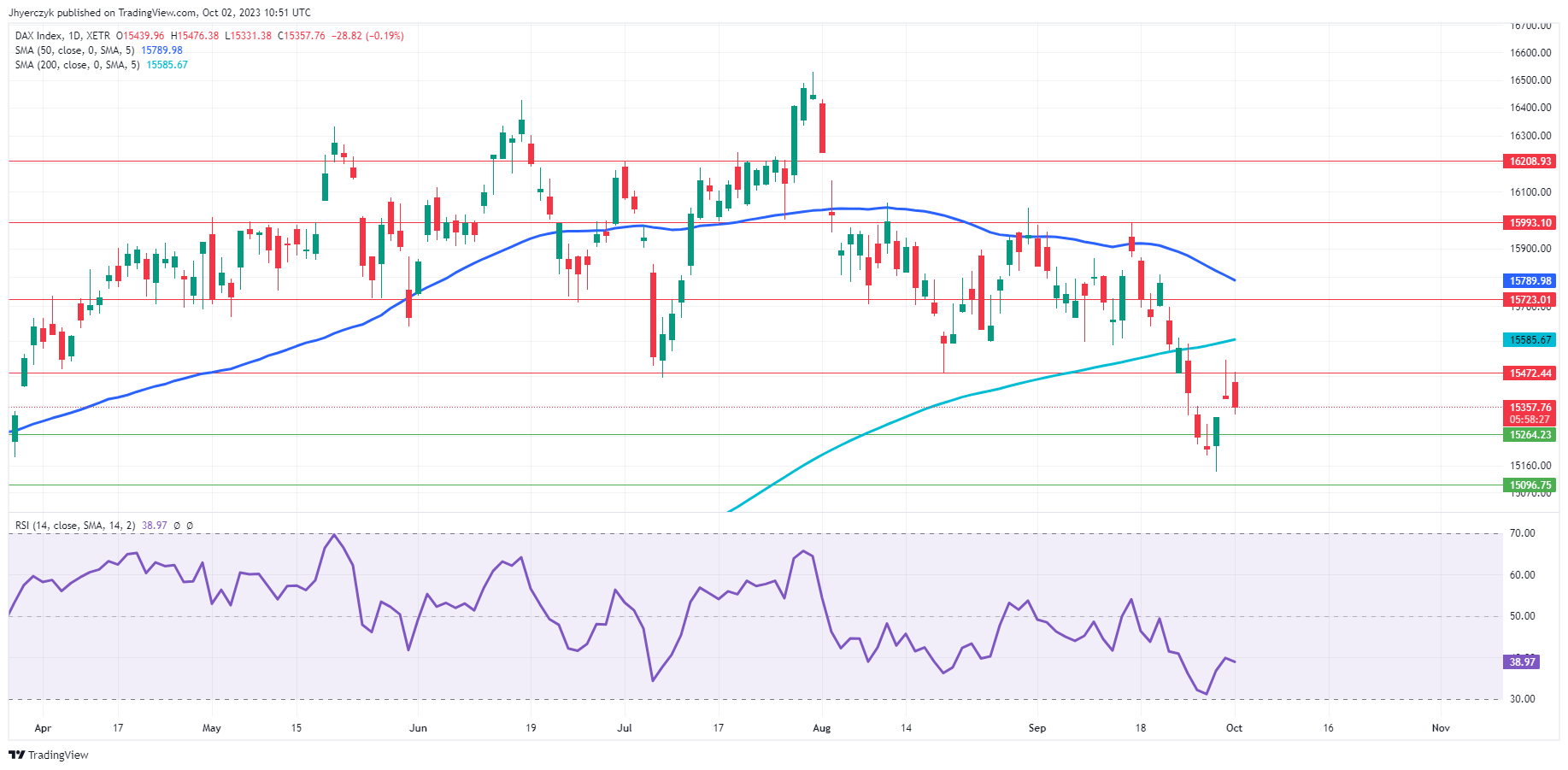 Daily DAX Index
The DAX Index is trading at 15357.26, which places it below both the 50-day and 200-day moving averages of 15789.94 and 15585.66, respectively. This could signify a bearish trend in the short to medium term.
The 14-Day RSI stands at 38.89, reflecting weakened momentum and nearing oversold territory, but not quite there yet.
While the index hovers above the main and minor support levels of 15096.75 and 15264.23, it falls short of crossing the minor and main resistance levels at 15472.44 and 15723.01. Overall, the market sentiment appears to be bearish based on these indicators.
FTSE 100 Technical Analysis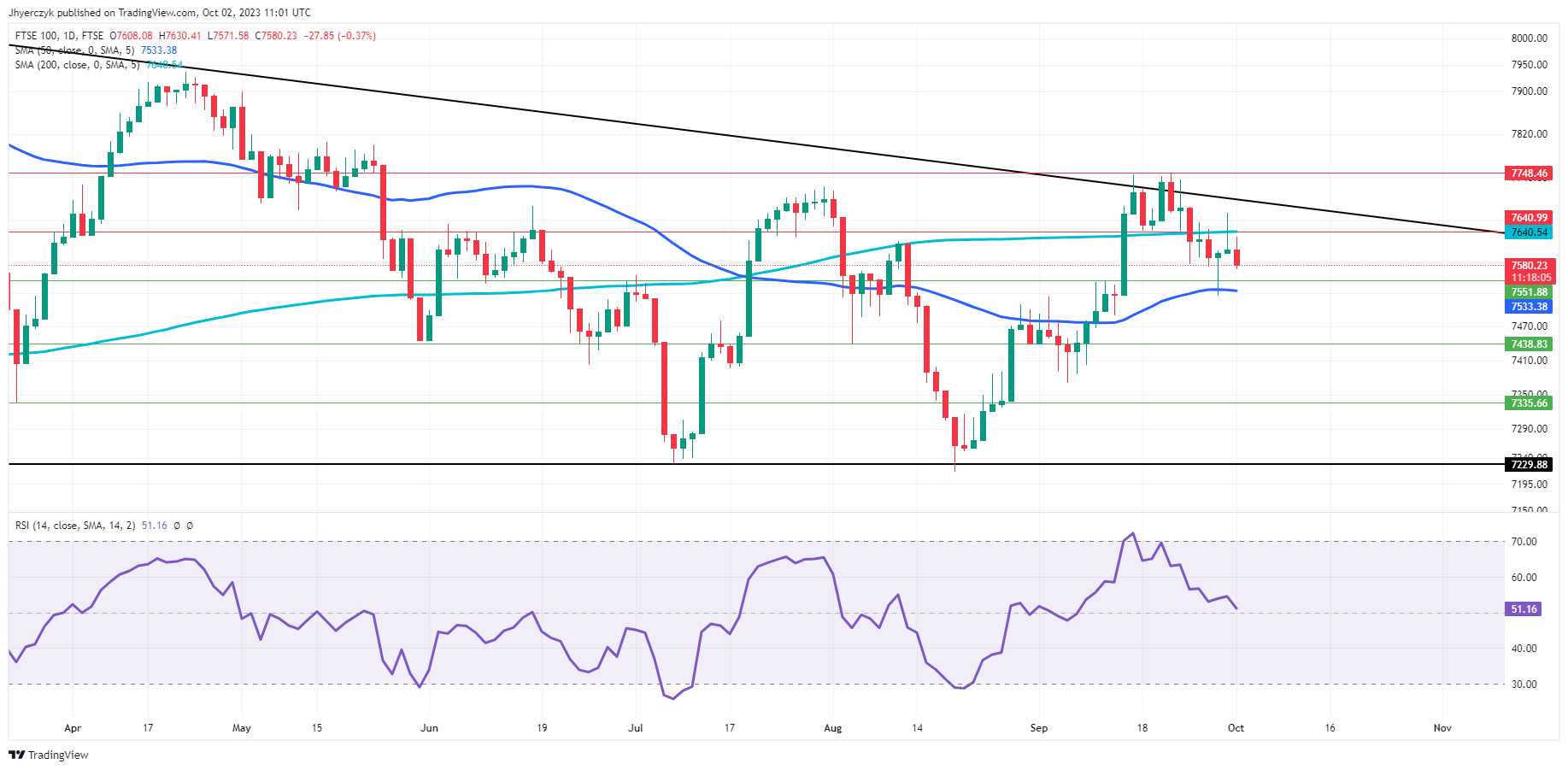 Daily FTSE 100
The FTSE 100 is currently trading at 7578.90, sitting above its 50-day moving average of 7533.35 but below the 200-day moving average of 7640.54. This mixed positioning suggests a lack of clear directional bias in the medium term.
The 14-Day RSI at 50.95 is almost neutral, indicating a balance between buying and selling pressures.
While the index is trading above its main and minor support levels of 7438.83 and 7551.88, it has yet to breach minor and main resistance at 7640.99 and 7748.46, respectively.
There's no trend line support, but resistance looms at 7699.62. However, increased buying volume could change this resistance into a trigger point for an acceleration to the upsde.
Given the current parameters, the FTSE 100 sentiment appears to be cautiously neutral to slightly bearish.
Don't miss a thing!
Sign up for a daily update delivered to your inbox
Sponsored Financial Content