Dax Index: Will Hawkish Fed Stances Impact the DAX Market's Thursday Mood?
Published

: Sep 21, 2023, 04:03 UTC
•
4
min read
DAX 30 rebounds on Wednesday, but US Federal Reserve decisions cast shadows on the DAX Market's outlook.
Highlights
DAX witnessed a 0.75% gain on Wednesday, recovering from Tuesday's 0.40% dip.
US Federal Reserve's hawkish stance takes center stage. Investors brace for potential market swings.
ECB speeches are on today's agenda; investors keenly await potential market-moving declarations.
DAX Wednesday Overview
On Wednesday, the DAX gained 0.75%. Partially reversing a 0.40% fall from Tuesday, the DAX ended the day at 15,782.
People's Bank of China Shows Signs of Confidence
On Wednesday, the People's Bank of China (PBoC) demonstrated confidence, leaving loan prime rates unchanged. Economists expected the PBoC to stand pat following more upbeat economic indicators from China last Friday.
German Producer Prices Offer Pre-Fed Comfort
The European equity markets turned from panic mode to calm and reflection. German producer prices drove early buyer appetite on Wednesday. German producer prices increased by 0.3% in August versus a 1.1% slide in July. Economists forecast a 0.2% rise.
An upward trend in producer prices reflects an improving demand environment, allowing producers to increase contract prices.
A pullback in Government bond yields offered relief to riskier assets ahead of the Fed interest rate decision.
The Wednesday Market Movers
The risk-on sentiment provided support to several sectors. Auto stocks were among the front-runners.
Porsche rallied 2.78%, with BMW and Mercedes Benz Group seeing gains of 2.64% and 2.05%, respectively. Volkswagen rose by 1.90%, while Continental ended the day up by 0.09%.
A bounce back in German car registrations likely contributed to the session gains. German car registrations surged by 12.4% in August, reversing a 13.2% slump from July.
Bank stocks were also on the move. Commerzbank and Deutsche Bank saw gains of 1.59% and 0.97%, respectively. Commerzbank CFO projected net interest of €8 billion this year on higher interest rates, signaling a positive earnings outlook.
US Federal Reserve to Send the DAX South
Investors will respond to the overnight Fed interest rate decision, economic projections, and press conference. Fed Chair Powell addressed the markets, indicating that the future rate path hinges on the economic indicators. However, the FOMC economic projections were hawkish, with 10 out of 19 FOMC members seeing rates holding above 5% throughout 2024.
US equities tumbled in response to a hawkish Fed-fueled jump in Treasury yields. The Dow fell by 0.22%, with the S&P 500 and NASDAQ Composite Index ending the day down 0.94% and 1.53%, respectively.
The futures markets point to a bearish Thursday session, with the DAX down 154 points.
Later today, US jobless claims need consideration. Tight labor market conditions would support the more hawkish Fed interest rate path. However, Philly Fed Manufacturing Index numbers will also move the dial. Investors will look for reasons for the Fed to deviate from the new interest rate path.
Beyond the numbers, investors should consider ECB Executive Board member speeches. Executive Board member Isabel Schnabel and ECB President Christine Lagarde are on the calendar to speak today. Hawkish central bank chatter could spook the markets as investors digest the latest from the Fed.
Short-Term Forecast
Downside risks linger for the DAX, with the Fed in a more hawkish mood and the ECB concerned with inflation. However, improving macroeconomic conditions across the euro area would cushion the downside.
DAX Technical Indicators
Daily Chart
The DAX remained below the 50-day EMA while holding above the 200-day EMA, sending bearish near-term but bullish longer-term price signals.
A break above the trend line would support a DAX move to the 50-day EMA. Dovish ECB member commentary and a spike in US jobless claims would give the bulls a run at 16,000.
However, failure to break above the trend line would leave the 15,663 support level in play. Better-than-expected US economic indicators and a hawkish ECB President would support a break below the 15,663 support level.
The 14-Daily RSI reading of 49.38 indicates a DAX break below the 15,663 support level to sub-15,500 before entering oversold territory.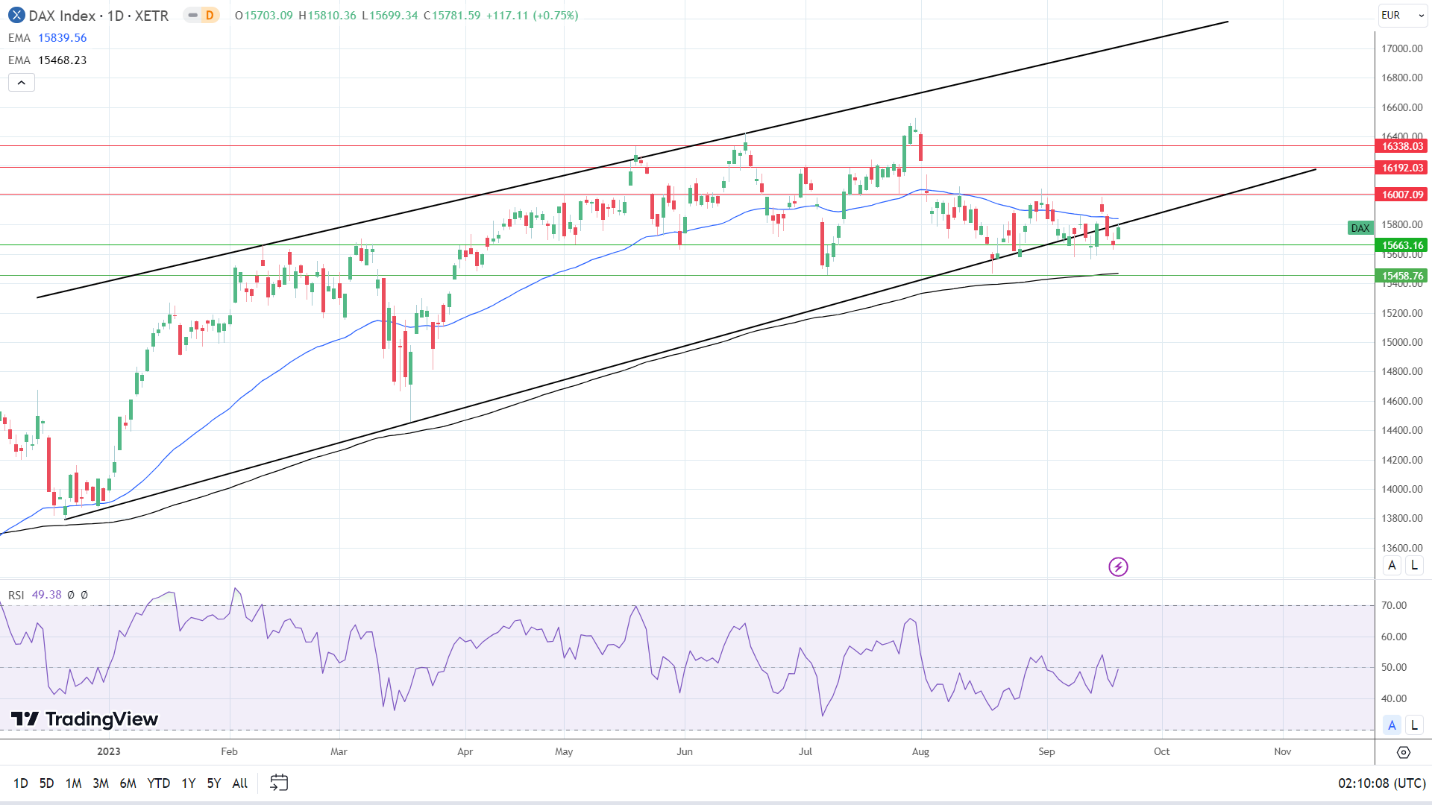 DAX 210923 Daily Chart
4-Hourly Chart
The DAX sits above the 50-day EMA while below the 200-day EMA, sending bullish near-term but bearish longer-term price signals. A DAX break above the trend line would support a DAX move to the 200-day EMA.
However, a break below the 50-day EMA would give the bears a run at the 15,663 support level.
A break below the 15,663 support level would support a DAX return to 15,500 and target 15,459 support level.
The 51.86 RSI reading supports a DAX break above the trend line before entering overbought territory.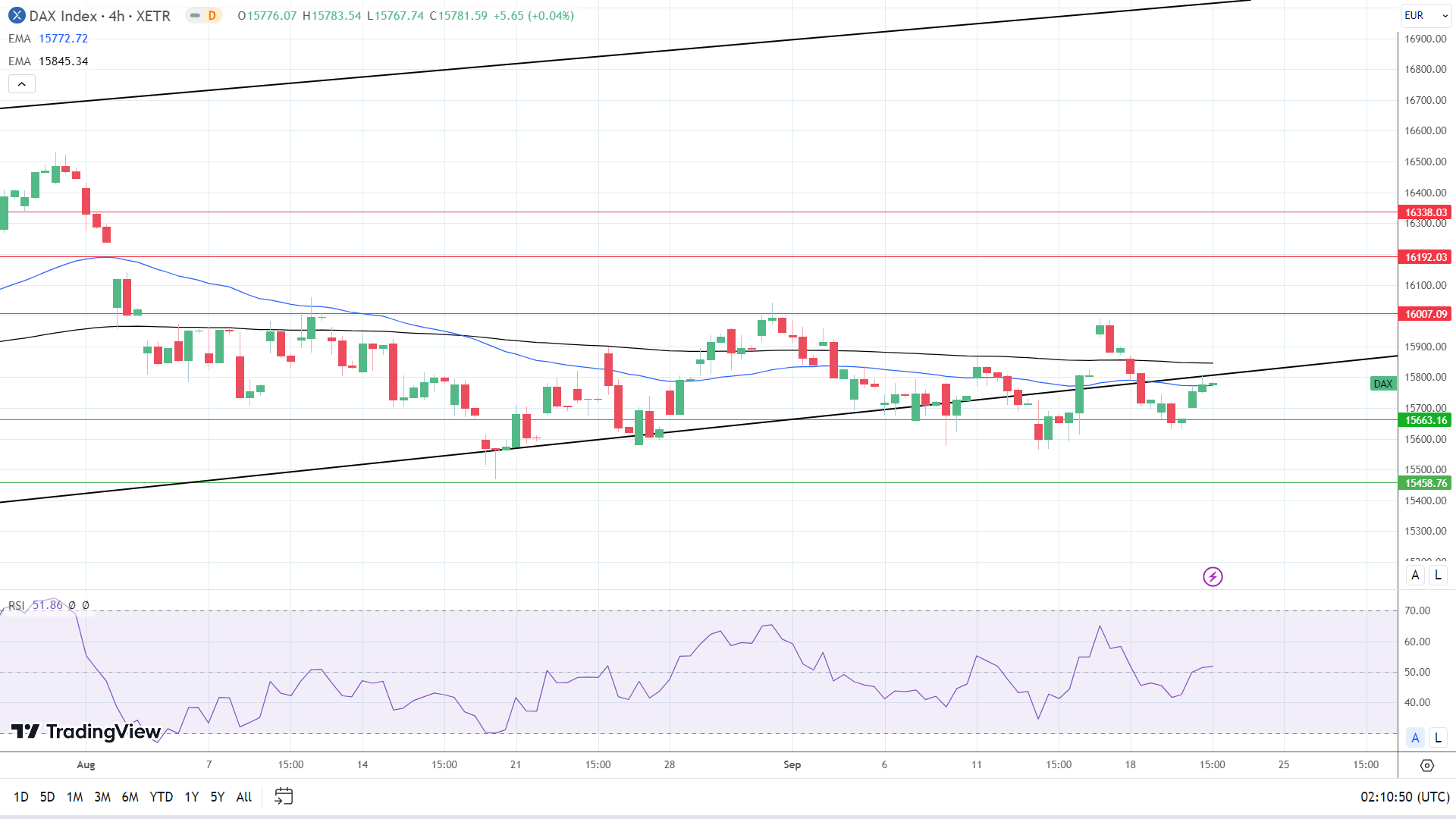 DAX 210923 4-Hourly Chart
For a look at the economic events, check out our economic calendar.
Don't miss a thing!
Sign up for a daily update delivered to your inbox
Sponsored Financial Content