Dogecoin Price Enters Bullish Mode as $250M "New Money" Troops in —What's Next?  
Updated

: Nov 17, 2023, 20:24 UTC
•
4
min read
Dogecoin has attracted significant new investment this week as crypto investors lean towards high-risk trading. Here's how the DOGE price rally could react.
Dogecoin Price Insights:
Dogecoin (DOGE) price has entered a 21% bounce within the last 72 hours, consolidating its lead as the top performer in the mega-cap memecoin markets.

A group of millionaire crypto whales has acquired $250 million worth of DOGE within the first two weeks of November.

DOGE's New Adoption Rate is trending above the 30-day average, reaffirming that new investors are bringing fresh capital into the market.
Dogecoin (DOGE) price entered a bullish breakout on Friday, November 17, as crypto investors piled on DOGE in both the spot and futures markets. As investors lean towards high-risk trading, Dogecoin has attracted significant new investment this week. Here's how DOGE prices could react.
Crypto Whales Invested $250 Million in Dogecoin in November
On November 2, Dogecoin held its latest commemoration of the Doge Day celebrations. Barely two weeks down the line, DOGE price has entered a parabolic bounce from $0.067 to retest the $0.09.
On-chain data reveals that a group of bullish whales buying large amounts of DOGE, and new investors entering the market have been pivotal to the rally.
Firstly, the Santiment chart below show the Dogecoin whales (wallets holding 10 million to 1 billion DOGE), had a cumulative balance of 44.63 billion coins as on November 1.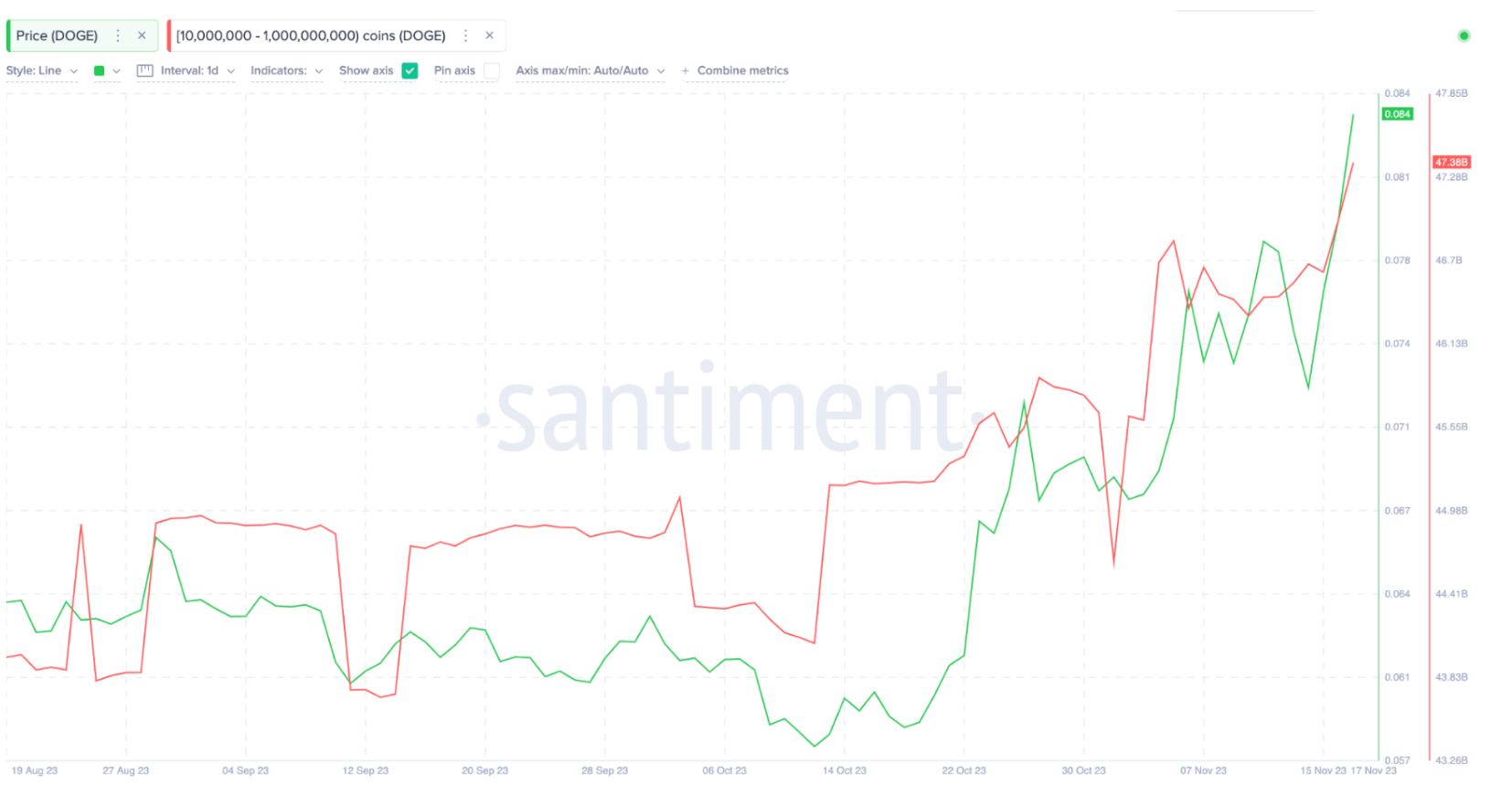 Dogecoin (DOGE) Whales Wallet Balances | Source:

Santiment
Remarkably, the chart above shows that they have now acquired an additional 2.75 billion DOGE between November 2 (Doge Day), to bring their balances to 47.38 on November 17.
Valued at the current market price of $0.085, this newly acquired 2.75 billion DOGE are worth approximately $250 million.
When large investors start making such huge purchases, it could encourage retail investors to take bullish positions as well. If this thesis holds, Dogecoin price could rally further in the days ahead.
Dogecoin is Attracting New Money Despite Rising Prices
Another critical factor driving up Dogecoin price, is e rising number of transactions from new users. According to the latest data pulled from IntoTheBlock, Dogecoin has experienced a significant increase in "New User" transactions this month.
Indicatively, Dogecoin New Adoption Rate recently reached a 4-month peak of 58.16 on November 12. Notably the latest reading of 34.44% is still well above the 30-day average of 23.41%.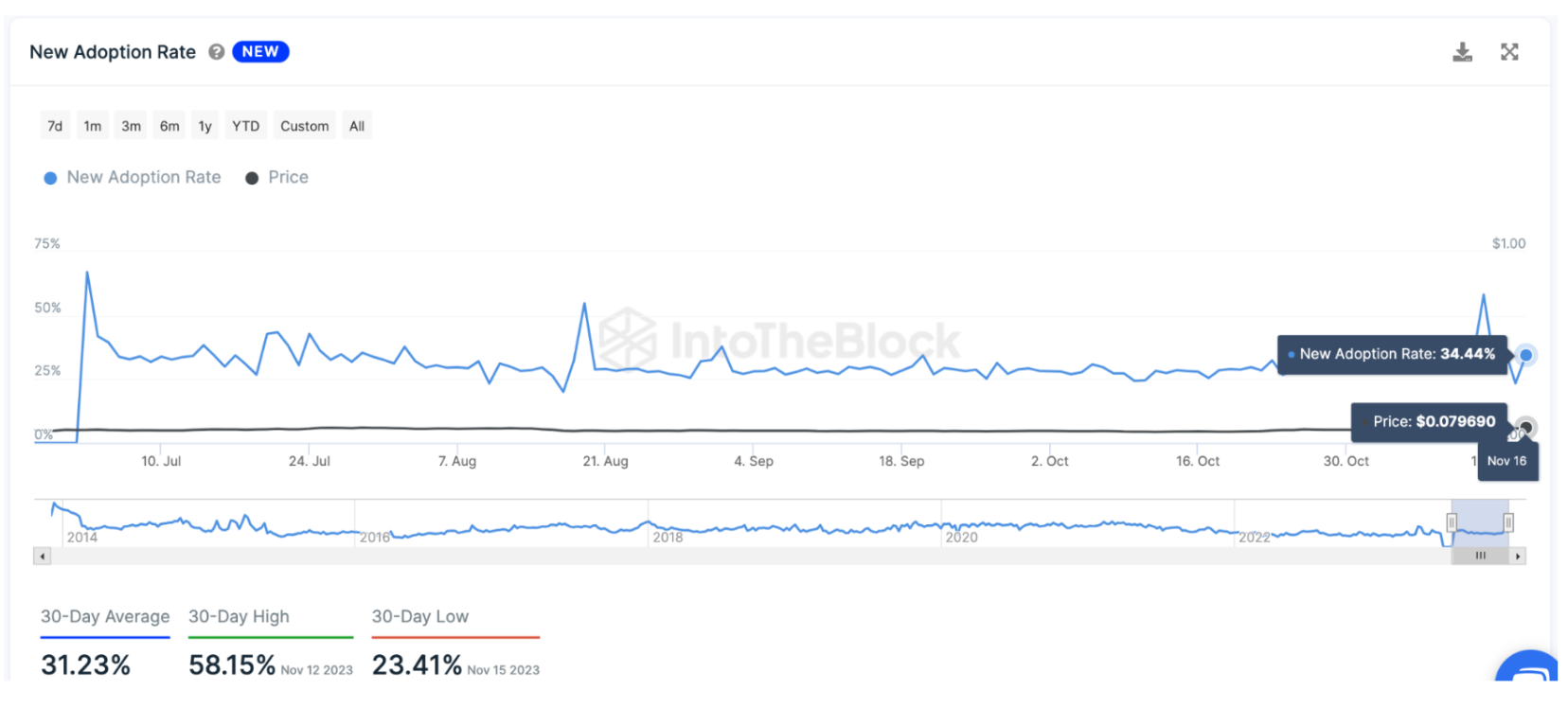 Dogecoin (DOGE) New Adoption Rate vs. Price. Source:

IntoTheBlock
This signals that DOGE is still currently attracting an usually high number of new joiners despite high prices..
The New Adoption Rate metric measures the percentage of total active addresses that conducted their first transaction on a given day. This provides clear insights into the rate at which investors are bringing new money into the market.
When new user adoption increases during a price rally, it means that a significant number of new investors are FOMO-ing in.
DOGE Price Prediction: Can the Rally Reach $0.20 ?
From an on-chain standpoint, the buying pressure from large investors and increased demand from new entrants could further propel the DOGE rally.
However, for the bullish momentum to intensify, Dogecoin price must first scale the initial resistance around $0.10.
The Global In/Out of the Money (GIOM) data, which groups the current DOGE holders according to their entry prices, also confirms this prediction.
It depicts that 725,320 holders had bought 17.97 billion DOGE at the average price of $0.10. If those investors exit early, they could trigger an instant Dogecoin price correction.
However, breaking above that initial sell-wall could open the door to possible $0.20 retest.

Dogecoin (DOGE) Price Prediction | GIOM data | Source:

IntoTheBlock
Still, the bears could invalidate that positive prediction if Dogecoin price dips below $0.06. But, in that case, the 405,850 holders that bought 42.20 billion DOGE at the maximum price of $0.071 could offer initial support.
Considering the positive sentiment surrounding the broader crypto market, these investors HODL firmly. If that happens, Dogecoin price will likely avoid a major reversal.
Don't miss a thing!
Sign up for a daily update delivered to your inbox
Sponsored Financial Content