Dow Jones 30 and NASDAQ 100 Price forecast for the week of February 19, 2018, Technical Analysis
Stock markets rallied during the week, showing signs of recuperation after the massive selloff lately. It makes sense that we could enter a slower phase of the upside, which is a healthy example of an uptrend, something that we will probably continue to follow.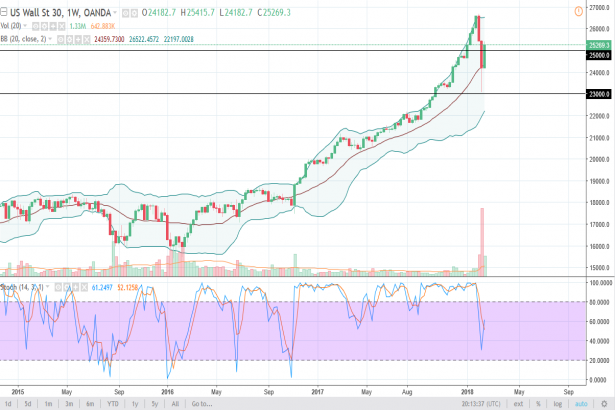 Dow Jones 30
The Dow Jones 30 has broken out to the upside again during the week, wiping out most of the losses from the previous week. By doing so, and breaking above the 25,000 handle, it looks as if the Dow Jones 30 is ready to go higher, perhaps reaching towards the 27,000 region again. If we were to break down below the 23,000 level, the market could break down significantly, perhaps reaching down to the 20,000 level, but at this point I think it's more likely that the buyers jump in as we have seen algorithmic trader's pickup pullbacks as they suggest value.
Dow Jones 30 and NASDAQ Index Video 19.02.18
NASDAQ 100
The NASDAQ 100 has broken out to the upside again during the previous week, clearing the 6700 level. Now that we have broken above there, the market will probably go to the 7000 handle after that. That is a large, round, psychologically significant number, and therefore I think it is possible that we could have a hard ride to that level, but I think those pullbacks will offer value. You will probably have to capitalize on them using short-term charts, as longer-term traders will probably see this as random noise. If we can clear the 7000 handle, I think the market then goes looking for the 7050-level next. If we were to break down below the 6200 level, that would be a very negative sign and could send this market the much lower levels.
Dow Jones 30 and NASDAQ Index Video 19.02.18