Gold Price Prediction – Gold Consolidates as the Dollar Drops
Gold prices are steady with a recession on the horizon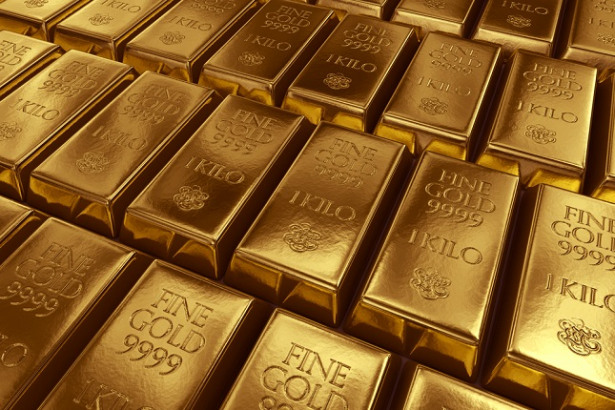 Gold prices edged higher but closed the session off the highs of the day as the dollar continued to gain traction against the Euro. European yields are falling at a fast clip than US yields which hit another fresh 2-year low. The US 10-year yield is now inverted having a yield that is less than the 3-month treasury bill yield which is a sign of an upcoming recession. It now appears that the markets are pricing in multiple rate cuts ahead of January 2020.
Technical Analysis
Gold prices edged higher but closed well off the session highs as prices continue to move sideways. Prices bounced near the 10-day moving average which is short term support near 1,281. Additional support for the yellow metal is seen near an upward sloping trend line that comes in near 1,272. Resistance is seen near the 50-day moving average at 1,287. Short term momentum is negative to neutral as the fast stochastic generated a crossover sell signal. The current reading on the fast stochastic is 36, which is in the middle of the neutral range and reflects consolidation. The MACD (moving average convergence divergence) histogram is moving sideways near the zero index level which is a sign of medium term momentum consolidation.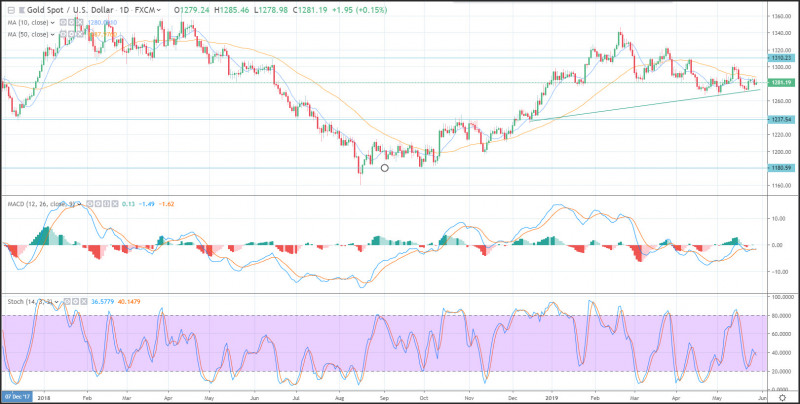 Recession on the Horizon?
The yield curve inversion has been a good sign of an oncoming recession. What the bond market is telling economists is that a recession is priced in. Markets now expect the Federal Reserve to cut interest rates twice by late January as economic signs continue to weaken. The Fed fund futures contract for September of 2019 shows there is a 60% likelihood that the Fed will cut rages. In addition the markets are pricing in a another rate cut by January of 2020. The implied fed funds rate, which is the rate that banks lend to one another, is 2.1% by the end of 2019, compared with the current target range of 2.25% to 2.5% for the Fed's benchmark. Anticipation for a rate hike comes just a week after minutes from the Federal Open Market Committee meeting earlier this month indicated that members had a strong level of confidence in the economy.