Gold Prices Drop Almost a Full Percent as Central Bankers Hint at Further Hikes
Published

: Nov 8, 2023, 23:29 UTC
•
2
min read
Gold pricing has been in a freefall from just below $2000 per ounce on Monday to its current price of approximately $1958 today.
Gold Prices Drop Amidst Federal Reserve Rate Hike Speculation and Economic Uncertainties
Gold prices declined today as multiple officials of the Federal Reserve have suggested the possibility of additional rate hikes. This as the geopolitical risk premium that had been prominently factored into gold's price is beginning to diminish. Over the last few days, multiple officials of the Federal Reserve have commented on the Fed's current monetary policy. While the majority attempted to maintain a balanced tone, many left it open for additional rate hikes if economic data on inflation levels warrant them.
Today the Federal Reserve is hosting a conference to celebrate the centennial of the division of research and statistics. Featured speakers include Chairman Powell, Vice Chair Jefferson, and John C. Williams, the president of the Federal Reserve Bank of New York. This daylong conference begins at 8:30 AM EST and concludes at 5 o'clock with closing remarks by Vice Chairman Philip N. Jefferson.
A key takeaway from Chairman Powell's opening remarks was that economic models require great flexibility to account for unknown variables. This while acknowledging that, "The U.S. economy baseline forecast produced by R&S, along with the simulation of a half-dozen plausible alternative paths, constitutes the largest part of the essential bedrock that enables the pursuit of our dual-mandate goals."
Gold Futures Slide: A Technical Analysis and the Impact of Geopolitical Events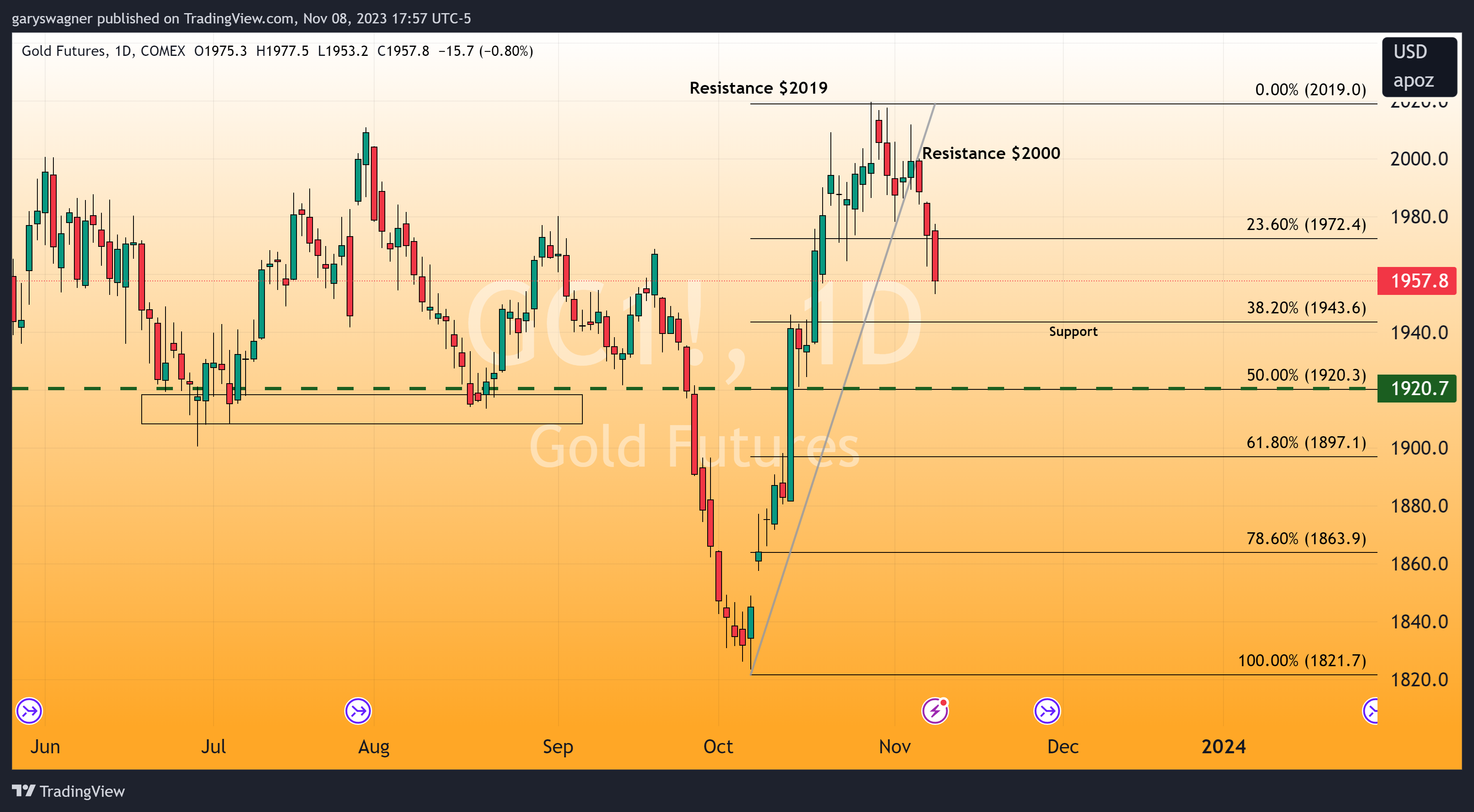 As of 4:40 PM EST gold futures basis the most active December contract is currently down $17.50 (-0.89%) and fixed at $1956. This marks the third consecutive day in which gold has lost substantial value. The first major price decline occurred on Monday, November 6 when gold opened just a few dollars below $2000 per ounce and closed at approximately $1989.
This was followed by yesterday's double-digit price decline which took gold's futures contract to $1973. Today gold opened at $1975.30, and traded to a high of $1977.50 before dropping almost a full percentage point.
Gold pricing has been in a freefall from just below $2000 per ounce on Monday to its current price of approximately $1958 today. Today gold broke below the 23.6% Fibonacci retracement at $1972.40. On a technical basis, there is no major support until approximately $1945 the 38.2% Fibonacci retracement. The Fibonacci retracement is created from a data set of the October rally.
Recent rises in gold prices began on October 7 following an attack that killed 1400 civilians in Israel taking gold from its low on October 6 of $1823 to its high on Friday, October 27 of $2019. Now that the risk premium for this geopolitical event has been factored into the price, the focus has switched from concern over geopolitical risk to upcoming Federal Reserve pivots in their monetary policy. This has provided traders the opportunity to take profits.
For those who would like more information simply use this link.
Wishing you as always good trading,
Gary S. Wagner
Don't miss a thing!
Sign up for a daily update delivered to your inbox
Sponsored Financial Content