Gold Prices Forecast: Bullish XAU/USD Trend Driven by US Dollar Dip, Yield Declines
Published

: Nov 21, 2023, 08:03 UTC
•
2
min read
Weakening dollar, lower yields, and Fed rate cut expectations fueling gold's strength.
Highlights
Gold surges due to weak dollar, falling yields
Fed rate outlook and economic data boost optimism
Bullish forecast for gold amid rate cut speculation
Reacting to Weak Dollar, Lower Yields
Gold (XAU/USD) prices saw a significant upturn on Tuesday, with both spot and futures prices climbing notably. This surge is largely driven by a combination of a weaker U.S. dollar and a drop in Treasury yields, making gold an increasingly attractive investment.
Factors Influencing Gold's Rise
At the heart of this rally are two key factors: the softening of the U.S. dollar and the decline in U.S. Treasury yields. The dollar's dip to a more than two-and-a-half-month low is pivotal, as it reduces the cost of dollar-denominated gold for holders of other currencies.
Meanwhile, Treasury yields are hovering near two-month lows, influenced by solid demand at a recent Treasury Department auction and speculation over the Federal Reserve's interest rate trajectory.
Federal Reserve's Impact and Economic Data
Recent economic data, indicating easing inflation and effective impact of the Fed's rate hikes in cooling the economy, have spurred market optimism. This sentiment is further bolstered by expectations that the Fed might halt rate hikes, with the upcoming minutes from its last meeting eagerly awaited for insights into its rate outlook.
Short-Term Forecast
Looking ahead, the market is largely anticipating the Fed to maintain the status quo on interest rates in its December meeting. However, there's growing speculation about potential rate cuts in the near future, which is likely to continue fueling gold's ascent.
Overall, the short-term forecast for gold prices appears bullish, underpinned by expectations of U.S. interest rate cuts, a weaker dollar, and ongoing geopolitical tensions.
Technical Analysis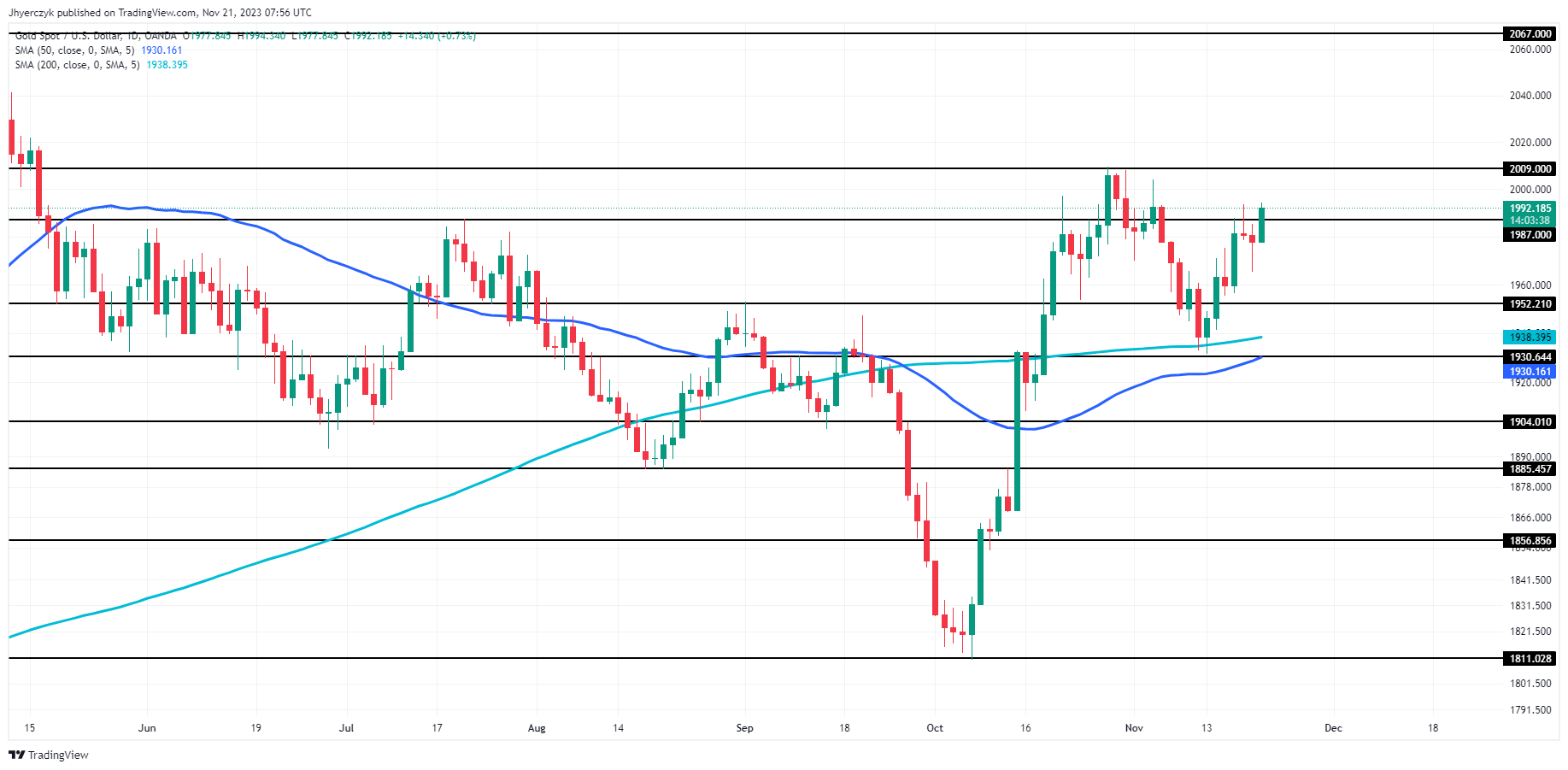 Daily Gold (XAU/USD)
Gold (XAU/USD) is currently trading at $1991.89, a notable increase from the previous close of $1977.85. This price is situated above both the 200-day and 50-day moving averages ($1938.40 and $1930.16, respectively), indicating a bullish trend.
The proximity to the minor resistance level at $2009.00 suggests the potential for upward movement, although this is counterbalanced by the closeness to the minor support at $1987.00.
This positioning, slightly above mid-range between key support and resistance levels, hints at a cautiously bullish market sentiment, but also underscores the need for vigilance against possible reversals or consolidation.
Don't miss a thing!
Sign up for a daily update delivered to your inbox
Sponsored Financial Content