Gold Rallies off Key Support Zone and Maintains Uptrend Structure
Updated

: May 31, 2023, 22:05 UTC
•
2
min read
Potential resistance at 1,979 to 1,989 indicates key levels for further price movement in gold.
Gold Forecast Video for 01.06.23 by Bruce Powers
Gold continues to advance off recent support from a 1,932 corrective swing low, rising above Tuesday's high of 1,963. It is also on track to close above Tuesday's high. Not yet clear whether that swing low completes the retracement, but it may have. Further, gold has risen above the downtrend line and will likely close above it. An additional sign of strength will be indicated if it can also close above the 10-Day EMA (purple). Yesterday, the 10-Day line marked resistance at the high of the day.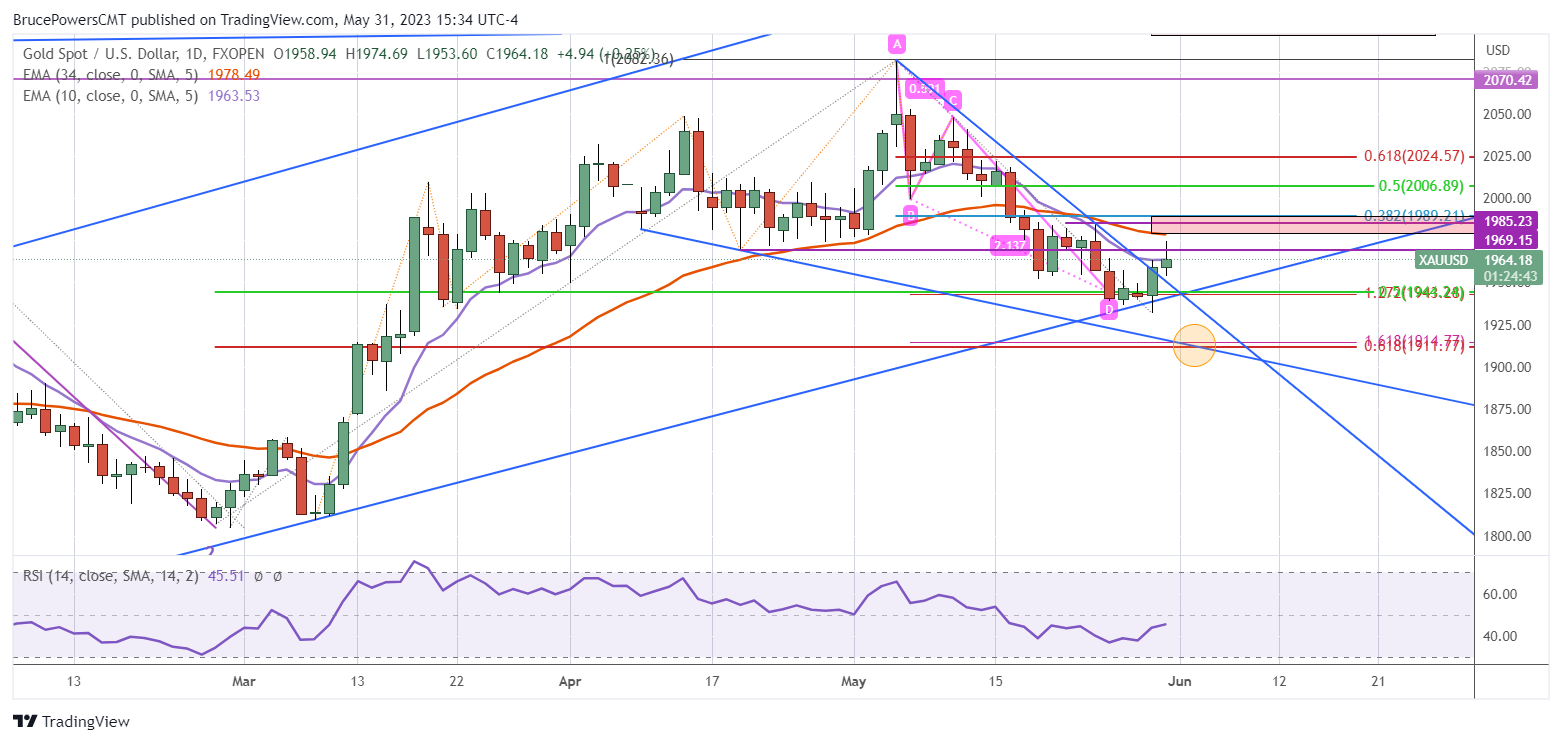 First Resistance Zone
There is a higher price range for possible resistance if gold keeps rising. The range starts from 1,979 to approximately 1,989. It consists of the 34-Day EMA (1,979), a weekly high (1,985), and the 38.6% Fibonacci retracement (1,989).
Significance of Support
Support of the retracement occurred at the confluence of the long-term uptrend line, an important measure for support of the trend, plus the 50% retracement, and the 127.2% extension of an ABCD pattern. A big question now for gold is whether it will maintain the price structure of its uptrend. So far, price is behaving as if it may have completed its retracement. There is some symmetry between the current and prior correction. The first was off the 1,960-swing high and it completed a 7.9% correction, while the current retracement saw a maximum 7.2% decline.
Trendline is Key Indicator Moving Forward
The uptrend line is at the lower border of a trend channel. If price breaks decisively below it, the integrity of the uptrend comes into question. The next potential support area would then be around the 61.8% retracement at 1,912.
If the uptrend continues then the next larger target is at the top trendline of the rising channel, which would put gold back at a new record high. The first test of the uptrend line was held, and gold was rejected higher. Further tests of the uptrend line as support are likely to occur and the behavior of price around the line will be telling. If price continues to stay above the line, gold can be expected to move higher.
For a look at all of today's economic events, check out our economic calendar.
Don't miss a thing!
Sign up for a daily update delivered to your inbox
Sponsored Financial Content