Here's Why Litecoin (LTC) Price Failed to Break Above $70
Updated

: Oct 3, 2023, 13:41 UTC
•
3
min read
Key on-chain indicators provides vital insights into why Litecoin (LTC) price failed to clear the $70 resistance last week and where it could head next. 
Key Insights:
Litecoin price retested the $70 range on Monday, as it continued its recovery from the 2023 bottom of $58 recorded on September 12.

Bullish Litecoin whale investors have reigned in the trading activity this week after conducting a 40-day peak of 2,900 transactions on September 29.

Latest data from the order books of 21 crypto exchanges show that Litecoin traders have queued up active orders to buy 1.8 million LTC around the current prices.
Litecoin price briefly retested the $70 territory on Monday, October 2, as the bulls continue to power a recovery from the 2023 bottom of $58 recorded mid-last month. Key on-chain indicators provide data-driven insights into where LTC price could head next.
Whale Investors Cooled Their Trading Activity This Week
Litecoin price has been in a downtrend since the completion of the recent August 2 Halving event. But when LTC price dropped to a new 2023 bottom of $58 on September 12, Litecoin whale investors swung into action to prevent record losses.
As such, the IntoTheBlock chart below shows how LTC Whale Transactions rose from 1,800 to 2,900 transaction between Sept 10 and September 29. And notably the 2,900 whale transaction recorded on Sept 29 was the highest since August.

Litecoin (LTC) Whale Transaction vs. Price | Source: IntoTheBlock
The Large Transactions metric adds up the total number confirmed trades that exceed the $100,000 mark on a given trading day.
Such an increase in the number of whale transactions is typically bullish for an asset's price for several reasons. Firstly it means higher market liquidity which helps spot market participants to execute their trades efficiently.
But more importantly, increased whale demand often boosts the confidence of other strategic retail investors. Unsurprisingly, LTC price rapidly gained 16% as it rose from $58 to $68 between September 10 and October.
However, the recent readings show that the Litecoin whales have now dialed down their trading activity this week.
As shown above, whale dropping their transaction could from 2,900 to 2,100 on October 2, appears to have triggered a minor price correction.
It remains to be seen if the bullish whales will return to accumulation mode or if the bears will seize control.
LTC Price Prediction: Consolidation Above the $60 Range
The current bullish sentiment surrounding the global crypto markets could incentivize the whales to start buying again. If the premise holds, then LTC will likely avoid a major reversal below the $60 level.
The Exchange On-chain Market Depth chart, which shows the price distribution of current active Litecoin orders, also confirms this positive outlook. As depicted below, the market demand for Litecoin around the current prices has slightly outpaced supply by 50,000 LTC.
Notably strategic crypto traders have placed orders to buy 234,370 LTC when the price drops 5% to hit $63. If they execute their purchase orders, they could will likely prevent any major downswing.
But if the Litecoin whales remain neutral, the bears could flip that resistance level and force a reversal below $60.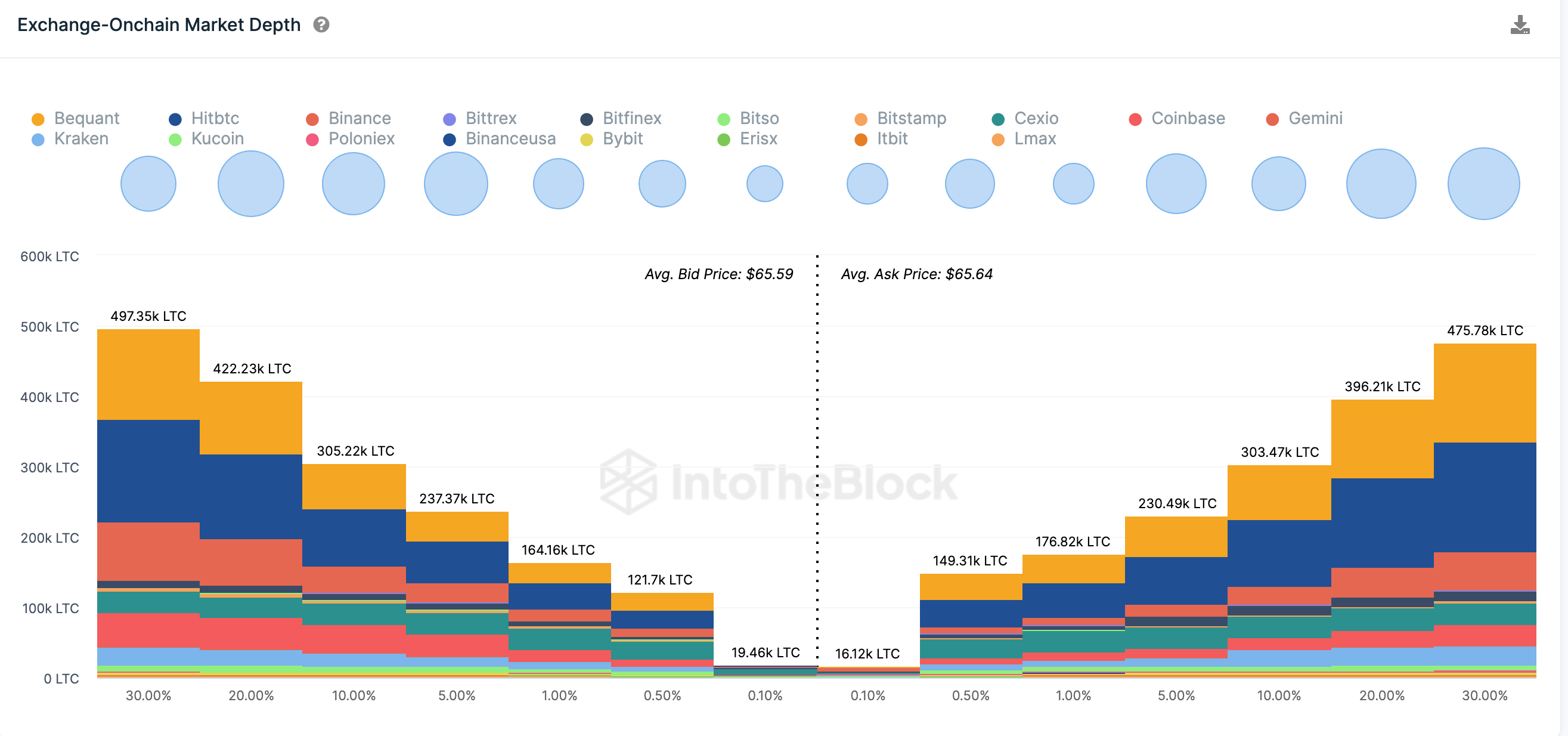 Litecoin (LTC) Price Prediction | Exchange Market Depth, October 2023 | Source: market
Conversely, Litecoin could rally toward $75, if the bullish whales return to accumulation mode as they did late-September. But, as shown above, some crypto traders have opened orders to sell 230,490 LTC if price rises by 5% to hit $69. If they sell, they will likely trigger a momentary Litecoin price pullback.
However, if that LTC resistance level caves in, the bulls could push the rally toward $75 for the first time since August.
Don't miss a thing!
Sign up for a daily update delivered to your inbox
Sponsored Financial Content