India's New Crypto Tax Law Forces Panic Selling, Resulting in $100+M Volume Dip Overnight
Updated

: Apr 5, 2022, 13:47 UTC
•
3
min read
The new Indian tax law is one of the reasons why crypto trading volume is plummeting on Indian exchanges.
Key Insights
As part of India's new tax framework, profits realized via the sale of any virtual asset will incur a 30% tax.
Crypto trade volumes have slid by over 50% across all prominent Indian exchanges over the past 5-day stretch.
Most prominent Indian crypto personalities have referred to the tax levy as being extremely "short-sighted" and "misguided."
Even though the crypto industry has embarked on a bull run over the past fortnight or so, Indian digital currency enthusiasts have not had much to cheer about. This is because Nirmala Sitharaman, the Finance Minister, recently made a big announcement regarding the country's crypto industry.
As per the newly revised rules that came into effect from April 1, any income (i.e., profits) generated from the transfer of a virtual digital asset (VDAs) within the nation's borders will be taxed at a rate of 30%.
In simple terms, let's say an Indian citizen bought bitcoin at $40,000 per coin and then sold it at $60,000 shortly thereafter. The individual is now liable to pay a flat tax of 30% on the $20,000 profit he/she realized as part of the transaction.
The Indian Market Reacts Adversely
As soon as news of the government's new tax implementation became public, a number of notable cryptocurrency personalities took to Twitter to express their displeasure.
Aditya Singh, the co-founder of the popular YouTube channel Crypto India, was quoted as saying:
"India should aim at becoming the crypto hub of the world, rather than suppressing this industry with heavy taxes. This will create so many jobs & revenue for GOI."
Similarly, Nischal Shetty, co-founder of India's largest cryptocurrency exchange, WazirX, noted that laws such as these stands to hamper India's position as a leader within the global crypto landscape. In his view, the best way to "get these taxes reduced" is by helping India's digital asset industry grow to levels even bigger than what they are at present.
Day 60

New tax law has come into effect

However, it's not the end. Governments make mistakes but it is up to the people to get it corrected

One of the best way to get tax reduced is to grow the crypto industry even bigger than what it is

Let's work on growth#BuildForCrypto

— Nischal (Shardeum) ⚡️ (@NischalShetty) April 2, 2022
Lastly, Mohammad Roshan, co-founder of the bitcoin stacking app GoSats, stated that the new tax levy just shows that the government is completely misinformed about the market. As a result, he noted:
"We are losing Indian talent to other countries. We are living in a Web3 world. We can either choose to bite the bullet or dodge the bullet."
Trade Volumes Plummet Across the Board
According to blockchain intelligence firm Crebaco, since April 1, transaction volumes across all Indian exchanges have dipped by a whopping 55%. Not only that, within the first 48 hours of the tax levy coming into effect, internet traffic associated with the country's top exchanges has reduced by approximately 40%.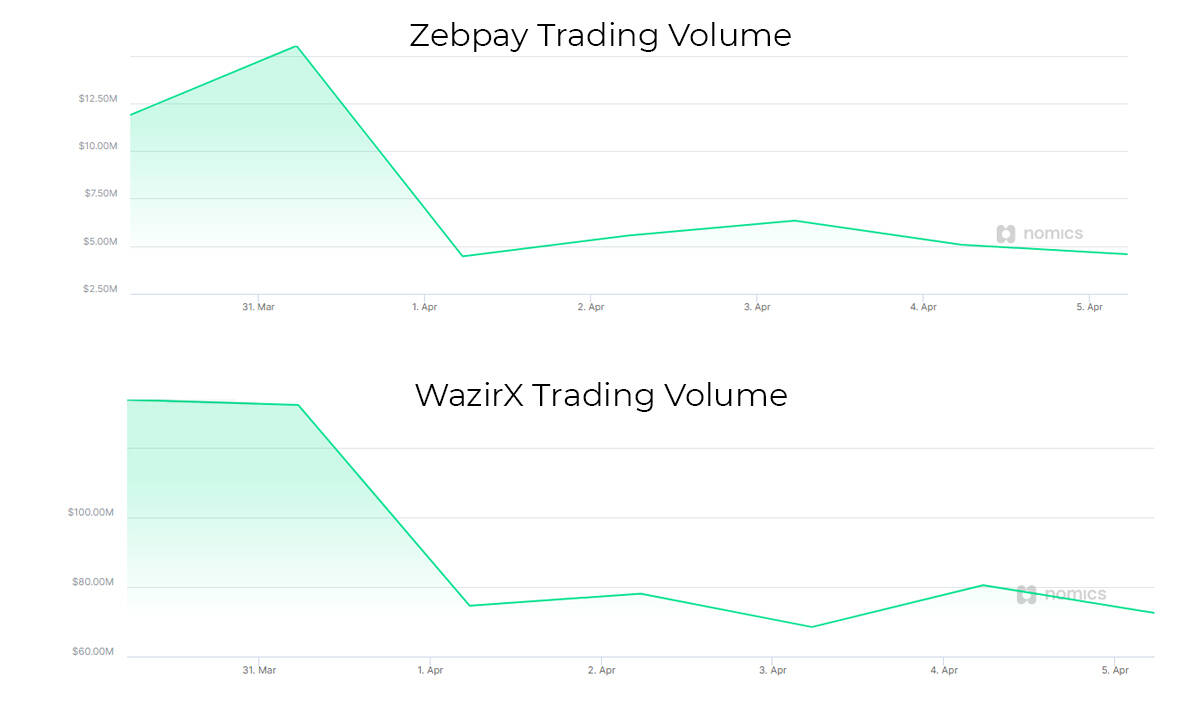 Zebpay and WazirX trading volumes dip due to the new crypto law: Nomics
Additionally, between March 31 and April 4, average trading volumes on Zebpay, CoinDCX, and WazirX dropped by 46%, 55%, and 75%, respectively. However, it is worth noting that since April 2, these numbers have been on the rise, albeit slightly. This suggests Indian investors may have simply been looking to avoid massive losses on their booked profits and may once again be accumulating.
Don't miss a thing!
Sign up for a daily update delivered to your inbox
Sponsored Financial Content