Market Bets on Ripple and XRP Continue to Drive XRP back towards $1
Updated

: Dec 22, 2021, 08:18 UTC
•
2
min read
XRP continued to move back towards $1 on Tuesday. News of a lawsuit against SEC officials continued to support the market optimism towards XRP.
On Tuesday, we looked at the complaint and the possible price moves depending on the outcome. Based on the price action through the early part of the week, the markets continued to bet on a positive outcome.
In late 2020, the U.S SEC filed an action against Ripple Labs Inc. and two of its executives, who are also significant security holders. The SEC alleges that they raised over $1.3bn through an unregistered, ongoing digital asset securities offering.
Supporting the renewed interest in XRP was also news of a lawsuit filed by Empower Oversight, a non-profit government watchdog. The suit alleges that former SEC officials were biased against Ripple Labs Inc. and XRP.
Adding to the upside on Tuesday was also a shift in demand for riskier assets, which supported the broader crypto market.
Tuesday's XRP Moves
XRP rallied by 7.54% on Tuesday, as investors continued to jump back in on hopes of a favorable outcome to the complaint against Ripple.
The breakout came off the back of a 5.39% gain on Monday, with XRP leading the crypto market majors once more on Tuesday.
Elsewhere in the crypto market, Bitcoin (BTC) rose by 4.31%, with Crypto.com Coin gaining 6.55%.
XRP Price Action
Moves on the day saw XRP fall to an early morning intraday low $0.85364 before making a move. Steering well clear of the day's major support levels, XRP rallied to a late intraday high $0.96068.
Breaking through the day's first major resistance level at $0.9223, resistance at $0.96 led to a pullback to sub-$0.95 levels.
Looking at the day ahead, the next key resistance level would be $1.00 levels. XRP would need to breakout from the day's first major resistance level at $0.9873.
Following two days of solid gains, and continued uncertainty over the outcome to the ongoing lawsuit, however, downside risks remain. Avoiding a pullback to sub-$0.90 levels would be key on the day. The first major support level sits at $0.8803.
At the time of writing, XRP was up by 0.75% to $0.94295.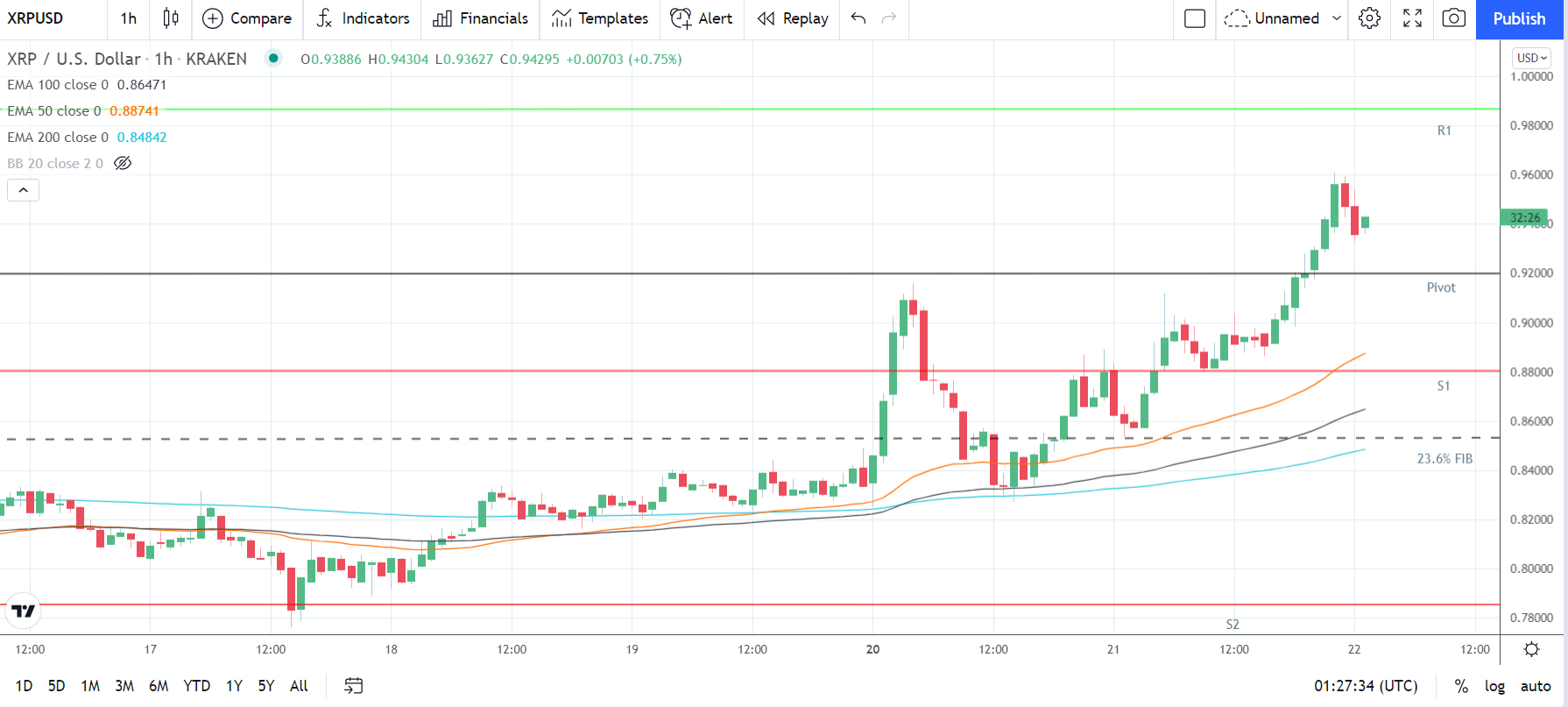 Don't miss a thing!
Sign up for a daily update delivered to your inbox
Sponsored Financial Content