Natural Gas Resumes Uptrend: Key Levels and Targets to Watch
Published

: Sep 13, 2023, 20:08 UTC
•
2
min read
Inside day signals profit-taking, but natural gas aims for higher levels, with a target range of 3.06 to 3.08 on the eventual horizon.
Natural Gas Forecast Video for 14.09.23 by Bruce Powers
Following yesterday's sharp one-day advance, natural gas takes a rest and trades inside day. Yesterday's rally put it back above the 34-Day EMA (orange), which it closed above for the first time in five days. The close yesterday of 2.74 was the highest daily closing price in six days, a sign of strength. Today's intraday pullback successfully tested the 34-Day line as support, and it held. The low for the day is 2.64 and the 34-Day line is a little above 2.63.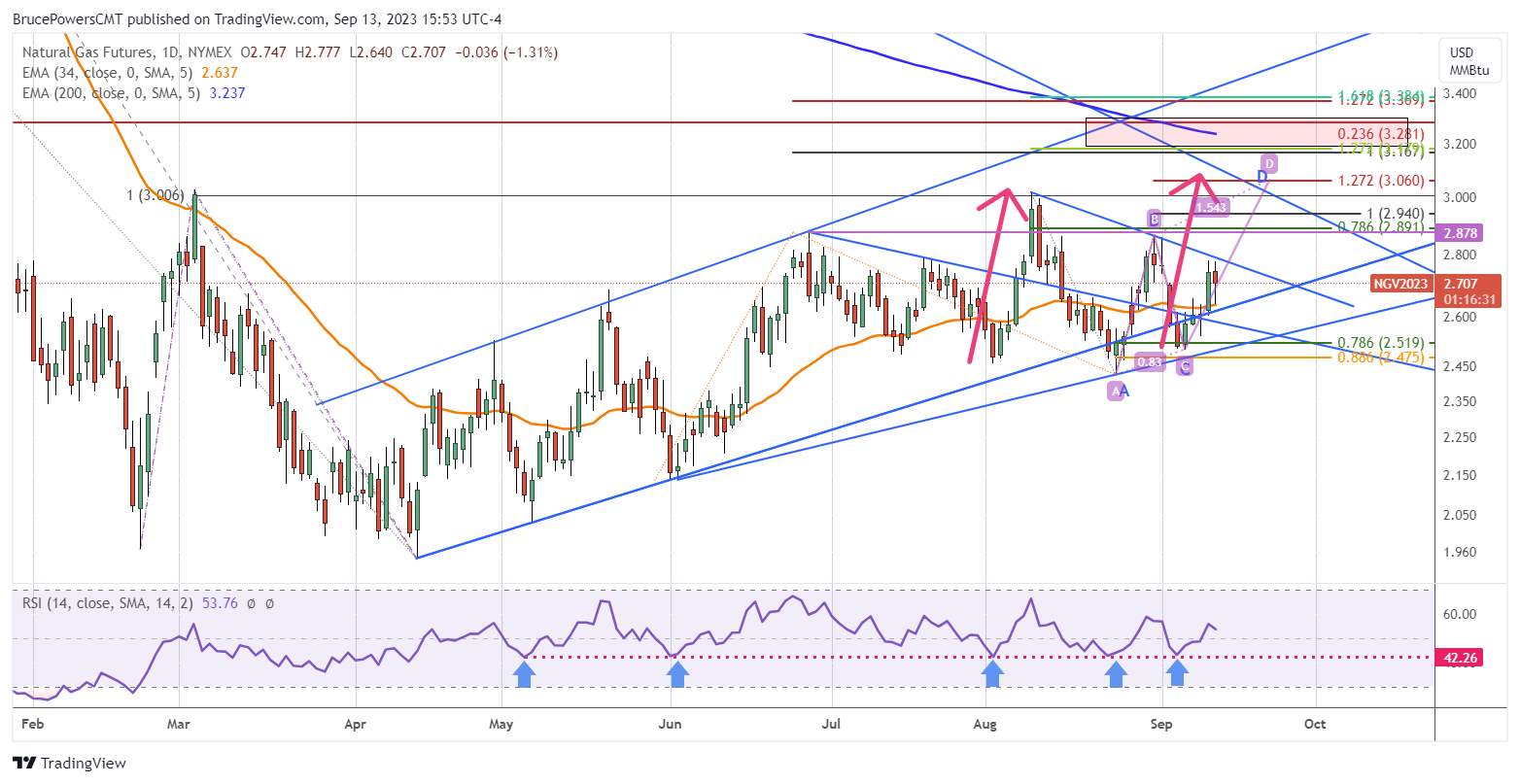 Should Hold Above Near-Term Support of 2.60
If yesterday's bullish action is sustainable, natural gas should not fall below yesterday's low of 2.60. A drop below it puts natural gas back below both the internal uptrend line and the 34-Day EMA. Watch it for lower support. Starting with Thursday's session, a drop below today's low signals weakening, particularly if price stays below today's low.
Inside Day Breakout is Bullish
During an inside day profit taking kicks in while volatility declines. The expectation is for a continuation of the developing trend. In this case, an uptrend began off the 2.50 swing low from four days ago. A sign of strength is indicated on a breakout above todays inside day high of 2.777, while the two-day high is 2.782. Since the two highs are close together, a decisive move above the higher price should provide a more confident indication of strength.
Further, today's range is relatively wide compared to yesterday as it fills a similar, although shorter, price range. This shows volatility shrinking but not by much. A breakout from a narrow range day is more likely to see price take off following a breakout. Since todays inside day would not be considered a narrow range day, using yesterday's high for an indication will provide a breakout to a three-day high.
Completion of Extended ABCD Pattern and Measured Move at 3.06 o 3.08
There are several potential upside targets for natural gas if it continues to advance, but there are two measures that point to the same target area to highlight. They point to a target from 3.06 to 3.08. The first marks the completion of an ABCD pattern where the CD leg of the pattern extends the AB leg by the Fibonacci ratio 127.2%. Then there is the completion of a measured move, where the current advance, begun from the September 7 low, matches the rise seen from the August 2 low (rising red arrows).
For a look at all of today's economic events, check out our economic calendar.
Don't miss a thing!
Sign up for a daily update delivered to your inbox
Sponsored Financial Content