NZD/USD Price forecast for the week of February 19, 2018, Technical Analysis
The New Zealand dollar has rallied significantly during the week, breaking above the 0.7350 level, reaching towards the 0.75 level. Ultimately, if we break above that level, then the market is free to go much higher.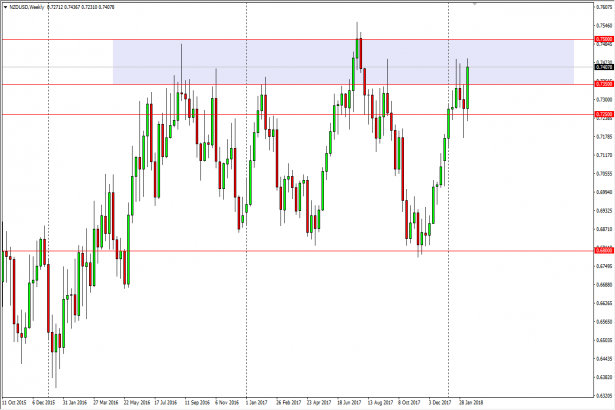 The New Zealand dollar initially fell during the week but found enough support near the 0.7250 level to turn around and break to the upside. We have made a significant search higher, and that of course is a very bullish sign, but I also recognize that there is a significant amount of resistance at the 0.75 handle, so it may take several attempts to break above there. As you can see on the chart, I have a lavender box on the chart that suggests there is a range of resistance. It is because of this, I believe that waiting on the breakout is probably the best thing to do. I believe that the 0.7250 level underneath is a bit of a "floor", as we have seen lately.
If we can break above the 0.75 level in close above there on a daily chart, I am a buyer of the New Zealand dollar as it should be free to go much higher at that point. However, we may have several weeks' worth of work to do before we can make that move. Alternately, if we break down below the 0.7250 level, it's likely that we could go to the 0.72 level, and then eventually the 0.70 level. Below there, we have the previous support at the 0.68 level which is the bottom of the entire uptrend that we had seen over the last couple of years, and the bottom of the overall consolidation that has been so important in the last 18 months.
NZD/USD Video 19.02.18