Oil Price Forecast: China's Uncertainties Overshadow OPEC+ Cuts, Oil Rig Drop
Updated

: Jun 19, 2023, 07:02 UTC
•
3
min read
Global oil prices face a significant decline as worries over China's economy outweigh the impact of OPEC+ cuts and oil rig reduction in the US.
Highlights
Oil prices decline, erasing previous gains, as China's economy raises concerns.
People's Bank of China expected to lower loan prime rates.
Refinery throughput rises in China, while US oil rig count decreases.
Overview
Global oil prices faced a decline of over $1 on Monday, erasing the gains from the previous week. The market sentiment was influenced by concerns surrounding China's economy, overshadowing the impact of OPEC+ output cuts and the ongoing decrease in the number of operating oil and gas rigs in the United States.
At 05:30 GMT, WTI Oil is trading $70.93, down $0.39 or -0.54%.
China's Economic Uncertainties Weigh
China's economic uncertainties played a significant role in the selloff, following a brief two-day rebound in oil markets ahead of the decision by The People's Bank of China (PBOC) on its loan prime rates (LPR) later this week. Several major banks have revised down their 2023 GDP growth forecasts for China due to disappointing May data, indicating a faltering post-COVID recovery in the world's second-largest economy.
PBOC Expected to Cut Rates, Implement Stimulus Measures
In response to the economic challenges, PBOC is expected to lower its benchmark loan prime interest rates on Tuesday, building upon the recent reduction in medium-term policy loans to support the fragile economic recovery.
Sources have revealed that China intends to implement additional stimulus measures this year to bolster its slowing economy. However, concerns over debt and capital flight will likely limit the scope of these measures to address weak consumer and private sector demand.
China's Refinery Throughput Rises
Despite the economic uncertainties, China's refinery throughput in May reached its second-highest level on record, contributing to the gains observed last week. Concurrently, U.S. energy firms continued to reduce the number of operational oil and natural gas rigs for the seventh consecutive week, a trend not seen since July 2020.
US Rig Count Declines
The decline in the oil and gas rig count, which serves as an early indicator of future output, amounted to 8 rigs. This brought the total to 687 in the week ending June 16, marking the lowest count since April 2022.
Rosneft Calls for Export Monitoring in OPEC+ Oil Deal
Expectations of compliance challenges with production quotas have also weighed on oil prices. Rosneft, the Russian energy major, suggested that the focus for the oil-producing cartel, OPEC+, should be on monitoring export volumes in addition to production quotas, given the differing sizes of each country's domestic markets. These comments were made by Igor Sechin, the head of Rosneft, during an economic forum.
In early June, OPEC+ reached an agreement on a new oil output deal, with Saudi Arabia, the group's largest producer, committing to significant output cuts in July.
Short-Term Outlook: Bearish Tone
As oil prices experience downward pressure, the market awaits further developments from China's economic indicators and the implementation of stimulus measures, as well as the dynamics within OPEC+ regarding production quotas and export volumes.
Technical Analysis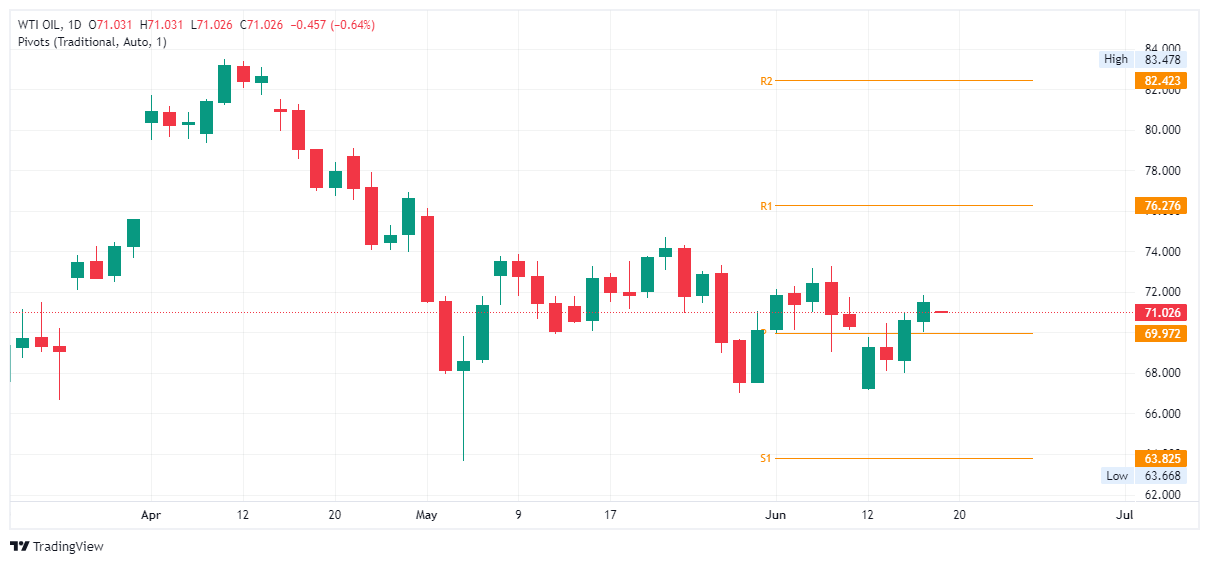 Daily WTI Oil
WTI Oil is edging lower on Monday, while trading on the bullish side of the $69.97 (PIVOT). This level is support.
Retaking $69.97 has stabilized the market after a steep sell-off early last week. If the move is able to generate enough upside momentum then look for a near-term surge into $73.26, followed by $76.28 (R1)
The inability to sustain a rally over $69.97 will indicate that sellers are still in control. This could create the downside momentum needed to extend the selling into the next major target at $63.82 (S1).
Resistance & Support Levels
| | |
| --- | --- |
| PIVOT – $69.97 | R1 – $76.28 |
| S1 – $63.82 | R2 – $82.42 |
| S2 – $51.37 | R3 – $88.73 |
Don't miss a thing!
Sign up for a daily update delivered to your inbox
Sponsored Financial Content