Oil Prices Forecast: WTI, Brent Surge Amid OPEC Supply Cuts, China's Stimulus
Updated

: Sep 18, 2023, 06:08 UTC
•
2
min read
Amid OPEC+ supply cuts and a buoyant Chinese demand, crude oil news shows prices soaring to new heights.
Highlights
Ongoing supply cuts by Saudi Arabia & Russia propel oil prices to a three-session surge.
China's stimulus & U.S. economic data underscore the bullish sentiment in crude oil markets.
Brent and WTI benchmarks are not just riding the wave; they're making new highs, unseen since last November.
Supply Concerns and Chinese Demand
Crude oil prices posted a surge on Monday, for a third consecutive session, driven by the ongoing supply cuts from Saudi Arabia and Russia, coupled with a positive demand outlook from China, the globe's leading crude oil importer. This uptrend was further supported by China's latest stimulus measures and promising U.S. economic indicators.
At 05;10 GMT, December WTI crude oil is trading $89.44, up $0.47 or +0.53% and December Brent crude oil is at $93.57, up $0.53 or +0.57%.
OPEC+ and Central Bank Policies
The collective OPEC+ effort, which includes Saudi Arabia and Russia, has agreed to extend their supply reductions until year's end. With major refineries in China amplifying their output due to lucrative export margins, there is a heightened focus on the upcoming decisions from key central banks like the U.S. Federal Reserve regarding interest rate policies, as well as important economic data releases from China.
A Look at Brent and WTI
Both Brent and WTI crude oil benchmarks have been on the rise for three successive weeks, reaching peak levels unseen since the prior November. This surge is attributed to the geopolitical tensions caused by Russia's invasion of Ukraine in early 2022.
Potential Deficit and Price Predictions
ANZ analysts point to a potential market imbalance, suggesting a deficit of 2 million barrels per day in the upcoming fourth quarter due to the extended OPEC+ cuts. This significant shortfall may subsequently lead to dwindling inventories, raising concerns about potential price escalations in 2024. Observers believe that the oil price is likely to stabilize above the $90 per barrel mark, which might divert attention towards the demand forecast from major global economies.
Global Demand Growth – Bullish Outlook
The global appetite for oil is projected to grow by 2.1 million bpd, a forecast that resonates with predictions from both the International Energy Agency and the Organization of the Petroleum Exporting Countries (OPEC). The underlying sentiment remains bullish for the oil market in the short-term horizon.
Technical Analysis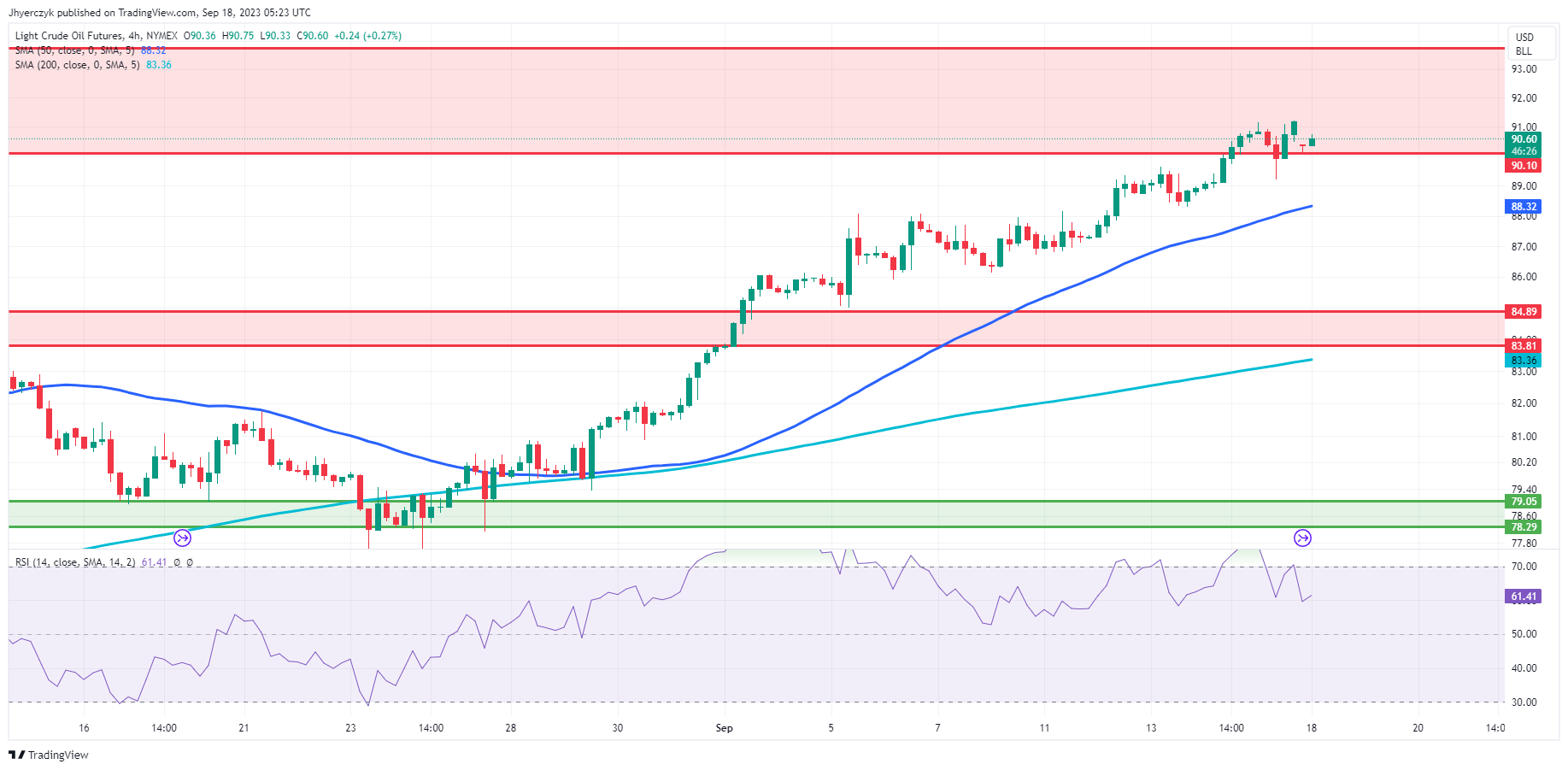 4-Hour Light Crude Oil Futures
The Light Crude Oil Futures is currently priced at 90.60 on the 4-hour chart, slightly higher than its preceding 4-hour price of 90.36. This current level is notably above the 200-4H moving average of 83.36 and the 50-4H moving average of 88.32. The 14-4H RSI reading is at 61.33, suggesting that there is positive momentum, but it hasn't reached overbought territory.
Presently, the commodity hovers between the main support zone of 84.89-83.81 and approaches the primary resistance area of 90.10-93.74. Taking these indicators into account, the prevailing market sentiment for Light Crude Oil Futures appears to be bullish, with the price moving towards the resistance and supported by a relatively strong RSI.
Don't miss a thing!
Sign up for a daily update delivered to your inbox
Sponsored Financial Content