Shiba Inu Price Prediction For 2022
Updated

: Dec 23, 2021, 12:26 UTC
•
5
min read
Meme coins have had a good run in 2021. But it is Shiba Inu that attracted the massive interest of the crypto inventors. Shiba Inu started trading in 2021 and went on to overtake the eight years old Dogecoin.
Several factors, largely external, contributed significantly to the massive surge in Shiba Inu price. Elon Musk tweets indicating that he was shifting his support from dogecoin to Shiba Inu perhaps carry the most weight in the meme coin price proliferation. Additionally, a petition to have the meme coin listed on the Robinhood platform also contributed significantly to having massive price growth. Thirdly, the meme coin released non-fungible tokens known as Shiboshis. What's more, Listing on numerous crypto exchanges has increased its visibility.
A combination of these factors saw SHIB's value grow over 50000000% to eventually overtake dogecoin and become the reigning meme coin, at least for a day.
Shiba Inu Price Forecasts
Currently, Shiba Inu is trading at $0.0000324, a massive dip from an all-time high of $0.00008833. At the time of writing, the 24-hour trading volume was $1,993,797,637. The meme coin is the 13th biggest crypto with a market cap of $17,846,214,682, a good standing favored by global investors.
Start trading Shiba Inu with eToro
CryptoPredictions.com Forecasts
CryptoPredictions.com is a leading prediction site for digital assets that also has SHIB forecasts. These forecasts are calculated with the use of Shiba Inu historical data while using mathematical formulas that help determine the likely future trend of the cryptocurrency.
Q1 and Q2
In the first quarter of 2022, the site expects the price of Shiba Inu to trade at a maximum price of $0.000084. The price is expected to grow and eventually reach $0.000088 by the end of June.
Q3 and Q4
The steady growth is expected to continue in the third quarter and reach a maximum price of $0.000093 by September. The forecasted price in the fourth quarter is a maximum of $0.000098 and eventually hit $0.0001 in January 2023.
Shiba Inu is developing new products that could give it the push to touch new highs. For example, its developers are working on $LEASH and $BONES flagship tokens.
In addition, it is in the process of rolling out SHIBSWAP, a crypto exchange that will make it easy for traders to exchange SHIBs with ease. Currency is available for trading at Huobi, OKex, and Binance.
Technical Analysis
The Shiba Inu chart pattern has formed a bullish triangle pattern which points to a possible upwards breakout. Therefore, investors can expect a bullish movement. However, if the breakout fails, the price will continue to plummet.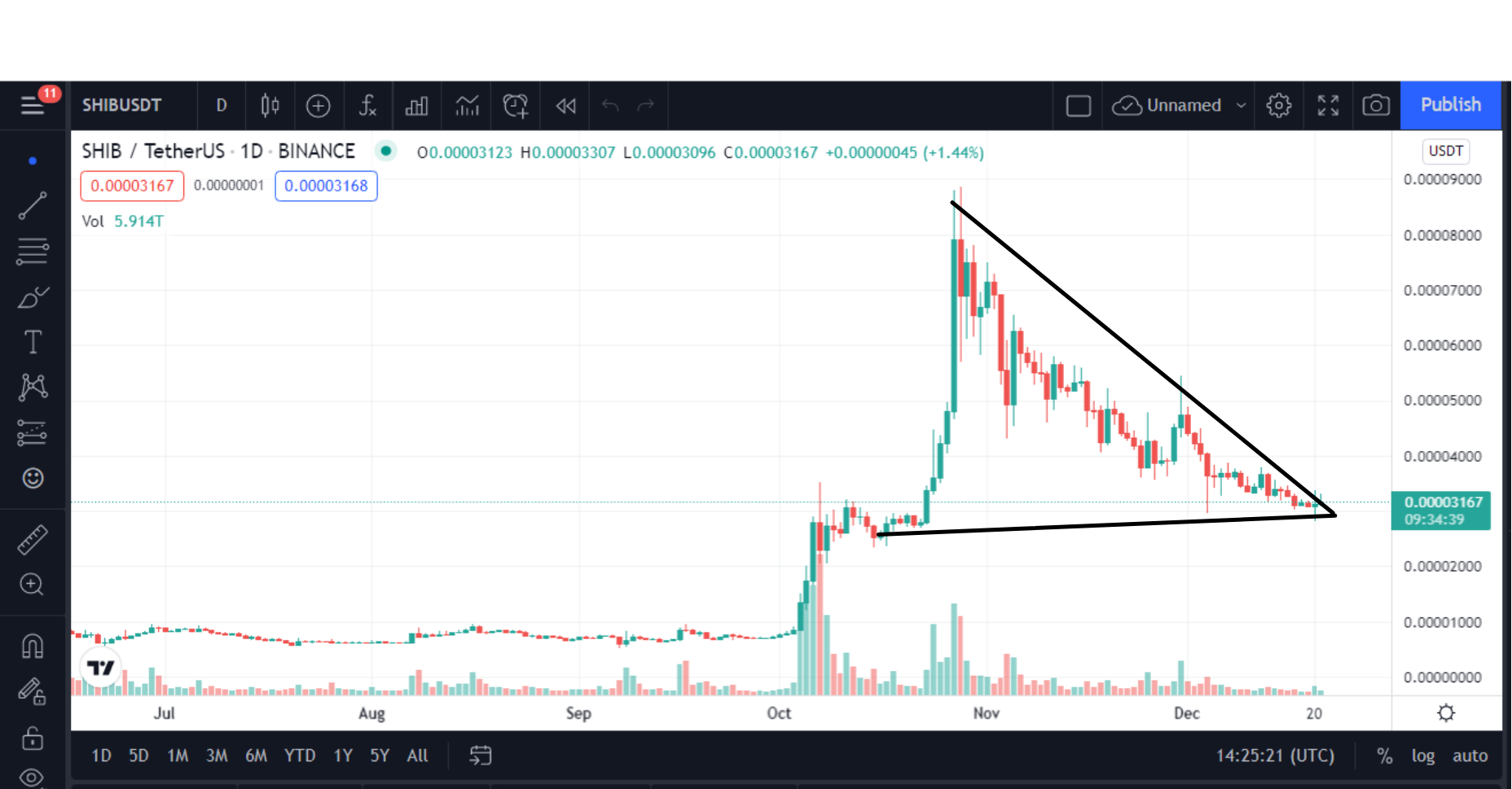 Also, the price is consolidating in a previous resistance zone, around $0.000030. This area acts as a support level. If the buyers manage to control the market, the price will likely reverse and head upwards. However, if the market fails to hold at this level and breaks below the area of interest, the price of Shiba could continue to fall.
It is imperative that traders exercise a lot of patience at this level to withstand the contests between bears and bulls. To give you a perspective, many traders could be trapped, especially in a false breakout.
The relative strength indicator currently stands at level 40. This means that the bearish move could continue as the price heads to oversold areas. But that does not rule out the possibility of the bulls taking charge of the market any time, especially if fundamentals give them a reason to buy.
The chart also shows price movement within a descending channel. Investors with bullish prejudice should wait for the price to break above the channel. Once it retouches the channel, you should be ready to open long positions.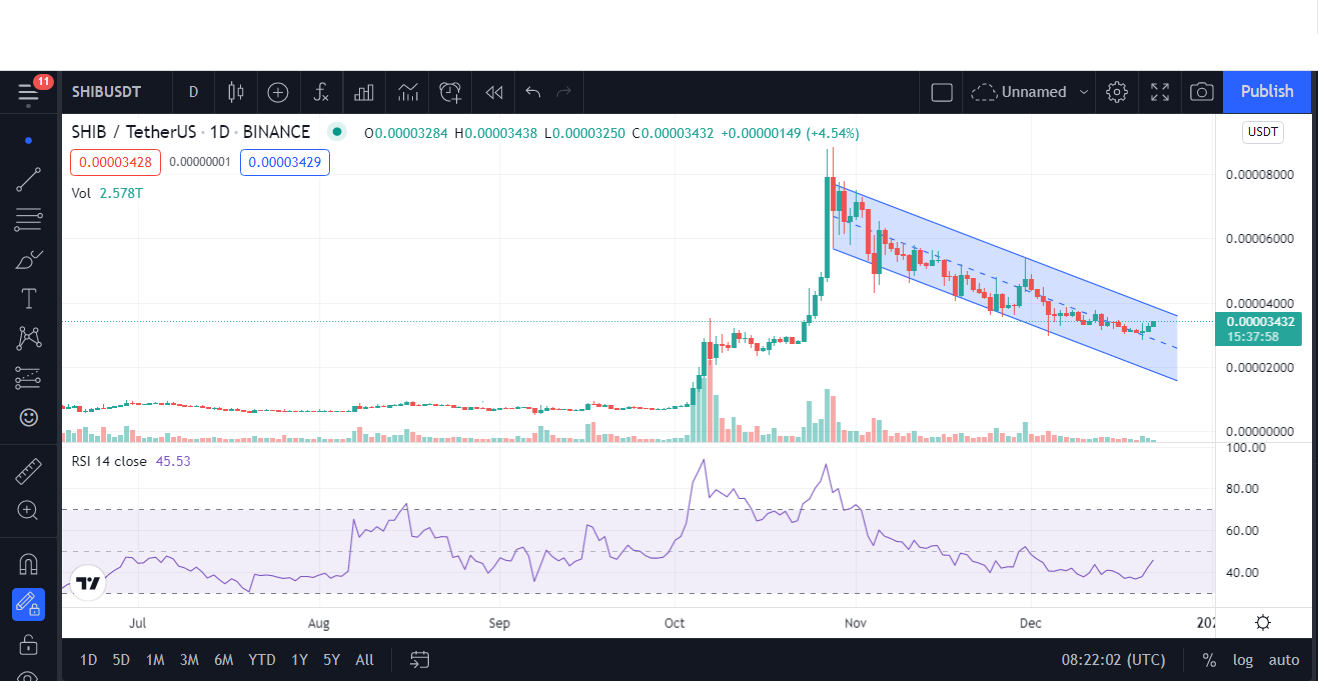 Fundamental Analysis
SHIB critics argue that it lacks real utilities or underlying value. Instead, its growth has largely been due to the fear of missing out (FOMO), speculation, and Elon musk's erratic tweets.
But here is good news. The digital token has lined up a chain of interesting projects. In December, Shiba Inu contracted Playside, an Australian video game developer, to develop a multiplayer collectible card game. Besides game development, the creation of level 2 blockchain Shibarium is ongoing. In addition, Shibarium will host an Oshiverse metaverse and other ambitious projects.
Newegg tech e-retailer and AMC Entertainment have emerged as the first merchants to accept SHIB payments. Flexa recently announced it has integrated Shib as an accepted payment token which will allow users to pay at Lowe's, Gamestop, and Whole Foods. It has also partnered with the Bitpay crypto payment integration platform. What's more, Bitsmap is planning to list Shib in December.
Shiba Inu is down 60% from its all-time high price despite the great prospects. It is likely the downtrend could extend to 2022.
The previous bull run has turned many Shiba Inu holders into millionaires. Launching the projects mentioned above might boost the meme coin value. But remember, previous bull runs were largely dependent on the buzz in the Shiba Inu community. Some investors hope Elon Musk will post another tweet supporting the meme coin, or another narrative will go around.
Final Words
If Shiba Inu becomes an accepted means of payment, it will have real utility, translating to sustainable growth. The Shib army is unrelenting, and Elon hasn't dropped the coin. From a technical analysis perspective, SHIB is likely to reverse from the bear market and head upwards. In this case, the price is likely to hit resistance at the all-time high of $0.000088 and break above the level. Our Shiba Inu price prediction for 2022 is Shiba Inu will hit the $0.0001 psychological level. Therefore, hodling may not be a bad idea.
Don't miss a thing!
Sign up for a daily update delivered to your inbox
Sponsored Financial Content