US Dollar (DXY): Weakens as Rate Hike Expectations Fade
Published

: Jun 7, 2023, 12:28 UTC
•
3
min read
Central banks exercise caution amid persistent inflation, impacting the dollar's trajectory and the potential for rate hikes.
Highlights
Dollar weakens as Fed rate hike expectations fade.
Canadian dollar reaches one-month highs on rate increase bets.
Central banks exercise caution amid persistent inflationary pressures.
Overview
The dollar is easing against a basket of major currencies on Wednesday as expectations faded for a rate hike by the Federal Reserve in the coming week. In contrast, the Canadian dollar reached one-month highs, fueled by increasing bets on a rate increase by the country. Additionally, the British Pound rose 0.33% against the dollar to $1.2465, while the Euro also gained 0.22% to reach $1.0714. The dollar, on the other hand, experienced a 0.18% decline against the Japanese Yen, settling at 139.41.
Dollar Still Holds Advantage
While the Fed appears more inclined to maintain current rates rather than implement cuts, the U.S. dollar is expected to maintain an advantage over other currencies. According to Jane Foley, Chief Strategist at Rabobank, market sentiment has shifted away from anticipating a 2023 interest rate cut, aligning with their own view that no cuts will occur until 2024. Foley emphasizes the persistence and resilience of inflation in the U.S. and other G10 countries, suggesting central banks will exercise caution.
Short-Term Pull back after Monthly Gain
Over the past month, the dollar index has gained nearly 3%, partly due to the anticipation that the Fed, scheduled to meet next week, will maintain higher rates for a longer duration. Despite this, traders are increasingly anticipating a potential rate increase by the Bank of Canada (BoC) later on Wednesday. The U.S. dollar is currently trading around one-month lows against the Canadian dollar, at approximately C$1.3386. The BoC had previously been the first major global central bank to pause its rate-hike campaign in January.
Central Banks Remain Hawkish
The situation appears somewhat mixed, with some central banks that initially paused their rate increases now potentially resuming them. This trend could extend to the Federal Reserve as well, as noted by Moh Siong Sim, a currency strategist at Bank of Singapore. The belief is that developed market central banks may need to further raise rates.
Short-Term Weakness Likely Ahead of Fed Meeting
In summary, the dollar faced a downward trajectory as the possibility of a rate hike by the Federal Reserve diminished. However, the Canadian dollar reached one-month highs, indicating growing expectations of a rate increase by the Bank of Canada.
The U.S. dollar is anticipated to maintain an advantage over other currencies due to the absence of rate cuts in the near future. Overall, central banks across various countries are expected to exercise caution in response to persistent inflationary pressures.
Technical Analysis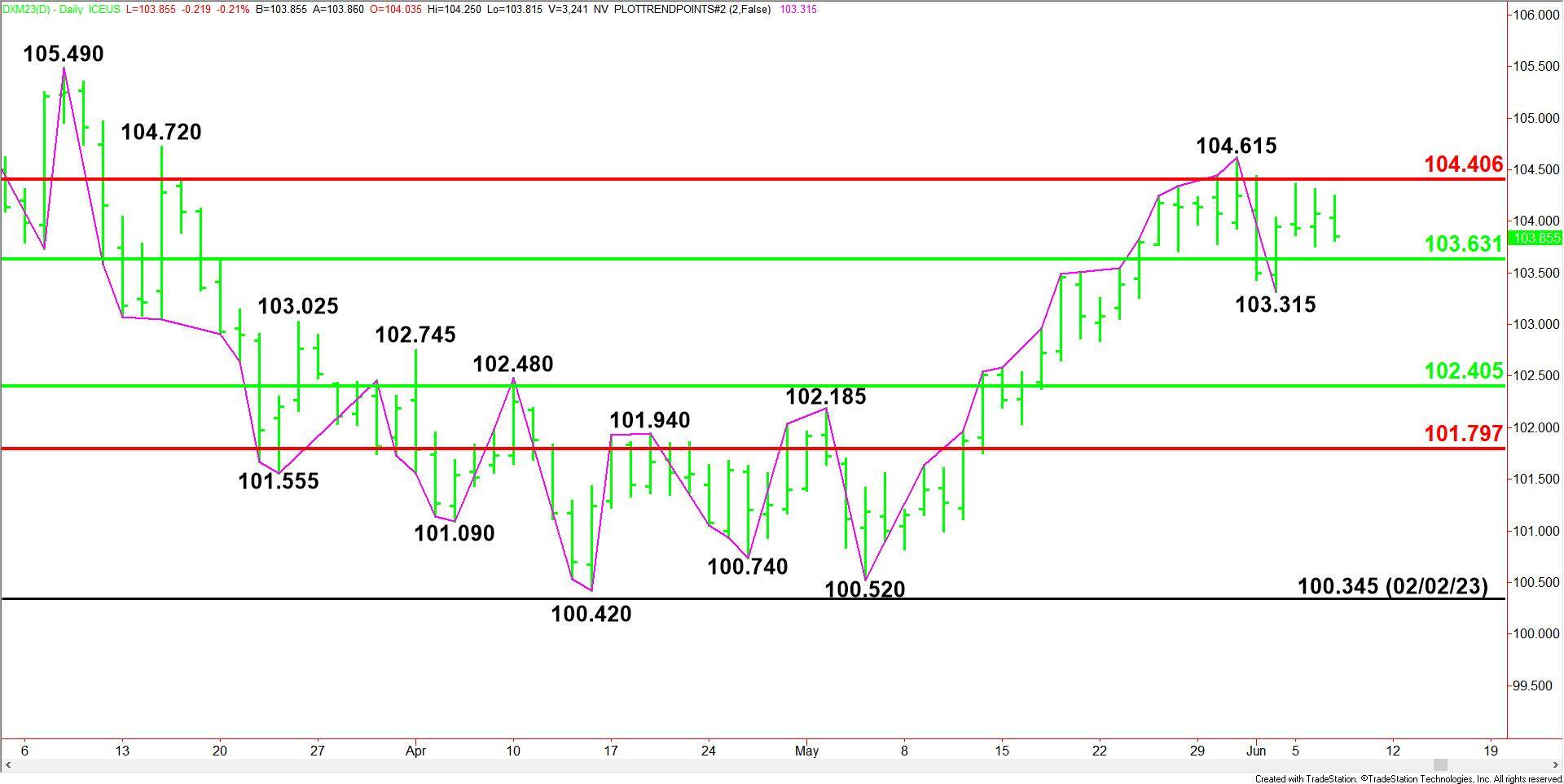 Daily June US Dollar Index
The main trend is up, however, Wednesday's price action suggests that momentum is getting ready to shift to the downside.
This week's price action clearly shows that buyers are relunctant to add to their long positions close to 104.406 (R1). The next big test for traders will be how the market reacts to a test of 103.631 (S1).
Looking at the bigger picture, overtaking 104.406 could extend the rally into 104.615 (R2). This is a potential trigger point for an acceleration to the upside with 105.490 (R4) the next major target.
While a break under 103.631 will be a sign of weakness. But the acceleration to the downside is likely to start when 103.315 (S2) fails. This move could trigger a steep break into 102.405 (S3).
| | |
| --- | --- |
| S1 – 103.631 | R1 – 104.406 |
| S2 – 103.315 | R2 – 104.615 |
| S3 – 102.405 | R3 – 104.720. |
For a look at all of today's economic events, check out our economic calendar.
Don't miss a thing!
Sign up for a daily update delivered to your inbox
Sponsored Financial Content