XRP Bulls to Target $0.55 or Face $0.52 on SEC v Ripple Silence
Updated

: Apr 1, 2023, 04:07 UTC
•
4
min read
XRP enjoyed a bullish end to March, with investor hopes of a Ripple victory in the ongoing SEC v Ripple case delivering a 43% gain in March.
Key Insights:
On Friday, XRP resumed its move toward $0.60, rising 1.07% to end the day at $0.53798.
US economic indicators fueled demand for riskier assets, with sentiment toward the SEC v Ripple case also providing support.
The technical indicators are bullish, signaling a return to $0.60.
On Friday, XRP rose by 1.07%. Partially reversing a 1.93% loss from Thursday, XRP ended March up 42.82% to $0.53798. The bullish March contributed to a 58.9% Q1 gain. Notably, XRP saw only the second quarterly gain since Q3 2021.
A mixed start to the day saw XRP rise to an early morning high of $0.54906. Falling short of the First Major Resistance Level (R1) at $0.5525, XRP fell to a midday low of $0.52602. However, steering clear of the First Major Support Level (S1) at $0.5169, XRP found broader crypto market support to wrap up the day at $0.53798.
Investor Bets of a Ripple Victory Deliver a Breakout First Quarter
It was a quiet Friday session. There were no updates from the ongoing SEC v Ripple case to influence investor sentiment. The lack of updates allowed investors to hope for a Ripple win in the SEC v Ripple case. Ripple defense team moves have seemingly placed the defendants in a stronger position.
The Hinman Documents remain a focal point in the case, with the SEC eager to prevent the documents from reaching the public forum. SEC and CFTC disagreements over the classification of ETH and other cryptos may have also inadvertently supported Ripple's defense.
Before the CFTC filed its case against Binance, the Ripple defense team had filed a letter to Judge Torres citing comments from the presiding Judge in the Voyager Digital bankruptcy case. The Ripple filing made two references that continue to resonate, these being,
"Judge Wiles found that cryptocurrency market participants operate in a regulatory environment that at best can be described as highly uncertain, in which regulators themselves cannot seem to agree as to whether cryptocurrencies are commodities that may be subject to regulation by the CFTC or whether they are securities that are subject to securities laws, or neither, or even on what criteria should be applied in making the decision."
Judge Wiles added,
"An uncertainty has persisted despite the fact that cryptocurrency exchanges have been around for a number of years."
The Day Ahead
Updates from the SEC v Ripple case will remain the focal point. However, a lack of updates will leave investors to track Binance and Coinbase (COIN)-related news and regulatory activity.
There are no external market forces to influence following softer US inflation figures from Friday that supported riskier assets.
XRP Price Action
At the time of writing, XRP was down 0.84% to $0.53346. A mixed start to the day saw XRP rise to an early high of $0.53764 before falling to a low of $0.53227.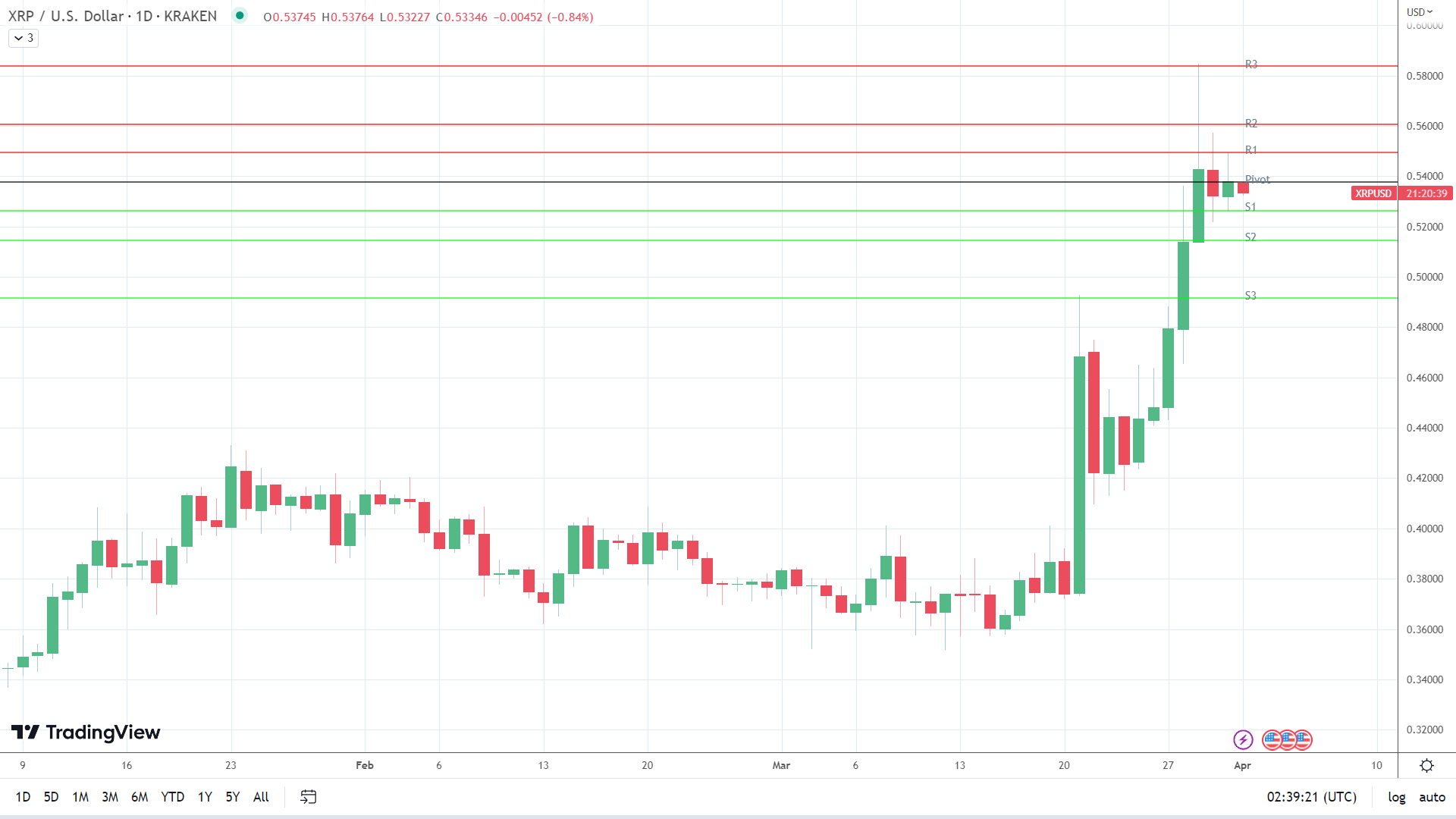 XRPUSD 010423 Daily Chart
Technical Indicators
XRP needs to move through the $0.5377 pivot to target the First Major Resistance Level (R1) at $0.5494. A move through the Friday high of $0.54906 would signal another bullish session. However, SEC v Ripple chatter would need to support a breakout.
In the case of another extended rally, XRP would likely test the Second Major Resistance Level (R2) at $0.5607. The Third Major Resistance Level (R3) sits at $0.5838.
Failure to move through the pivot would leave the First Major Support Level (S1) at $0.5263 in play. However, barring an extended broad-based crypto sell-off, XRP should avoid sub-$0.52 and the Second Major Support Level (S2) at $0.5146. The Third Major Support Level (S3) sits at $0.4916.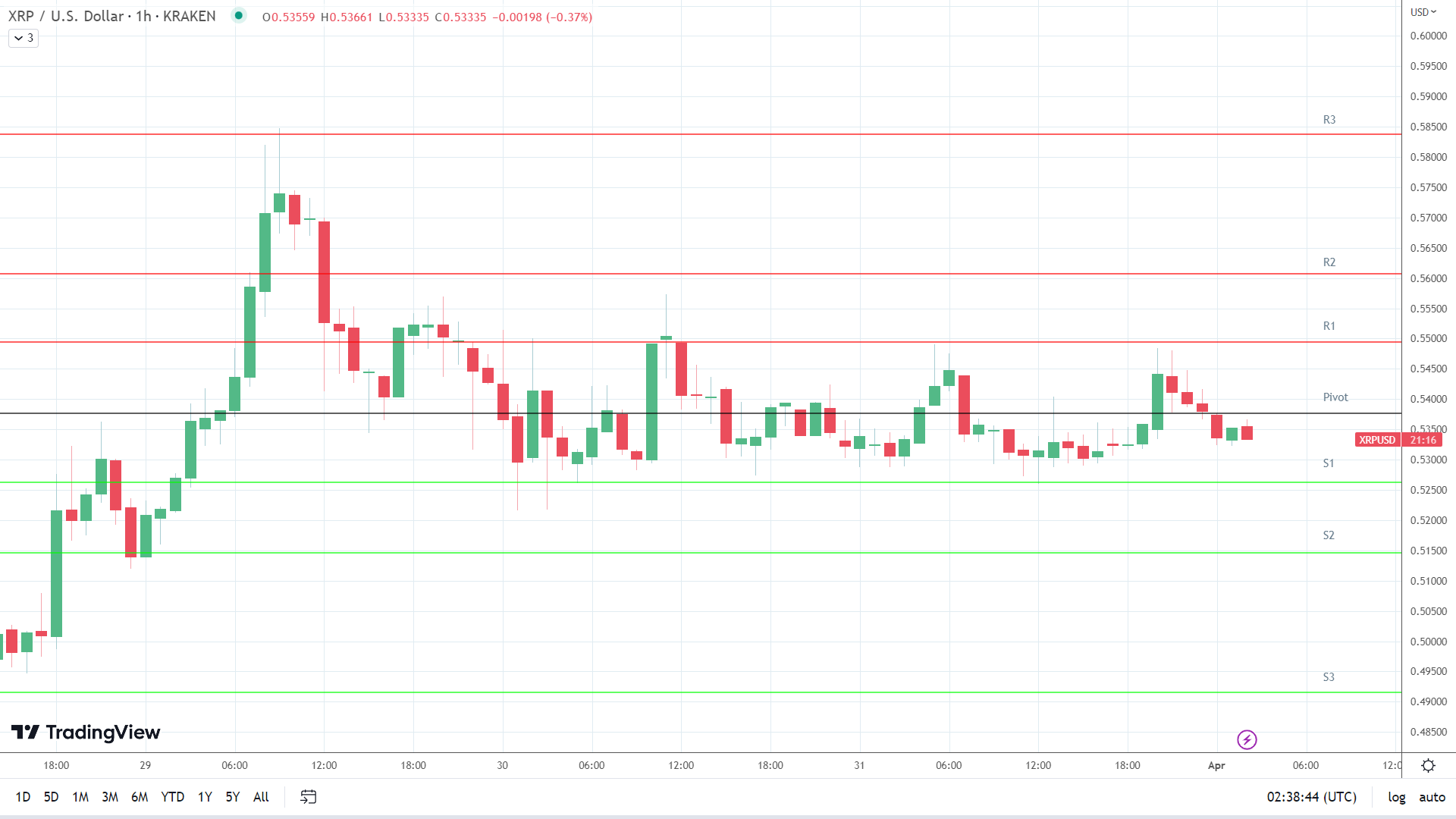 XRPUSD 010423 Hourly Chart
The EMAs and the 4-hourly candlestick chart (below) sent bullish signals.
At the time of writing, XRP sat above the 50-day EMA, currently at $0.49659. The 50-day EMA pulled further away from the 100-day EMA, with the 100-day EMA widening from the 200-day EMA. The EMAs delivered bullish signals.
A hold above the Major Support Levels and the 50-day EMA ($0.49659) would support a breakout from R1 ($0.5494) to target R2 ($0.5607). However, a fall through S1 ($0.5263) would bring S2 ($0.5146) and the 50-day ($0.49659) into view. A fall through the 50-day EMA would send a bearish signal.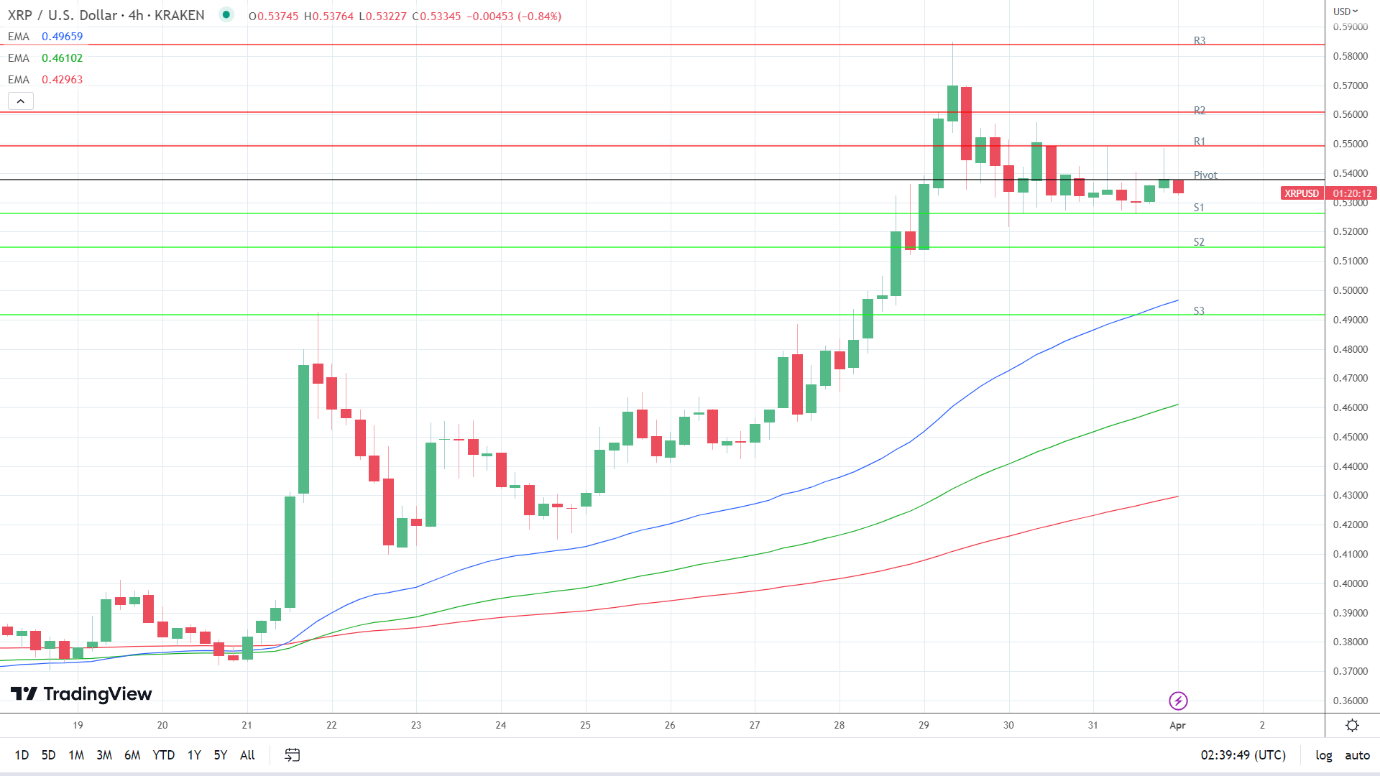 XRPUSD 010423 4 Hourly Chart
Don't miss a thing!
Sign up for a daily update delivered to your inbox
Sponsored Financial Content