S&P 500, NASDAQ Steady Despite Hewlett Packard Missing Wall Street Targets
Updated

: May 30, 2023, 22:15 UTC
•
2
min read
HP's Q2 revenue of $12.91B falls short as PC market slowdown and reduced demand affect global PC shipments.
Highlights
HP's Q2 revenue of $12.91 billion falls below expectations.
PC market slowdown due to budget constraints and decreased demand.
HP expresses optimism for stronger second half, revises profit forecast.
Overview
Hewlett Packard, commonly known as HP, reported its second-quarter revenue on Tuesday, which fell short of Wall Street targets. The company's revenue for the quarter was $12.91 billion, while analysts were expecting $13.07 billion, according to Refinitiv data.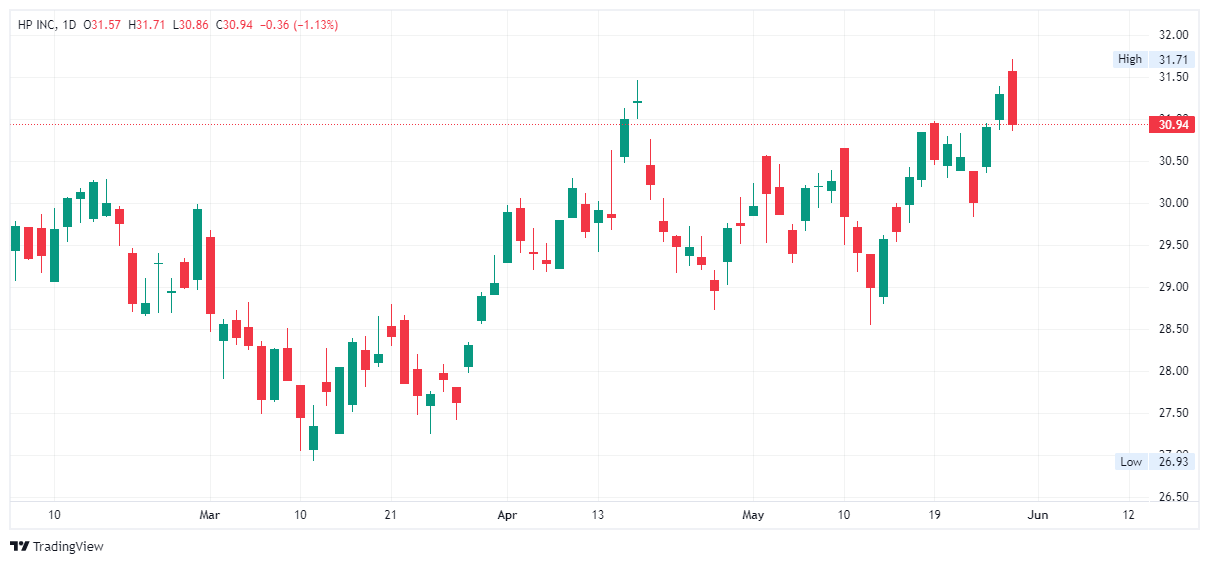 Daily HP Inc
PC Market Slowdown Impacts Tech Giants
The decline in revenue was attributed to a slowdown in the personal computer market, as customers tightened their budgets due to inflation. Companies like HP, Lenovo, and Dell Technologies Inc experienced a decrease in demand compared to the peak levels seen during the pandemic when work-from-home trends drove up laptop and electronic device sales.
Global PC Shipments Plunge 30%
Global PC shipments also declined significantly, dropping nearly 30% in the January-March period compared to pre-pandemic levels, as reported by research firm IDC.
Within HP, the Personal Systems segment, which includes desktop and notebook PCs, saw a 29% drop in sales during the reported quarter. The printing segment of the company recorded a 5% fall in sales.
HP Remains Optimistic, Expects Stronger Second Half
Despite the challenging second quarter, HP expressed optimism for the second half of the year, particularly in terms of demand, especially on the consumer side. CEO Enrique Lores stated in an interview with Reuters that the second half is expected to be stronger.
The company revised its annual adjusted profit forecast, expecting it to be between $3.30 and $3.50 per share, compared to the earlier forecast of $3.20 to $3.60 per share.
HPE Surpasses Expectations with Strong Q2 Earnings
On the other hand, Hewlett Packard Enterprise (HPE), a separate entity from HP Inc, reported positive earnings for its second quarter. The company's earnings increased from the same period last year and surpassed analysts' estimates.
HPE's second-quarter earnings amounted to $418 million, or $0.32 per share, compared to $250 million, or $0.19 per share, in the second quarter of the previous year. Excluding special items, HPE reported adjusted earnings of $685 million, or $0.52 per share.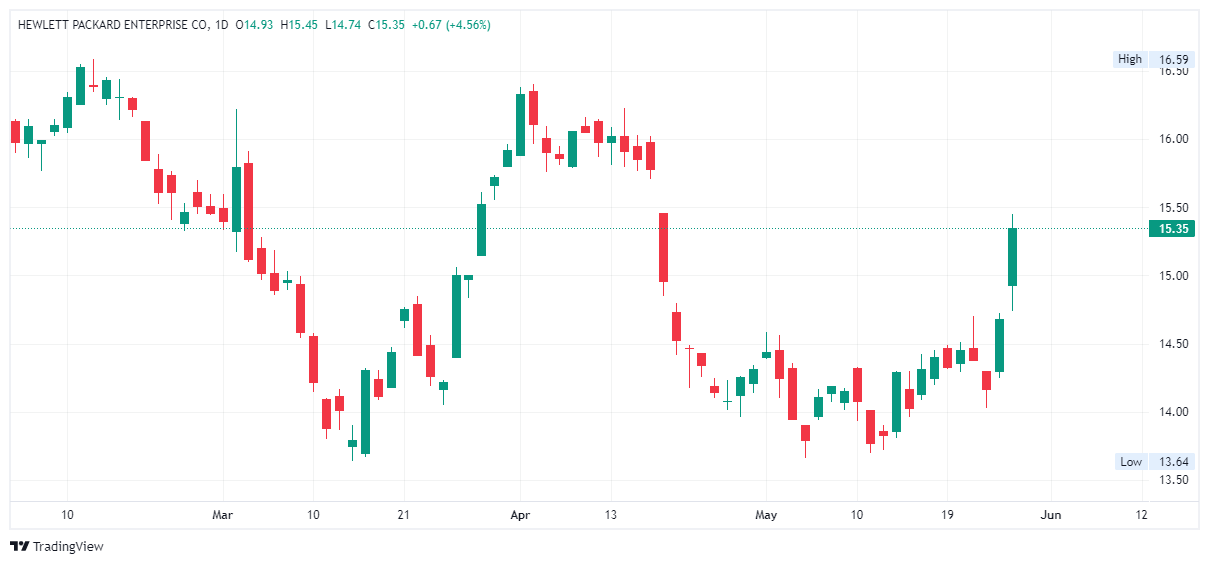 Daily Hewlett Packard Enterprise Co
The company's revenue for the quarter rose 3.9% to $6.97 billion from $6.71 billion in the previous year.
Analysts had estimated HPE's earnings to be $0.48 per share, highlighting the company's better-than-expected performance.
Looking ahead, HPE provided guidance for the next quarter. Estimates call for EPS in a range of $0.44 to $0.48. Revenue guidance is between $6.7 billion and $7.2 billion. For the full year, HPE expects EPS in the range of $2.06 to $2.14.
Don't miss a thing!
Sign up for a daily update delivered to your inbox
Sponsored Financial Content