Terra (LUNA) Tumbles Amidst Wonderland Controversy
Published

: Jan 29, 2022, 06:01 UTC
•
3
min read
Terra (LUNA) gets mixed up in the latest crypto scandal involving the Wonderland project, which has ties with platform Abracadabra.
Terra (LUNA) is a smart contract platform based on a Proof-of-Stake algorithm. Considered to be the 2nd largest smart contract platform behind Ethereum (ETH), Terra enables users to trade Terra stablecoins with ease. The network uses native currency LUNA to meet network fees, take part in voting, in addition to stabilizing the price of Terra's stablecoins.
Terra looks to stand out from the crypto community with its use of fiat-pegged stablecoins. With the use of an algorithm, Terra adjusts the supply of stablecoins based on demand. This is done so by incentivizing the Terra network to exchange LUNA and stablecoins at favorable exchange rates to adjust the supply of stablecoins.
Terra's Rise to the Crypto Top 10
In December of last year, Terra reportedly surpassed Binance Smart Chain to become the 2nd largest DeFi blockchain. Through the final quarter, Terra also overtook Solana (SOL), Avalanche (AVAX), and Tron (TRX) on its rise to the number 2 spot.
By market cap, Terra sits at #9 on CoinMarketCap, with a market cap of $20.86bn at the time of writing.
In 2021, LUNA surged by a whopping 13,000% to move into the top 10 by market cap. Rallying from a 2021 opening $0.65, LUNA struck a 27th December ATH $103.36 before ending the year at $85.48.
Alongside the broader crypto market, it's been a bearish start to the year, however. For the current month to Friday's close, LUNA was down 41% to $50.45. While the broader crypto market has struggled in January, influences beyond crypto market forces have contributed to the pullback.
Wonderland Controversy Sends LUNA into the Deep Red
This week, news hit the wires of Canadian exchange QuadrigaCX co-founder Michael Patryn being a member of a decentralized project called Wonderland. QuadrigaCX collapsed after a scam causing a loss of circa $133m for investors. Significantly, Patryn has also spent 18-months in U.S prison and was deported to Canada after pleading guilty to offences that included credit and bank card fraud and computer fraud amongst other crimes.
As a result of the news, Wonderland token TIME collapsed to and currently sits at $400 levels. TIME had struck an ATH $9,948 back in early November 2021.
The linkage and collapse of TIME has had a knock-on effect on LUNA, with the Wonderland project tied to platform Abracadabra. Wonderland project co-founder Daniele Sestagalli is also founder of Abracadabra. Terra stablecoin UST can be staked to lend Magic Internet Money (MIM), which is a soft-pegged US Dollar stablecoin that is minted by lending platform Abracadabra.
According to reports, Sestagalli was aware of Patryn's past.
LUNA Price Action
At the time of writing, LUNA was up 2.95% to $51.94, with support coming from the broader crypto market.
Near-term, a move back through to $80 levels would bring the current month's high $92.67 into play. A break through to $90 levels would give LUNA a run at December's ATH $103.36.
Avoiding a fall through January's current month low $47.57, however, will be key to avoid a return to sub-$40. LUNA last sat at sub-$40 in late November.
2022 price predictions are bullish for LUNA, with predictions of as high as $200 doing the rounds.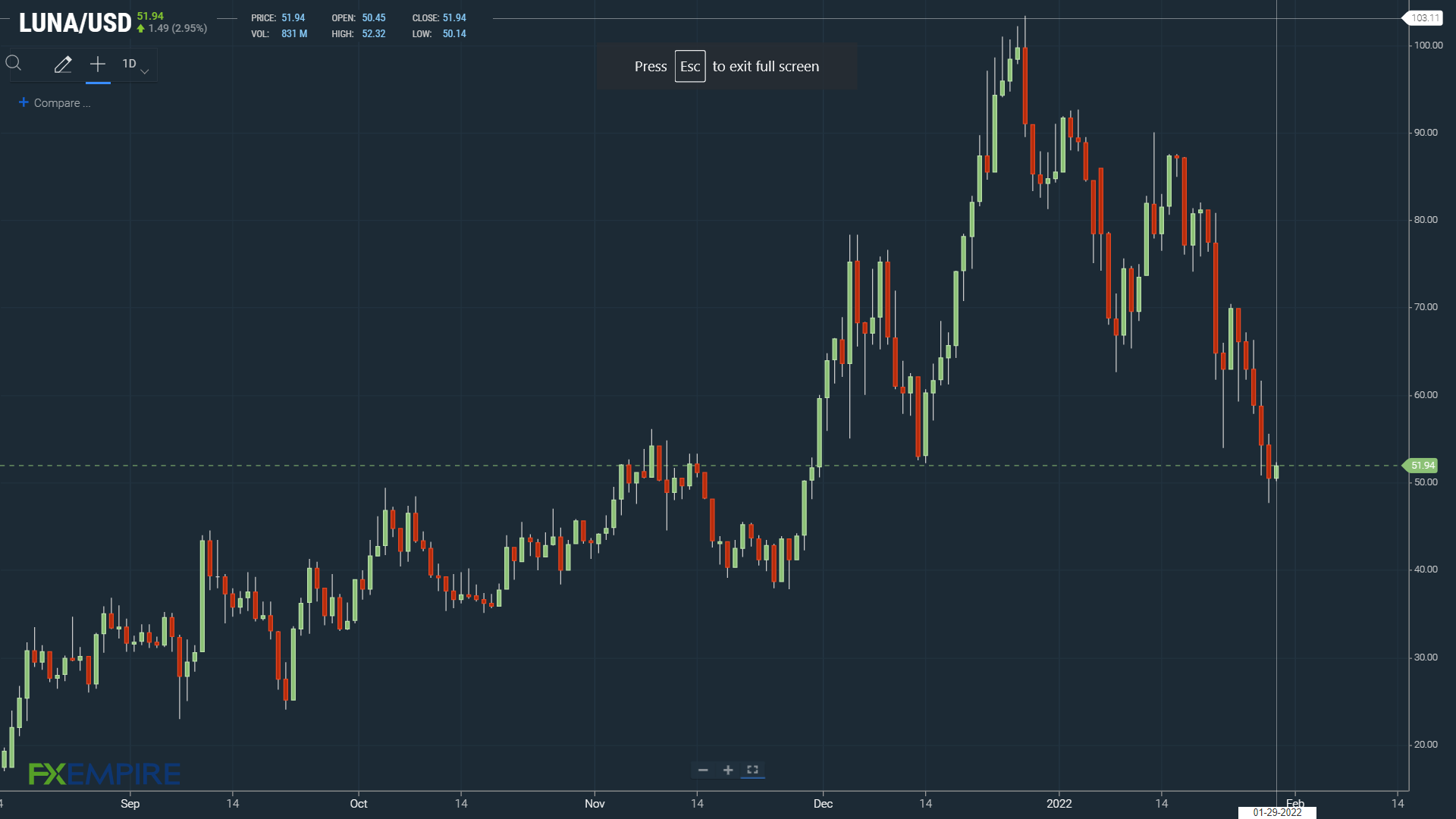 Don't miss a thing!
Sign up for a daily update delivered to your inbox
Sponsored Financial Content