Trump's Tweets on China Tariffs Fuel Gold and Risk Aversion
Gold is trading up after Trump's tweet hit risk sentiment. Investors are betting on safer assets on Monday.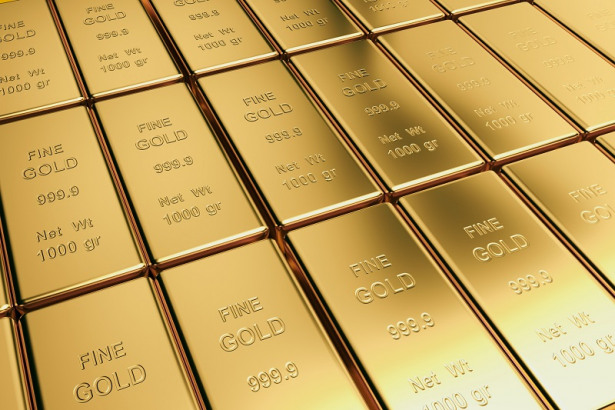 He did it again, US president Donald Trump hurt global risk sentiment over the weekend as he announced a hike in tariffs on $200 billion worth of China's good this week, and a new 25% tariff on further $325 billion in Chineses products.
Risk-off sentiment is benefiting gold but hurting stocks, while silver, copper, and palladium are trading negative on the day. Dollar index is flat on Monday, while the stocks market is falling hard.
A two-face Trump spurs risk aversion
After saying that the trade talks between China and the United States were going "pretty well," Donald Trump did a turn of the screw to the trade war as he informed new tariffs on Chinese products.
"For 10 months, China has been paying Tariffs to the USA of 25% on 50 Billion Dollars of High Tech, and 10% on 200 Billion Dollars of other goods," US president Donald J. Trump said in twitter on Sunday.
"These payments are partially responsible for our great economic results," he acknowledged.
Also, Trump announced that this 10% would go up to 25% on Friday. However, "325 Billions Dollars of additional goods sent to us by China remain untaxed, but will be shortly, at a rate of 25%."
Last week, White House officials said that the China-US talks on trade were heading to its final steps. Well, president Trump seems to be thinking the opposite. Trump's tweet is a part of a negotiation.
The tweet could has been published to force China to do something or to put the United States demands on context. however, As Warren Buffett recently said in an interview with CNBC's Becky Quick: It is "a dangerous game," and he stated that a trade war would be "bad for the whole world."
Buffett also hinted that sometimes you have to act half crazy.
China is now pondering its role in the next US-China meeting on trade.
Anyway, the tweet went out, and risk aversion took the market. Wall Street is currently falling hard with safe havens such as gold benefiting from the situation.
Gold extends gains after Trump's tweet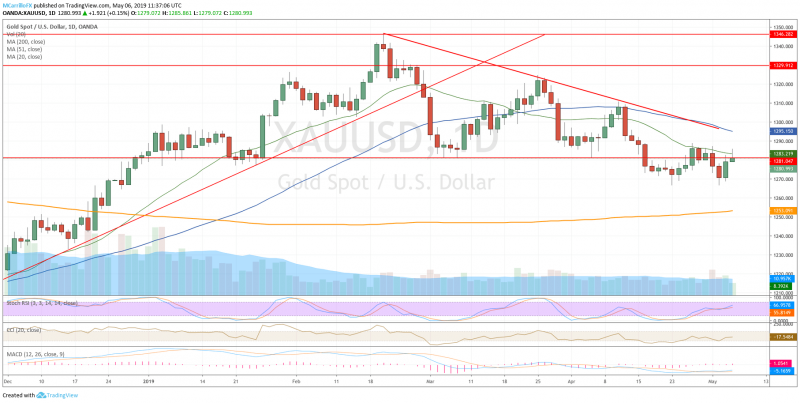 Gold is trading positive for the second trading day on Monday as investors are taking safer positions after Trump's announcement on new tariffs for China.
Earlier in the day, the metal jumped to trade as high as 1,285, but the advance was tempered and it returned to current levels around 1,281, where the unit is posting a 0.22% daily gain.
"Having made a comeback on a weaker dollar last Friday," Jeffrey Halley, a senior market analyst with OANDA, said in a recent piece, "gold is poised to benefit strongly from safe-haven flows as investors dump stocks and rotate into bonds and precious metals."
In this framework, gold is currently testing 20-day moving average level at 1,281. Above there, April 26's highs at 1,288 is the next level to watch.
Thought gold should have a close above the 1,280 level, 1,300 and 1,310 remain as the most critical resistances to the upside.
Silver down amid technical resistance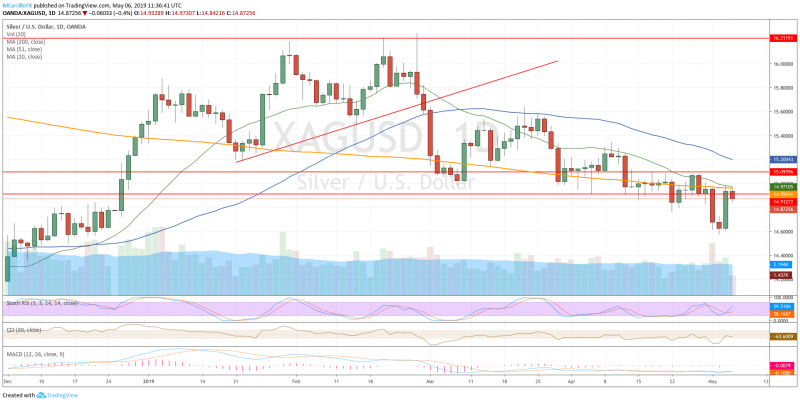 Silver is trading down on Monday as the unit is testing the significant 15.00 area. The unit is posting 0.30% loses on the day at 14.87, but studies suggest more room for gains.
If the pair can clear up the 15.00 area, it will find next resistance at 15.10. On the other hand, a rejection of the 15.00 level will send the pair back to 14.60.