Please note: We performed our tests with a Standard Account, using MetaTrader 5, at the European entity of FBS (fbs.eu) in December 2022.
The Big Picture
Founded in 2009, FBS is a beginner-friendly broker offering a broad range of CFD markets and competitive fees. Various account types are available using MetaTrader 4, MetaTrader 5, and the FBS Trader app. We tested using an MT5 Standard Account at the European entity of FBS (fbs.eu).
The Limassol, Cyprus-based broker is active in over 150 countries and has more than 17 million active clients. The European entity of FBS is regulated by the top-tier CySEC. Sporting fans may already be familiar with the brand, as FBS is an official principal partner of Leicester City Football Club and an official trading partner of FC Barcelona.
FBS Key Takeaways for 2022
We evaluated FBS across nine categories (Trust/Stability, Fees, Tradable Instruments, Account Types, Deposit/Withdrawal, Research, Customer Support, Education, and Platform).
FBS performed well in the trust, education, and platform and tools categories.
A well-rounded broker, FBS did not score low in any category.
FBS is regulated by CySEC in the EU and ASIC in Australia. These top-tier regulators offer a degree of safety and security to traders in their jurisdictions.
Spreads in some popular trading instruments are competitive at FBS. Spreads under one pip in pairs like EUR/USD reduce costs and are especially important for active traders.
FBS is a beginner-friendly broker with a unique account type for newbies and extensive educational materials.
Competitive spreads in some instruments and the advanced platform functionality of MetaTrader make FBS a possible choice for experienced traders.
Keep an eye out for the overnight (swap) fees which can be substantial over time. Also, some instruments, such as the Dax 30 have relatively wide spreads that make it expensive to get in and out of positionsmaking it harder for short-term traders to profit.
What Sets FBS Apart from other Brokers?
FBS has valuable features such as the 'Cent Account' type, which helps beginners trade in the live market while taking minimal risk. This broker also takes a progressive approach to pricing with low inactivity fees and no withdrawal fees, even by bank wire.
Who is FBS for?
FBS shines in education, research, and customer service, making it a good choice for traders new to the markets. It can also cater to more sophisticated traders using features such as algorithmic trading.
FBS Pros and Cons
Pros
Cons

Competitive spreads in major forex pairs.
Reliable customer service.
No withdrawal fees.
Strong research and education resources.

Lacks proprietary web and desktop platforms.
Wide spreads in some instruments.
Limited number of stocks to trade.
Are you interested in learning more about this broker? Then keep on reading as we have battle-tested all of the features and services provided by FBS and outline our findings in detail below.
About the Author
Starting his career in finance on the floor of the Chicago Mercantile Exchange, Dan later gained insight into the forex industry during his time as a Series 3 licenced futures and forex broker. Dan also traded at a couple of different prop trading firms in Chicago.
How Do We Rate?
When trading forex and CFDs, it is crucial to know a broker's strengths and weaknesses. That is why FX Empire developed its proprietary rating system. We put the knowledge and expertise of our reviewers to work to bring you the most suitable brokers. A total of 200 variables have been analyzed to help you choose your broker wisely. This chart describes all the categories we evaluated and rated.
Visit our methodology page to learn more about our review and rating process.
FBS Main Features
| | |
| --- | --- |
| | ASIC (Australia), CySEC (Cyprus), FSCA South Africa (South Africa), FSC Mauritius (Mauritius) |
| | English, Spanish, French, Arabic, Portuguese, Japanese, Thai, Indonesian, Vietnamese, Malaysian |
| | Currencies, Commodities, Indices, Stocks, Crypto |
| | $1 |
| | 1:30 (ASIC), 1:30 (CySEC ), 1:500 (FSCA South Africa), 1:3000 (FSC Mauritius) |
| | ECN, No dealing desk, STP |
Check if...
FBS accepts clients from your country:
Trading involves a risk of loss
How Do We Test A Broker's Trust?
When choosing a broker, trustworthiness is one of the most important things to keep in mind. Always check the broker's regulations, know how financially secure the firm is, and find out whether the broker is transparent and reliable. These factors, calculated into our score, will help you understand if your money is safe.
---
FBS is regulated by several top-tier agencies across the globe and has a substantial operating history. We rated this mid-sized broker as having an above-average level of trustworthiness relative to the industry.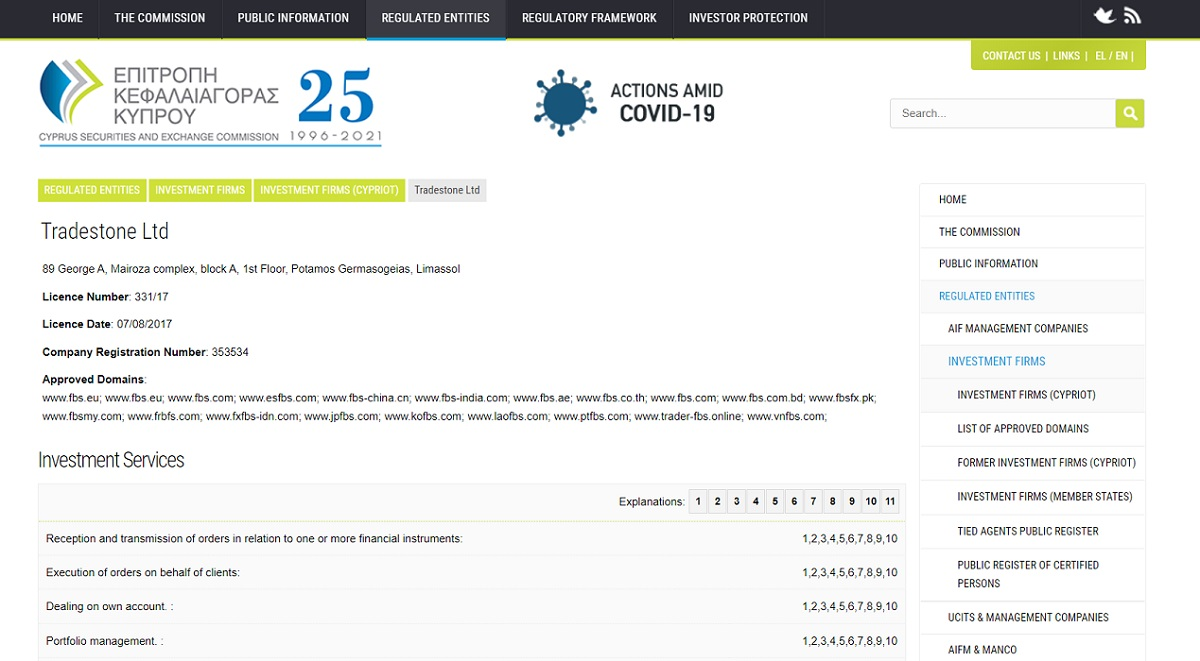 Tradestone Ltd (FBS) is listed among the regulated entities on the CySEC website
In our trust category, we place the most importance on how a broker is regulated. So let's look at how the different entities of FBS across the globe are regulated. We rate regulators on a scale of 1 to 3, with 1 reflecting the highest level of trust.
The various entities of FBS are regulated as follows:
Why is it important to know where your broker entity is regulated?
Different regulators provide different levels of protection. Clients of FBS in the EU and Australia benefit from segregated accounts due to CySEC and ASIC requirements. Segregated accounts safeguard clients if a broker becomes insolvent and declares bankruptcy. In the EU and Australia, FBS clients also have negative balance protection, meaning they cannot lose more than their deposit.
Meanwhile, clients outside of Europe, Australia, and South Africa are with the FBS Markets Inc. entity, which is regulated by the IFSC of Belize and does not offer the same level of protection. For example, client accounts are not segregated when trading with the FBS Markets Inc. entity.
The table below breaks down the protections and benefits by region and entity.
| | | | | |
| --- | --- | --- | --- | --- |
| Entity | Tradestone Ltd. | FBS Oceania | Tradestone SA (PTY) Ltd. | FBS Markets Inc. |
| Country/Region | Europe | Australia | South Africa | All Other Regions |
| Regulation | CySEC | ASIC | MAS | IFSC |
| Segregated Funds | Yes | Yes | Yes | No |
| Negative Balance Protection | Yes | Yes | No | No |
| Compensation Scheme | ICF Up to €20,000 | No | No | No |
| Standard Leverage | 1:30 | 1:30 | 1:400 | 1:500 |
We checked the regulatory status of FBS in November 2022.
Stability and Transparency
In our tests for the trust category, we also consider how long the broker has been in business, how big the company is, and how transparent it is.
Founded in 2009, FBS has a substantial operating history and a client base numbering in the millions, according to its website. The company's LinkedIn page lists the number of employees as 201-500, reflecting a relatively large brokerage firm.
Financial reporting requirements make it easier to see how stable a publicly traded company is at a given time. Since FBS is not publicly traded, it is harder to gauge its financial health.
From looking at the FBS website (fbs.eu) and social media presence, this broker has an adequate level of transparency relating to its fees, regulatory status, and overall company background. Prospective clients can view their regulatory standing on the Regulation and Licence page. Information relating to fees can be found in the Client Agreement/Terms and Conditions on the Legal Documents page.
Overall, we judged that FBS has a level of trust and stability somewhat above the average of the CFD brokerage industry.
Fees
How Do We Test A Broker's Fees?
Broker fees can be difficult to understand. We test the broker's platforms and examine commissions, spreads, and overnight fees to ensure that you can determine if trading with this broker is worth your time and money.
---
FBS offers competitive spreads in major forex pairs, and non-trading fees are better than average. Spreads were less competitive in other trading instruments, such as commodities and indices.
FBS is a market maker/dealing desk broker, meaning that they take the other side of a client's trades and that trading fees are built into the spread.
The spread is the difference between the bid (sell) price and the ask (buy) price. Narrower spreads allow you to enter and exit the market at a lower cost, which is especially important for active traders. We performed the tests using the MetaTrader 5 platform in November 2022.
Spread costs were better than average for popular currency pairs like EUR/USD, and overnight swap fees were average in our tests. FBS has a low inactivity fee of 5 EUR a month for accounts that are dormant for 180 calendar days.
Trading Fees
We tested the spreads across different asset classes in a live Standard Account, using the MetaTrader 5 platform at 8 AM GMT and 3 PM GMT on November 28, 2022.
| | | |
| --- | --- | --- |
| Instrument | Live Spread AM | Live Spread PM |
| EUR/USD | 0.8 Pips | 1.1 Pips |
| GBP/JPY | 4.5 Pips | 3.9 Pips |
| Gold (XAU/USD) | 34 Pips | 31 Pips |
| WTI Oil (XTIUSD) | 0.05 Pips | 0.05 |
| Apple (AAPL) | n/a | 0.01 cents |
| Tesla (TSLA) | n/a | 0.10 cents |
| Dow Jones 30 (US30) | 3.3 Pips | 6 Pips |
| Dax 30 (DE30) | 3.8 Pips | 3 Pips |
Spreads in major currency pairs, such as EUR/USD, are competitive, but in others, such as GBP/JPY, they are average. Spreads in commodities and stocks range from average to above average. Spreads were relatively wide in some indices, for example, the Dax 30.
Note: The spreads in a standard account are the same as in a professional account.
Swap fees (the cost of holding a position overnight) at FBS were about average in our tests.
In the table below, you can see the Swap Long (the cost/credit of holding a buy position overnight) and the Swap Short (the cost/credit of holding a sell position overnight) for one full-sized contract. A full-sized contract is 100,000 units of the base currency (the first currency quoted in the pair).
We recorded the data on November 28, 2022.
| | | |
| --- | --- | --- |
| Instrument | Swap Long | Swap Short |
| EUR/USD | Charge of $6.37 | Charge of $0.69 |
| GBP/JPY | Charge of $3.40 | Charge of $5.56 |
Non-Trading Fees
FBS has no deposit or withdrawal fees and an inactivity fee of just $5, reflecting a customer-centric approach to pricing.
Are Fees at FBS Competitive?
We judged that fees at FBS ranged from average to competitive in relation to the CFD industry as a whole.
Platform and Tools
How Do We Test A Broker's Platforms and Tools?
Platforms are where you trade, so they must be secure, fast, and accessible while offering you the tools you need to succeed. Each broker's desktop, web, and mobile platforms are evaluated according to the order types, speed of execution, ease of use, and other 'need to know' features.
---
For desktop and web, FBS offers the popular MetaTrader platform. MetaTrader could be more user-friendly, but it does offer advanced features such as automated trading.
MetaTrader is an industry-leading platform used by millions of traders. FBS offers MetaTrader 4 and 5 for both web and desktop. For traders on the move, FBS offers the FBS Trader mobile app and the MetaTrader 4 and 5 apps. In our review, we tested the MetaTrader 5 web and desktop platforms and the FBS Trader mobile app.
Web and Desktop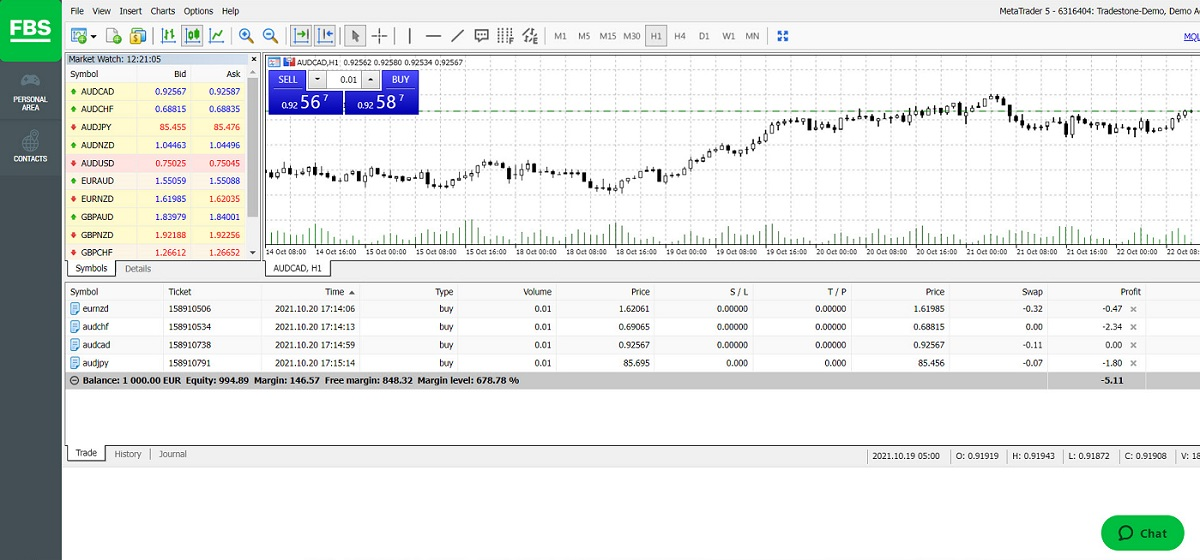 MetaTrader 5 Web Platform
The MetaTrader web platform allows you to trade without additional software (only a browser and an internet connection are required). The platform allows users to trade directly from any browser and operating system. Key features include:
One-click trading. Traders can use this feature to enter orders with a single click using preset conditions.
Trading from the chart. Order entry buttons are conveniently located within the chart, as shown in the image above.
These lists allow traders to stay on top of the real-time prices of their favorite instruments.
Trade History. Access the trades you have recently made at a glance.
Advanced Charting. The MT5 web platform has strong charting capabilities with 31 indicators for technical analysis.
Broad Range of Order Types. These include market orders, limit orders, stop loss orders and stop limit orders. Time-in-force conditions such as GTC (Good 'Til Cancel) are also available.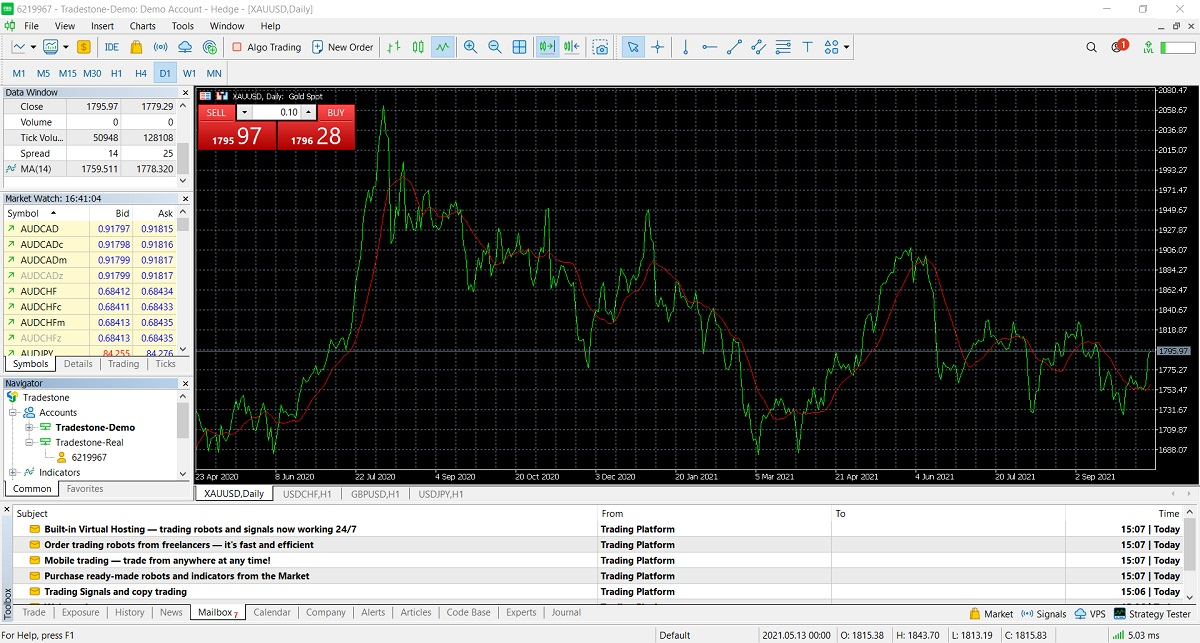 MetaTrader 5 Platform with FBS
FBS also offers MetaTrader 4 and MetaTrader 5 for desktop, which include advanced functions such as copy trading and automated trading. MetaTrader 5 is available in 52 languages.
MetaTrader 5 Languages
Arabic | Bengali | Bulgarian | Chinese | Croatian | Czech | Danish | Dutch | English | Estonian | Finnish | French | Georgian | German | Greek | Hausa | Hebrew | Hindi | Hungarian | Indonesian | Italian | Japanese | Javanese | Korean | Latvian | Lithuanian | Malay | Marathi | Mongolian | Persian | Polish | Portuguese | Punjabi | Romanian | Russian | Serbian | Slovak | Slovenian | Spanish | Swahili | Swedish | Tamil | Telugu | Thai | Turkish | Ukrainian | Urdu | Uzbek | Vietnamese
The platform provides popular features such as:
This feature allows traders to be updated when an instrument reaches a specific price level. The platform can deliver alerts via audio, email, or push notification to a mobile device.
Traders can list their favorite instruments and follow live quotes in a market watch panel.
One-click trading. This feature allows traders to execute orders with a single click and no secondary confirmation. Placing a trade with a single click saves time and is especially useful for short-term traders.
Trading from the chart. MT5 also allows users the convenience of trading directly from the chart.
Order Types
MetaTrader also delivers when it comes to the range of available order types. The following order types are available:
Market Order: an order to buy or sell an instrument at the best price.
Limit Order: an order to buy or sell an instrument at a specified price or better.
Stop Loss Order: an order to buy or sell an instrument triggered when the price reaches a specified level.
Trailing-Stop Order: a stop loss order that traders can set at a defined percentage or dollar amount away from an instrument's current market price. This order type is used to secure profits while not having to exit the position.
Traders can apply time-in-force conditions such as Good 'Til Cancel (GTC) to pending orders.
Charting
Charting features are robust. MetaTrader 5 desktop offers:
38 technical indicators. These include classic trend indicators, volume indicators, and oscillators.
44 analytical objects. These include lines, channels, Gann, and Fibonacci tools.
21 time frames. The platform can display each instrument in twenty-one time frames, from one minute to one month.
3 chart types. Traders can choose between Bar Charts, Japanese Candlestick Charts, and Line Charts.
Advanced Features
MetaTrader is also popular due to its copy trading and automated trading features.
Trading Signals. Signals in MetaTrader 4 allow users to copy other traders' activity in real time.
Automated trading. MetaTrader 4 allows users to develop, test, and apply Expert Advisors (EAs). EAs are programs that monitor and trade markets using algorithms.
To conclude, the MetaTrader 5 desktop platform is one of the world's most feature-rich and popular trading platforms. Mastering MetaTrader takes some time and effort, but that is typical of advanced platforms.
Mobile
FBS offers MetaTrader 4 and 5 mobile apps and its proprietary FBS Trader mobile app.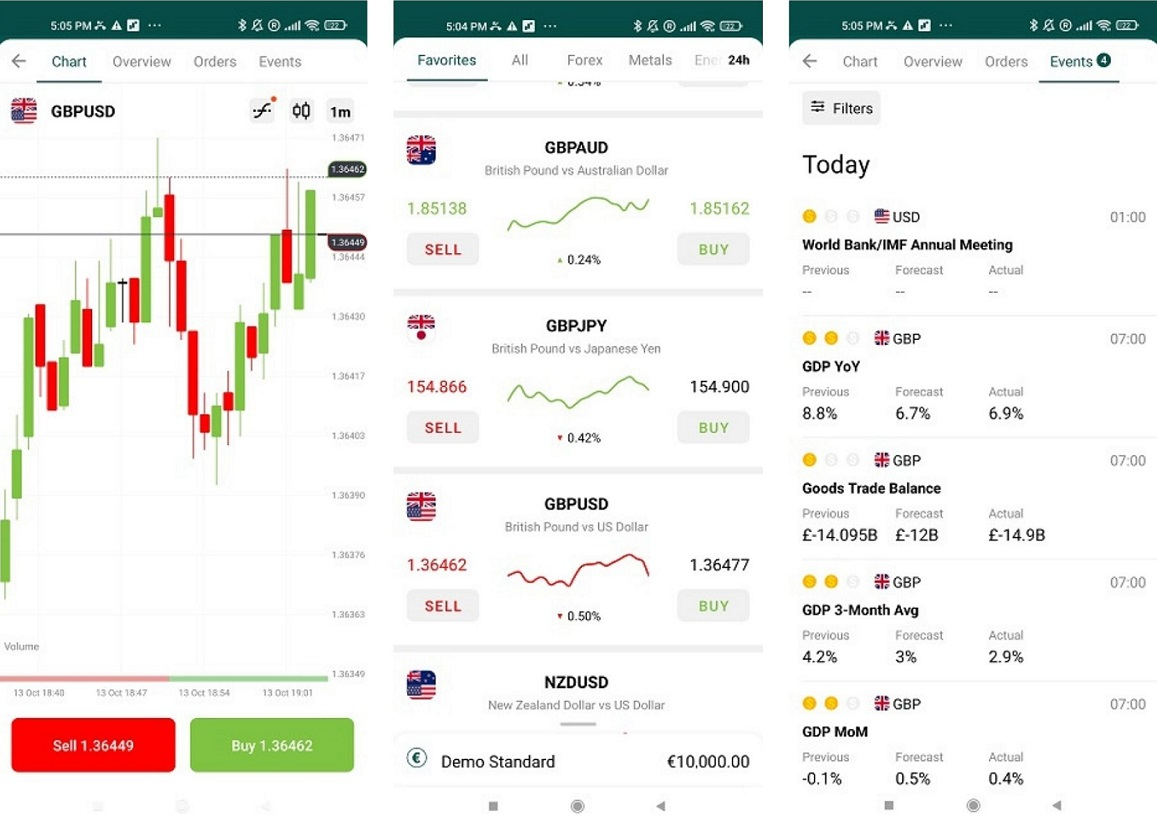 FBS Trader Android App: Charts, Favorites and Economic Calendar Panels.
The FBS Trader app has an attractive interface and allows users to trade various instruments on the move. A chat feature is available within the app, so customer support is readily available. Basic order types such as market orders, limit orders, and stop loss orders are available. An economic calendar and a calendar covering earnings and dividends for stocks are conveniently built into the app.
The interface is well-designed and easy to navigate, but the app lacks some of the features of MetaTrader. MetaTrader 4 and 5 mobile apps are available in 24 languages and offer popular features such as alerts and 1-click trading. MetaTrader 4 and 5 mobile apps provide a broader range of order types and more advanced charting. BS Trader is available for Android and iOS, and MetaTrader 4 and 5 are available for Android.
Order Execution
FBS is a dealing desk/market maker broker, meaning that they set the bid (buy) and offer (sell) prices internally and automatically take the other side of a client's trade.
Tradable Instruments
How Do We Test A Broker's Tradable Instruments?
In this section, we check the broker's market offering and how varied the instruments and asset classes are. It will allow you to check if they offer what you're looking for and what you can trade.
---
FBS covers various markets, including forex and CFDs on stocks, stock indices, commodities, and cryptocurrencies. While they offer a good range of instruments, the depth of the offering in each asset class does not equal that of CFD industry leaders.
CFDs (Contract for Differences) are financial derivative products that allow traders to speculate in various markets without owning the underlying assets. Tradable instruments at FBS include the following CFDs:
50 Currency Pairs. A currency pair combines two different currencies, with the value of one currency quoted against the other. For example, EUR/USD, which reflects the value of the euro measured in dollars.
5 Commodities. Commodities are raw products, such as gold and oil.
99 Stocks. FBS offers access to trading in global stock CFDs. A stock is a security that represents partial ownership of a corporation. Keep in mind that when trading stock CFDs, you are speculating on the price of a stock without actually taking ownership of the underlying asset.
11 Stock Indices. Available instruments at FBS range from Australian to German stock indices. A stock index is a basket of shares used to gauge a market sector, stocks within an exchange, or a country's economy.
17 Cryptocurrencies. Cryptocurrencies, such as Bitcoin, are digital currencies secured by cryptography.
Below is a sampling of instruments across the various asset classes.
| | |
| --- | --- |
| Forex Majors | Forex Exotics |
| EUR/USD | GBP/USD | USD/CAD | USD/RUB | CNH/JPY | EUR/TRY |
| | |
| --- | --- |
| Indices | Cryptocurrencies |
| HK50 | JP225 | AUS200 | Ethereum | Dash | Bitcoin |
| | |
| --- | --- |
| Commodities | Shares |
| UK Brent Oil | Gold | Silver | Facebook | Goldman Sachs | Nike |
While a broad range of markets is available, some instruments, such as bonds and exchange-traded funds (ETFs), are unavailable. Overall the variety of tradable instruments at FBS is better than the industry average.
How Do We Test A Broker's Customer Support?
Traders tend to underestimate customer support, but it might be a crucial feature in moments of crisis. In our rating, we check the contact methods available, how accessible a live agent is and how helpful the responses are. This information will allow you to know if a broker can provide full support when you need it.
---
FBS offers the full range of customer support channels: phone, live chat, and email. Responses were fast, and answers were generally satisfactory. Support hours vary by region.
We tested support at FBS over the phone, live chat, and email with multiple inquiries. Responses were quick, with helpful and courteous agents. With live chat, there is no need to interact with a bot before being connected to a live representative. Agents answered phone inquiries within a few rings, and support replied to emails within 24 hours.
We tested the phone support by asking questions like 'what is the maximum leverage available for professional accounts?'' and got a prompt and satisfactory answer. Chat responses were generally good, but stumbled a little on more complex questions like 'how can I place a trailing stop order in MT5?'.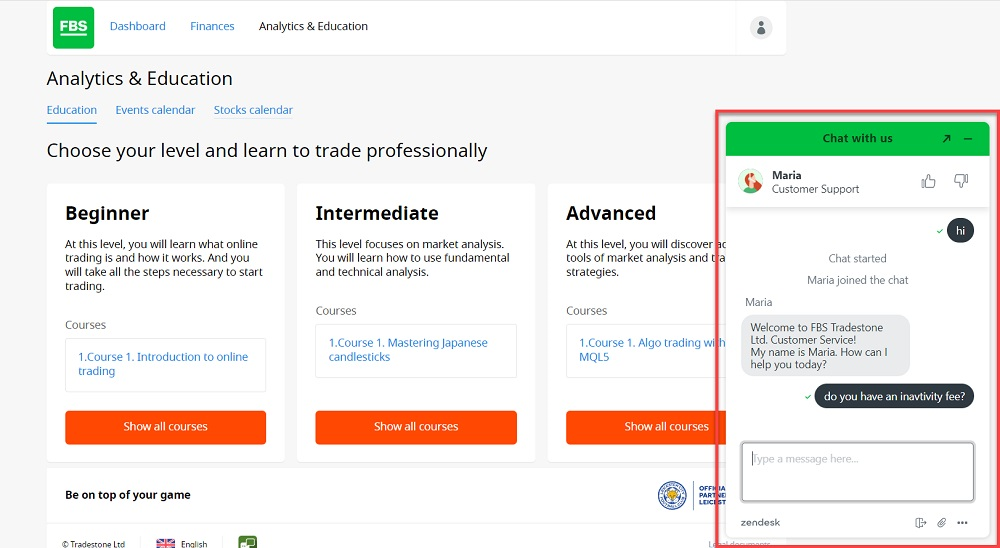 Customer Support: Chat
In the EU, customer support is available from Monday through Friday, 8:00–24:00 (GMT +3), excluding major holidays. However, 24/7 support is available in other regions. Customer support is available in multiple languages globally.
Deposit and Withdrawal
How Do We Test A Broker's Deposit and Withdrawal?
The deposit or withdrawal process can be a tricky one. You may discover that there are hidden fees, or that withdrawal times are longer than you anticipated. We check these factors and others so you know what to expect when trading with this broker.
---
Deposits and withdrawals at FBS are free, even when using a bank wire. Standard deposit and withdrawal methods are available, and processing times are relatively fast.
FBS does better than most competitors by not charging transaction fees for deposits and withdrawals. Users are typically credited within 24 hours when using electronic payments. When using a wire transfer, processing can take up to 48 hours, and it can take 5-7 business days for funds to be available in your account.
Deposits
Deposits are free at FBS, and the following account funding methods are available. Funds are available immediately except for wire transfer, which takes 3-4 business days. Keep in mind that banks typically charge for sending wire transfers out.
| | | |
| --- | --- | --- |
| Method | Commission | Processing Time |
| Visa/Mastercard | 0% | Instant |
| Maestro | 0% | Instant |
| Wire Transfer | 0% | 3-4 business days |
| Skrill | 0% | Instant |
| RAPID Transfer | 0% | Instant |
| NETELLER | 0% | Instant |
Withdrawals
Withdrawals from FBS are also free and, in most cases, take 15-20 minutes, except for bank wire, which takes 48 hours to process. Processing by the bank may take as much as 5-7 business days. Withdrawals are available via the following methods:
| | | |
| --- | --- | --- |
| Method | Commission | Processing Time |
| Visa/Mastercard | 0% | 15-20 minutes, max 2 days |
| Maestro | 0% | 15-20 minutes, max 2 days |
| Wire Transfer | 0% | 48 hours processing time |
| Skrill | 0% | 15-20 minutes, max 2 days |
| RAPID Transfer | 0% | 15-20 minutes, max 2 days |
| NETELLER | 0% | 15-20 minutes, max 2 days |
Account Types and Terms
How Do We Test A Broker's Account Types and Terms?
In order to achieve your trading goals, you need to choose the right account. We evaluate each broker's account types, how easy it is to open an account with them, and the steps involved, so you can decide if it is worth your time to open an account.
---
The account opening process at FBS is smooth and can be completed online in under 10 minutes. FBS offers three major account types; Standard, Cent, and Crypto.
Account Opening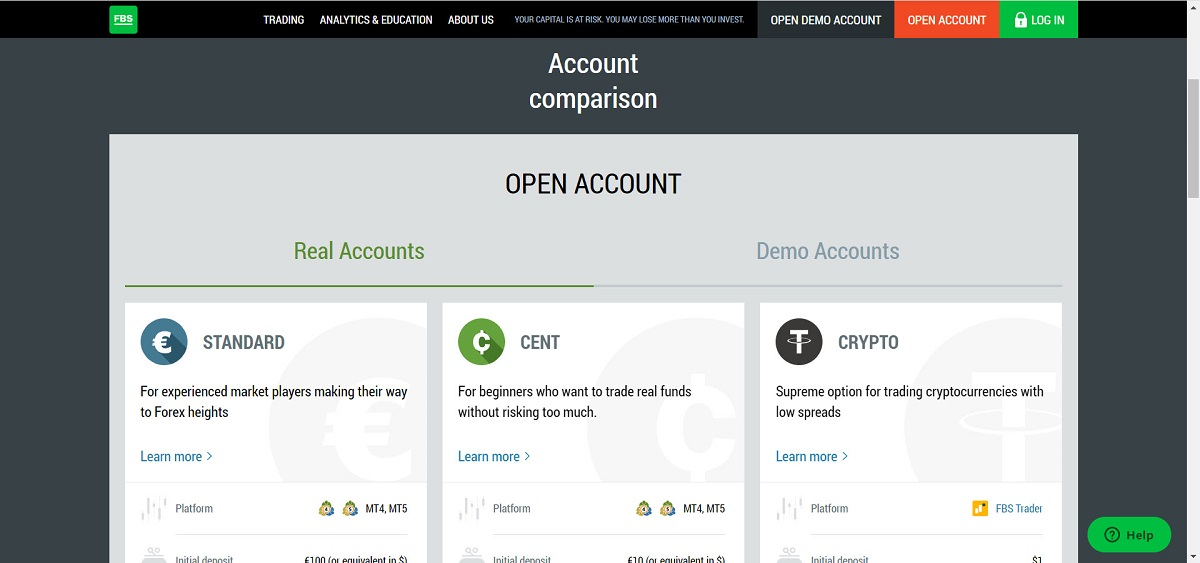 FBS Account Types
Opening an account at FBS is easy, and the process is entirely digital. After confirming your email, you can choose the version of MetaTrader you want to use (4 or 5) and the base currency for your account (USD or EUR).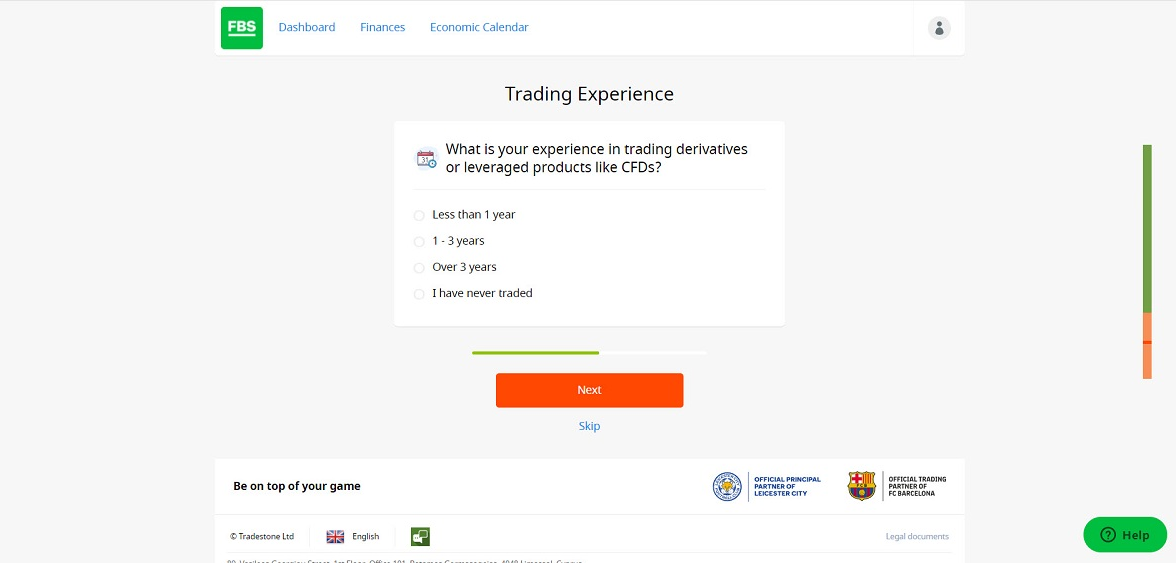 FBS KYC Survey
If opening an account from within the EU, you need to complete a brief KYC (Know Your Customer) survey after registering. KYC ensures brokers understand the client's risk tolerance, investment knowledge, and financial position.
Account Types
Let's take a closer look at the different account types available at FBS: Standard, Cent, and Crypto.
The Standard Account is suitable for traders with some experience, while the Cent Account is geared towards beginners who want to trade real funds without taking much risk. With a Cent Account, your balance appears in cents, and traders can open orders with a volume of 0.01. The Crypto account focuses exclusively on cryptocurrency trading and can only be accessed via the FBS Trader mobile app.
It is possible for both Standard and Cent accounts to upgrade to professional status. To qualify as a professional, traders must meet several eligibility requirements.
| | | | |
| --- | --- | --- | --- |
| Feature | Standard Account | Cent Account | Crypto Account |
| Platform | MT4, MT5 | MT4, MT5 | FBS Trader |
| Minimum Deposit | €1- €10 Depending on Payment Method. | €1- €10 Depending on Payment Method. | $1 |
| Leverage | Up to 1:30 | Up to 1:30 | 1:2 |
| Leverage (Pro) | up to 1:500 | up to 1:500 | n/a |
| Order Volume | 0.01 – 500 lots | Max 500 cent lots | from 0,01 to 500 lots |
Leverage
One of the reasons that traders are attracted to the forex and CFD markets is the high degree of available leverage. Leverage is using borrowed funds to increase the size of your trading positions beyond what would be possible using only the cash in your account.
Standard and Cent accounts offer leverage of 1:30, but after being designated as a professional, traders can access leverage of 1:500. With 1:30 leverage, a trader can control $30,000 worth of market exposure with $1,000. As a designated professional with access to 1:500 leverage, a trader can hold $500,000 of market exposure with just $1,000.
For the Crypto account, the available leverage is much lower at 1:2. With $1,000, a trader can only control $2,000 worth of positions in the market.
Leverage is often described as a 'double-edged sword' because it can amplify your profits and losses. Leveraged trading comes with a high level of risk and can often result in significant losses.
Demo and Islamic Accounts
FBS also offers a demo account to help users practice trading using virtual funds and swap-free Islamic accounts that adhere to the principles of Sharia law.
FBS Supported Countries
FBS takes clients from the majority of countries worldwide. However, residents of the United States, United Kingdom, Japan, South Korea, Cuba, Iran, North Korea, Libya, Somalia, Syria, Sudan, Myanmar, and Yemen are not accepted.
How Do We Test A Broker's Research?
Research options provided by brokers may not be seen as the most important feature for some traders, but they can give you an edge over the competition. Staying on top of important market news announcements and being aware of big themes can be very helpful. The rating system provides a clear picture of how well your broker fulfills this service.
---
FBS shines in research, offering news and daily market commentary by in-house analysts in written and video formats.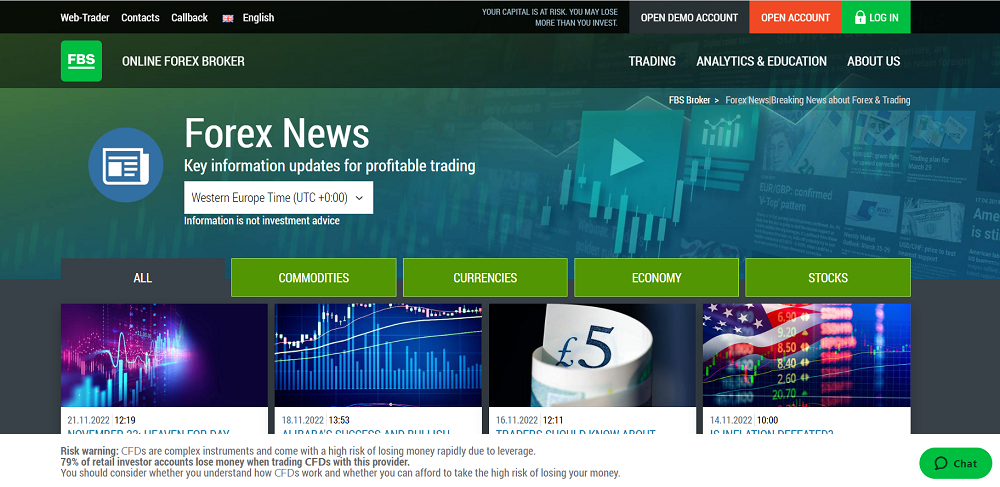 FBS Daily Market Analysis
FBS provides news and market analysis written by its team of market experts. Market commentary covers both technical and fundamental analysis. Daily trading plans and weekly insights are among the topics covered in video format.
Fresh material is frequently added, and the overall volume of research is above average for the industry. The materials are relatively easy to understand, making them accessible to beginners and experienced traders. Traders can access the content on the website under the Analytics and Education tab.
In the past, FBS has offered regular webinars, but at the time of this writing, no webinars are scheduled.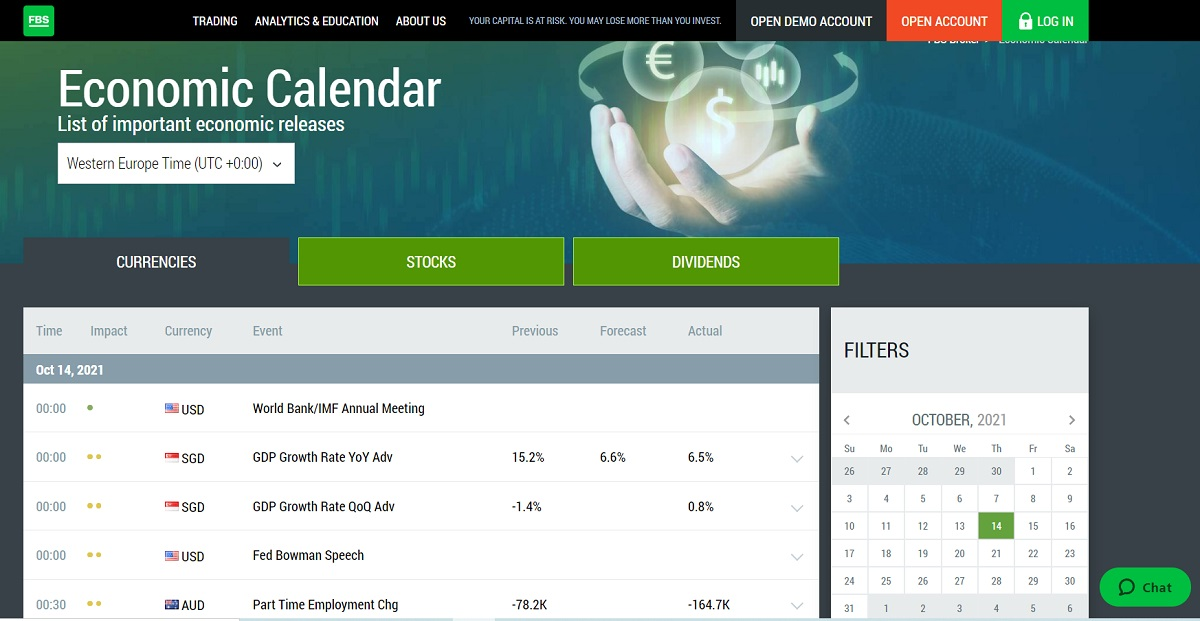 FBS Economic Calendar
FBS also provides classic research tools such as an economic calendar (covering currencies, stocks, and dividends), a forex calculator, and a currency converter. Traders can find the tools on the website under the Analytics and Education tab. As with the market analysis, FBS goes the extra mile with tools and provides an above-average offering.
Education
How Do We Test A Broker's Education?
Educating yourself on how to trade the financial markets can make the difference between success and failure. We check the educational content provided by the broker, its quality and suitability for beginners and advanced traders.
---
FBS has strong educational resources to complement its market analysis.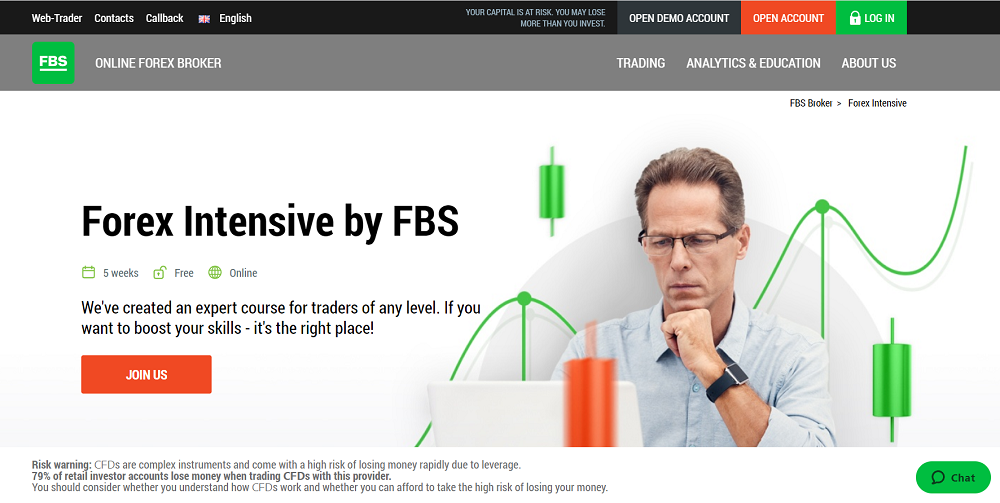 FBS Educational Courses
FBS checks all the boxes when it comes to educational materials. Resources include:
Articles catering to beginners, intermediate and advanced traders.
Platform tutorials explaining how to use MetaTrader.
Trading ideas such as 'How to trade trend pullbacks'.
Videos covering topics such as 'Technical indicators in MT4'.
Glossary featuring a comprehensive listing of terms.
Courses covering material such as support and resistance levels and money management.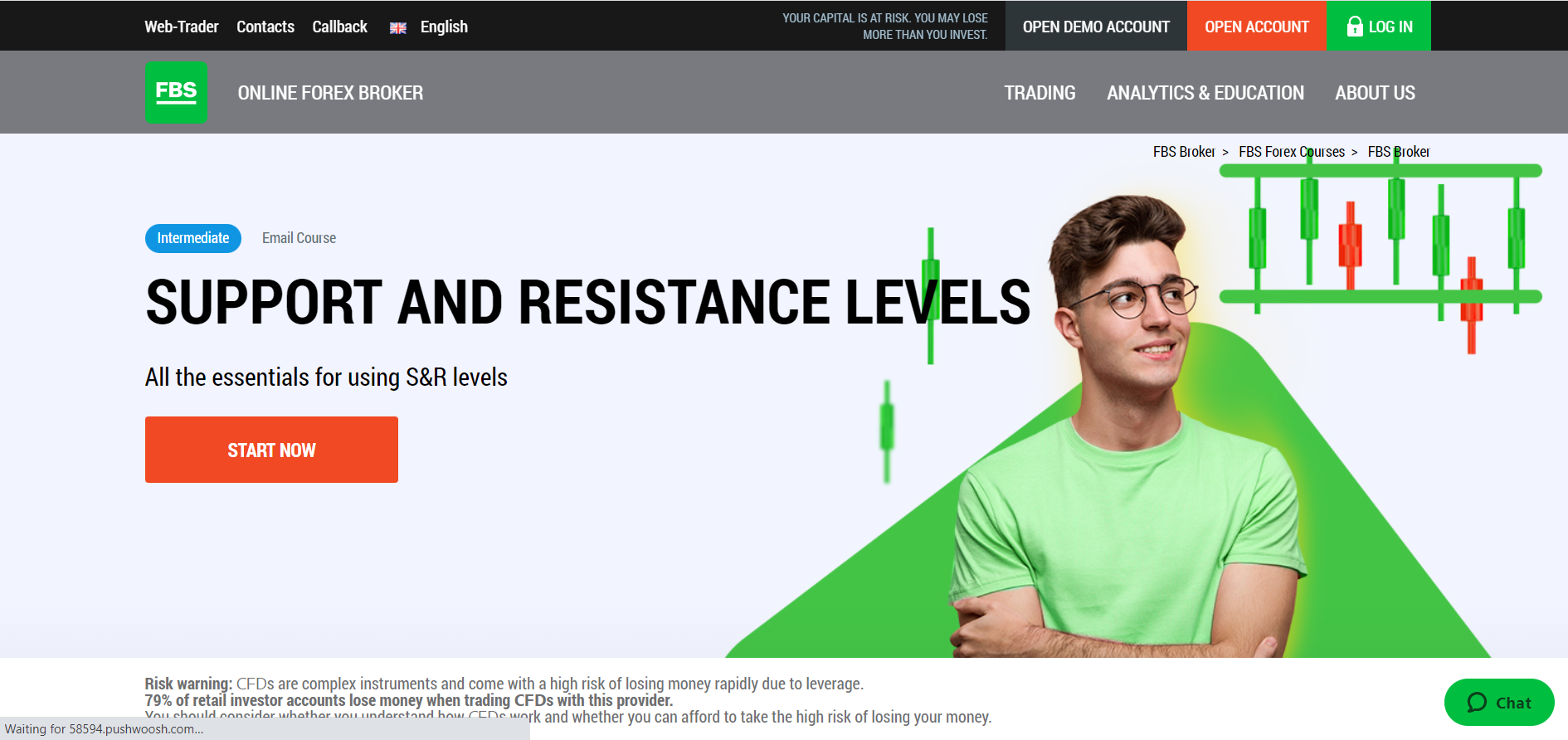 An intermediate level course from FBS
The website breaks FBS courses into beginner, elementary, intermediate, and experienced categories. We found the material to be well-crafted and insightful. Course materials are drip fed via email.
A five-week-long 'forex intensive' course in video format is also available. With materials ranging from the forex market basics to complex trading strategies, there is something for beginners to advanced traders alike.
The Bottom Line
When testing FBS, we were pleased to see better-than-average spreads in some popular trading instruments such as EUR/USD. In other instruments, the spreads are relatively wide, which makes day trading in such markets harder.
This broker has gone above and beyond with their educational resources. The available articles, videos, and courses are a boon to newcomers to trading. The popular MetaTrader platform is feature rich. However, it is less intuitive than some competing platforms, and it may present a steep learning curve for absolute beginners. Overall, FBS provides a well-rounded offering. They could do even better by adding proprietary platforms for web and desktop to their suite of tools.
FAQ
FBS is owned and operated by Tradestone Limited, based at 89 Vasileos Georgiou Street, 1st Floor, Office 101, Potamos Germasogeias, 4048 Limassol, Cyprus.
---
It depends on your jurisdiction, but several top-tier agencies regulate FBS globally, and the company also has a substantial operating history.
---
FBS makes money mainly through spreads, commissions, and swaps on specific asset classes.
---
How do I deposit funds into an FBS account?
Traders can deposit funds via Visa/Mastercard, Maestro, Wire Transfer, Skrill, RAPID, Transfer, and NETELLER.
---
What is the minimum deposit for FBS?
The minimum deposit at FBS varies between €1–€10 depending on the payment method.
---
How do I withdraw money from FBS?
Traders can withdraw via Visa/Mastercard, Maestro, Wire Transfer, Skrill, RAPID, Transfer, and NETELLER.
---
How long does it take to withdraw money from an account at FBS?
Withdrawals via bank wire can take 5–7 business days.
---
How much is the maximum leverage at FBS?
In the EU, the leverage is limited to 1:30 for standard accounts and up to 1:500 for professional accounts.
---
How can I open an account with FBS?
An account can be opened online via the FBS website within 10 minutes.
---
What platforms does FBS offer?
FBS offers MetaTrader 4 and 5 and its own FB Trader mobile app.
---
What are the withdrawal fees at FBS?
FBS does not charge withdrawal fees, even for bank wire transfers.
---
Is FBS good for beginners?
With rich educational resources, a unique low-risk 'cent' account, and a user-friendly app, we judged FBS to be a good choice for beginners.
---
See FBS Full Information
Broker General Information
Trading Features
Other Details
| | |
| --- | --- |
| | Cyprus |
| | 2009 |
| | ASIC (Australia), CySEC (Cyprus), FSCA South Africa (South Africa), FSC Mauritius (Mauritius) |
| | No |
| | 201 |
| | ECN, No dealing desk, STP |
| | MT4, MT5, Proprietary |
| | United States, Russian Federation, Japan, Iran, Brazil, Israel, Canada, Myanmar, North Korea, Malaysia |
| | English, Spanish, French, Arabic, Portuguese, Japanese, Thai, Indonesian, Vietnamese, Malaysian |
| | $1 |
| | 1:30 (ASIC), 1:30 (CySEC ), 1:500 (FSCA South Africa), 1:3000 (FSC Mauritius) |
| | Wire Transfer, Credit Card, Skrill, Neteller, Mastercard, Rapid Transfer, Maestro, Visa |
| | Wire Transfer, Credit Card, Skrill, Neteller, Mastercard, Rapid Transfer, Maestro, Visa |
| | 2 |
| | 8 |
| | Bitcoin, Dash, Ethereum |
| | Currencies, Commodities, Indices, Stocks, Crypto |
| | Yes |
| | Yes |
| | No |
| | No |
Trade With A Regulated Broker