Coins Available

Accepted Countries

Payment Methods
Bibox is a truly unique cryptocurrency exchange that utilizes AI enhanced and encrypted algorithms to assist in optimal trades and transactions. The exchange was founded in 2017 and is owned and operated by a sophisticated team of Chinese blockchain and cryptocurrency experts. The team includes the co-founder of OKCoin and other founding members of Huobi.com which are among two of the largest cryptocurrency exchanges in China and the world. The Bibox exchange has a highly competent team and platform backing them up but still remains unregulated by any reputable regulatory authorities. However, this does not mean the exchange cannot be trusted. We must delve deep into the aspects that make up this cryptocurrency exchange and see what sets Bibox apart from the competition and whether or not they can be trusted.
Contents
Exchange Platform
Bibox offers their traders an exceptional web-based trading platform that is accessible directly from the Bibox website. The exchanges platform is beautifully designed for the ease of use and understanding of all its features. Traders have the choice to view a basic platform mode or a full-screen platform mode. The latter is somewhat more advanced and built for experienced traders who want to utilize the technical analysis tools provided. However, both versions of the platform offer the same features and just use a different layout. Both platform versions come complete with a sophisticated chart where traders can use a number of technical indicators and charting tools to analyze the price of the underlying digital asset. Also, traders can place multiple order types such as market orders, limit orders, and set stop-losses.

The unique aspect that sets the Bibox exchange platform apart from other cryptocurrency exchanges is that they have incorporated AI modules and other smart tools to allow the best trade deals to go through with minimum human interaction. However, there is not much information released on how this AI enhanced technology works. Another unique technology implemented by Bibox is a state of the art distributed cluster architecture which ensures the stability of the platform. Also, the exchange platform is fully compatible with all mobile devices through the Bibox downloadable application.

Exchange Markets
Bibox is a cryptocurrency exchange and offers only cryptocurrency assets to be traded. No fiat currencies are supported on the Bibox exchange, traders will have to acquire their cryptocurrency from elsewhere before using the Bibox exchange. That being said, the markets in which cryptocurrencies can be traded are Ethereum (ETH), Bitcoin (BTC), Tether (USDT), and dai (DAI). The dai cryptocurrency is a decentralized stable coin like Tether. The value is pegged to the US Dollar and the cryptocurrency assets available to exchange under this market are limited to:
The Tether market is the next smallest with following coins:
Bitcoin
Ethereum
Litecoin
Eos
Neo
Quantum
Bibox Token
As for the Bitcoin and Ethereum markets, they have a much larger number of cryptocurrencies available to exchange. Bibox is constantly adding and dropping coins so the list does change. However, there is always around 50 cryptocurrencies or more available to trade against Bitcoin or Ethereum.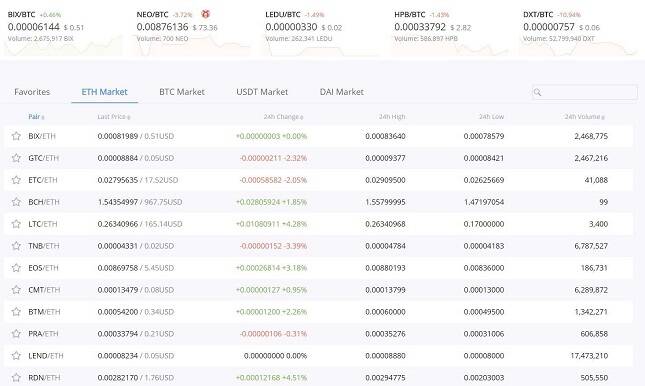 Fee
Traders who purchase Bibox's very own Bibox Token can use it to pay discounted fees on the Bibox trading exchange. This provides an incentive for traders to buy and hold the Bibox Token. Traders who do not hold the token are subject to paying a minuscule 0.1% trading fee on all trades. There are no fees for depositing cryptocurrencies but withdrawing cryptocurrency from the exchange comes with a charge of 1% of the withdrawal amount with a minimum of $15 withdrawn. It's not clearly stated how much of a discount you receive when paying these fees with the Bibox Token, but we know discounts are received.

Security and Fairness
The Bibox exchange implements the latest and greatest security protocols to protect their client's personal information, accounts, and funds. Such security protocols include SSL encryption technology, two-factor authentication methods through email, SMS messaging, and Googles Two-Factor-Authenticator. Also, the exchange claims to store the majority of user funds offline in cold storage wallets. Therefore, in the event of a hack, the majority of user's funds should be safe.
Support
Bibox's support team can be reached via email or a support ticket system. According to Bibox users, the support offered by the exchange is exceptionally good and representatives answer in a prompt and professional manner. This makes sense as the team behind Bibox is highly competent and responsive to many of the support requests themselves. Additional methods of support include the websites FAQ page which is quite limited, but some answers can be found there. Also, Bibox has a healthy presence on their social media channels.
Pros and Cons
Pros
Extremely easy to use and navigate
Very low trading fees
Sophisticated trading platform with AI features
A large array of cryptocurrency assets
Cons
Not a regulated exchange
No fiat currencies supported
FAQ
Here are some of the most common questions that are asked about Bibox crypto trading service.
No. Bibox is not a regulated cryptocurrency exchange.
Bibox is based out of Hong Kong.
How does Bibox make money?
Bibox charges market maker and taker fees for each trade transaction. As well, they charge withdrawal fees. However, the fees charged by Bibox are some of the lowest in the industry.
How do I deposit in Bibox account?
Bibox only accepts cryptocurrency deposits.
How do I withdraw money from Bibox?
You can withdraw from Bibox through sending your cryptocurrency to your personal wallet address.
Can I trade on Bibox with my mobile device?
Yes, you can use your mobile device to trade on Bibox through their downloadable mobile application.
Bibox has proven to be a reliable and trusted exchange that has yet to be hacked.
No. Bibox is a very legit exchange and is not a scam.
Conclusion
Upon reviewing the Bibox cryptocurrency exchange, it became evident that the exchange offers exceptional cryptocurrency trading services. Bibox offers a wide variety of cryptocurrencies to exchange in a number of markets. The website and platform operate very smoothly, and the customer support is pretty good as well. It is unfortunate that this exchange doesn't offer fiat currency pairings, but this isn't a make or break deal for many. All in all, the Bibox exchange is a pretty good exchange with decent trade volume and very low fees.
Bibox
Features
Coins Available
Bitcoin

Ethereum

Ethereum Classic

Litecoin

EOS

aelf

Qtum

NEO

Bitcoin Cash
Accepted Countries
Australia

Cameroon

Chad

Canada

Denmark

France

Greece

Haiti

Iceland

Libya

Mexico

Nepal

Belize

Romania

Cape Verde

Senegal

Sri Lanka

United Kingdom

Eritrea

Gambia

Indonesia

Lebanon

Angola

Malta

Bahamas

Benin

Chile

Ghana

Gibraltar

Grenada

Serbia

Guinea-Bissau

Syria

Tonga

Kenya

Finland

Namibia

Oman

Jamaica

Palau

Solomon Islands

Kyrgyzstan

Tunisia

Montenegro

Peru

Sweden

Trinidad and Tobago

Yemen

Bulgaria

Colombia

Belarus

Bahrain

Cuba

Cyprus

Algeria

Burkina Faso

Cambodia

Kuwait

Russian Federation

Saint Lucia

South Sudan

Tanzania

Turkey

Virgin Islands, British

Japan

South Korea

Malawi

Maldives

Netherlands

Botswana

Qatar

Saint Vincent and the Grenadines

Slovenia

Sudan

Taiwan

Tuvalu

Vatican City

Uruguay

Malaysia

Moldova

Nauru

Papua New Guinea

Zambia

Andorra

Bolivia

Afghanistan

Congo

Cote d'Ivoire

Laos

Dominican Republic

Mauritania

Egypt

Gabon

Morocco

Uganda

Nigeria

Swaziland

Vietnam

Austria

Barbados

Bosnia and Herzegovina

Djibouti

Equatorial Guinea

Comoros

Estonia

Fiji

Ethiopia

Mali

Hong Kong

Ireland

Italy

Philippines

Macedonia

Poland

Madagascar

Sierra Leone

Vanuatu

Panama

Portugal

Samoa

Saudi Arabia

Timor-Leste

Albania

Burundi

Guinea

Iran

Armenia

Bangladesh

Belgium

Kiribati

Lithuania

Bhutan

Mongolia

Cayman Islands

Myanmar

Niger

Rwanda

Sao Tome and Principe

Slovakia

Czech Republic

Thailand

United Arab Emirates

Ecuador

Germany

India

North Korea

Liberia

Liechtenstein

Luxembourg

Monaco

Mozambique

New Zealand

Pakistan

Togo

Uzbekistan

Venezuela

Zimbabwe

Antigua and Barbuda

Croatia

Argentina

Guyana

Kazakhstan

Lesotho

Central African Republic

Norway

Paraguay

San Marino

Spain

Suriname

Switzerland

Tajikistan

Guatemala

Honduras

Iraq

Mauritius

Nicaragua

Singapore

Somalia

Azerbaijan

Brazil

Brunei

China

Costa Rica

El Salvador

Hungary

Israel

Jordan

Seychelles

South Africa

Isle of Man

Kosovo

Ukraine

Turkmenistan
Payment Method
Deposit Options
Credit Card
Withdrawal Options
Credit Card
Company Information
| Exchange Details | Info |
| --- | --- |
| Headquarters Country | United States |
| Foundation Year | 2017 |
| Type | exchange |
| Trading Allowed | Yes |
Trade With A Regulated Broker