Coins Available

Accepted Countries

Payment Methods
Coinmama is an online cryptocurrency exchange supporting the purchase of cryptos.
Launched back in 2013, Coinmama is registered in Slovakia, while owners New Bit Ventures are based in Israel. The platform was established to create the simplest financial service in the crypto space. Since the genesis, Coinmama is trusted by over 2,300,000 people across 197 countries.
Having been launched back in 2013, Coinmama was also amongst the first to support the purchase of Bitcoin with credit and debit cards.
Since the early years, Coinmama has continued to add cryptos to its offering not to mention alternative payment methods.
Payment methods for the purchase of cryptos include Faster Payments, Fedwire, Sofot, SEPA, SWIFT, and Apple Pay.
Coinmama users are able to freely insert the exact amount of USD, EUR, GBP, CAD, AUD, or JPY to purchase crypto.
Cryptos supported by Coinmama include Bitcoin ("BTC"), Bitcoin Cash ("BCH"), Cardano's ADA ("ADA"), EOS ("EOS"), Ethereum ("ETH"), Ethereum Classic ("ETC"), Litecoin ("LTC"), Qtum ("QTUM"), and Tezos ("XTZ").
CoimMama's Video Review
Contents
Coinmama Platform Attributes
Key attributes of the Coinmama platform include:
Customer support: Customer support delivered in multiple languages to cover Coinmama's global footprint.
Fast track verification: The sign-up and verification process takes a matter of hours in total.
Get your favorite coins: Cryptos on offer include the most popular within the crypto sphere.
Global reach: Coinmama serves 197countries across the globe as well as a vast number of U.S states. U.S states serviced by Coinmama total 43.
High spending limits: Amongst the highest daily limits in the industry.
Instant delivery: Upon payment, Coinmama delivers cryptos to your crypto wallet immediately.
Multiple payment options: Users can purchase cryptos with credit and debit cards, Apple Pay, or bank transfer. Bank transfer options include Faster Payments, Fedwire, Sofort, SEPA, SWIFT, and Apple Pay. Available options are dependent upon location.
Simple to use: The platform is simple to use making it accessible for both advanced and novice crypto investors.
The Affiliate Program
Coinmama has a rewarding affiliates program. Affiliates can:
Earn 15% of Coinmama's commission on all referral purchases included all their future purchases.
Receive unlimited Bitcoin. The more referrals an affiliate makes, the more Coinmama pays in Bitcoin.
Coinmama pays all earnings monthly in arrears.
Rewards are paid only after 3 successful orders made by at least 3 different users.
Becoming an affiliate is fast and easy. Simply register and direct referrals to the Coinmama site with your customized referral link. This can be located under the "Marketing Tools" tab in your Coinmama account.
The Pros and Cons
Pros
A very user-friendly platform supporting both novice and experienced crypto investors.
Coinmama offers a wide range of cryptos that are amongst the most popular cryptos in the market.
Supports the purchase of cryptos with multiple fiat money options to facilitate entry into the crypto world.
There are no additional fees for the withdrawal of coins from Coinmama.
Coinmama delivers coins within minutes of purchase. This particularly important in the volatile world of crypto.
Users' funds and cryptos are not held directly by Coinmama. This ensures that user assets are protected from theft.
Rapid verification process.
Other positives include
Strong emphasis on security as a crypto platform falling under the purview of FINCEN. Coinmama is the property of New Bit Ventures Ltd, which is a regulated Money Services Business licensed by FINCEN and IMPA.
Cons
No advanced tools for trading Bitcoin and other cryptos.
No call center for customer support. Coinmama does provide 24/7 email support, however.
Coinmama only supports the sale of Bitcoin, and not the other Coinmama supported cryptos. Users may withdraw proceeds by bank transfer, or by credit or debit card. (Coinmama is planning to expand this beyond Bitcoin in the near-term, however).
Relative to some of its peers, the number of cryptos on offer is on the lighter side. While this is the case, the most popular cryptos are available.
Users must complete the verification process to buy and sell cryptos. This removes anonymity while protecting users.
Exchange Services, Supported Cryptocurrencies & Payment Methods
Coinmama provides an exchange to support the buying and selling of cryptos.
Cryptos offered on the Coinmama exchange include Bitcoin ("BTC"), Bitcoin Cash ("BCH"), Cardano's ADA ("ADA"), EOS ("EOS"), Ethereum ("ETH"), Ethereum Classic ("ETC"), Litecoin ("LTC"), Qtum ("QTUM"), and, Tezos ("XTZ").
The platform allows users to purchase crypto with fiat money. Users can either make purchases by credit or debit card or via fund transfers.
Options available include Faster Payments, Fedwire, SEPA, Sofot, and Swift bank transfers and Apple Pay. Transfer options vary depending upon user domicile.
Coinmama also supports multicurrency purchases of cryptos. Crypto purchases can be made in Aussie Dollar, Canadian Dollar, EURO, Japanese Yen, British Pound, and U.S Dollars.
Users can either purchase cryptos by way of packages from the "Buy" page or purchase specific amounts.
It is important to note that, while users can buy the most popular cryptos, users can only sell Bitcoin. While this may be a drawback for some, users who sell their Bitcoin on Coinmama receive fiat money equivalent via bank transfers.
Registration
To open an account, go to the Coinmama home page and click on "Sign Up" on the top right-hand side of the home page. (As shown below).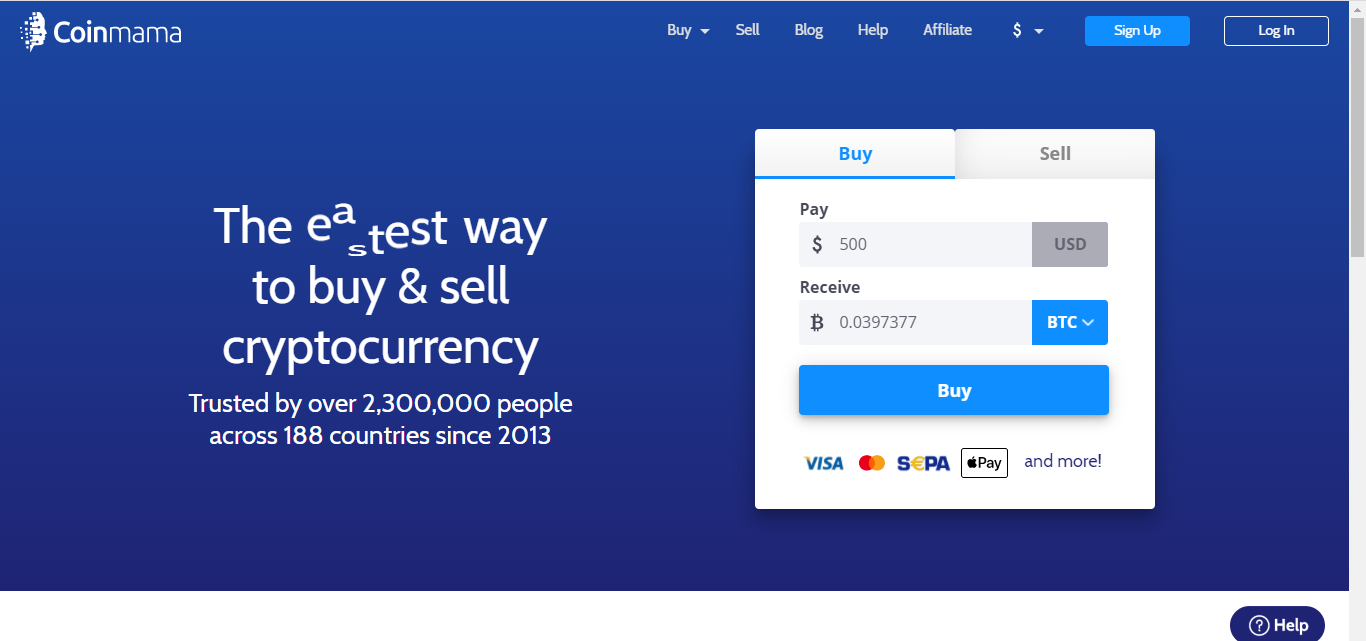 Complete the information requested. This includes name, email, password, and country of residence.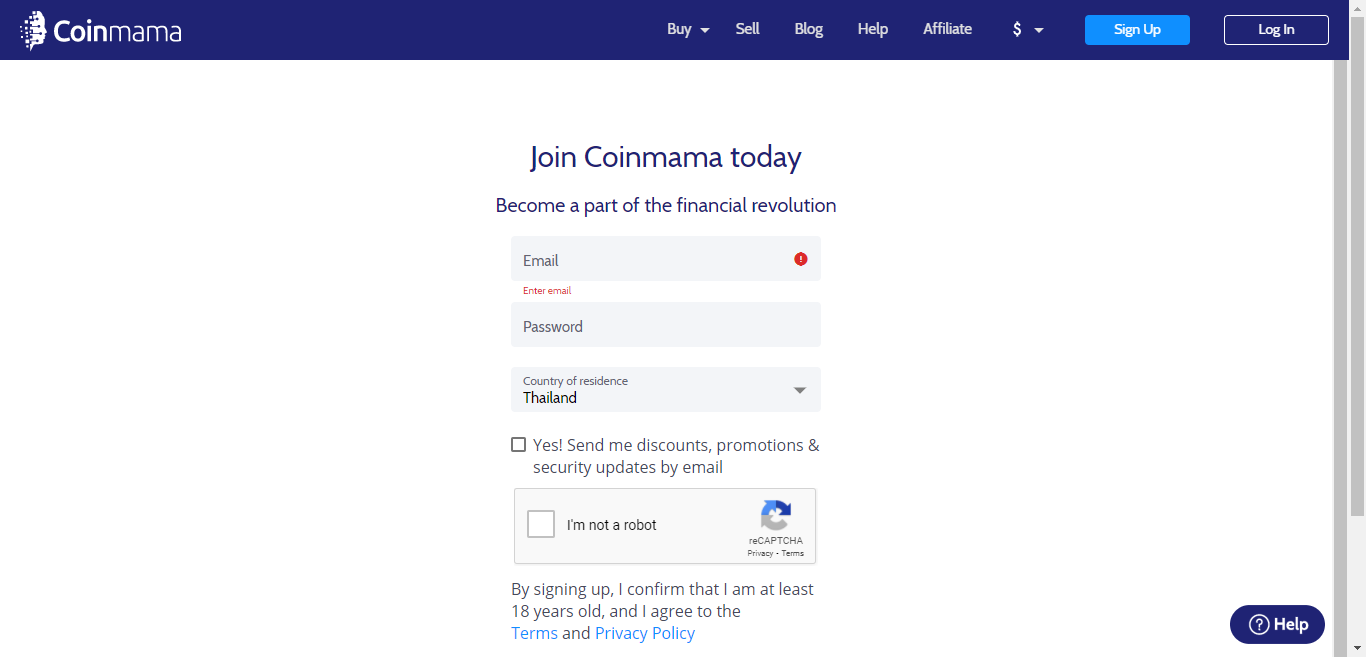 Once you have created your account, Coinmama will then prompt you to complete your profile. This is the account verification process. You will require the following:
Government-issued ID
Your mobile phone with a working camera to take a selfie.
When ready to proceed, click "Complete My Profile" as shown below.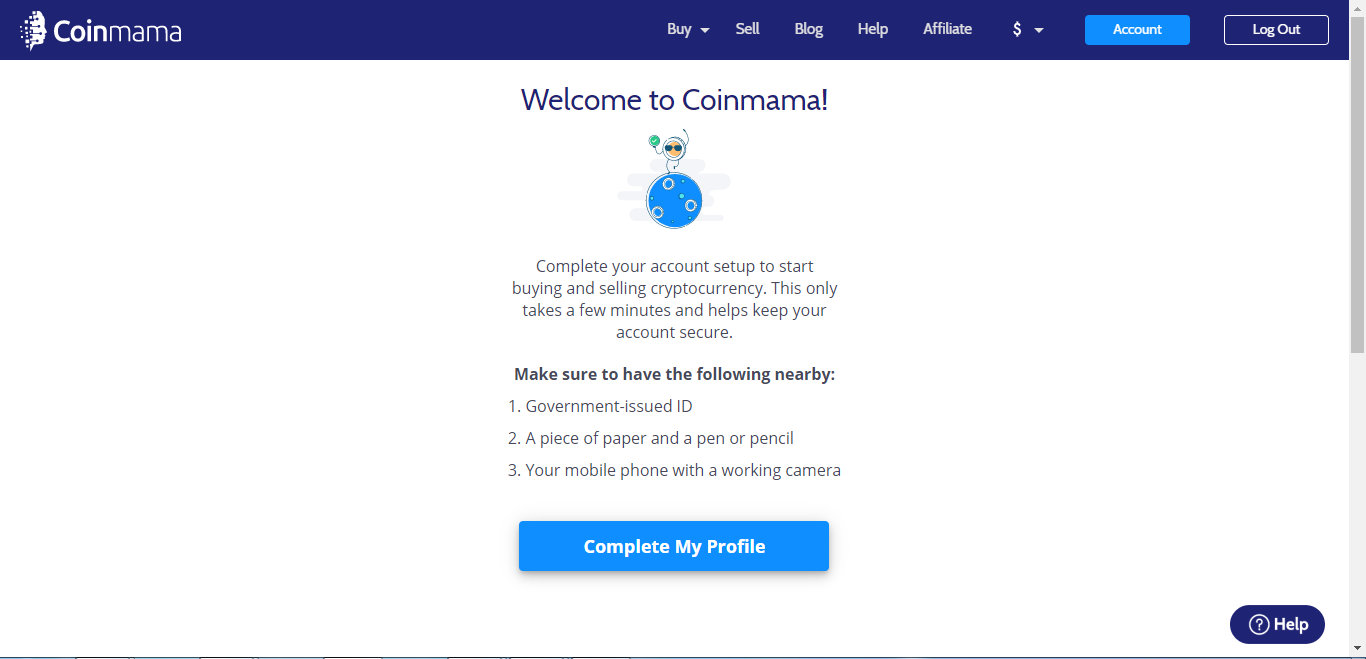 Follow the step-by-step instructions.
You are required to enter your full name, DOB, and sex and then click "Next".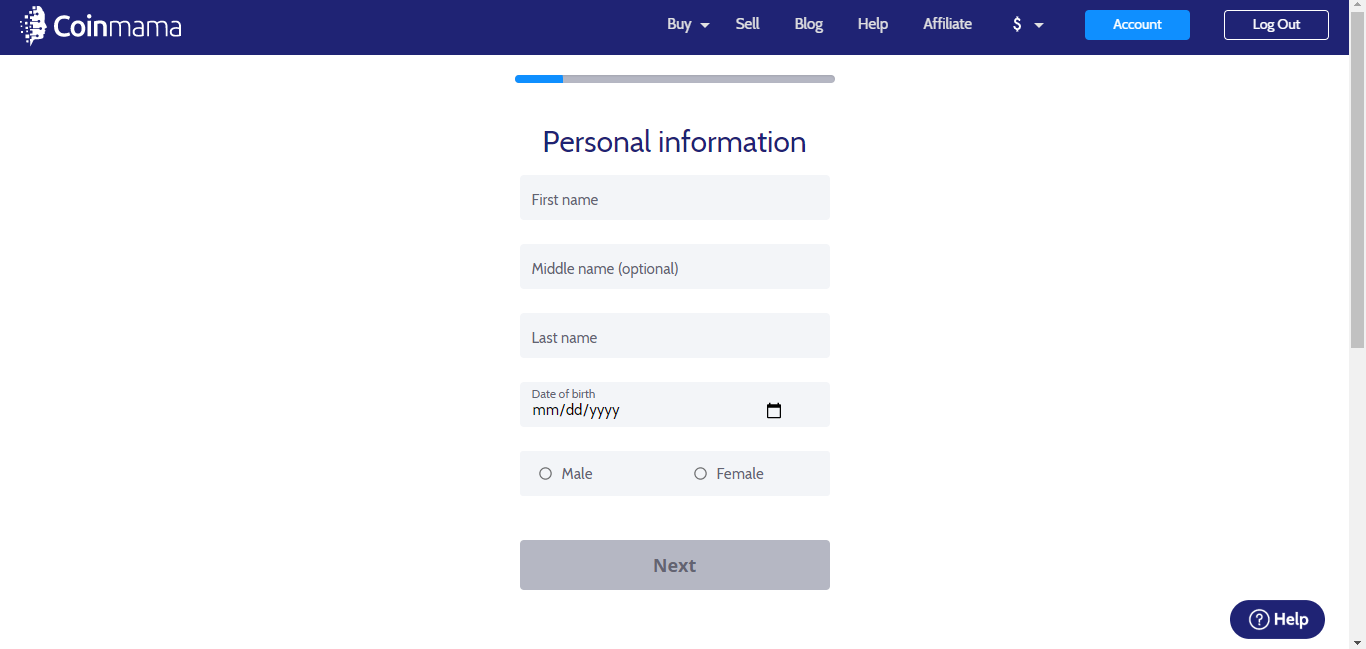 You will also need to enter your country of residence and provide your address and phone number. Upon completion of the information, click "Next".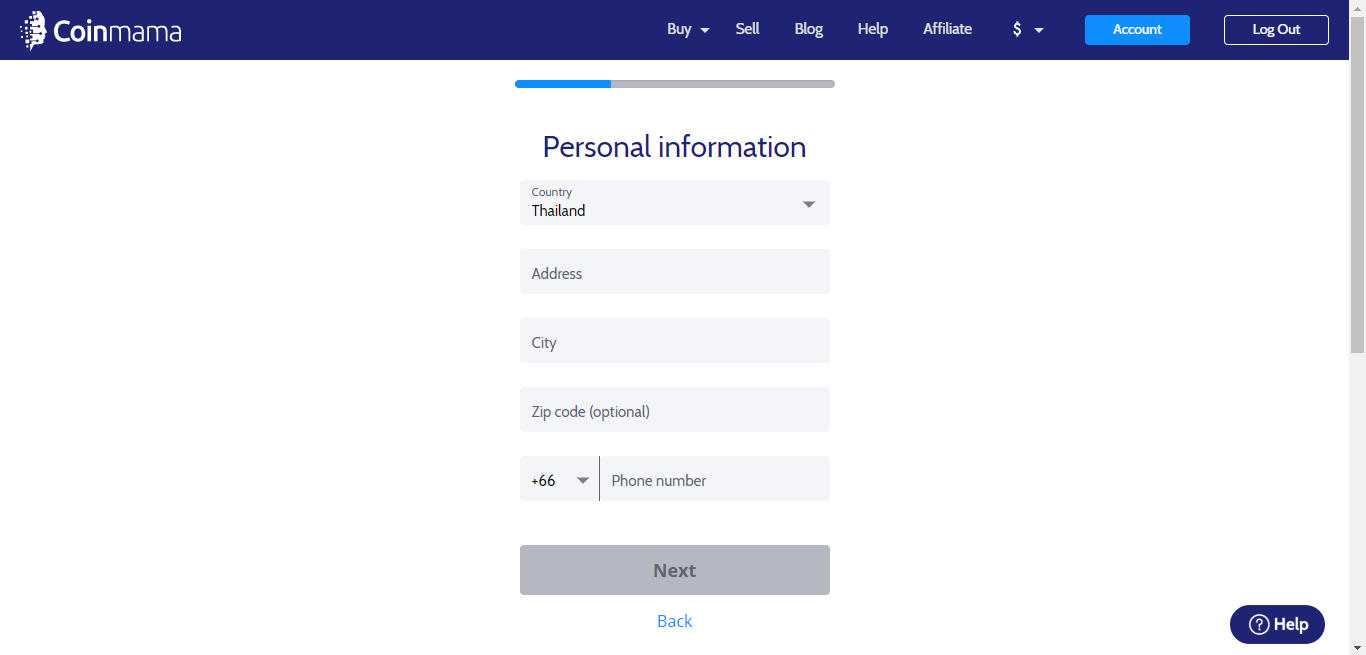 Verification Process
You are then required to upload your identification as well as additional photos in order to complete the KYC process. When you have your ID, mobile phone, and pen and paper ready, click "Let's Go".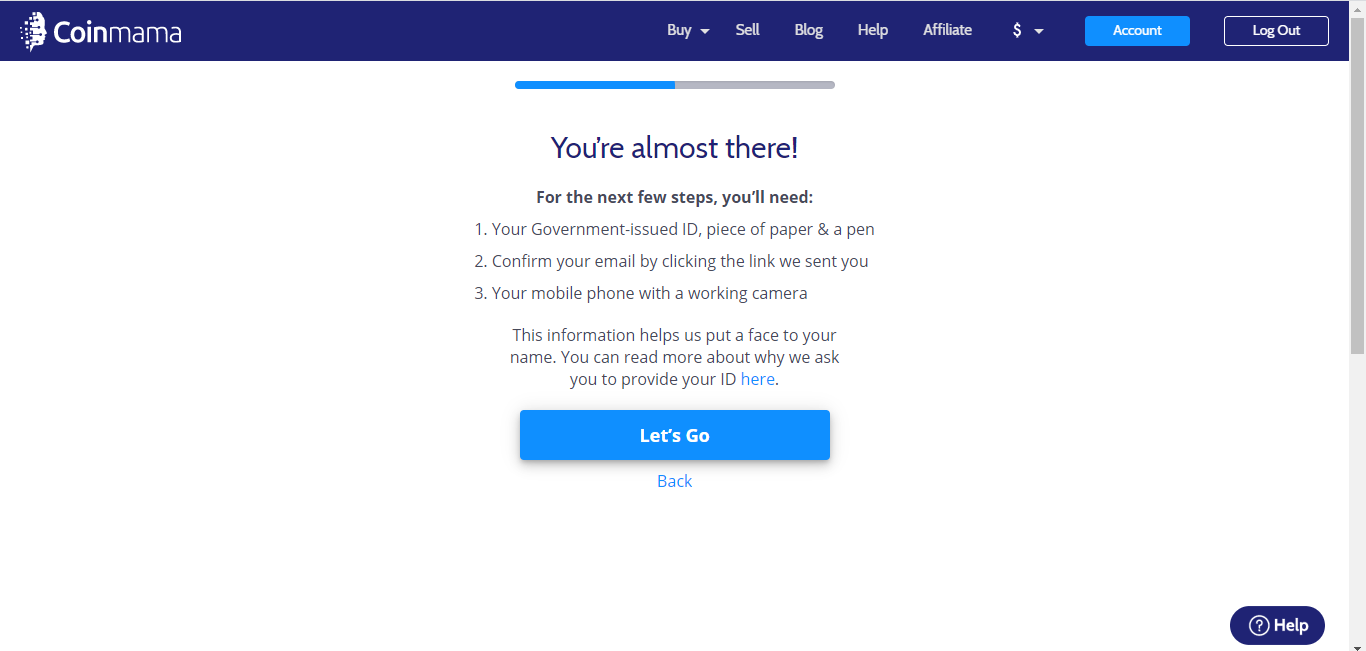 Firstly, you will need to choose your Government ID Type and issuing country from the drop-down menus. Then enter your ID number and expiration date.
Upon completion, click "Next".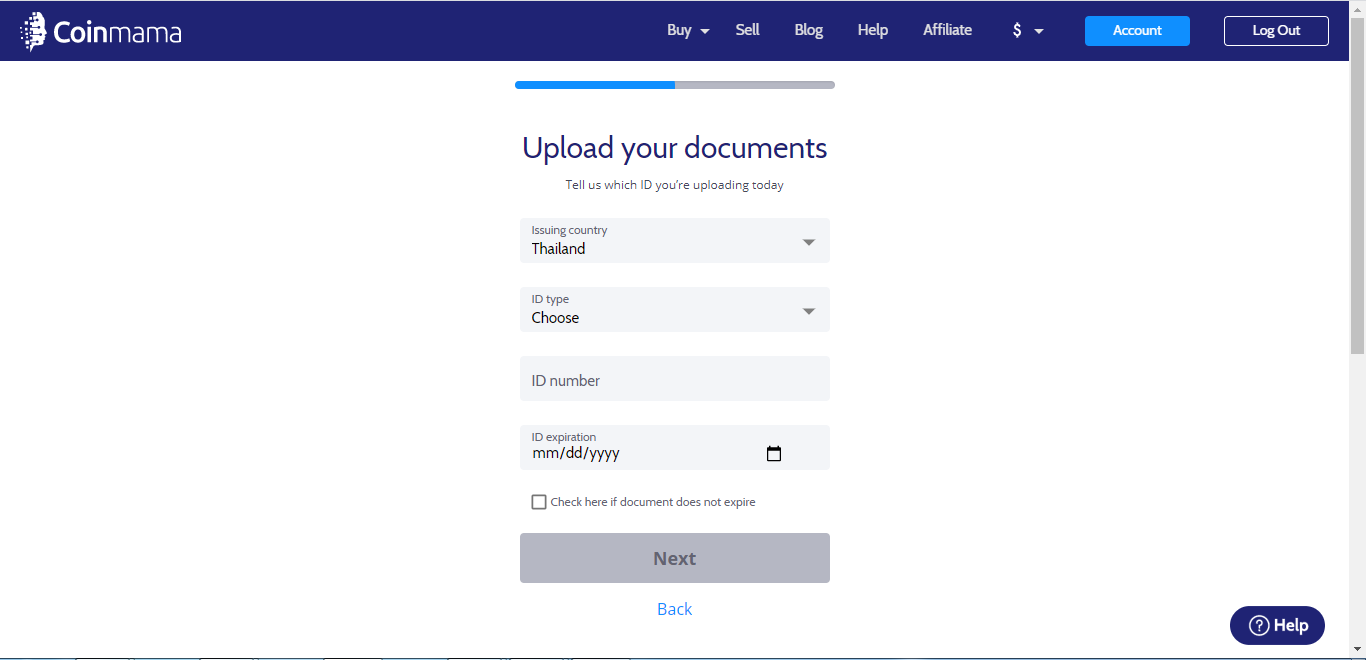 Now, you need to upload your documents. Coinmama offers you the choice of continuing with your desktop or switching to your mobile phone. For demonstrative purposes, we will keep going with the desktop.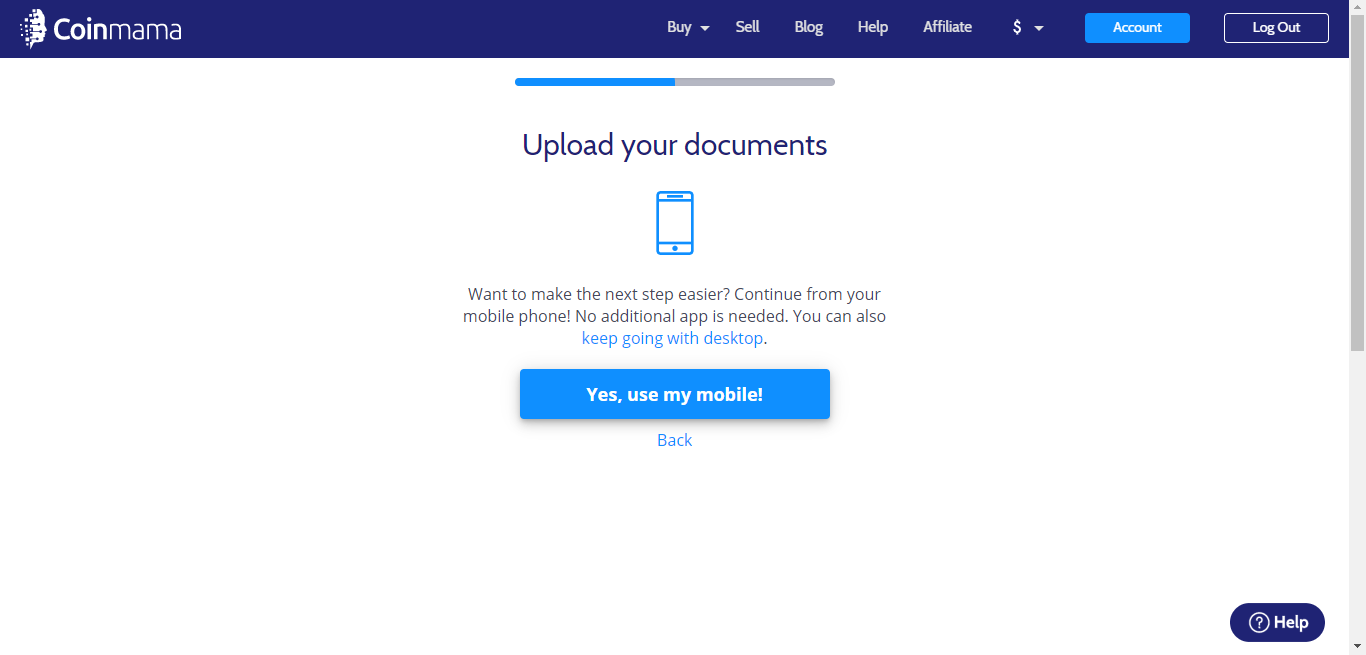 Upload your passport, following the instructions provided. As instructed, ensure that:
All four corners are visible.
The text is clearly readable.
The image is in color and unaltered
Then click "Looks Good"
Now take a selfie. The photo must contain the ID you just uploaded and a piece of paper with Coinmama written on the piece of paper along with today's date.
For completion of the verification process, please ensure the following:
Your entire face is visible.
The image and the text of your ID are clearly readable.
You're holding both the ID and the paper note yourself.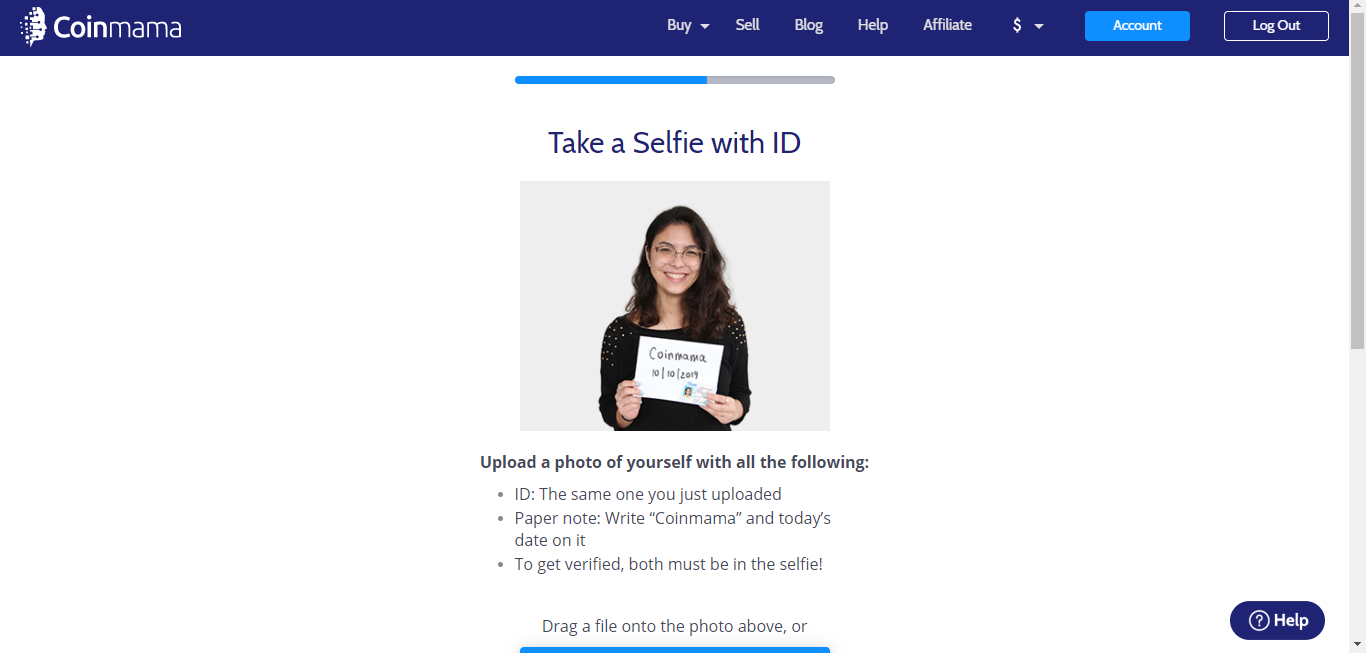 Once you have uploaded the selfie, click "Looks Good".
Now you will need to confirm via a confirmation link sent to your email address.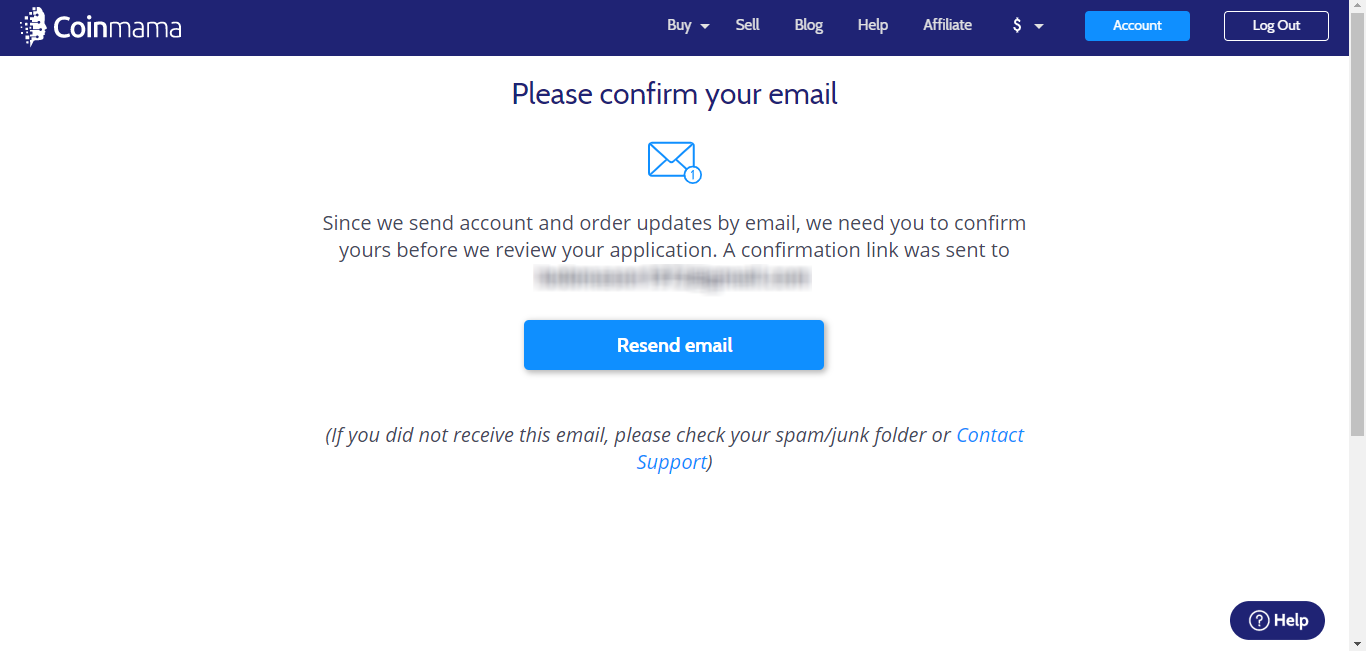 Go to the Coinmama confirmation email and click "Confirm Your Email".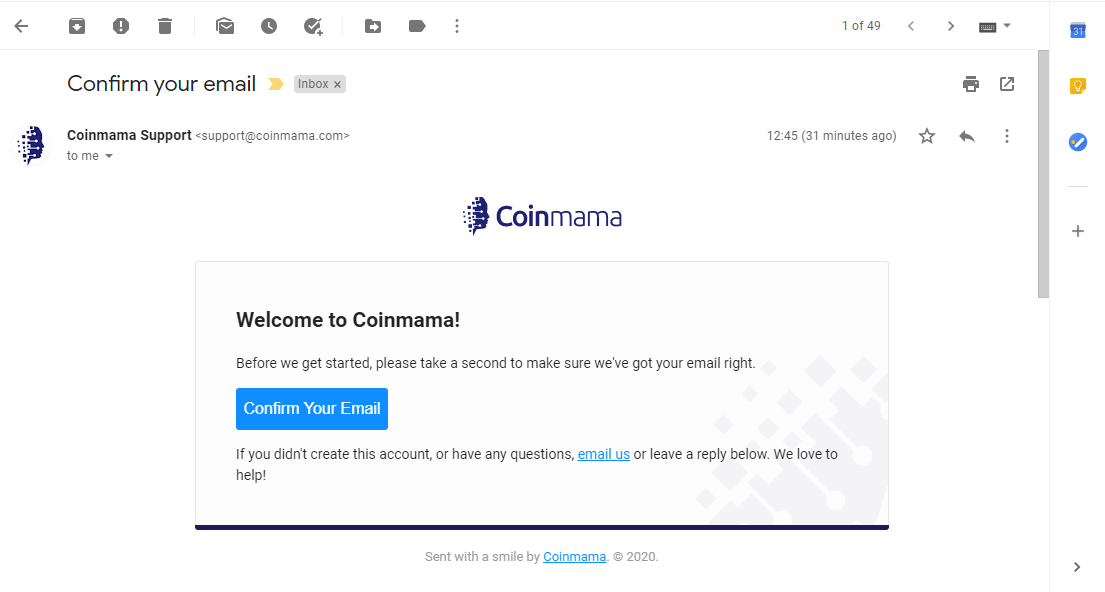 At this stage, Coinmama will proceed with the verification process and notify you by email upon completion. The document verification process usually takes around 30 minutes, which is one of the quickest in the market. At peak times, however, the verification process could take a couple of hours.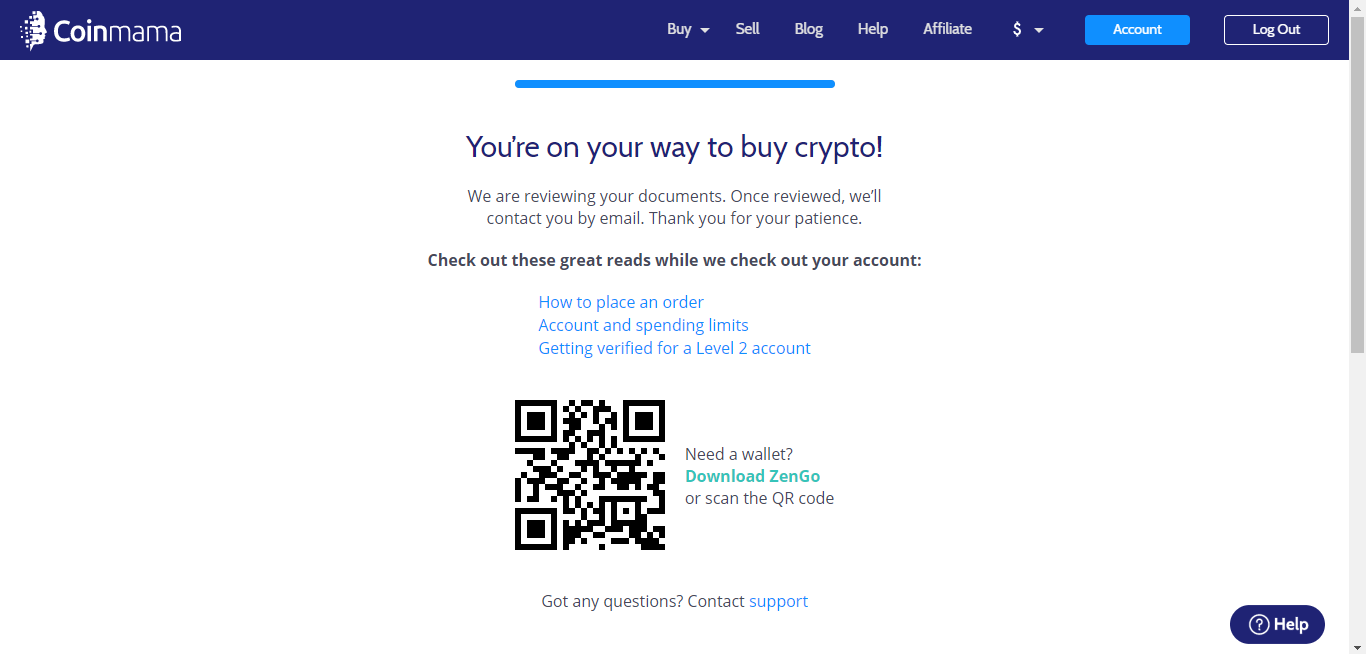 While you wait, we recommend that you familiarise yourself with the platform. Coinmama provides you with articles to read in order to become acquainted.
Supported Cryptocurrencies
The following cryptos are available for purchase on Coinmama: Bitcoin ("BTC"), Bitcoin Cash ("BCH"), Cardano's ADA ("ADA"), EOS ("EOS"), Ethereum ("ETH"), Ethereum Classic ("ETC"), Litecoin ("LTC"), Qtum ("QTUM"), and Tezos ("XTZ").
Users can locate the cryptos available for purchase on Coinmama by clicking the "Buy" dropdown menu as shown below: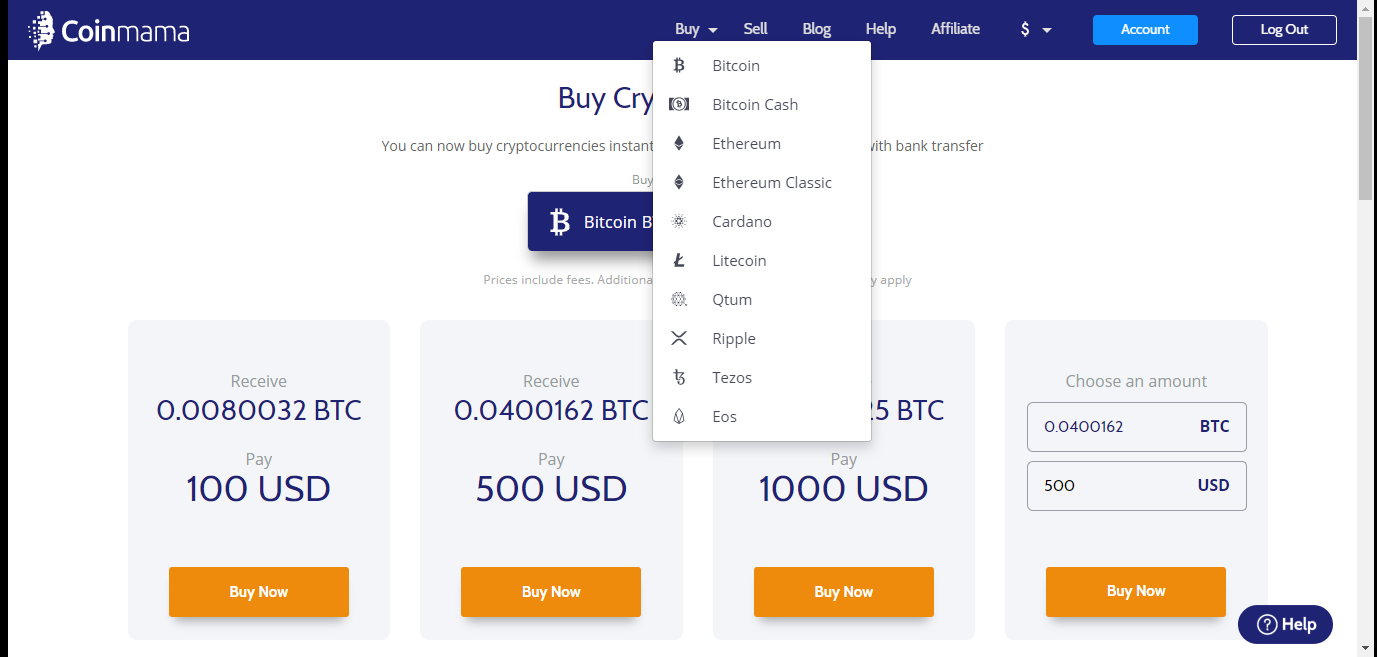 The Details
Coinmama supports the purchasing of cryptos and the sale of Bitcoin.
Users are able to purchase Coinmama supported cryptos by credit or debit card or by bank transfer.
All cryptos are immediately transferred to the purchaser's specified wallet upon purchase.
It is important to note that Coinmama does provide exchange crypto wallets to house purchased cryptos.
Fees and Charges
Buying Fees:
The crypto price shown on Coinmama is based on a service called TradeBlock XBX. TradeBlock XBX lists an average of known provider rates, to which Coinmama adds 2% (Std Dev) and includes Coinmama's commission fee of up to 3.9%.
Fees incurred on buy orders depend both on the user loyalty level and method of payment. In summary:
There is a commission fee of up to 3.9%.
Coinmama's fees vary depending upon the payment method.
On transactions with a locked crypto rate and instant deliver (credit/debit cards) there is an additional 5.0% momentum fee.
Orders placed by bank transfers do not incur a momentum fee and carry no additional fees.
SWIFT bank transfer orders have a minimum order amount of 1,000 USD, however. A flat fee of 20 GBP is charged for users wishing to make an order below 1,000 USD.
Selling Fees: These are tiered and correlate with a user's loyalty program level. Rates are calculated by the XBX Index average + 2% (STD dev) + Coinmama sales fee of between 0.1% and 0.9%.
Curious Level (Regular Account): 2.9%
Crypto Enthusiasts (Level 2): 2.5%)
Crypto Believers (Level 3): 2.1%.
Coinmama Wallets
Coinmama does not provide users with wallets on the exchange. Upon completion of a crypto purchase, all coins are remitted directly to your external wallet. You are required to provide your wallet details during the transaction process.
Coinmama does provide users with the QR code and download link for ZenGo in case you do not have any crypto wallets.
The Coinmama Crypto Platform
Coinmama provides a very simple to use platform supporting the purchase of cryptos.
You may make a purchase via the "Buy" page and select the crypto of your choice from the drop-down menu, as shown below: (For demonstrative purposes, we have selected Bitcoin)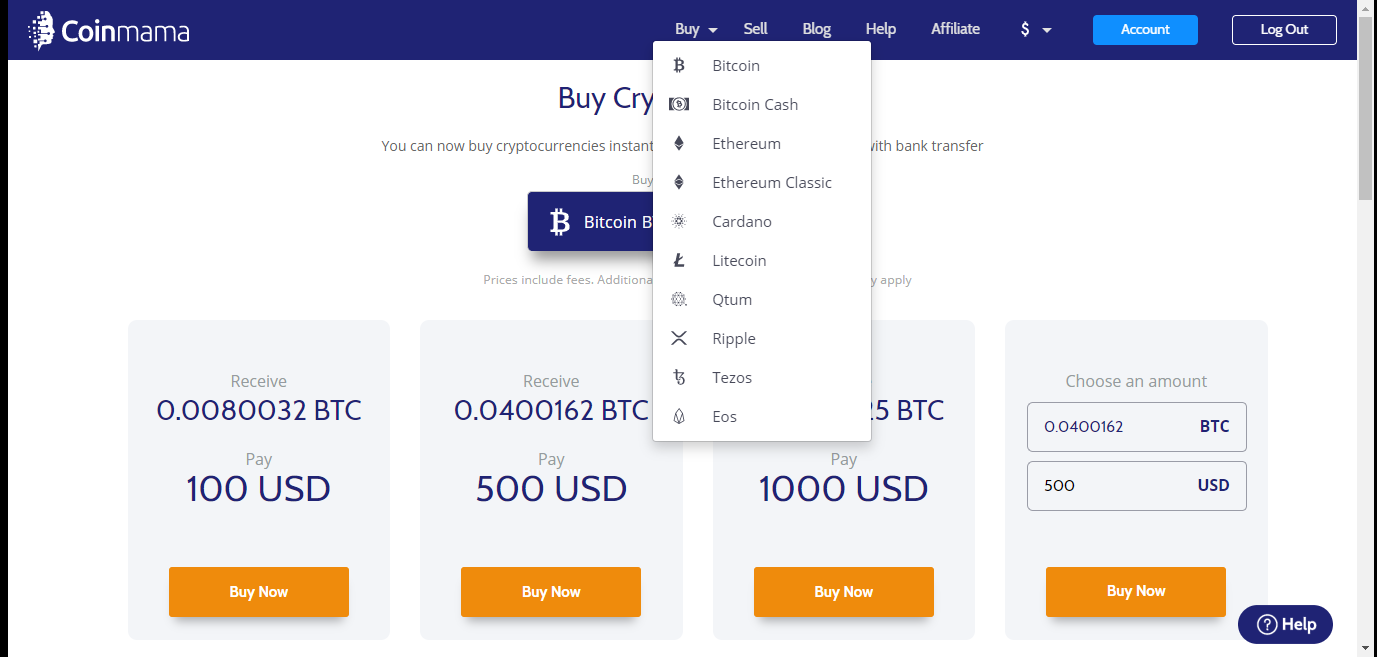 You may either chose one of the Bitcoin packages on offer or you may choose the amount of Bitcoin you wish to purchase by entering the amount of Bitcoin or USD equivalent. See below:
Once you have decided on the USD equivalent amount of Bitcoin or the number of Bitcoin you wish to purchase, click "Buy Now."
Do note that there is a minimum purchase amount of USD50 equivalent.
Once you have clicked "Buy Now", you will be prompted to enter your target crypto wallet address and choose your payment method.
Payment methods include:
Faster Payments (UK Banks Only): Delivery is up to 1 business day and there are zero additional fees.
Credit or Debit Card: 5% momentum fee: Locked rate and fast delivery that is instant.
SEPA Bank Transfer (EU Banks Only): Delivery is up to 1 business day and there are no additional fees.
ApplePay: Allows millions of Apple users a seamless experience when buying Bitcoin. Available via the mobile app.
Other payment methods include Fedwire, Swift and Sofort.
There is a USD15,000 limit on the purchase of cryptos by credit or debit card.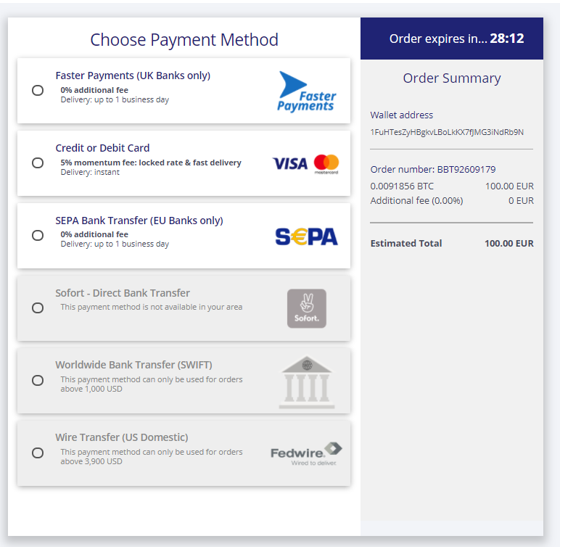 Once you have completed the payment details, complete the transaction. Your crypto wallet will then be funded with the cryptos that you have purchased.
There are no withdrawal fees when purchasing cryptos on the Coinmama platform.
Coinmama also supports the purchase of cryptos in Aussie Dollars, Canadian Dollars, EUROs, Great British Pound, and Japanese Yen.
In order to change the purchase currency, simply go to the current dropdown menu and select your preferred currency.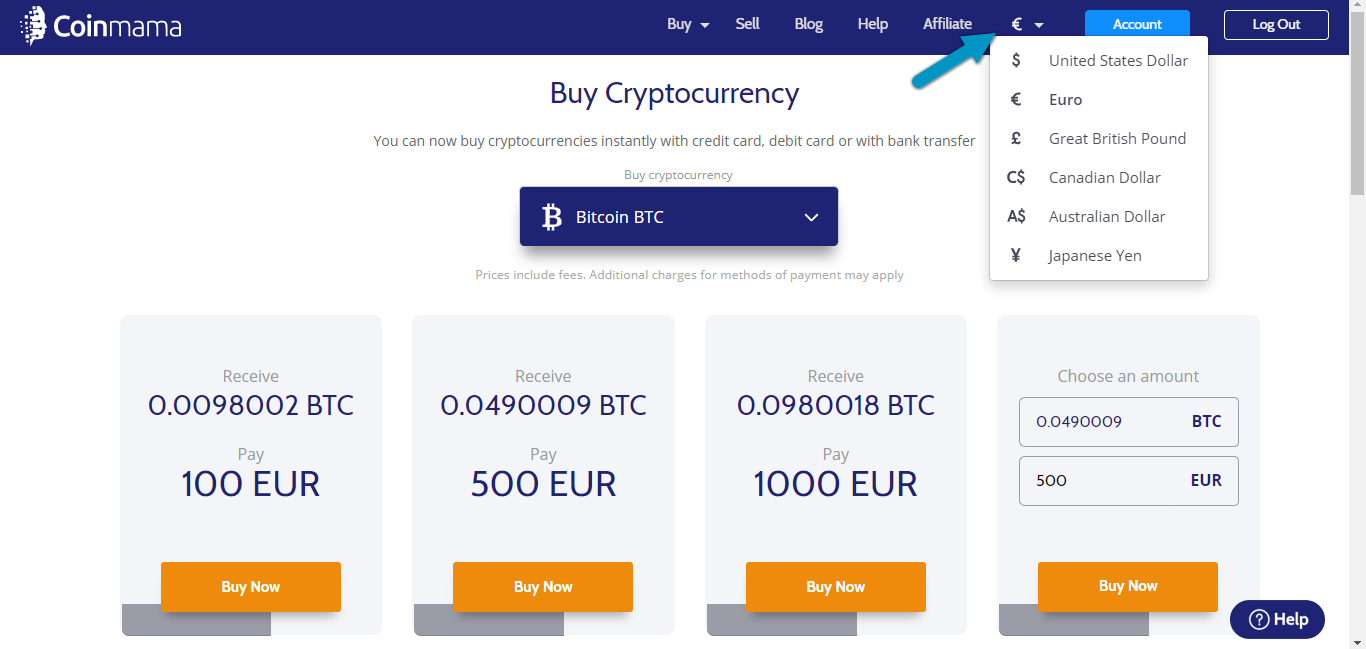 Sell
In order to sell Bitcoin, click the Sell icon located at the top of your Coinmama page.
Enter the number of Bitcoin that you wish to sell and then click "Sell".
You then need to provide your bank details.
Send the Bitcoins that you wish to sell to the Bitcoin wallet address provided.
Once Coinmama receives the Bitcoins, the transaction will be processed and funds remitted to your bank account.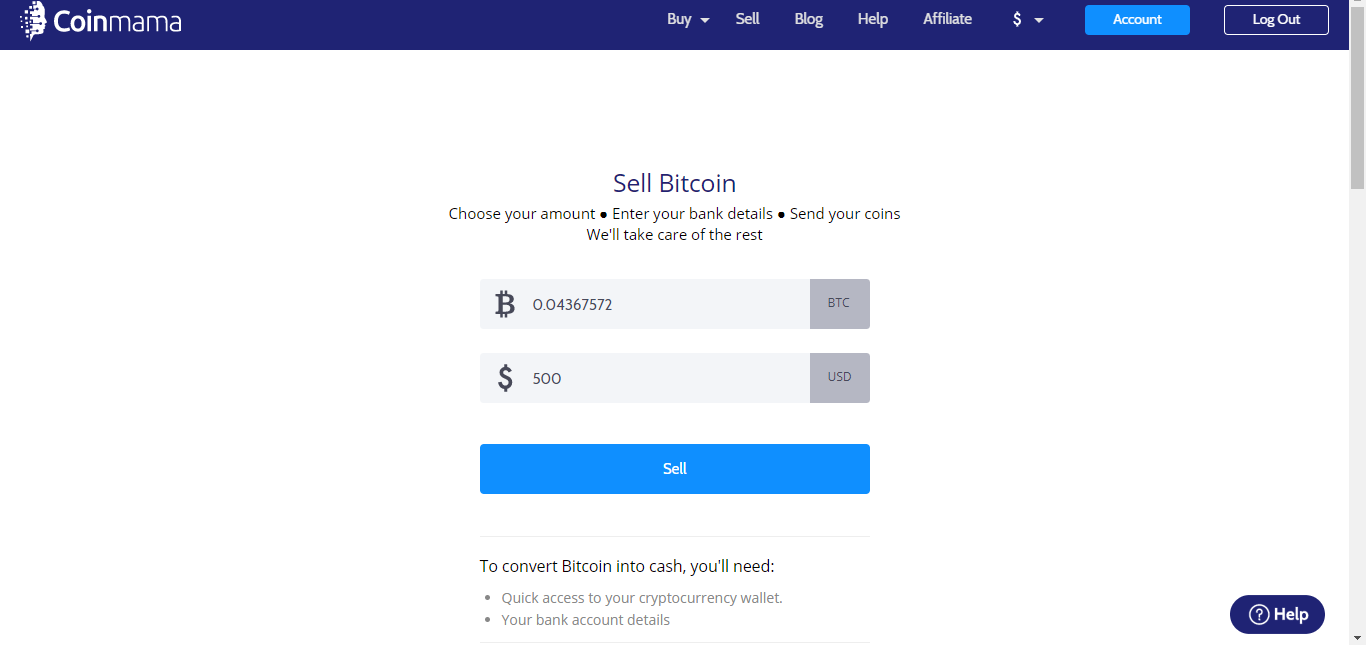 Key features of the Coinmama platform
Loyalty Program: The more crypto you buy or sell with Coinmama, the more you save. Coinmama has 3 levels of savings. Upon promotion to a higher level, you need to meet a cumulative minimum purchase amount over a rolling 90-day period to maintain your status.
Level 1 – Crypto Curious: New Coinmama users are Crypto Curious.
Level 2 – Crypto Enthusiast: Save 12.5% on Coinmama fees. Crypto Enthusiasts not only enjoy reduced fees but also fast track customer support. You need a cumulative purchase amount of 5,000 USD over a 90-day rolling period to maintain status.
Level 3 – Crypto Believer: Save 25% on Coinmama fees and enjoy queueless customer support.

To qualify you must have been purchasing cryptos for at least 30-days. In order to maintain your Believer status. You must make a cumulative purchase amount of 18,000 USD over a 90-day rolling period. You can also make a lifetime purchase amount of 50,000 USD.
Help Centre: A comprehensive library of articles is available to assist users with queries. These are available on the Help Center page.
Buy Crypto: Coinmama users are able to purchase supported cryptos by credit or debit card or by bank transfer or Apple Pay.
Sell Crypto: Users are able to sell Bitcoin on the Coinmama platform.
Blog: A dedicated blog page delivers users with the latest crypto news and views, key for any crypto investor.
Affiliate: Affiliates earn 15% of Coinmama's commissions on all referral purchases, including all their future purchases.
Privacy and Security
Coinmama protects users with a high level of security.
Security measures taken include:
KYC process to protect all user accounts and minimize fraud.
Coinmama holds no cryptos for users on the exchange.
Also, Coinmama does not store user credit card or bank details.
Since Coinmama neither holds cryptos on the exchange nor stores customer information, there is no 2-factor authentication. Coinmama does recommend that users enable 2-factor authentication on any wallet apps, however.
Customer Support
In order to contact customer support, click the "Help" icon that is located at the bottom right of your Coinmama page.
You may also:
Use the search option to find the answer to your question.
Submit a support request here.
Send an email to support@coinmama.com.
Submit a query via Facebook messenger on the Coinmama Facebook homepage.
Do note that Coinmama's customer service hours are 7:00 AM – 24:00 AM GMT.
Social Media: Coinmama has a growing social media presence:
Facebook: https://www.facebook.com/Coinmama/
Twitter: https://twitter.com/coinmama
LinkedIn: https://www.linkedin.com/company/coinmama
Instagram: https://www.instagram.com/coinmamaofficial/
Additional Information
There are plenty of articles available via the help center to assist users in navigating and understanding the processes.
Users can click the "Chat" link and search by topic for filed articles. Users may also scroll down to the bottom of the exchange page to access the FAQ section, which is located under "Quick Links".
Some of the more frequently asked questions available on Coinmama include:
Does Coinmama facilitate trades between buyers and sellers?
No. Coinmama sells cryptos out of its personal inventory. All transactions are between the user and Coinmama.
Do you offer your service internationally?
Depending on your country of residence, you may not be able to use all the functions of the site. It is your responsibility to follow those rules and laws in your country of residence or in the country from which you access this site and service.
Where is Coinmama registered?
Coinmama is a property of NBV International s.r.o, which is a daughter company of New Bit Ventures Ltd. Both companies are regulated entities registered as Money Service Businesses with FinCEN.
Why must I provide my personal details?
As a financial service, Coinmama is committed to the highest security and privacy standards. This also helps keep your account safe, fight fraud, and more. The process is called verification and is something everyone must go through before buying crypto anywhere. After submitting your details for verification, we'll then quickly go over it and make sure everything looks good. This usually happens within the hour.
Conclusion
Coinmama is a user-friendly crypto exchange platform supporting the buying and selling of cryptos.
Offering a wide broad range of cryptos, Coinmama fills a much-needed void, by supporting the purchase of cryptos with fiat money.
Undoubtedly, an added benefit is that users can also sell Bitcoin for fiat money.
Coinmama ensures speed of delivery, with cryptos reaching buy wallets within minutes.
Together with offering amongst the highest daily buying limits in the industry, it justifies its global reach of more than 188 countries.
Numerous crypto exchanges and trading platforms do not facilitate the sale of cryptos and withdrawal of fiat money.
With Coinmama, users are able to sell Bitcoin, even if purchased elsewhere and receive fiat money directly in their bank account.
Coinmama
Features
Coins Available
Bitcoin

Ethereum

Litecoin

Bitcoin Cash

Dash

Zcash

Bitcoin Gold

KickCoin

Altcoin
Accepted Countries
Australia

Cameroon

Chad

Dominica

Canada

Denmark

France

Greece

Haiti

Iceland

Libya

Mexico

Nepal

Belize

Romania

Cape Verde

Senegal

Sri Lanka

United Kingdom

Gambia

Eritrea

Indonesia

Lebanon

Angola

Malta

Bahamas

Benin

Chile

Ghana

Gibraltar

Grenada

Serbia

Guinea-Bissau

Tonga

Kenya

Finland

Namibia

Oman

Jamaica

Palau

Solomon Islands

Kyrgyzstan

Tunisia

Montenegro

Peru

Sweden

Trinidad and Tobago

Yemen

Bahrain

Belarus

Bulgaria

Colombia

Cuba

Cyprus

Algeria

Burkina Faso

Cambodia

Kuwait

Russian Federation

Saint Lucia

South Sudan

Tanzania

Turkey

Virgin Islands, British

Japan

South Korea

Netherlands

Botswana

Qatar

Saint Kitts and Nevis

Saint Vincent and the Grenadines

Slovenia

Sudan

Taiwan

Uruguay

Malaysia

Moldova

Nauru

Papua New Guinea

Zambia

Andorra

Bolivia

Afghanistan

Congo

Cote d'Ivoire

Laos

Dominican Republic

Mauritania

Egypt

Gabon

Morocco

Uganda

Nigeria

Swaziland

Vietnam

Austria

Barbados

Bosnia and Herzegovina

Djibouti

Equatorial Guinea

Comoros

Estonia

Fiji

Ethiopia

Hong Kong

Ireland

Italy

Philippines

Macedonia

Poland

Madagascar

Sierra Leone

Vanuatu

Panama

Portugal

Samoa

Saudi Arabia

Timor-Leste

Albania

Burundi

Guinea

Iran

Armenia

Bangladesh

Belgium

Kiribati

Lithuania

Myanmar

Niger

Rwanda

Slovakia

Czech Republic

Thailand

United Arab Emirates

Ecuador

Germany

India

Liberia

Liechtenstein

Luxembourg

Marshall Islands

Monaco

Mozambique

New Zealand

Pakistan

Togo

Uzbekistan

Venezuela

Zimbabwe

Antigua and Barbuda

Croatia

Argentina

Guyana

Kazakhstan

Lesotho

Central African Republic

Norway

Paraguay

San Marino

Spain

Suriname

Switzerland

Tajikistan

Guatemala

Honduras

Iraq

Mauritius

Nicaragua

Singapore

Somalia

Azerbaijan

Brazil

Brunei

China

Costa Rica

El Salvador

Hungary

Georgia

Israel

Jordan

Latvia

Micronesia

Seychelles

South Africa

Turkmenistan

Ukraine

Isle of Man

Kosovo
Payment Method
Deposit Options
Debit Card, Credit Card, Cash
Withdrawal Options
Debit Card, Credit Card, Cash
Company Information
| Exchange Details | Info |
| --- | --- |
| Headquarters Country | Israel |
| Foundation Year | 2013 |
| Type | change |
| Trading Allowed | No |
Trade With A Regulated Broker