DAX Index: PMI Focus as Services Sector Feels the Squeeze
Published

: Sep 22, 2023, 05:02 UTC
•
4
min read
Dax Market reflects global unease, as central banks pause, consumer confidence wanes, and private sector PMIs hint at prospective economic contractions.
Highlights
DAX dipped 1.33% on Thursday, reversing a 0.75% gain, closing at 15,572.
Higher-for-longer rates outlook pushing government bond yields.
German and Eurozone private sector PMIs in focus for investors.
DAX Thursday Overview
On Thursday, the DAX slid by 1.33%. Reversing a 0.75% gain from Wednesday, the DAX ended the day at 15,572.
Higher for Longer Theme to Set the Tone
The higher-for-longer interest rate outlook continued to push government bond yields higher.
While central banks enter the 'pause phase,' the higher for longer mantra has erased hope for a more accommodative policy outlook.
Eurozone Consumer Confidence reflected expectations of elevated interest rates amidst a deteriorating macroeconomic environment. The Eurozone consumer confidence index fell from -16.0 to -17.8.
US Jobless Claims Spooks Investors
US jobless claims fell from 221k to 201k, according to figures out on Thursday. The labor market numbers aligned with the upbeat FOMC economic projections, supporting the more hawkish interest rate path.
The US equity markets responded to the labor market numbers, with the NASDAQ Composite Index sliding by 1.82%. It was also a grim session for the Dow and S&P 500, which saw losses of 1.08% and 1.64%, respectively.
The Thursday Market Movers
Four stocks bucked the bearish trend, including Commerzbank, which gained 0.50%. CFO projections on interest income resonated.
However, investor sentiment toward Fed monetary policy and the German economic outlook left the broader market in negative territory. BASF and Sartorius AG slid by 4.86% and 4.17%, respectively. Siemens Energy (-3.09%), Bayer (-2.82%), and Adidas (-2.40%) were also among the biggest losers.
Euro Area Private Sector PMIs in the Spotlight
German and Eurozone private sector PMIs for September will draw investor interest today. A more marked contraction across the manufacturing and services sector would weigh on buyer appetite.
Economists forecast the German services PMI to decline from 47.3 to 47.2 and the manufacturing PMI to rise from 39.1 to 39.5. Eurozone projections follow a similar trend. Economists forecast the Eurozone services PMI to fall from 47.9 to 47.7 and the manufacturing PMI to increase from 43.5 to 44.0.
With the services sector contributing over 60% to the Eurozone economy, the DAX will show more sensitivity to the services PMIs. A more marked contraction would further support a prolonged economic recession.
US Services PMI to Conclude a Volatile Week
US private sector PMIs will also need consideration. A hotter-than-expected US services PMI would support a more hawkish Fed interest rate path. The prospects of further Fed rate hikes and reducing chances of a 2024 Fed rate cut have weighed on the appetite for riskier assets.
Economists forecast the services PMI to increase from 50.5 to 50.6.
Short-Term Forecast
A more hawkish Fed policy outlook and the threat of a higher-for-longer Eurozone interest rate environment leave the DAX on the defensive. Euro area and US services PMIs will influence buyer appetite today and likely support the near-term bullish trend reversal.
DAX Technical Indicators
Daily Chart
The DAX sat below the 50-day EMA while remaining above the 200-day EMA, sending bearish near-term but bullish longer-term price signals.
A break above the 15,663 resistance level would support a DAX move to the trend line and 50-day EMA. Selling pressure will likely intensify at 15,830. The 50-day EMA is confluent with the trend line.
To break above the 15,663 resistance level, private-sector PMIs would need to exceed forecasts.
However, weaker services PMIs would support a DAX move toward the 200-day EMA and the 15,459 support level. Buying pressure will build at 15,470, with the 200-day EMA confluent with the 15,459 support level.
The 14-Daily RSI reading of 41.47 supports a DAX break below the 200-day EMA and 15,459 support level before entering oversold territory.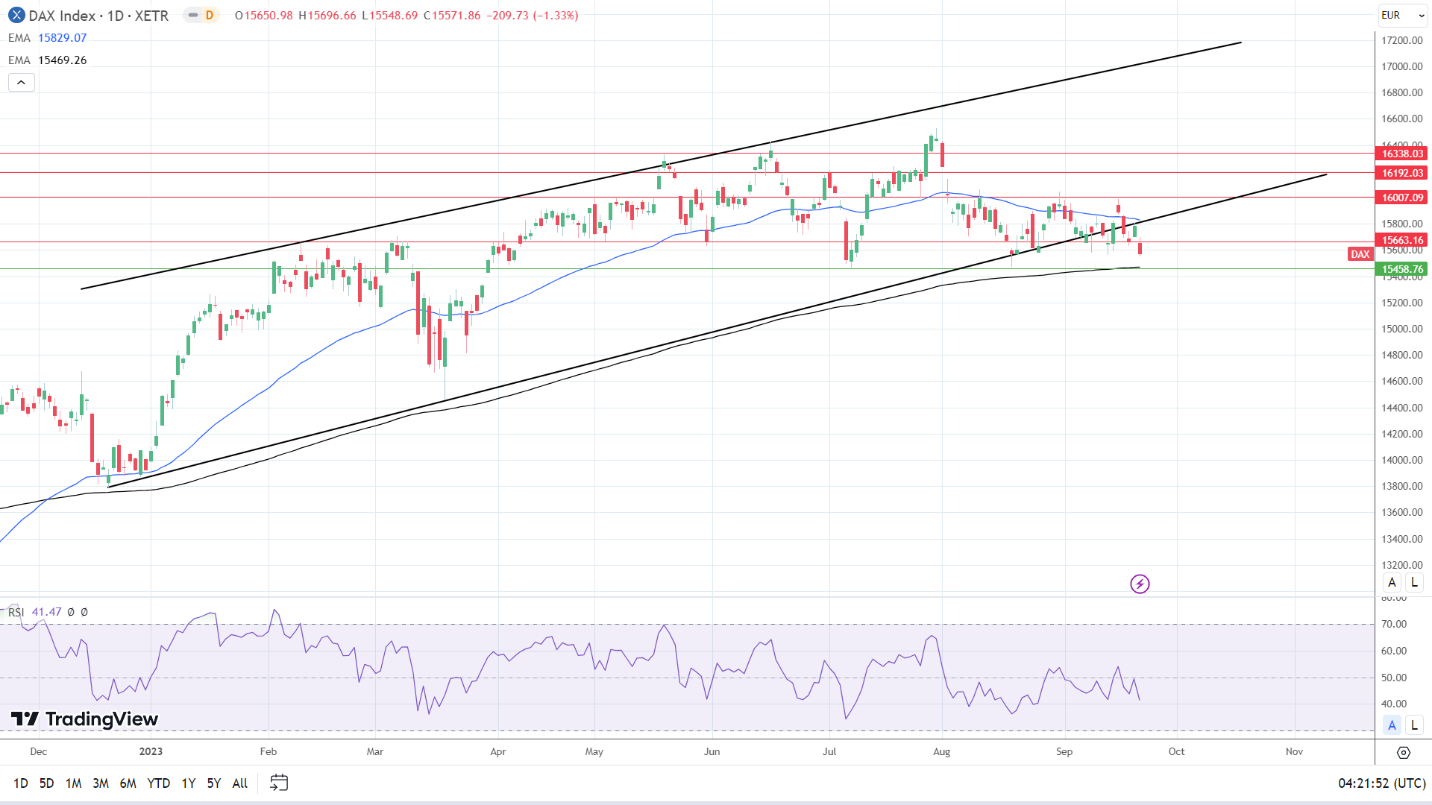 DAX 220923 Daily Chart
4-Hourly Chart
The DAX, sitting below the 50-day and 200-day EMAs, sends bearish price signals. A DAX break above the 15,663 resistance level would support a move to the 50-day EMA.
However, a fall to 15,500 would give the bears a run at the 15,459 support level.
The 38.15 RSI reading supports a DAX break fall to 15,500 before entering overbought territory.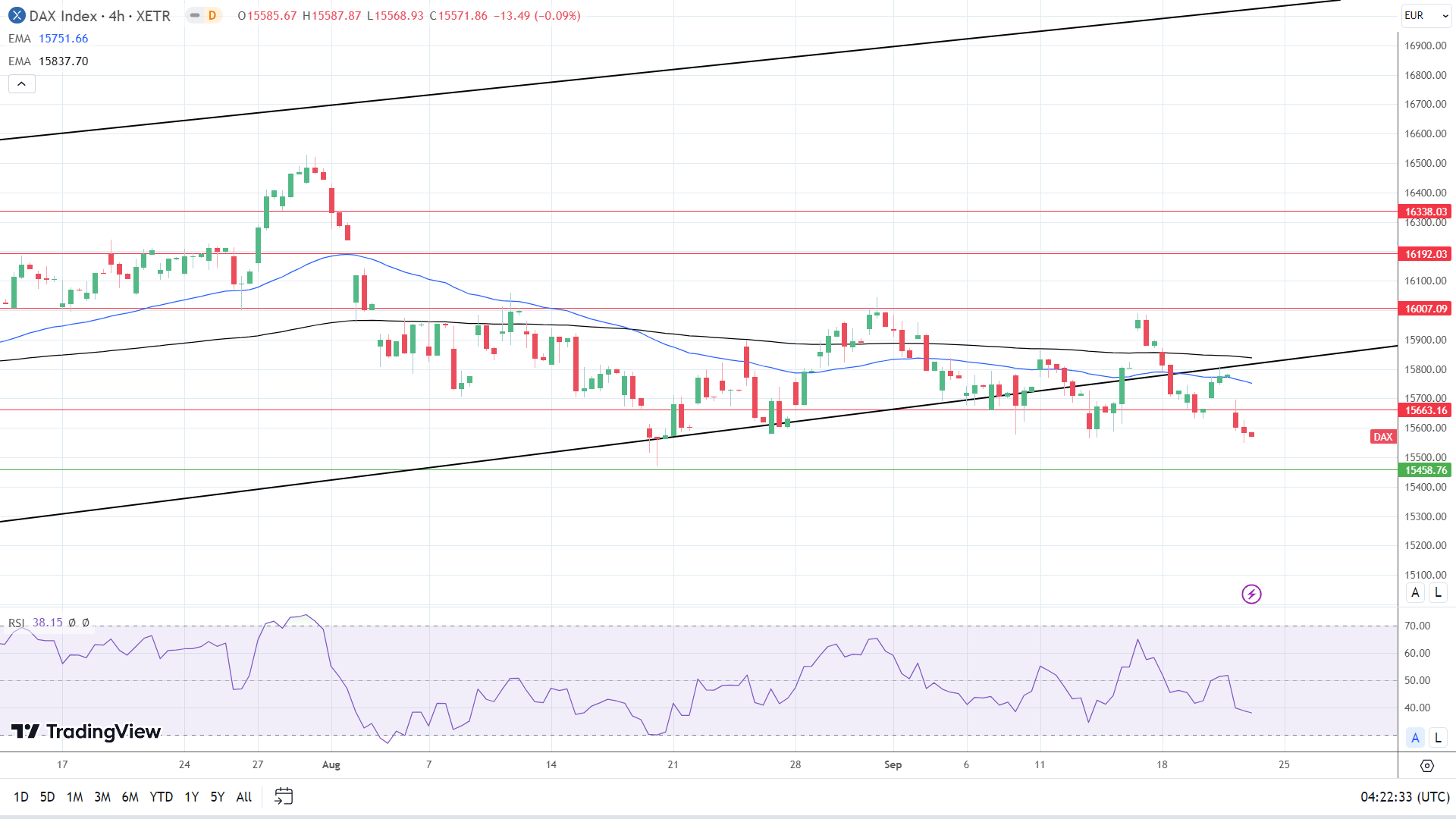 DAX 220923 4-Hourly Chart
For a look at the economic events, check out our economic calendar.
Don't miss a thing!
Sign up for a daily update delivered to your inbox
Sponsored Financial Content