ETH Bulls Eye a Return to $1,850 to Target $1,900 on Staking Statistics
Published

: May 23, 2023, 03:12 UTC
•
4
min read
It is a busy day for ETH, with private sector PMIs to give investors a snapshot of the macroeconomic environment. The US debt ceiling remains key, however.
Key Insights:
On Monday, ETH gained 0.72% to end the day at $1,818.
Hopes of a US debt ceiling deal offset bearish staking statistics.
The technical indicators turned more bullish, signaling a return to $1,900.
Ethereum (ETH) rose by 0.72% on Monday. Reversing a 0.82% loss from Sunday, ETH ended the day at $1,818. Significantly, ETH fell short of the $1,850 handle for the twelfth consecutive session.
Tracking the broader crypto market, ETH fell to an early morning low of $1,792. Steering clear of the First Major Support Level (S1) at $1,791, ETH rose to an early afternoon high of $1,830. ETH briefly broke through the First Major Resistance Level (R1) at $1,824 before easing back to end the day at $1,818.
US Debt Ceiling News Offset Bearish Staking Statistics
According to CryptoQuant, staking inflows fell from 93,952 ETH on Sunday to 71,648 on Monday. While falling further from the 100,000 level, staking inflows remained elevated compared to recent dips.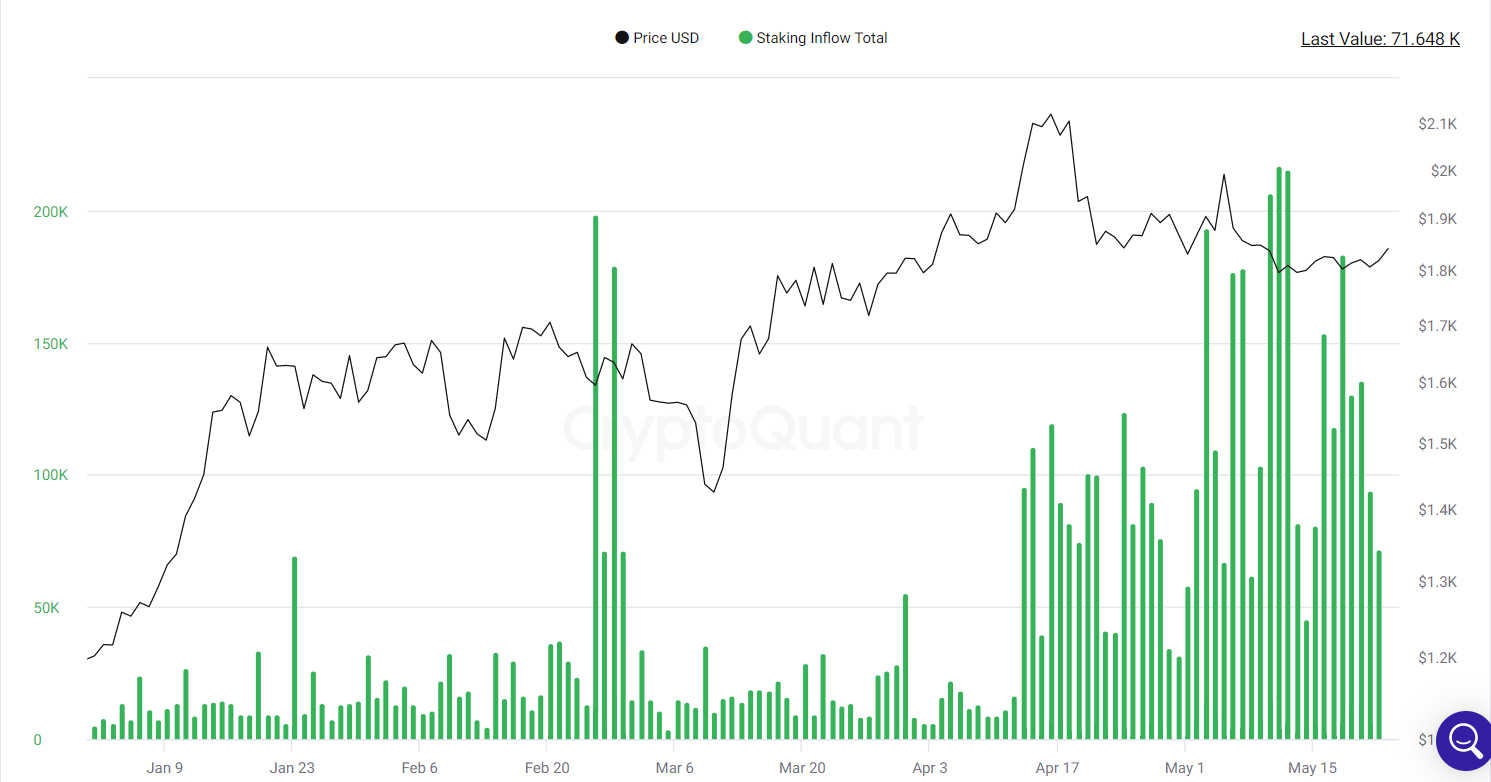 ETH Staking Inflows 230523
The total value staked climbing higher, albeit at a slower pace.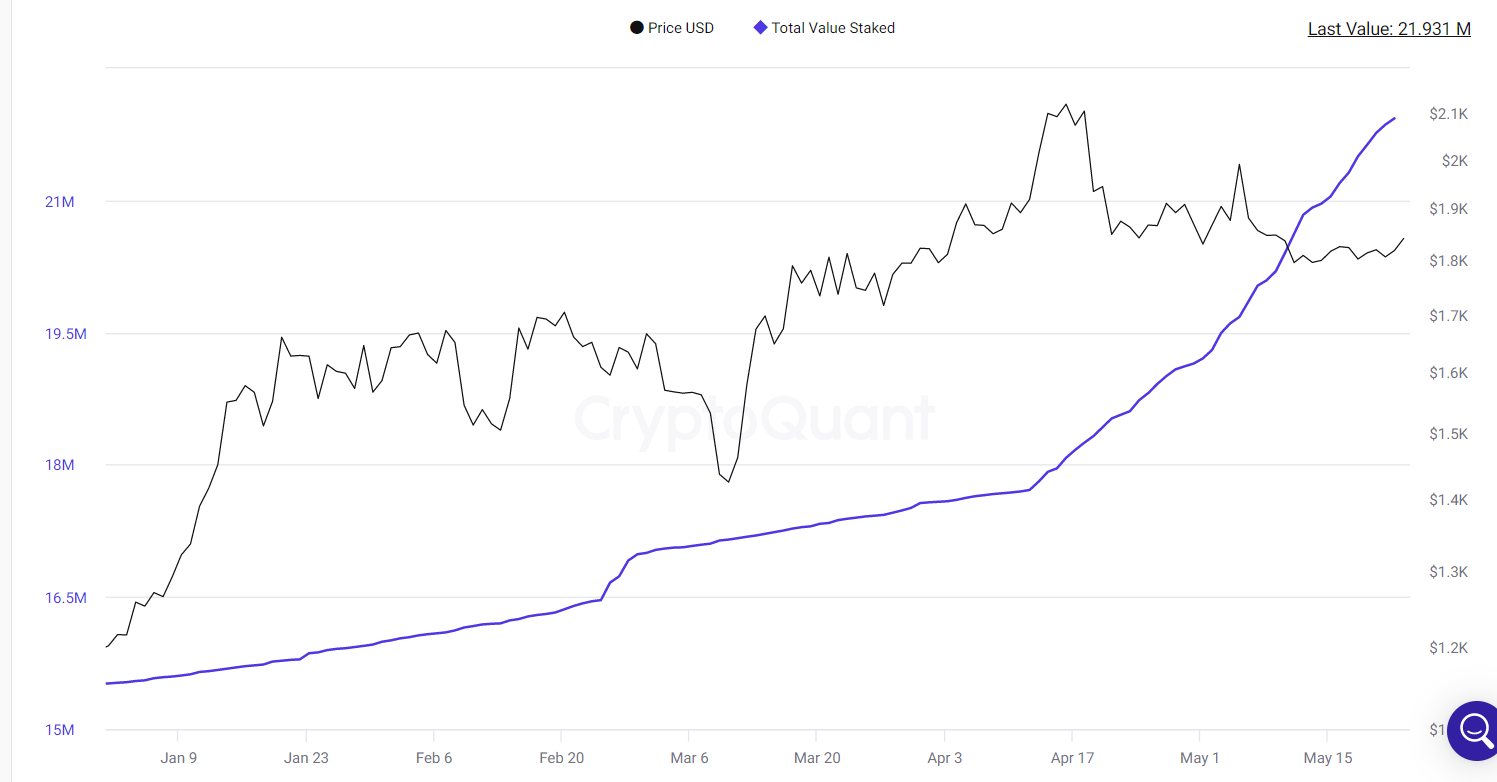 Total Value Staked 230523
The withdrawal profile was bearish. Overnight, principal withdrawals spiked to above-normal levels. However, withdrawal projections for the morning session were more bullish, with principal ETH withdrawals expected to fall to below-normal levels.
The sharp increase in principal withdrawals and another slide in staking inflows left ETH short of $1,850. On Monday, the net staking balance fell from a surplus of 145,530 ETH on Sunday to a 59,530 ETH surplus, equivalent to $107.90 million. Deposits totaled 104,650 ETH versus withdrawals of 45,110 ETH.
According to TokenUnlocks, total pending withdrawals stood at 26,370 ETH, equivalent to approximately $47.91 million. Notably, the staking APR stood at 8.98%, unchanged over 24 hours.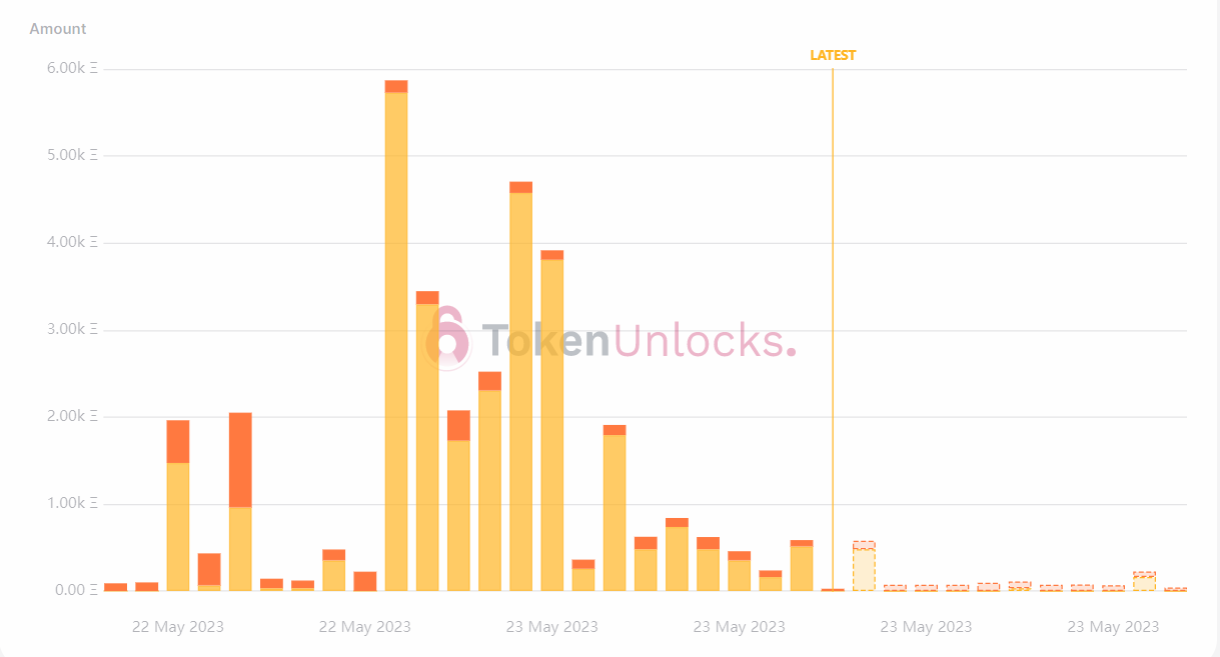 ETH Withdrawal Profile – 230523
Beyond the crypto market, hopes of progress toward a US debt ceiling deal provided support. Speaker of the House Kevin McCarthy said talks were moving in the right direction on Monday.
The Day Ahead
It is a busy Tuesday session, with US economic indicators and debt ceiling talks in focus. Better-than-expected Services PMI numbers and progress toward a US debt ceiling deal would be bullish.
However, investors should continue to monitor the staking statistics and the withdrawal profile. A further fall in staking inflows and a narrower net staking surplus would deliver a bearish session.
Investors should also track the crypto news wires for SEC v Ripple updates and Binance and Coinbase (COIN)-related news.
Ethereum Price Action
This morning, ETH was up 1.29% to $1,841. A bullish start to the day saw ETH rise from an early low of $1,816 to a high of $1,842. ETH broke through the First Major Resistance Level (R1) at $1,835.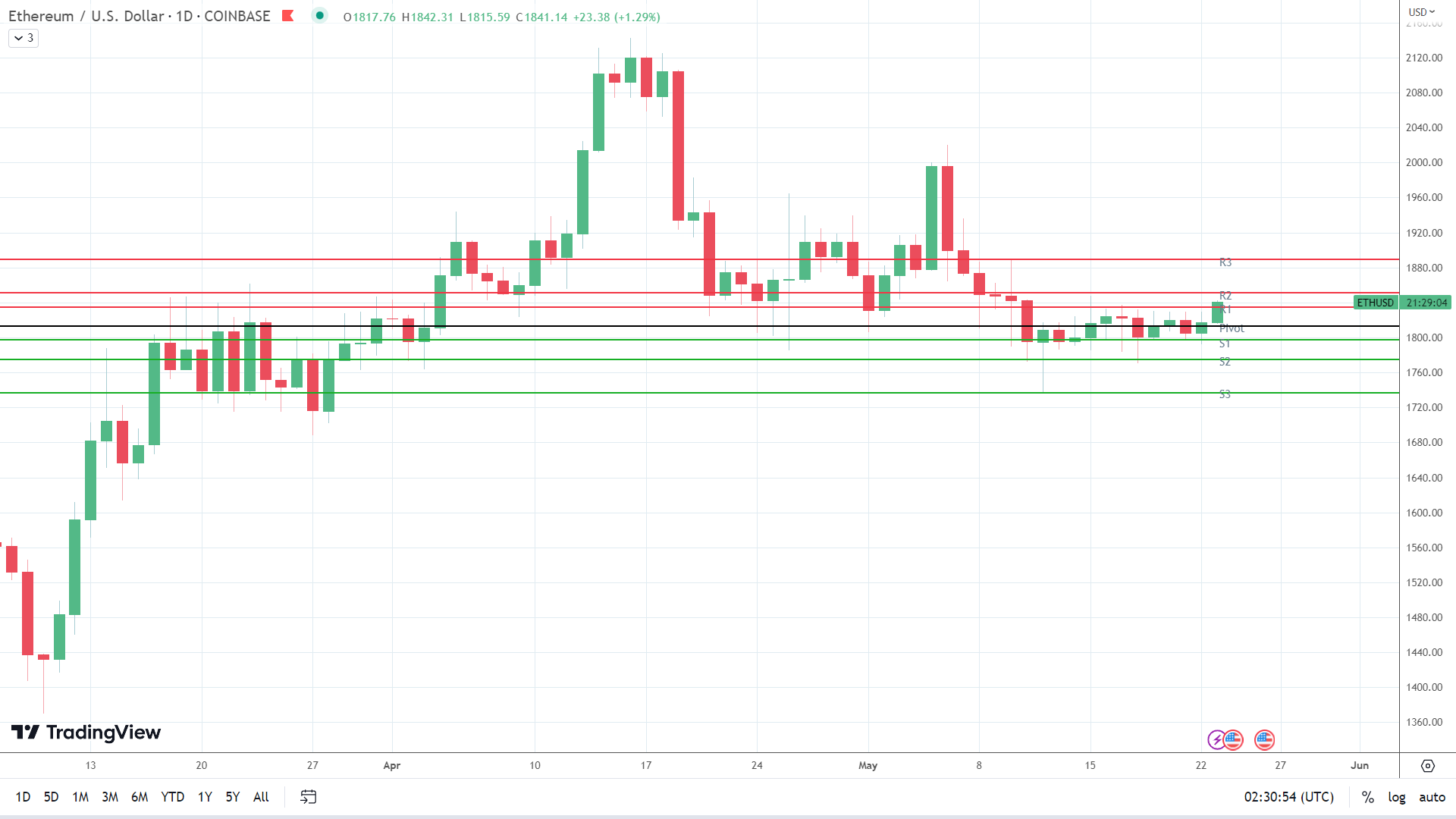 ETHUSD 230523 Daily Chart
ETH Technical Indicators
Resistance & Support Levels
| | | | |
| --- | --- | --- | --- |
| R1 – $ | 1,835 | S1 – $ | 1,797 |
| R2 – $ | 1,851 | S2 – $ | 1,775 |
| R3 – $ | 1,889 | S3 – $ | 1,737 |
ETH needs to avoid a fall through R1 and the $1,813 pivot to target the Second Major Resistance Level (R2) at $1,851. A return to $1,850 would signal a breakout session. However, staking statistics and US debt ceiling updates must support a bullish session.
In the event of an extended rally, the bulls would likely test the Third Major Resistance Level (R3) at $1,889 and resistance at $1,900.
A fall through R1 and the pivot would bring the First Major Support Level (S1) at $1,797 into play. However, barring a risk-off-fueled sell-off, ETH should avoid sub-$1,750. The Second Major Support Level (S2) at $1,775 should limit the downside. The Third Major Support Level (S3) sits at $1,737.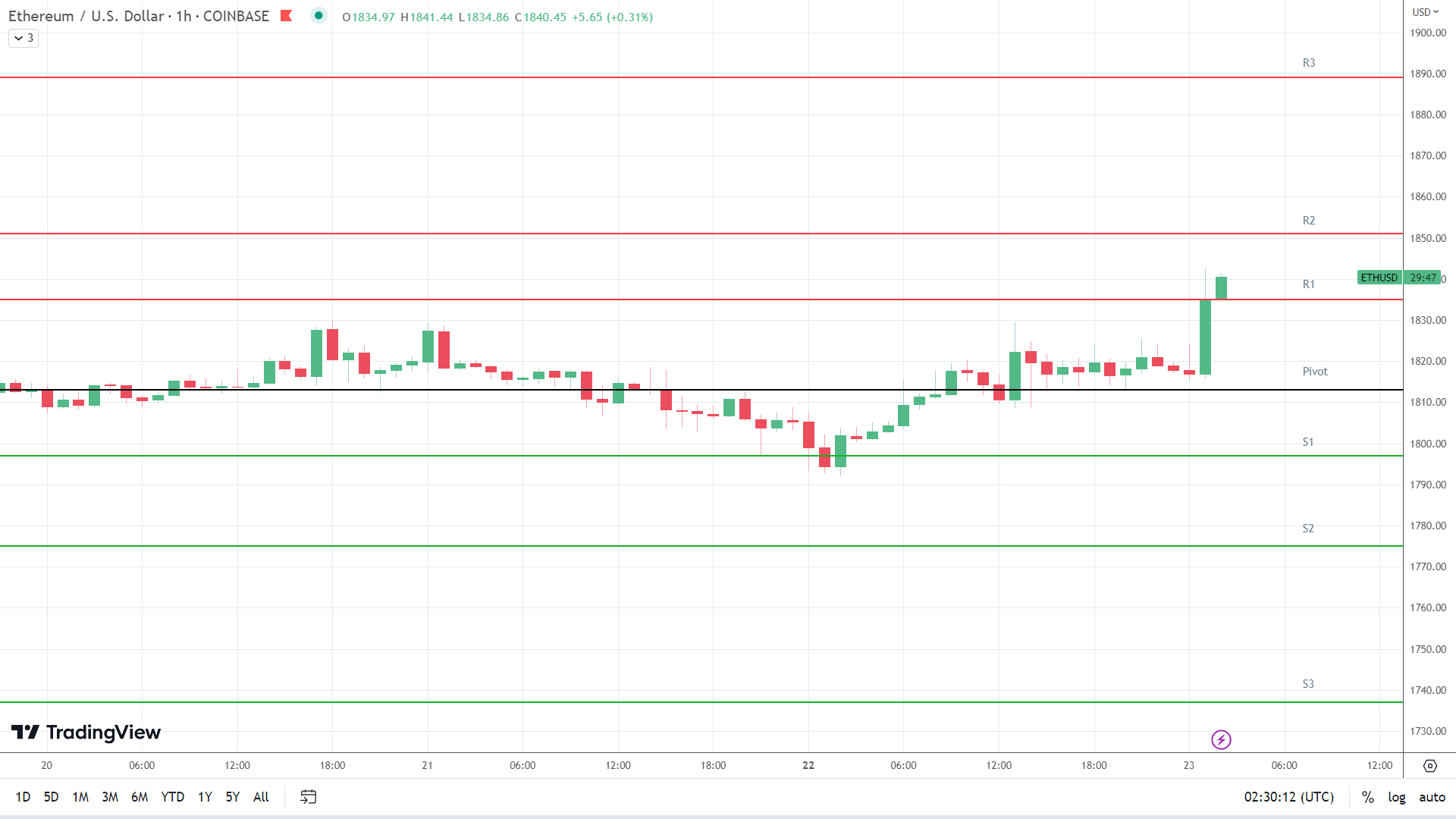 ETHUSD 230523 Hourly Chart
Looking at the EMAs and the 4-hourly candlestick chart (below), it was a more bullish signal. Ethereum sat below the 200-day EMA, currently at $1,845. The 50-day EMA closed in on the 100-day EMA, with the 100-day EMA narrowing to the 200-day EMA, delivering bearish signals.
A move through the 200-day EMA ($1,845) would support a breakout from R2 ($1,851) to target R3 ($1,889) and $1,900. However, a fall through R1 ($1,835) and the 100-day ($1,829) and 50-day ($1,817) EMAs would bring S1 ($1,797) into view.
A fall through the 50-day EMA would send a bearish signal.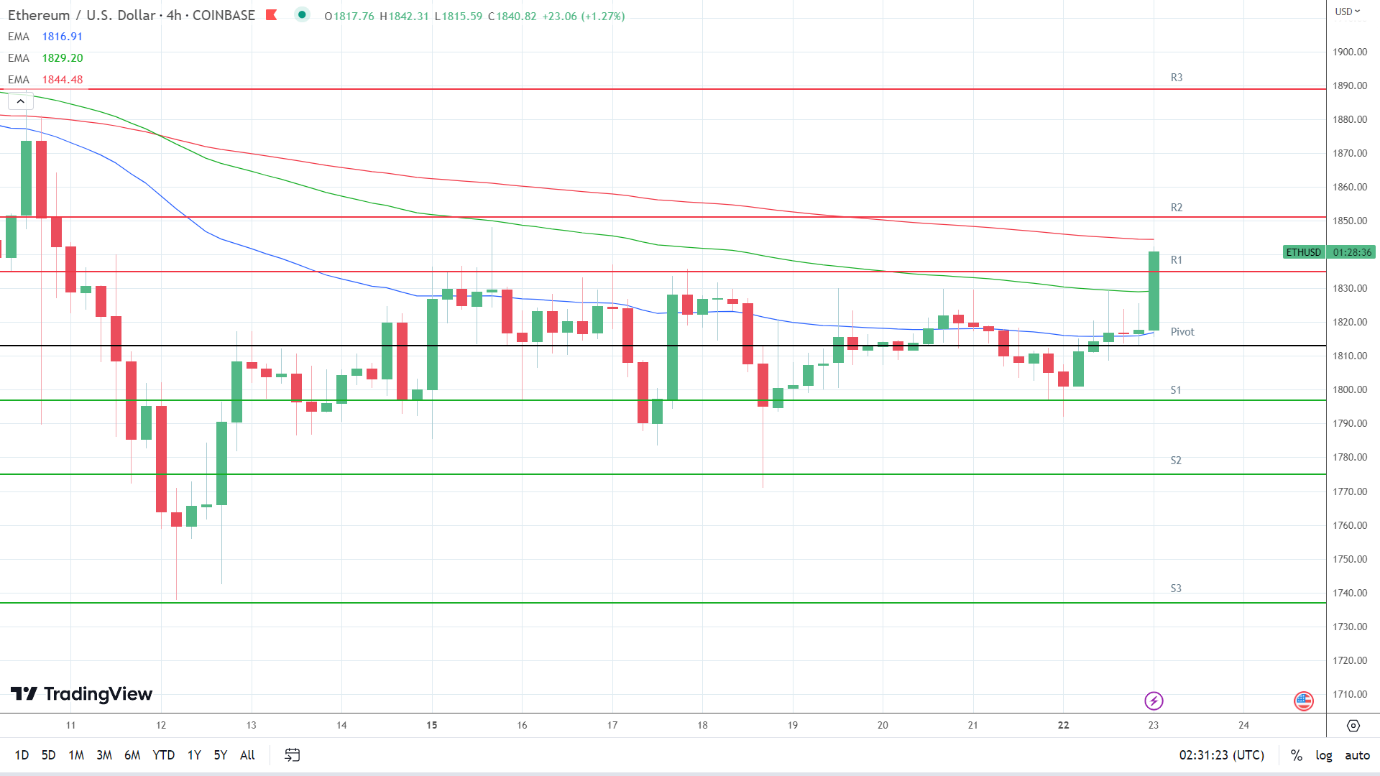 ETHUSD 230523 4 Hourly Chart
Don't miss a thing!
Sign up for a daily update delivered to your inbox
Sponsored Financial Content