ETH Bulls to Target Resistance at $1,850 to Bring $2,000 into Play
Published

: Mar 20, 2023, 02:22 UTC
•
4
min read
After a bullish Sunday, ETH will need to break down resistance at $1,850 to retarget $2,000. Banking sector news and central bank chatter will influence.
Key Insights:
On Sunday, ethereum (ETH) joined the broader market in positive territory, rising by 1.25% to end the day at $1,786.
News of USB AG agreeing to acquire Credit Suisse Group AG supported a bullish end to the week.
The technical indicators remained bullish, leaving $2,000 in view.
Ethereum (ETH) rose by 1.25% on Sunday. Partially reversing a 1.67% loss from Saturday, ETH ended the week up by 12.19% to $1,786.
A mixed start to the day saw ETH slip to an early low of $1,763 before making a move. Steering clear of the First Major Support Level (S1) at $1,729, ETH rose to an early evening high of $1,847. ETH broke through the First Major Resistance Level (R1) at $1,822 before easing back to end the day at $1,786.
UBS Agreement to Acquire Credit Suisse Bank Delivers a Bullish Sunday
On Sunday, fears of a deepening banking crisis eased on the news of UBS AG (UBS) agreeing to acquire Credit Suisse Group AG (CS).
Investor relief was evident, with ETH striking a new 2023 high of $1,847 before easing back.
However, while the Swiss government may have avoided a catastrophe, banking sector jitters will likely linger near-term. Government and central bank assurances of action to avert a banking crisis should ease the fear of a global financial crisis.
There were no updates on the Shapella upgrade to distract investors on Sunday. However, ETH staking inflows tumbled despite the bullish session.
According to CryptoQuant, staking inflows fell from 16,192 ETH on Saturday to 9,536 ETH on Sunday, the lowest inflow since March 5. Investors should continue to monitor staking inflows, with a downward trend likely to signal high demand for unstaking ETH after the Shapella upgrade.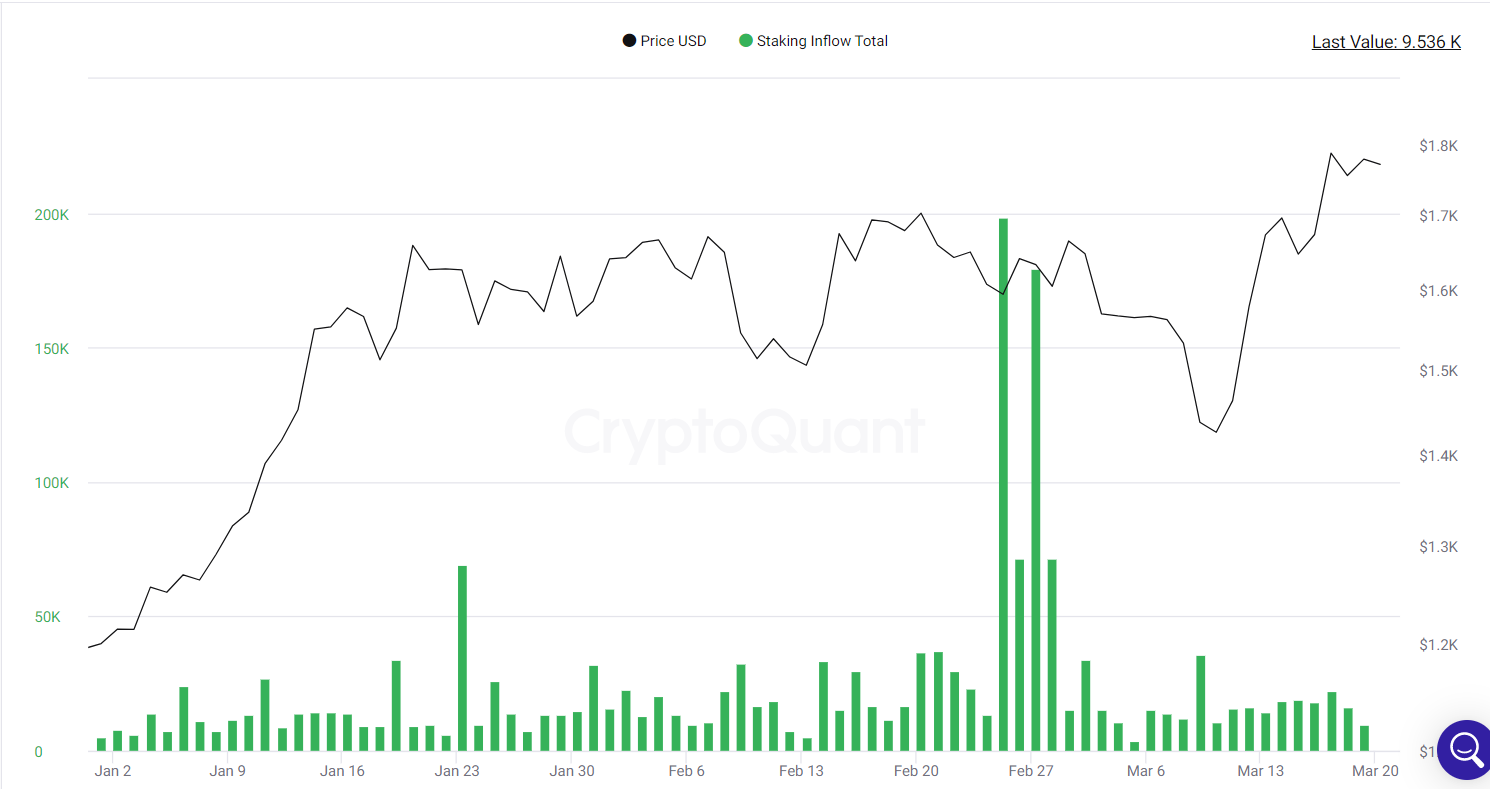 ETH Staking Inflows 200323
The Day Ahead
Following the UBS agreement to acquire Credit Suisse, investors should continue to monitor bank-related news that could move the dial. ETH and the broader crypto market showed resilience to the adverse events of the last two weeks. However, the threat of a global financial crisis would likely test the more resilient investor.
Shapella upgrade-related news and regulatory and lawmaker activity will also move the dial.
Ethereum (ETH) Price Action
At the time of writing, ETH was down 0.34% to $1,780. A mixed start to the day saw ETH rise to an early high of $1,791 before falling to a low of $1,767.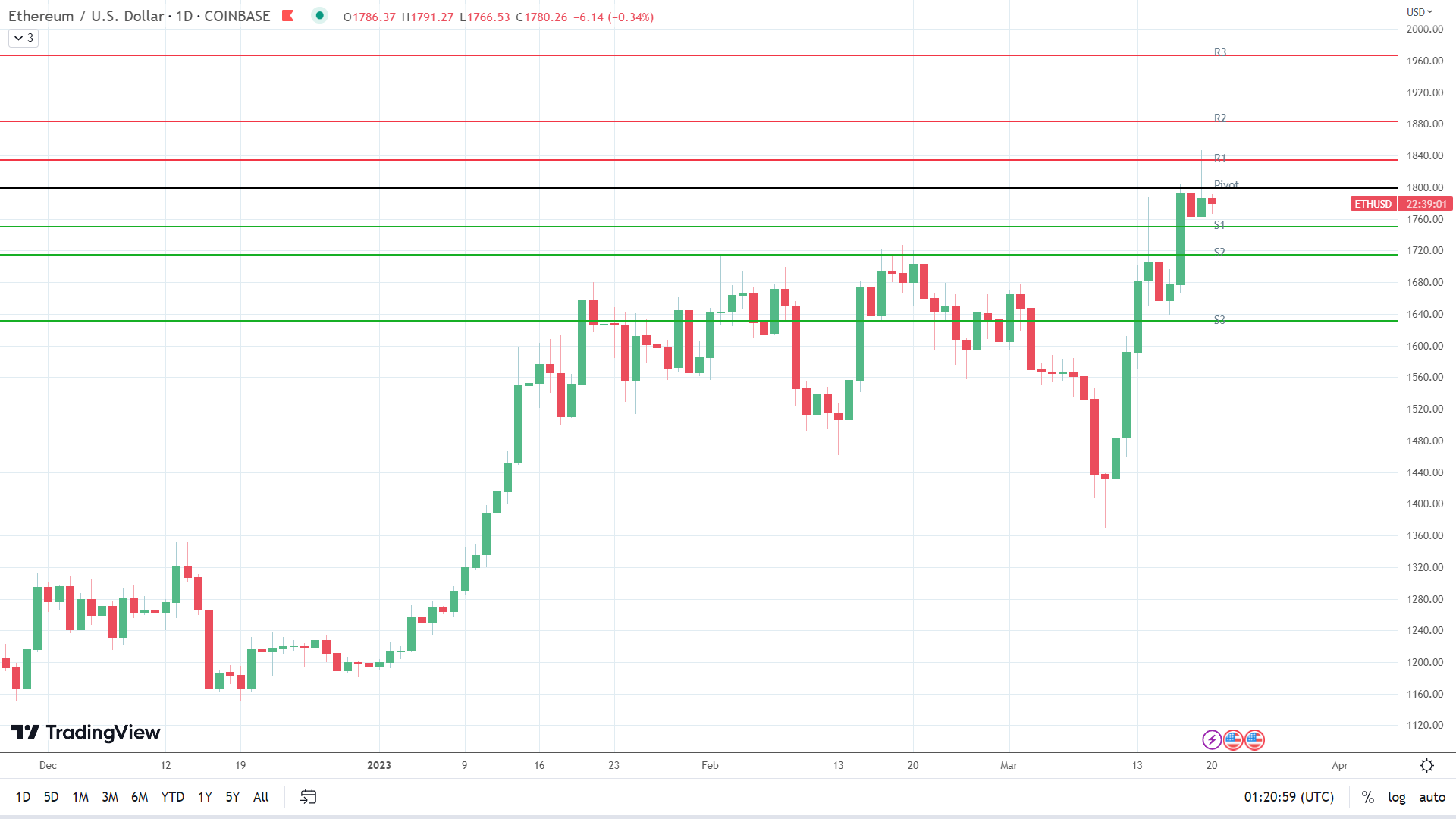 ETHUSD 200323 Daily Chart
Technical Indicators
ETH needs to move through the $1,799 pivot to target the First Major Resistance Level (R1) at $1,834 and the Sunday high of $1,847. A return to $1,800 would signal a breakout session. However, Shapella upgrade news and the crypto news wires should be ETH-friendly to support a breakout.
In the event of an extended rally, the bulls would likely test the Second Major Resistance Level (R2) at $1,883 and resistance at $1,900. The Third Major Resistance Level (R3) sits at $1,967.
Failure to move through the pivot would leave the First Major Support Level (S1) at $1,750 in play. However, barring an event-fueled broad-based crypto market sell-off, ETH should avoid sub-$1,700. The Second Major Support Level (S2) at $1,715 should limit the downside. The Third Major Support Level (S3) sits at $1,631.
ETHUSD 200323 Hourly Chart
Looking at the EMAs and the 4-hourly candlestick chart (below), it was a bullish signal. Ethereum sat above the 50-day EMA, currently at $1,704. The 50-day EMA pulled further away from the 100-day EMA, with the 100-day EMA widening from the 200-day EMA, delivering bullish signals.
A hold above the Major Support Levels and the 50-day EMA ($1,704) would support a breakout from R1 ($1,834) to target R2 ($1,883) and $1,900. However, a fall through S1 ($1,750) would give the bears a run at S2 ($1,715) and the 50-day ($1,704). A fall through the 50-day EMA would send a bearish signal.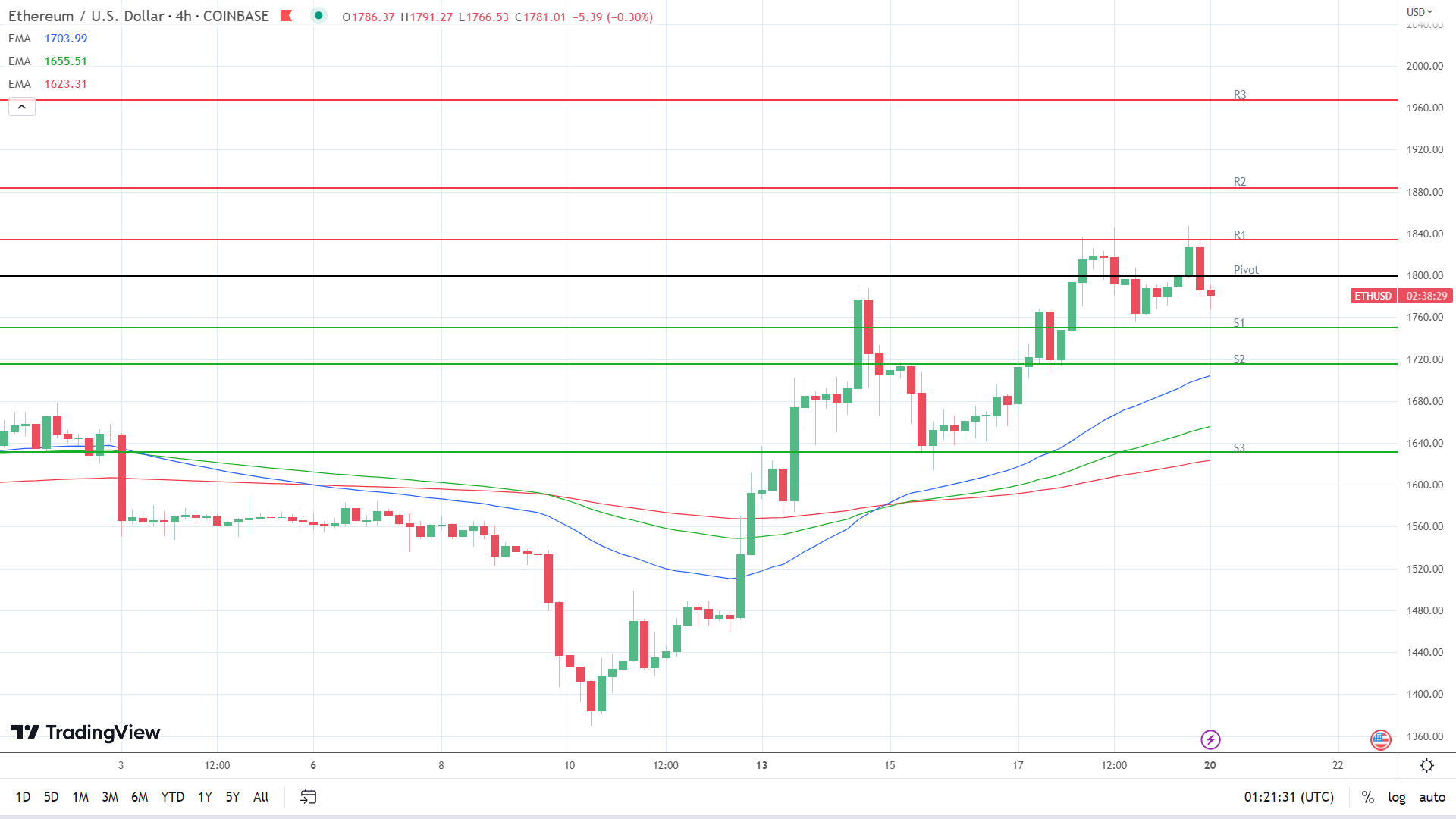 ETHUSD 200323 4 Hourly Chart
Don't miss a thing!
Sign up for a daily update delivered to your inbox
Sponsored Financial Content