Floki Inu Enters Next Marketing Phase, Targets Mainstream Adoption
Updated

: Nov 11, 2021, 15:14 UTC
•
2
min read
This meme coin has made its way onto the radar of major crypto investors.
Now that bitcoin and Ethereum have been in the spotlight, altcoin investors believe it's their time to shine. Meme coins, which are known to trade on internet sentiment, have seemingly not lost their appeal, including Floki Inu.
The Floki token was inspired by Elon Musk and his Shiba Inu he named Floki. Now the meme coin has taken on a life of its own and has risen to a market cap of $2.2 billion. As the project matures, the team is making some changes as they continue to target mainstream adoption.
Floki's Conquests
Floki investors seem to have their eye on the prize. They are anticipating the launch of Valhalla, which is a "play-to-earn NFT gaming metaverse" that is in the process of being built by developers. NFTs are one of the hottest segments going in crypto.
The Floki Inu team is looking to attract users from outside of the cryptocurrency industry with its NFT game that also gives users the opportunity to get paid. The Floki Inu team has also been embarking on a marketing blitz, one that includes rebranding the website to Floki.com and gaining more exposure in London, including a campaign at the Heathrow Airport.
Crypto Whales
Cryptocurrencies are inherently volatile, and meme coins especially so. After recently climbing 200% in a day and establishing a new record high, Floki Inu has made its way onto the radar of major crypto investors. This includes one whale investor on the Binance Smart Chain who reportedly just poured more than $3 million into the meme coin.

Additionally, one influential Dogecoin investor, whose Twitter account is SlumDOGE Millionaire, recently revealed that he put $100,000 into FLOKI. While this support was a boost to the Floki Inu community, some Dogecoin investors were less than thrilled with SlumDOGE's game plan. Nonetheless, the investor points to Floki Inu's lower market cap compared to other popular meme coins like Dogecoin and Shiba Inu and believes it has more room to go.
My plan is to put $100,000 into #FLOKI

— SlumDOGE Millionaire (@ProTheDoge) November 4, 2021
Exchange Listings
Singapore-based cryptocurrency exchange Bybit is seemingly looking to jump into the meme coin fray. The company has polled its followers about which meme coin the trading platform should add. Floki Inu has taken it away with more than 82% of the vote, followed by Dogelon Mars in a distant second.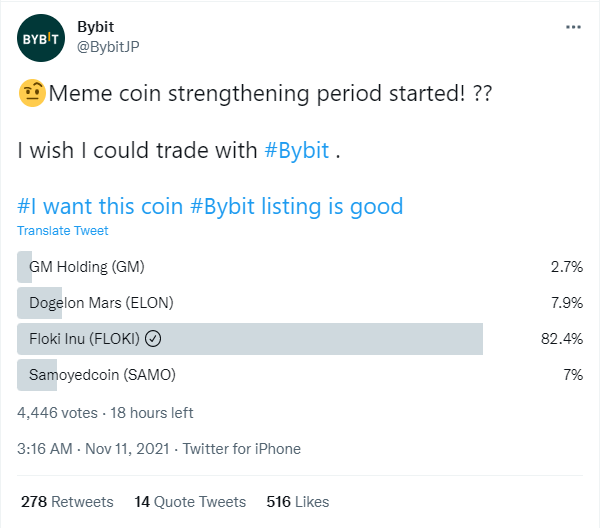 Don't miss a thing!
Sign up for a daily update delivered to your inbox
Sponsored Financial Content