Global Equity Indexes Show Interesting AB=CD Technical Confluence
Published

: Mar 29, 2023, 18:55 UTC
•
3
min read
Check out the latest analysis across global equity markets from the FP Markets Research Team.
ASX 200 (XJO)
I highlighted this market in our recent Chart of the Day on the daily timeframe.
Following the lower low formed at 6,895 last week, which happened to probe below the 6,905 3 January low and touch gloves with a 1.272% Fibonacci projection at 6,897 ('alternate' AB=CD structure), the unit has been busy carving out an AB=CD bearish formation that will complete around the 100% projection at 7,061 should another push to the upside emerge. Nearby, I also see a 38.2% Fibonacci retracement ratio at 7,077; therefore, sellers could welcome this zone.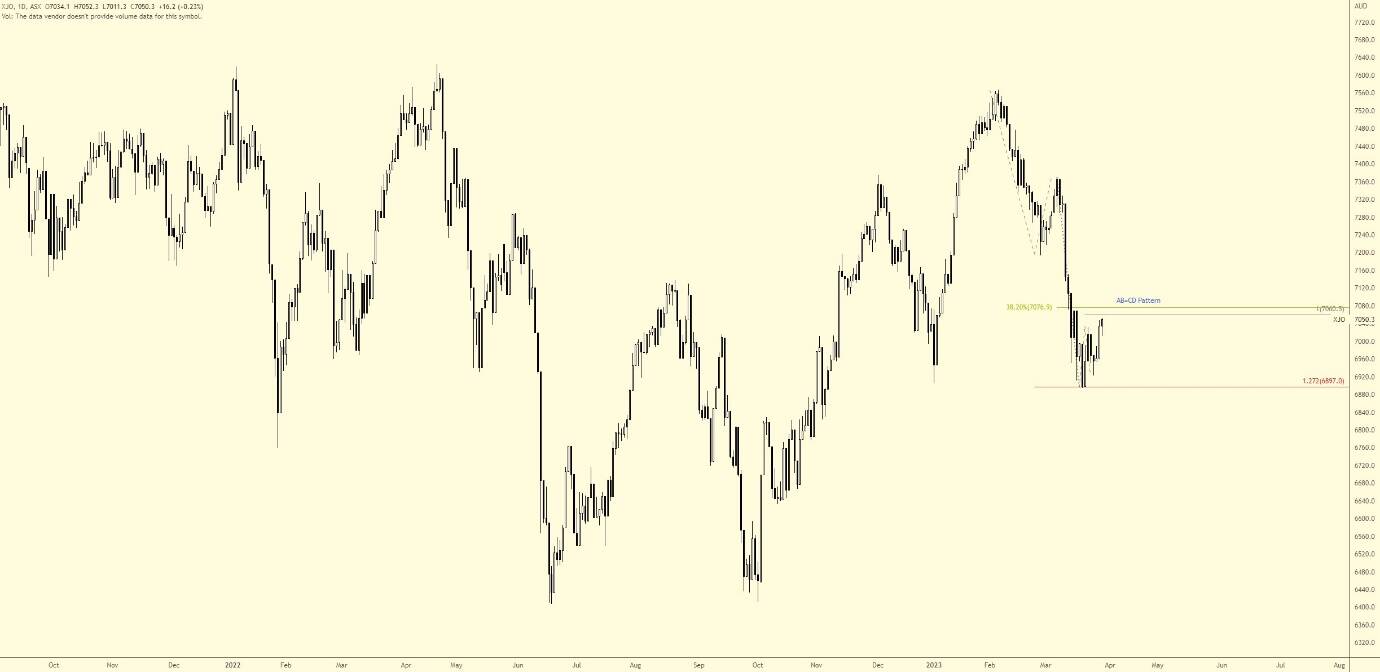 US and European Equities Showing Similar AB=CD Construction
Aside from the FTSE 100, the DAX, the CAC and the EuroStoxx50 recently pencilled in a rebound from daily supports at 14,602, 6,791 and 4,016, respectively. What's also technically appealing is that all three markets are currently printing similar price action to the ASX 200: AB=CD bearish patterns (100% projections) at 15,665, 7,312 and 4,330, respectively.
The difference, of course, is that the ASX 200 is (technically) exhibiting early signs of a downtrend, while European markets are evidently trending higher across the board.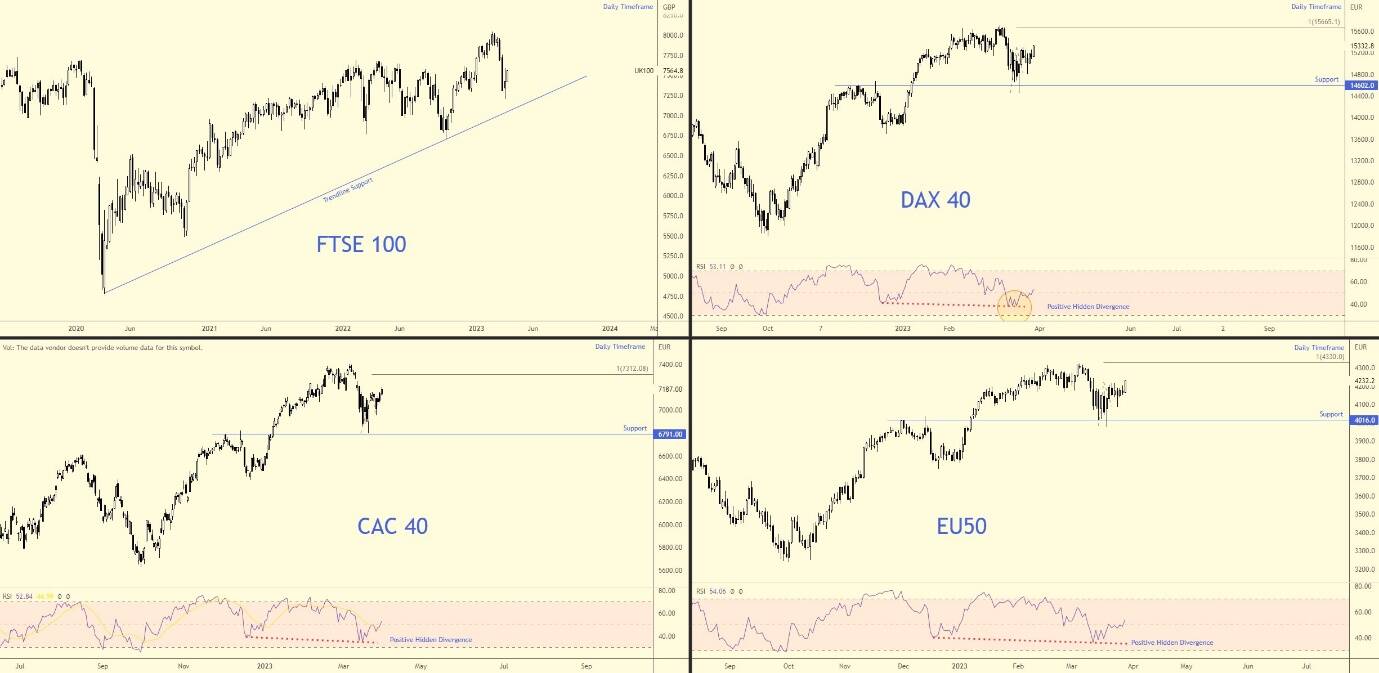 Across the pond, the S&P 500 and the DOW display similar price action on the daily timeframes.
The DOW, following its rebound from a 100% projection (AB=CD construction) at 31,721 in mid-March, is seen forming an AB=CD bearish pattern (100% projection at 33,177) in a market emphasising a downside bias (note the clear lower lows and highs since price topped in late 2022), which happens to be joined by a 61.8% Fibonacci retracement ratio at 33,234 and resistance from 33,263.
The S&P 500, on the other hand, leans more in favour of the bulls in terms of trend direction, despite recently forming a lower high/low that touched a 100% projection at 3,818 on 13 March. Following the rebound from the noted 100% projection, which is also an AB=CD bullish formation, Harmonic traders will acknowledge a potential AB=CD bearish pattern unfolding, denoted through a 100% projection at 4,144. Additionally, I see resistance present at 4,099.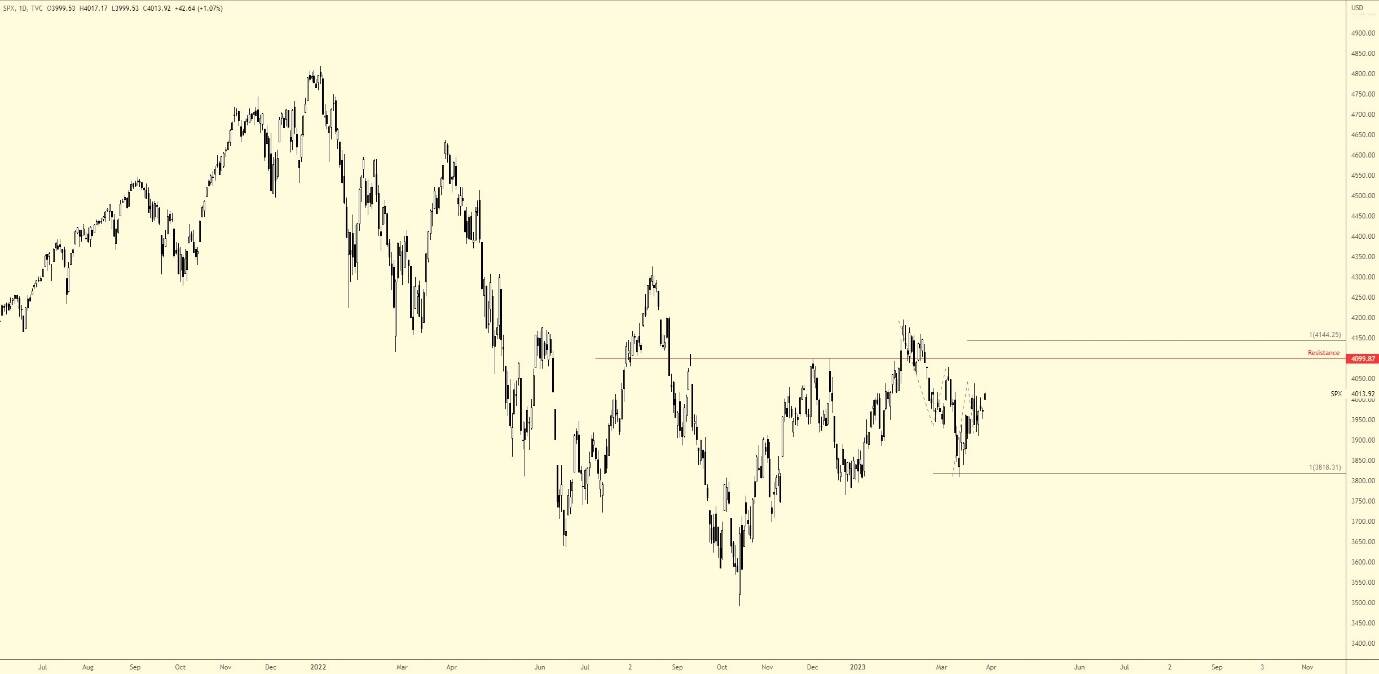 Charts: TradingView
DISCLAIMER:
The information contained in this material is intended for general advice only. It does not take into account your investment objectives, financial situation or particular needs. FP Markets has made every effort to ensure the accuracy of the information as at the date of publication. FP Markets does not give any warranty or representation as to the material. Examples included in this material are for illustrative purposes only. To the extent permitted by law, FP Markets and its employees shall not be liable for any loss or damage arising in any way (including by way of negligence) from or in connection with any information provided in or omitted from this material. Features of the FP Markets products including applicable fees and charges are outlined in the Product Disclosure Statements available from FP Markets website, www.fpmarkets.com and should be considered before deciding to deal in those products. Derivatives can be risky; losses can exceed your initial payment. FP Markets recommends that you seek independent advice. First Prudential Markets Pty Ltd trading as FP Markets ABN 16 112 600 281, Australian Financial Services License Number 286354.
Don't miss a thing!
Sign up for a daily update delivered to your inbox
Sponsored Financial Content