Gold Forecast – Rising Rates Crushed Gold, Prices Could Soon Bottom
Published

: Sep 28, 2022, 14:13 UTC
•
3
min read
Declining gold prices seem unthinkable in the face of record inflation, soaring energy prices, and war in Europe. Below I explain why I think prices are falling and what needs to happen to get them to stop.
In March, Gold was above $2000 on its way to new highs. Prices did an about-face out of nowhere, and it's been downhill ever since. What changed? Answer: An aggressive shift in Fed policy.
The Fed 9-months Ago
Back in January, the Fed was injecting $60 billion a month into the markets through Quantitative Easing (QE), Fed funds were between 0% to 0.25%, and the 2-year Treasury was yielding 0.78%; they expected just one or two 0.25% rate hikes in 2022.
The Fed Now
The Fed is removing $95 billion a month (QT), Fed funds are on pace to reach 4.00% by year-end, and the 2-year is yielding 4.30% (up 352 basis points). Their forecast for one or two 0.25% hikes in 2022 was laughable – they are on pace to reach sixteen (16) by year-end.
When Will Gold Bottom?
Gold is interest rate sensitive. With the Fed on the rampage against inflation, they have hiked rates more aggressively than at any other time in history. This destructive shift in monetary policy sent rates soaring and gold to fresh lows. For gold to bottom – interest rates need to stop rising. I think we are getting close (see below).
The 2-Year Treasury Yield
The best proxy for future Fed funds is the 2-year Treasury. The most recent Summary of Economic Projections suggests the Fed will stop hiking when they get to 4.60%, i.e., the terminal rate. With the 2-year recently hitting 4.30%, I'd say rates are getting close to the Fed's target.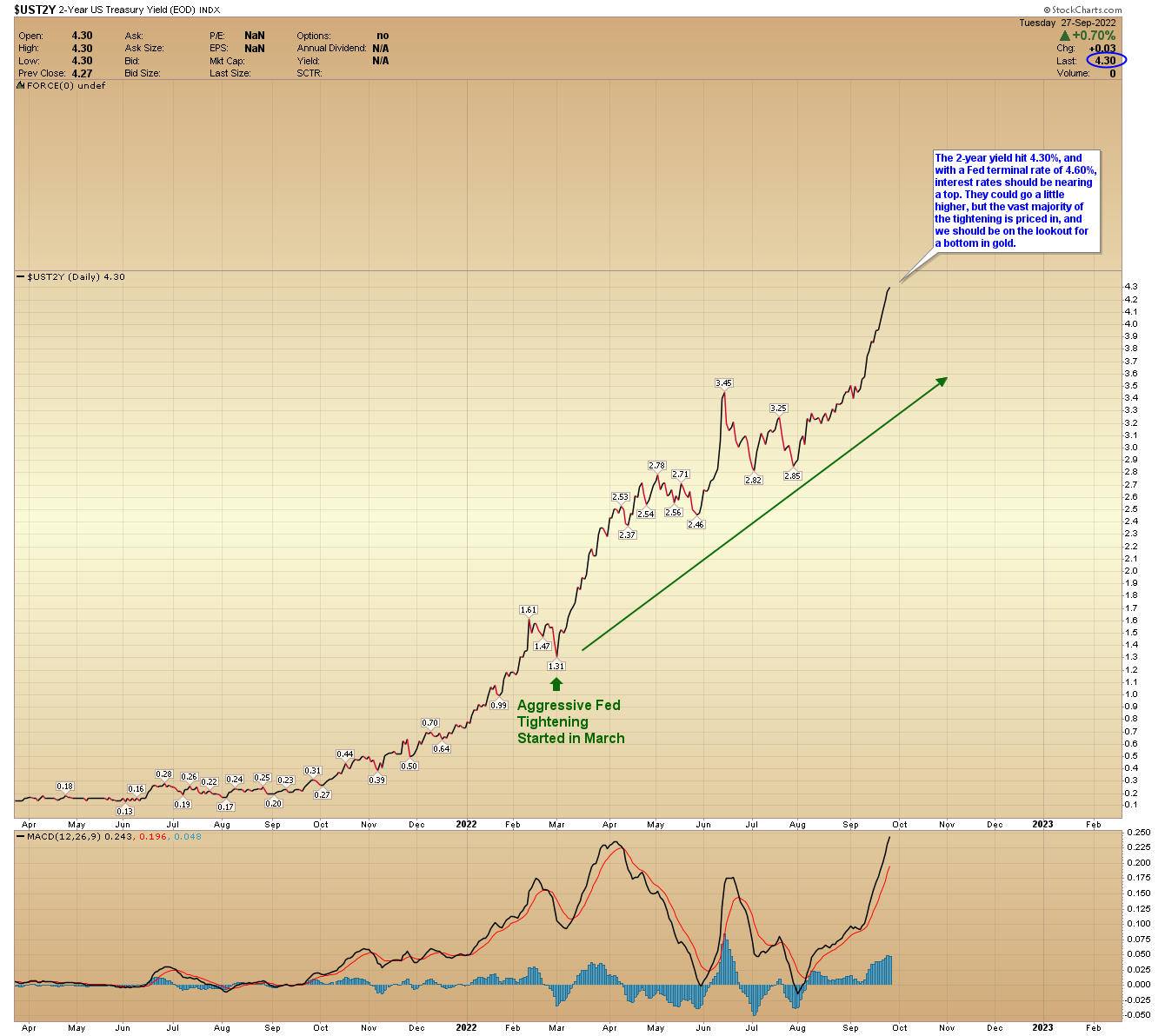 2 Year Treasury Yield
With the 2-year yield at 4.30%, and a Fed terminal rate of 4.60%, interest rates should be nearing a top. Of course, they could go a little higher, but the vast majority of the tightening seems to be priced in, and we should be on the lookout for a bottom in gold.
Gold Chart: It looks like we have a repeat of the 2018 bottom. Back then, the Fed was tightening, and the 2-year yield topped out in October/November. Gold figured out rates were peaking ahead of time and bottomed a few months earlier. I think we are seeing the same thing now.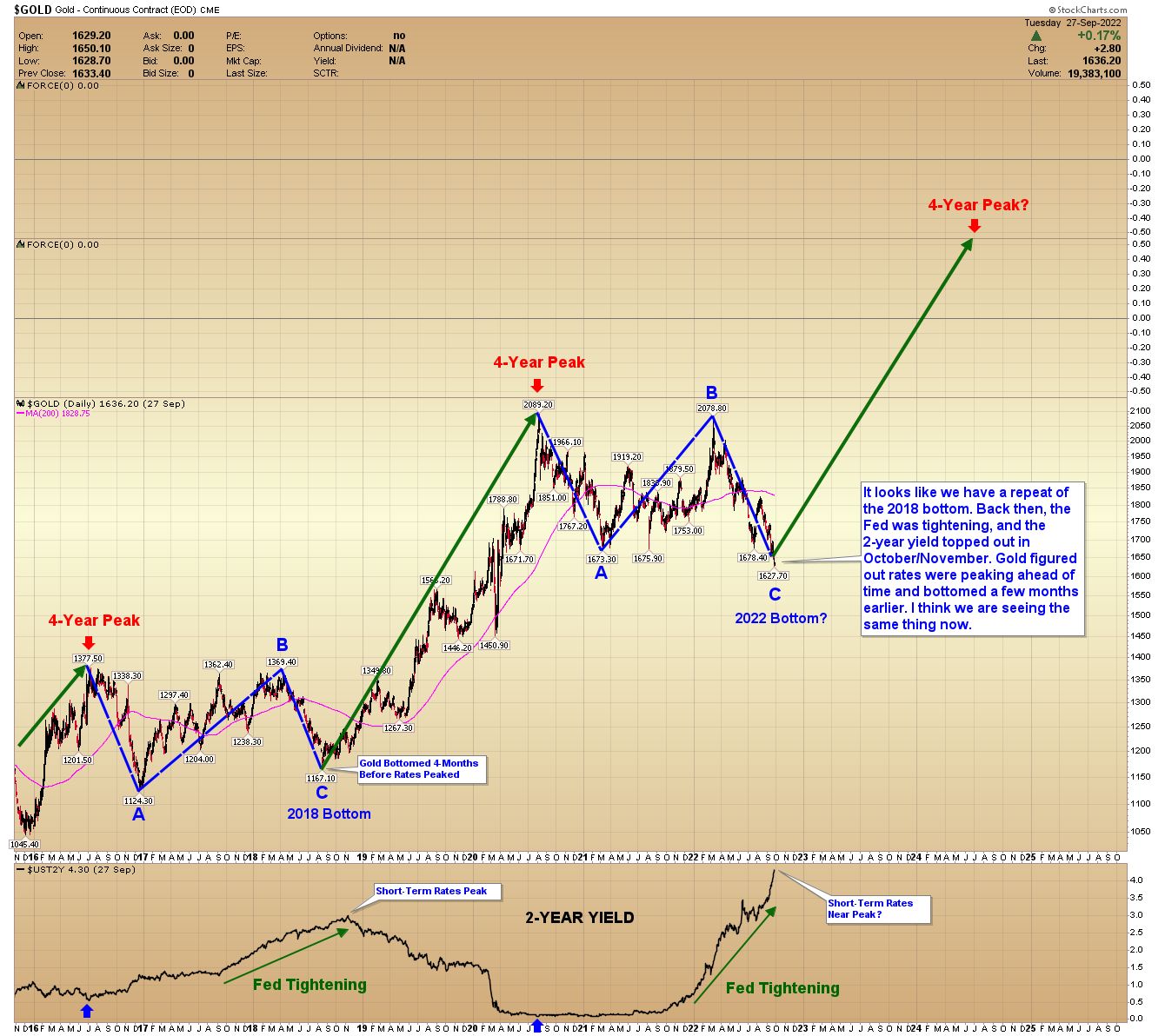 Gold chart
Note – If gold bottoms here as forecasted, I'll expect a breakout to new ALL-TIME highs in 2023 that extends into the first half of 2024 and the next 4-year peak.
Maximum Bearishness in Gold?
Below is a snapshot of the Wall Street Journal proclaiming gold Lost its Haven Status. This made the front page of the business section on September 20th. Bullish contrary indicator? I believe so!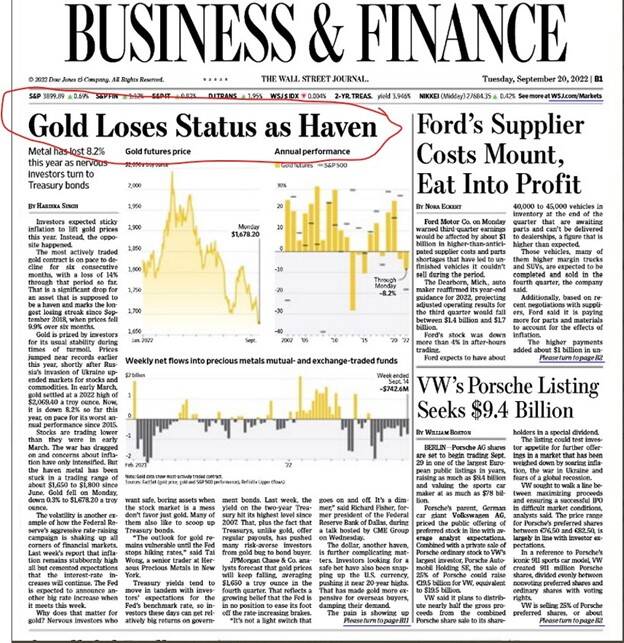 Gold Loses Status as Heaven
In closing, I think gold is very close to a bottom. The next few weeks are crucial. The soaring dollar could stress financial markets a bit further, which could trigger a washout low in precious metals.
AG Thorson is a registered CMT and expert in technical analysis. He believes we are in the final stages of a global debt super-cycle. For regular updates, please visit here.
Don't miss a thing!
Sign up for a daily update delivered to your inbox
Sponsored Financial Content